Mythologist, author, speaker, and illustrator Devdutt Pattanaik also creates artwork.
Recently, Devdutt Pattanaik's books have become quite popular as a result of the success of his Epic TV series Devlok. More than 41 books by Pattanaik have been published, including the instantly well-known My Gita, Sita, and Jaya. For contemporary readers, his fresh perspective on our ancient scriptures has unlocked new possibilities. 
Pattanaik graduated from Mumbai University with degrees in both medicine and comparative mythology. He spent some time working in the medical industry before deciding to pursue his passion, mythology. In addition, he contributes numerous regular essays to publications like CN Traveller, Mid-Day, Times of India, and others. Additionally, he has been advised by entertainment networks like Star TV for their shows like Devon Ke Dev Mahadev and Mahabharat, among others. 
Here is a collection of some of his finest writings that fans of mythology would find enjoyable to read:
1. My Gita

 
The most well-liked addition to the list of top Devdutt Pattanaik novels is his book, My Gita. Gita has been interpreted quite differently by Pattanaik. The classic "Gita," as we understand it, is a dialogue between Krishna and Arjuna during the Mahabharata battle of Kurukshetra, or more precisely, Krishna's instructions to Arjuna. However, My Gita offers a contemporary perspective on the same subject that is appropriate for today's reader. Pattanaik focuses on the way Krishna gently prods Arjuna to rise beyond all of his attachments by carefully considering them rather than passing judgment on them.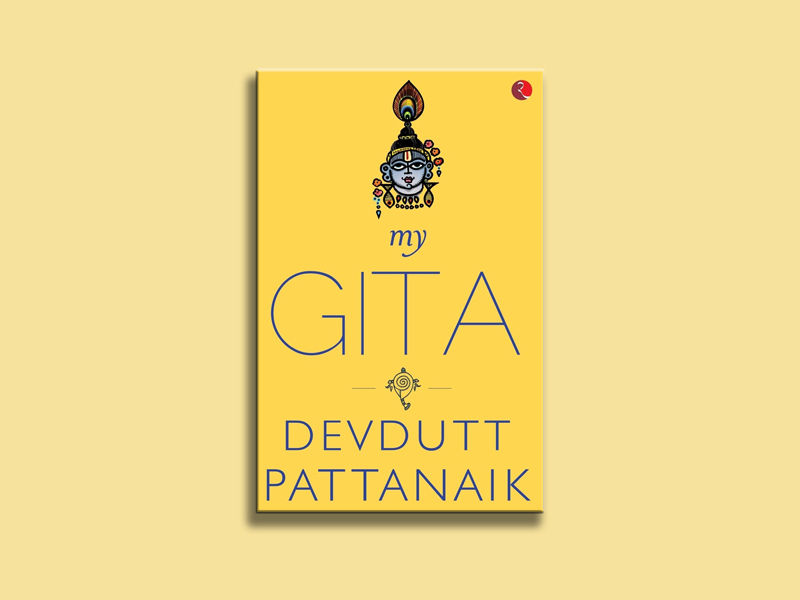 The writing style used in My Gita is the same as that used in all of Devdutt Pattanaik's other publications. Because the storytelling in the book is thematic rather than verse-by-verse, it is easier to follow. The entire viewpoint Pattanaik presents is fresh, receptive, and most importantly, rational and current. If you wish to better grasp the holy Gita in light of the present, you must read this book.
2. An illustrated retelling of the Mahabharata: Jaya
An illustrated retelling of the Mahabharata is a straightforward yet compelling book that takes the reader on a unique journey through the entire epic. With the aid of a single narrative from the Sanskrit Classic, Pattanaik skillfully weaved the entire epic. The revelation process in this book is the same as in other Devdutt Pattanaik works. Jaya, a book by Devdutt himself with 250 line drawings throughout its about 108 chapters, is essential reading for anyone interested in learning more about Indian mythology.
The epic's retelling by Pattanaik, Jaya, is incredibly clear and simple to comprehend. This book is a contemporary read because it considers modern situations. This book stands out because it analyses the Mahabharata rather than merely retelling the story. You must currently be ignorant of many disclosures in Jaya, even if you are conversant with the Mahabharata. The entire plot Pattanaik uses is not only interesting but also complex. Due to Jaya's knowledge and enjoyment factor, it is included in the list of top Devdutt Pattanaik books. Jaya is a very interesting book to read.
3. An illustrated retelling of the Ramayana: Sita
Sita: By making Sita the main figure in an illustrated retelling of the Ramayana, the entire narrative is taken into account. This book by Devdutt Pattanaik uses line drawings to further explain the narrative, just like other Devdutt Pattanaik publications. This book by Devdutt Pattanaik takes a novel perspective on the Ramayana in its genuine meaning by focusing on Sita rather than Ram in particular. The viewpoint of Sita also shapes the other characters, such as Laxmana and Hanuman. This Devdutt Pattanaik book examines Sita's early years, her time in the forest, her kidnapping, and the results that followed in a novel way.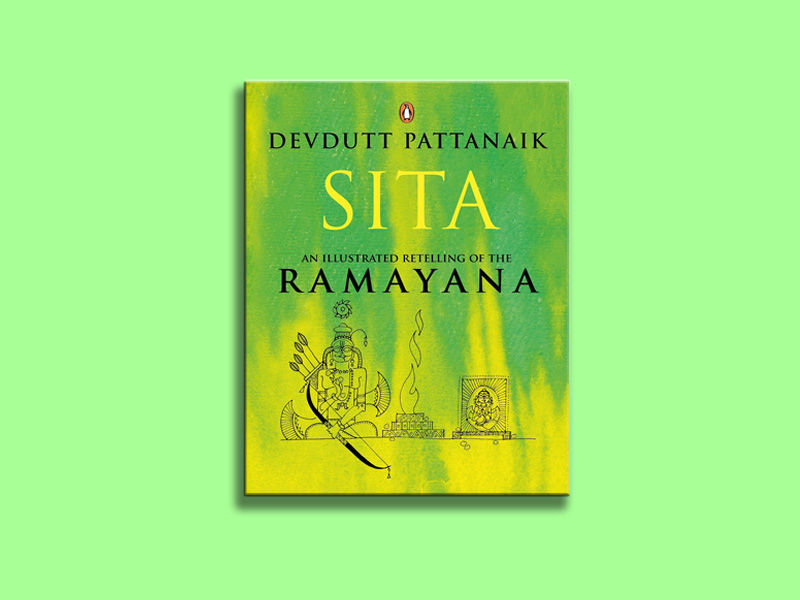 Through his writing, Pattanaik demystifies the idea of a rich, intricate, and intertwined mythology. Additionally, he gives numerous instances of ancient, conventional practices and rites with origins in the Ramayana. The artwork utilized between the chapters is wholly original and adds to the book's readability. After every chapter, the author painstakingly adds his own perspective and offers a fresh take on the tale. This is one of the best Devdutt Pattanaik novels because Pattanaik never ceases to wow with his wisdom and understanding.
4. The Pregnant King

 
This amazing narrative by Devdutt Pattanaik challenges sexuality and gender norms, making it the most distinctive in the Devdutt Pattanaik book genre. The protagonist of the tale is King Yuvanashva, who had a son. Yuvanashva unintentionally consumes a remedy intended for his wife and thus gets pregnant. Along with discussing this story, The Pregnant King also tells comparable tales about Shikhandi, Arjuna, and Krishna.
Devdutt masterfully crafts a tale that challenges gender and sexuality stereotypes. The two main characters, Yuvanashva and Shivalati, are presented with the utmost sincerity. The core ideas of this work are power, love, and identity. The reader is forced to passively consider the fine lines that separate men from women after reading The Pregnant King. One of the best Devdutt Pattanaik books is this one.
5. Mithya: A Handbook of Hindu Mythology

 
The myriad mysteries, tales, and folklore that surround Hindu mythology are examined in Myth = Mithya: A Handbook of Hindu Mythology. All of the often asked concerns about life and death, environment and culture, and other topics are addressed by Pattanaik. He reveals the secret significance of Hindu symbols and rituals.
As simple as it may sound, Pattanaik has taken on a significant duty by writing this book, which brings together a variety of epic characters and centuries' worth of wisdom, knowledge, and philosophy. Semi-chronological narration is used throughout the novel. You will gain a profound understanding of our sacred scriptures thanks to Pattanaik, and you'll find yourself giving Hindu mythology a lot of attention. This is one of the best Devdutt Pattanaik novels because of the intricate language Pattanaik uses in his writing, which is sure to wow you. This book is a must-read if you want to learn more about Hinduism.
6. Devlok

 
This book by Devdutt Pattanaik is a primer on Indian mythology and is based on his well-liked television program on Epic TV with the same title, Devlok. In contrast to other Devdutt Pattanaik books, this one is written in the form of a question-and-answer session in which the author addresses any mythology-related queries you may have, both then and now. Pattanaik discusses a wide range of topics, including the Vedas, Upanishads, Heaven and Hell, the Ramayana, and Mahabharata, as well as other times.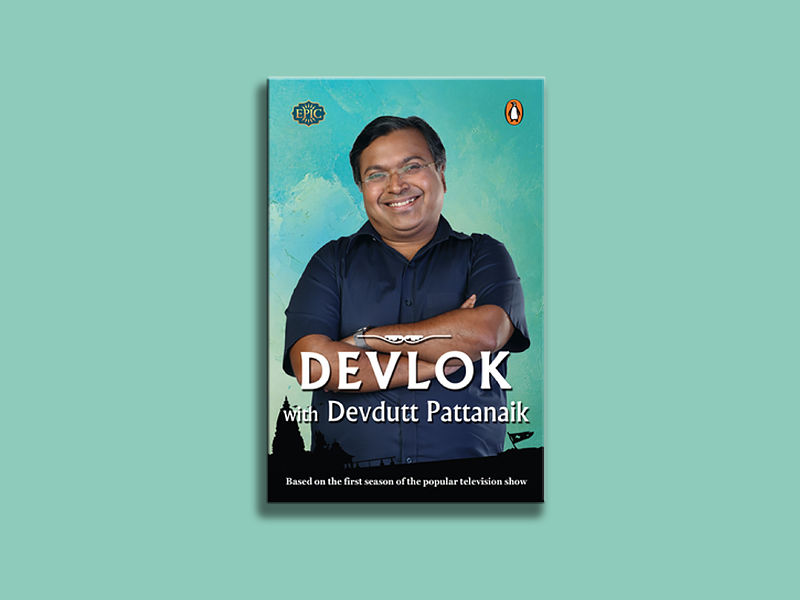 Pattanaik uses a reasonably straightforward and understandable vocabulary. Pattanaik creates his own interpretations of all mythological topics, making his writing distinctive from all others. While this book does not have any drawings by Devdutt Pattanaik, like all the other best Devdutt Pattanaik books, its fascinating text makes up for the absence. This is the one to choose if you want to brush up on Indian mythology!
7. Shikhandi & Other Tales They Don't Tell You

 
A collection of stories that considers the characters who have been ignored or whose stories have not been given enough attention deals with the queerness of the characters from our Puranas, Shikandi, and other tales. Many of the ancient customs that are referenced in our holy books have unquestionably been practiced for a very long period. This book has numerous tales, such as Shikandi's transformation into a man to appease her wife and Mahadeva's transformation into a woman to deliver his devotee's child.
This book by Devdutt Pattanaik gathers roughly thirty strange stories from Indian mythology, Puranas, and Vedas. You will better grasp how sexuality was viewed in the past thanks to all of these stories. You will find yourself amused by how the deities saw sex or sexual activity in their time if you read the stories, which are incredibly engaging and fascinating. This novel will cause you to reevaluate the conventions that separate men and women in our society, just like the previous Devdutt Pattanaik books, including The Pregnant King.
8. Krishna's Secret

 
Krishna's Secret by Pattanaik is based on the Hindu deity who wears a sly grin and glistens with brilliance. Krishna has taken on the roles of a charioteer to a cowherd, earning him the title of the most unique God among the other deities. One of the best Devdutt Pattanaik books is Krishna's Secret, an excerpt from the book 7 Secrets of Vishnu.
Devdutt Pattanaik paints a clear and profound portrait of one of the most singular deities ever to exist. Through his writings, he has clarified Krishna's life story. Additionally, Krishna's wisdom as it relates to Dharma is clearly emphasized. This book by Devdutt Pattanaik has several depictions of Krishna in paintings and texts, just like his earlier works. Overall, this is a quick read that will provide you a lot of information about Lord Krishna in a short amount of time.
9. 7 Secrets of Shiva

 
The author of this book, Devdutt Pattanaik, makes an effort to divulge the mysteries of Indian mythology that revolve around Shiva, The Destroyer. Shiva is one of the Trimurti, the Hindus' three primary deities. clad in animal hide, the goddess Ganga streaming from his crown, and the moon gracing his forehead. In Hindu mythology, Mahadeva and his tales have a profound and deeply ingrained meaning. The numerous avatars are expertly described by Pattanaik, who also illustrates several distinctions between Vishnu and Shiva.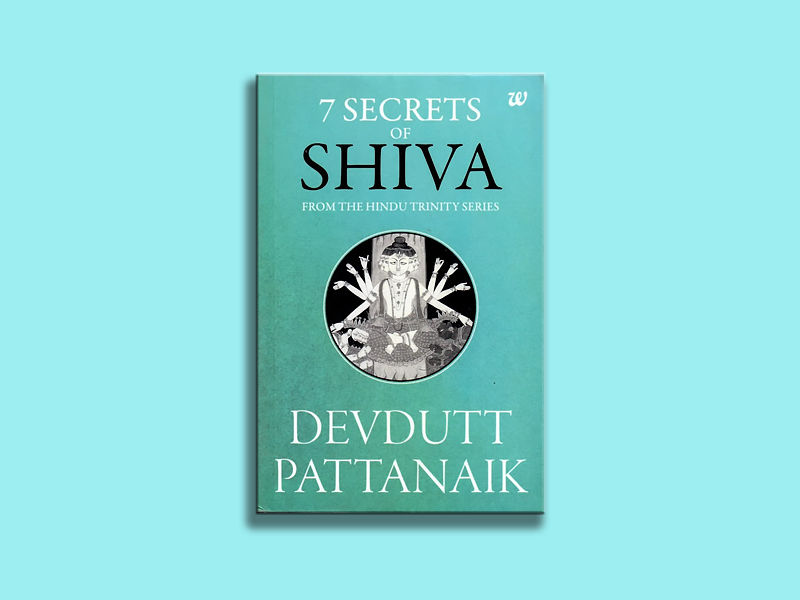 This book by Devdutt Pattanaik is more concise than his other works. An entirely new perspective on Shiva is presented by Pattanaik, which is both intriguing and novel. He investigates and examines each manifestation of Shiva to find a point of convergence. In Pattanaik's understanding of Mahadeva, all the other Demigods are included in addition to him. Our own ancestry is connected to the shrouded mystery mysteries that surround Mahadeva.
10. Ganesha's Secret: Food alone does not satisfy hunger

 
This book by Devdutt Pattanaik is centered on Lord Ganpati, the "remover of barriers," and it aims to unearth the various mysteries that surround this deity. Numerous tales that are not included in the books of mythology are told by Pattanaik. This book explains many things, from Ganesha's birth to Shiva and Shakti's interracial encounters with elephants and other things. His birth is the subject of several stories, all of which Pattanaik presents masterfully.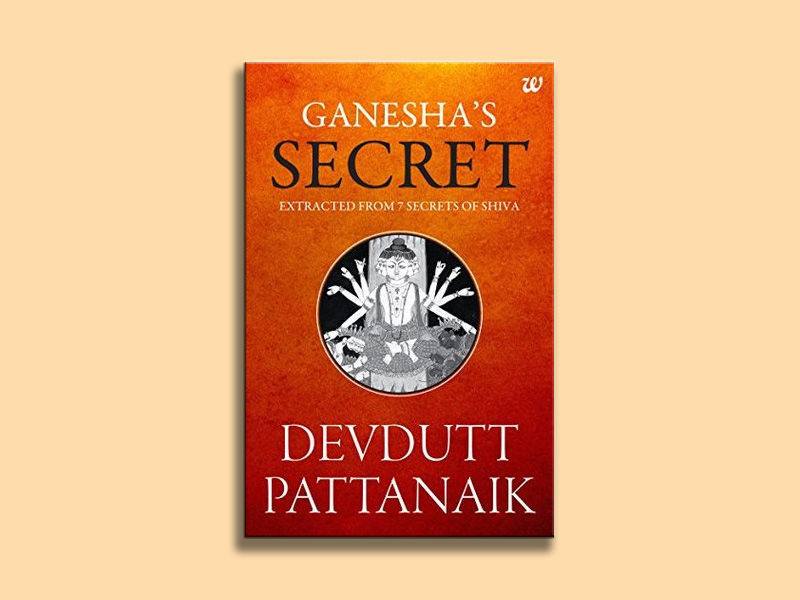 Similar to earlier Devdutt Pattanaik books like Seven Secrets of Shiva, this one highlights several lesser-known Ganesha-related truths. In Ganesha's Secret, the philosophy underlying his names, such as Vinayak and Ganpati, is also explained in detail. Every idol and image that is revered in homes and temples have a unique secret meaning as well. All of our questions regarding Ganesha are answered in this book by Devdutt Pattanaik. Ganesh, also known as Ganpati, is the apex of wisdom and understanding. This book needs to be on your reading list if it excites your inner nerd!