Thai cuisine have an uncanny ability to entice culinary connoisseurs. Its thick and creamy curries, fragrant sauces, flavorful appetisers, and decadent sweets will keep you coming back for more. It requires skill to master the five key flavors of sour, bitter, salty, sweet, and spicy in any Thai cuisine. As a result, no Thai food is ever boring, constantly packing a punch to your taste buds.
Although Thai cuisine has been inspired by other Southeast Asian cuisines such as Indian and Chinese, it still manages to stand out. Thai food used to be spicier than it is now, but through time, the spicy elements were reduced and other flavour enhancers such as lemongrass and galangal were introduced. In addition, minced or sliced meat is frequently used in meals. Thai curries, Som Tam Salad, Tom Yum Soup, Pad Thai noodles, and Satay are just a few of the popular Thai cuisine.
Thai food is distinguished from other cuisines by the use of fresh, robust ingredients. In Thai cookery, involves lemongrass, Thai chilies, galangal, ginger, and kaffir lime leaves as the most vital components. Here we have listed out some amazing and mouth-watering Thai cuisine that you will love to taste at least once in a lifetime.
List of Delicious Thai Cuisine
Chicken Satay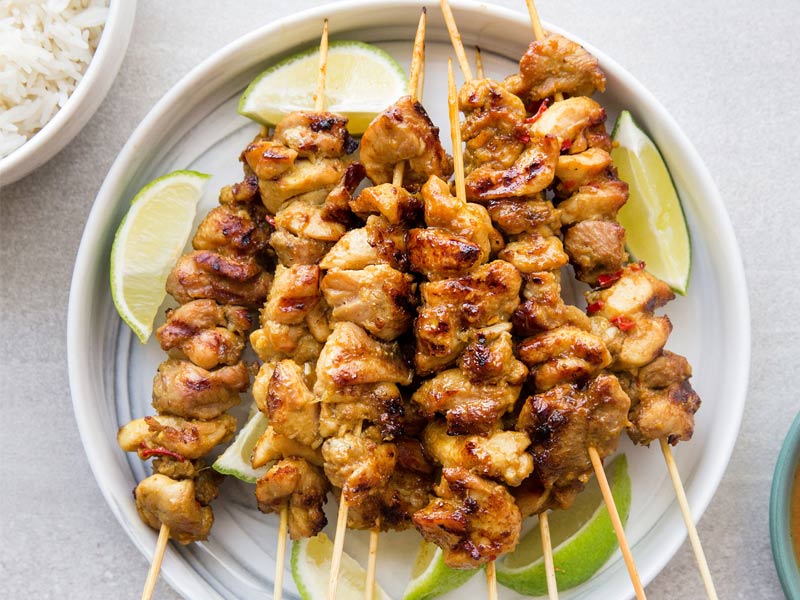 Served with a chunky peanut sauce, this Thai appetiser is a classic and plain fantastic. This delectable treat in Thai cuisine  is sure to please both children and adults. If you like chicken, this is going to be your dream come true. This delicious Thai chicken satay recipe will make you fall in love if you've never eaten the real thing. Chicken or beef strips are marinated in a Thai paste before being skewered and grilled or broiled. It's then topped with a handmade peanut sauce for a unique flavour.
Tom Yam Soup with Mushrooms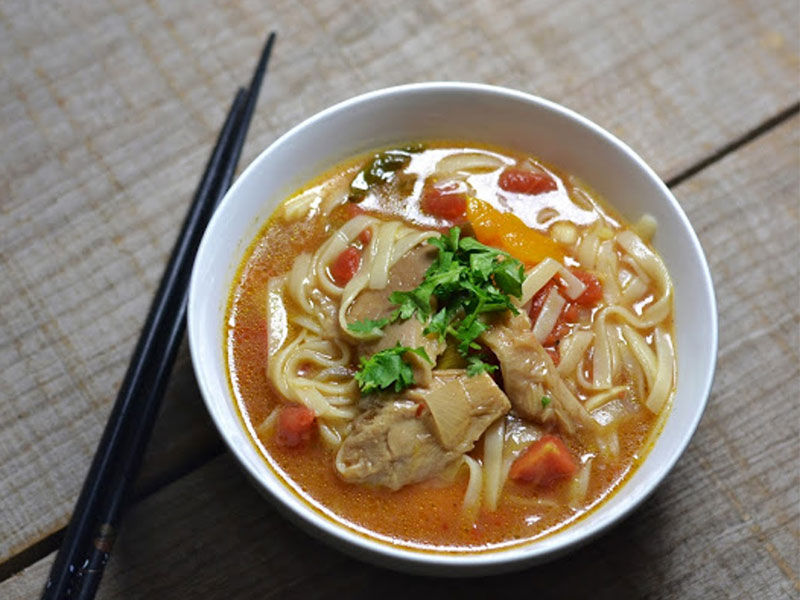 A spicy Thai soup called Tom Yum or Tom Yam. It's a hot and sour soup that's clear. Mushrooms and Thai spices are used in this vegetarian variation. During the colder months, you may savour it. You're done for the day if you pair it with roasted bread. This delectable soup may even help you with whatever ailment you're suffering from. It's a variation of Tom Yum Goong, which is essentially Tom Yum soup with the addition of coconut milk for thickness and taste.
Thai Green Chicken Curry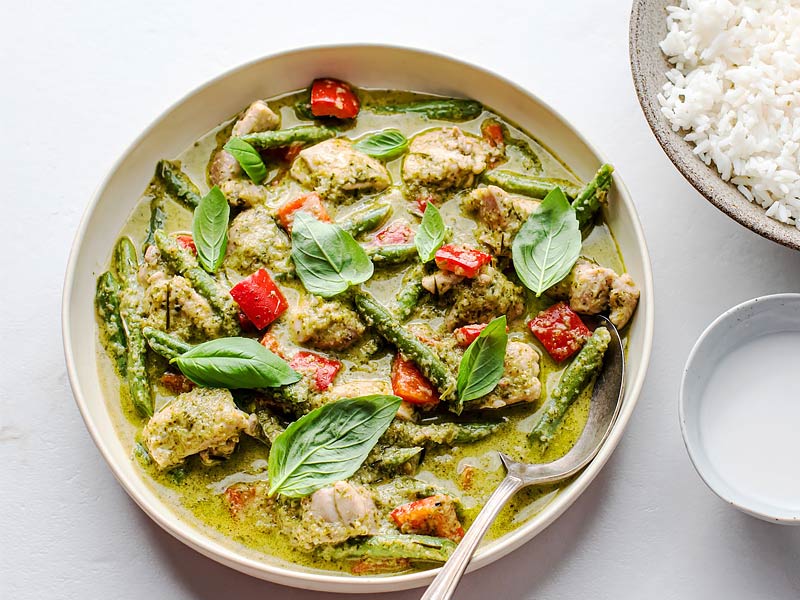 With onions, lime leaves, basil leaves, and an aromatic Thai green curry paste, chicken is cooked in coconut milk. This Thai green curry is likely to tempt your taste buds if you have a thing for coconut.
Thai Mini Shrimp Lettuce wrap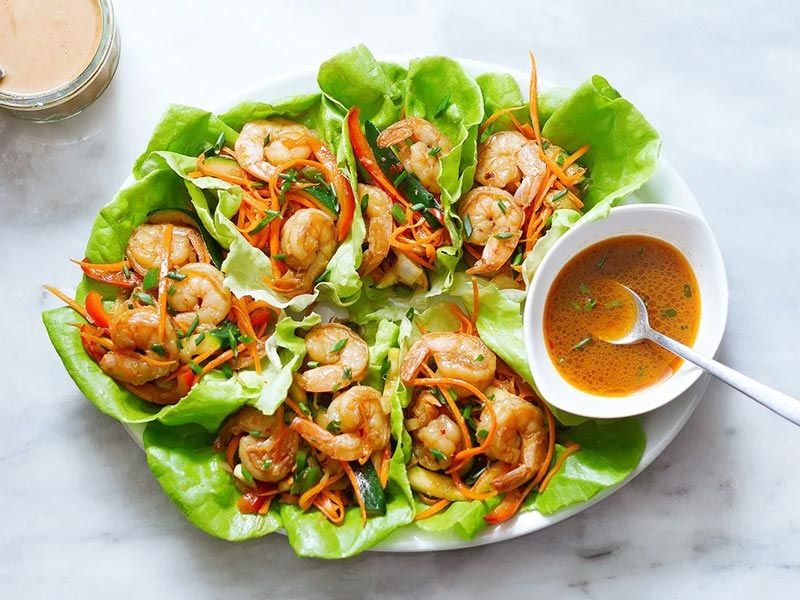 Each small wrap delivers a blast of Thai flavours that touch all of the senses at once. Miang kum, a traditional Thai appetiser, is the inspiration for this dish. It will be the centre of attention at the party, or you may serve it as a meal on a platter.
Larb Gai Thai Chicken Salad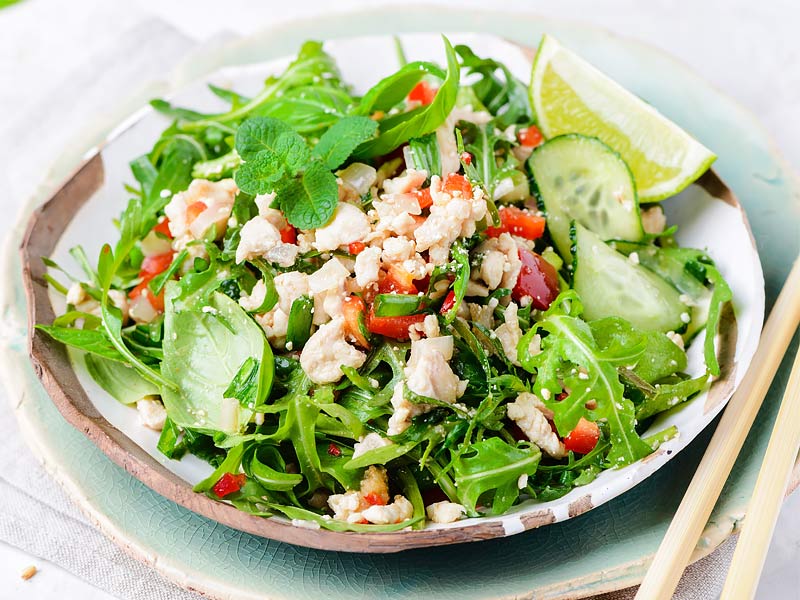 In Thailand, larb gai is a typical Thai dish made with pork, however this version utilises chicken. Fresh mint is an important component. Serve it hot over rice or over cold greens.
The Waterfall Beef Salad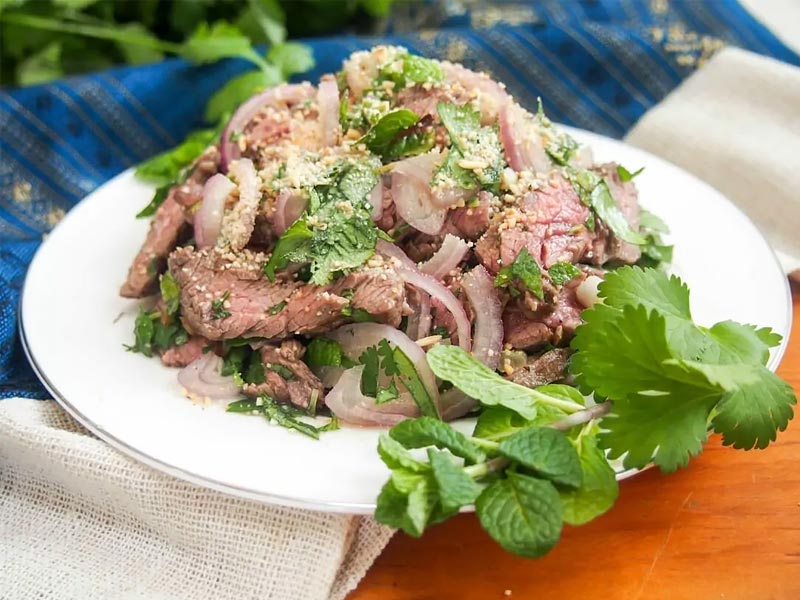 The sound of juices splashing on a hot barbecue is why it's dubbed waterfall beef. The beef is finely sliced and served with a Thai sauce, salad greens, and fresh papaya.
Green Papaya Salad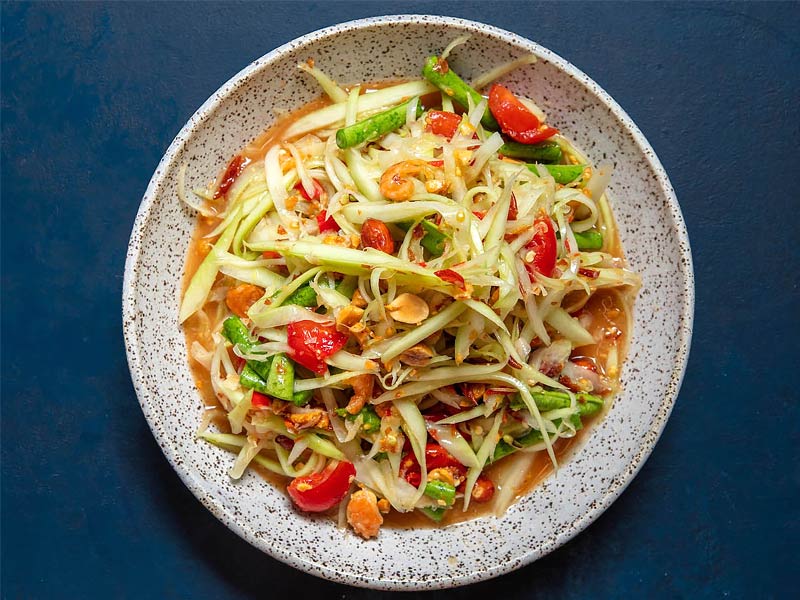 This is Thailand's most popular salad, possibly because it's low in calories but high in flavour and crunch. You can add cooked shrimp, crab meat, or cashews, or serve it over a dish of sticky rice.
The Weeping Tiger Weep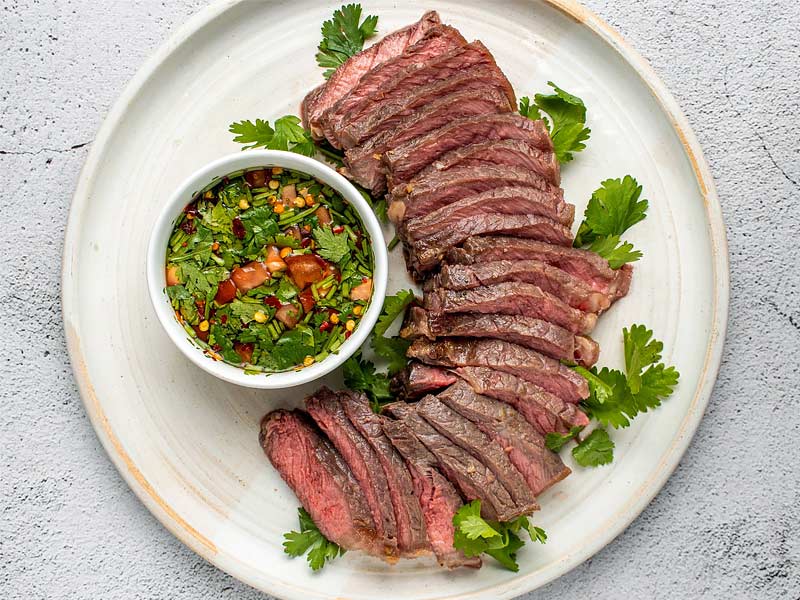 The tiger is crying, possibly because of the chillies or because his cow was slain by a hunter. You'll marinade the beef before rapidly broiling it to medium-rare before slicing and serving it with a side sauce for this dish. It's great with rice or as part of a salad.
Traditional Yellow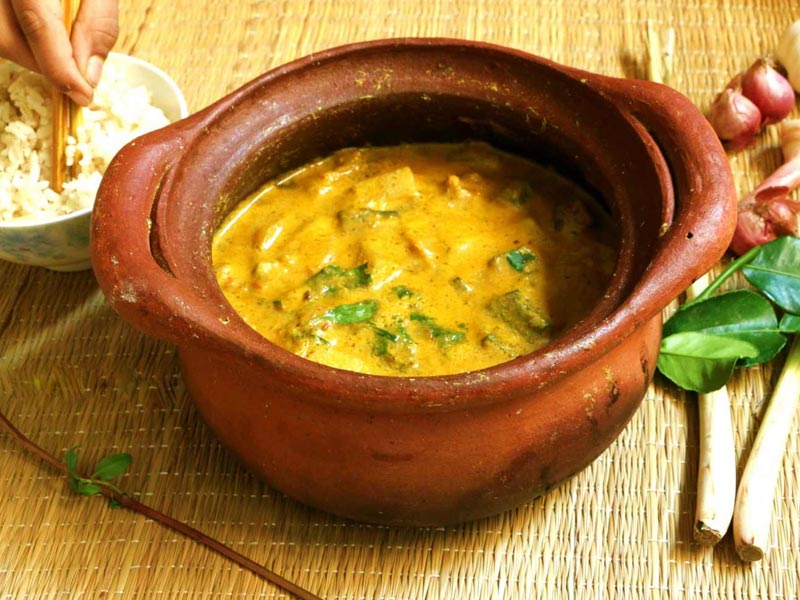 This traditional yellow curry is reminiscent of Bangkok's markets and streets. It's created using chicken chunks and potatoes, along with curry powder which you can buy or make yourself.
Bangkok Style Drunken Noodles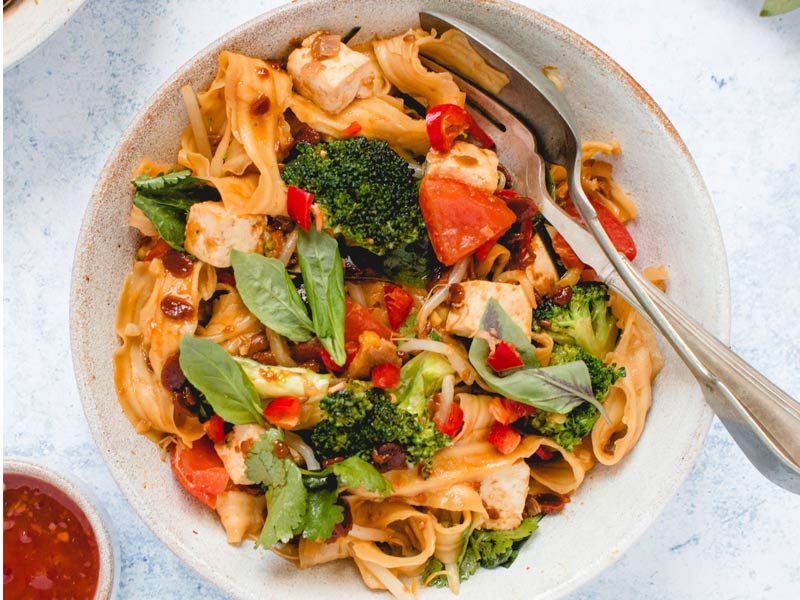 This hot noodle dish aids with the navigation of late-night revellers in Bangkok. If you prefer a milder version, you can reduce the chillies. It can be prepared vegetarian-style, like in this recipe, or with shrimp or chicken, depending on your preferences.
Thai Fish Fillet Baked in Banana Leaf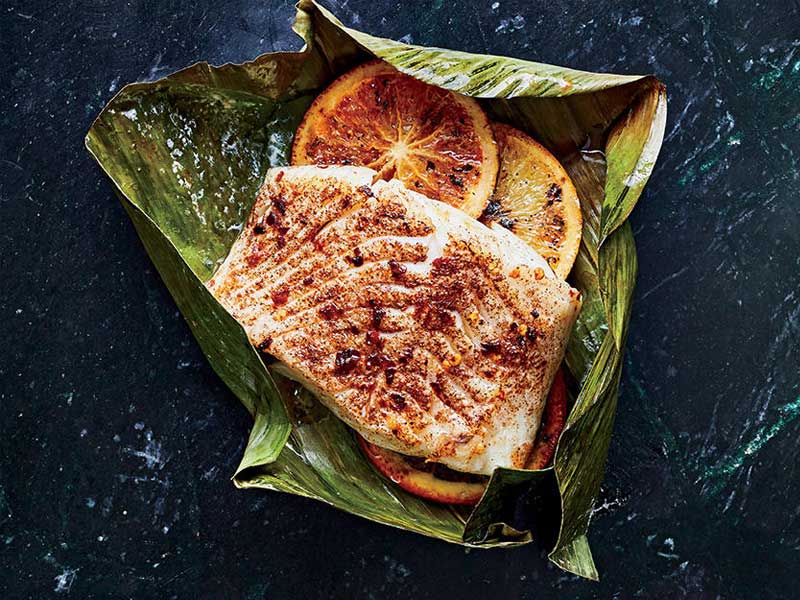 This recipe can be made with almost any sort of fish fillets, such as salmon, snapper, cod, or tilapia. You'll bake them in banana leaves, tin foil, or parchment paper after slathering them in a fragrant coconut sauce. It goes well with coconut rice, plain rice, or potatoes as a side dish.
The Mango Sticky Rice Dessert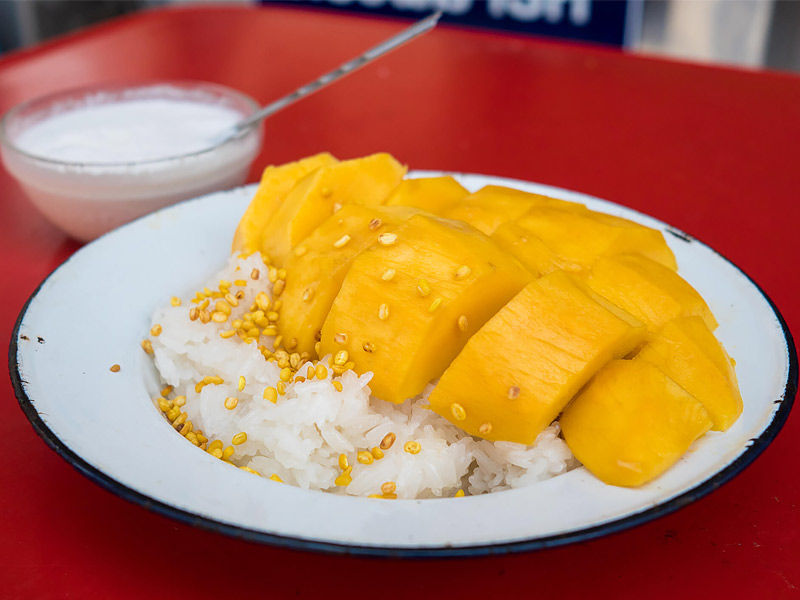 The most well-known Thai dessert is this dish. Sticky rice, commonly known as sweet rice, is required. For a delectable dessert, scatter some fresh mango slices over the sticky rice and drizzle with the simple coconut sauce.