Kartik Aryan starrer, Dhamaka, one of the most awaited movies of the year, has finally got released digitally on 19th November of this year. However, it was planned for the theatrical release but due to some issues; it got released digitally on Netflix. Moreover, the movie is also going to be screened at the 52nd International Film Festival of India. This most awaited movie has been directed by Ram Madhavanii who is also the producer of the movie with Amrita Madhvani. The movie is based on the 2013 movie The Terror Live and Kartik is killing it in the look of a journalist. So, let's find out whether Dhamaka is all set for the actual blast or not with this blog!
CAST OF DHAMAKA
The cast of Dhamaka to create the actual blast involves-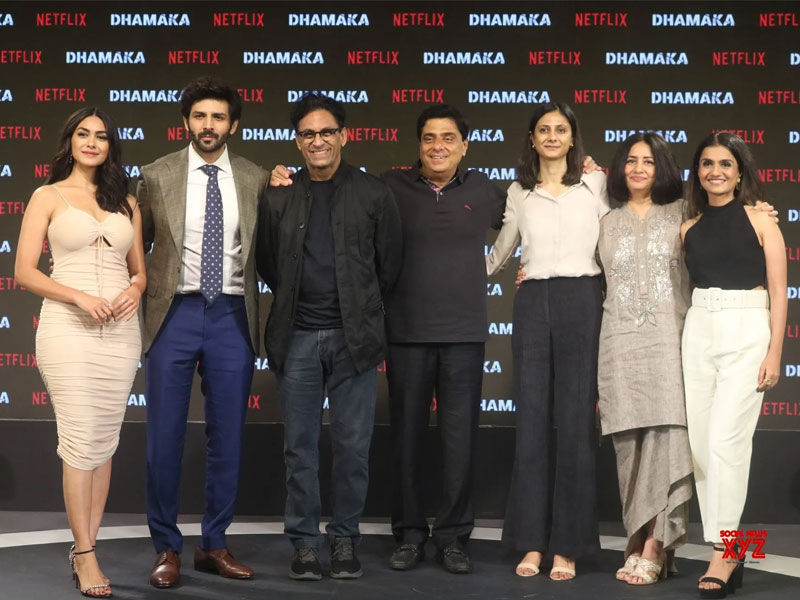 Kartik Aryan as Arjun Tiwari, a journalist, a radio jockey and the host of TRTV Bharosa 24/7
Mrunal Thakur as Saumya Mehra Pathak as the ex-wife of Arjun Tiwari or Kartik Aryan
Amruta Subhash as Ankita Malaskar, playing the role of boss of Arjun Tiwari, i.e. Kartik Aryan
Vikas Kumar as Officer Praveen Kumar
Vishwajeet Pradhan as Subhash Mathur, playing the role of a minister of Jaydev Patil who died at the studio of Arjun
Aeklavya Tomer as Asif Alam, producer of Arjun's radio show
Soham Majumdar as Anand Mhata playing the role of the son of a laborer, Raghubeer Mhata, who claims to be his father's blow up the Sea-Link
Aishwarya Chaudhry as Mala Singh
Mahender Singh as Bisht Kumar, assistant of Ankita
Ritviq Joshi as Raunak Goyal
Dilip Vasu as Jay Reddy
Ashish Ranglani as Ashish Tripuri
Dhwani Acharya as Ketki Sinha
Anuj Gurwara as Manas Sethi, fellow anchor of Ankita
Priya Tandon as Kripa Ved
Samriddhi Chandola as Karuna Shah
Tuhinanshu Chaturvedi as Abhimanyu Murthi
PLOT OF DHAMAKA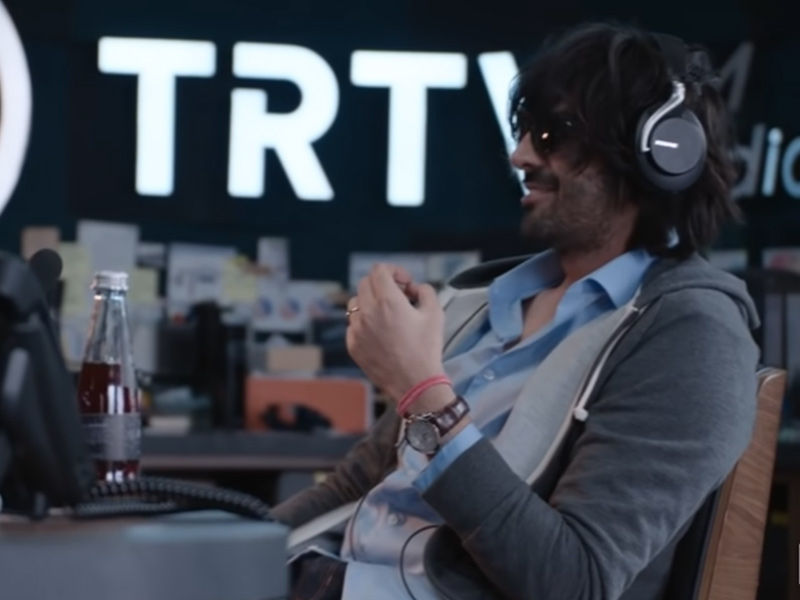 The plot of Dhamaka revolves around a top news anchor on prime-time TV. And the role of that anchor is played by Kartik Aryan as Arjun Pathak. Arjun Pathak gets demoted to the radio. Then he views a mysterious phone call from a bomber as a sliver of opportunity to reclaim his lost glory. That bomber threatens to blow up the Bandra- Worli Sea-link if his demands were not fulfilled. With so many lives at stake, Arjun salvage his dwindling career or the people held hostage on the bridge?
REVIEW OF DHAMAKA
The remake of the famous Korean film, 'The Terror Live', Dhamaka is a taut hostage thriller that critiques media and unethical journalism practices. The story of the movie develops into an issue that is most relevant now than it was before- the business of the breaking news. The movie well portrays the priority of today's generation, sensationalism over substance, money over ethics, and above all success over humanity. In the movie, Arjun is forced to think again about his ideals and for what he truly stands for.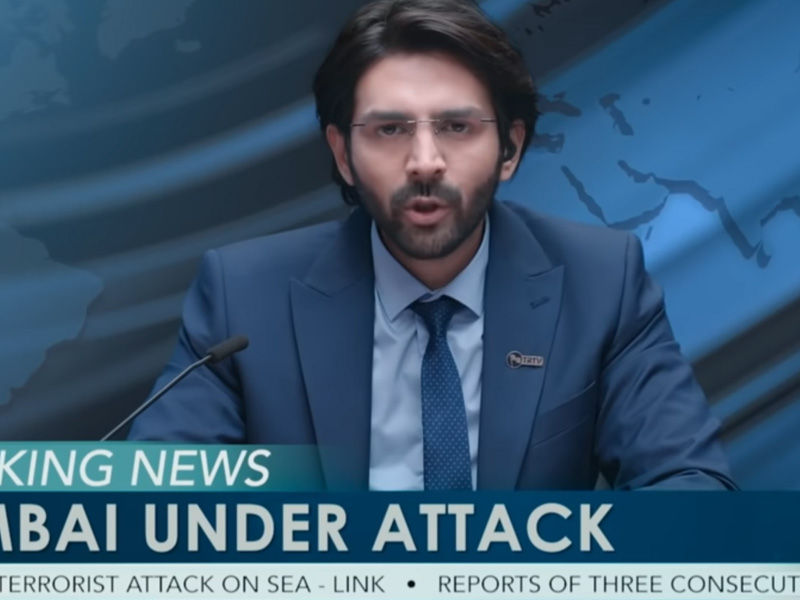 The movie, Dhamaka, unveils over the dingle morning and confines within a single room. And the fact that this entire movie is shot within the 11 days of lockdown is something that is truly commendable. The story focuses on Arjun as he tries to track and reach the mysterious caller and refrain him from causing more and more explosions on the sea link. The person, who is referred to as a terrorist in the entire movie, negotiates with Arjun on two conditions- If he broadcasts their live interaction, his channel should pay him a hefty sum. You can call it 'Exclusivity fees'.
Also, the terrorist demands that the government should apologize for the loss of three construction workers. This case becomes a little stranger for Arjun as his reporter wife, Mrunal Thakur, and his boss, Amruta Subhash, is also involved in this mess. And Arjun has to make some really tough choices while racing against the time.
Overall, Dhamaka is a thrilling movie that is well capable of keeping you engaged but you will not feel that invested in its characters emotionally. Some dramatic lines have found their way well to the script. The stereotypes such as media people smoking at any given opportunity to stick out like a sore thumb. The premise of the movie, Dhamaka, is interesting and it can be easily said that the movie is a one-man show and that man is our Arjun Pathak. The eyes of Arjun don't speak as loudly as they should, but he well projects a sense of urgency and unrest that matters.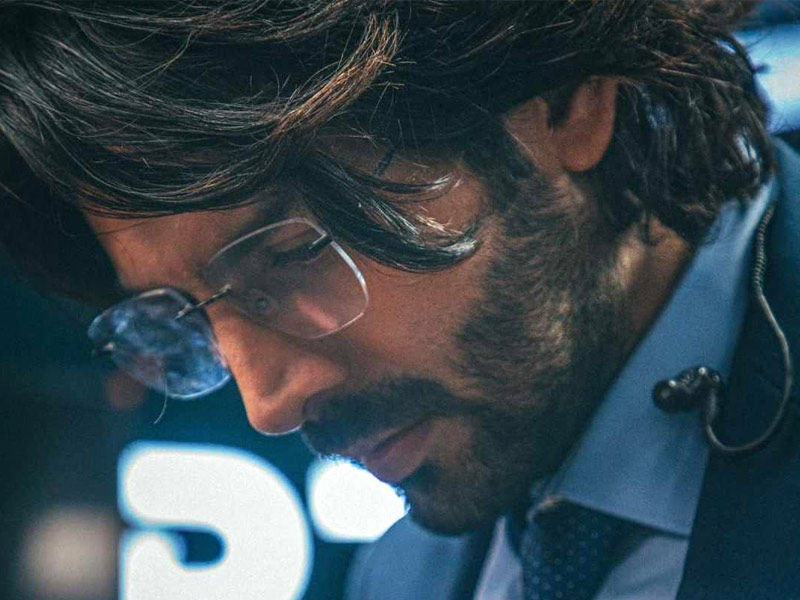 Karthik Aryan has proved that he can do much more than just a role of a person with a toothy smile. Dhamaka may not be that explosive that can change the narrative, but it is quite interesting. And yes! Dhamaka is a reminder that why we call media the fourth pillar of democracy. So, go and watch it out and then tell us what you felt while watching it.