It's all over! Brooklyn Nine Nine season 8 was incredible, two-network career ended last night with the hour-long "The Last Day," an episode that really offers viewers what they want in a series finale.
It returns to the sitcom's most beloved structure: the robbery! And it peppers this last adventure with a slew of references to the show's past, some of which are obvious as recurring guest actors and others which are hidden as Easter eggs for die-hard fans. It's an episode that lets its actors shine through with brilliant, hilarious, and quick-paced performances. And, as is so frequently the case with this show, it's laced with just enough emotion to sink in.
More than anything else, Brooklyn Nine Nine was a sitcom about relationships, as Jake Peralta found a partner in Amy, a best friend in Boyle, and a father figure in Holt. Jake remarks towards the conclusion that "goodbyes are inherently melancholy," but the show's creators concluded the difficult last season with enough pleasure and comedy to send it off with the fitting last case.
Brooklyn Nine Nine season 8 has given viewers tonal whiplash by attempting to serve two masters — properly delivering stories about policing in a post-George Floyd era while simultaneously offering fun detective adventures.
The emotional moments don't always land and might feel forced, while the chuckles are few. While "Game of Boyles" and "Renewal" have their moments, with "Renewal" cleanly, if a little too soon, tying off the season's narrative, the entire thing feels hurried and half-hearted. And the term "half-hearted" has never been used to characterize the series.
You'd be hard pushed to find someone who actively despised this program – and with the cause. Brooklyn Nine Nine season 8 and has given us many classic catchphrases, nuanced representations of relevant topics, and a veritable slew of beloved characters in its eight years on the air. Even while all wonderful things must end, that does not make it any less painful when they do.
The year and a half between Brooklyn Nine Nine seasons 8 and 7 saw unparalleled levels of global change and turmoil. The epidemic permanently altered the life of the great majority of the world's population.
Since the death of George Floyd in May, hundreds of thousands of people in the United States have taken to the streets in protest. Fear and suspicion of the police had never been more prevalent in America, and for a program based on the antics of a motley group of officers, this was more than just a huge curveball.
Following the death of George Floyd, Terry Crews stated in June 2020 that the show's eighth season would have a new direction, with over half of the episodes being rewritten. It was vitally important for the program to integrate these occurrences and have their characters accept responsibility for the very genuine terror and abuse that many of their real-life counterparts had instilled in them.
Indeed, sometimes police wrongdoing has been played for laughs within the program, such as in the episode '48 Hours,' where Jake detained a civilian without substantial evidence and held him in police custody for 48 hours.
As in previous seasons, Brooklyn Nine Nine depicts the entrenched bureaucracy inside the police department that permits police officers to get away with little to no penalties for their crimes in this season. Unfortunately, five hours of television cannot address the problem of police violence, and Brooklyn Nine Nine season 8 has been inconsistent because of the extra burden.
Audiences finally get to see Jake and Amy as parents, but instead of venturing into uncharted parenting terrain, the authors play it safe by having them battle with the age-old 'who's going to care after the baby?' dilemma. It's not that this isn't a genuine issue, but given how Jamy has previously defied relationship stereotypes, it would have been intriguing to watch Jamy venture into a new area. Even if there are indications of what their ultimate choice will be, the spectator does not get enough time to witness them work up to it.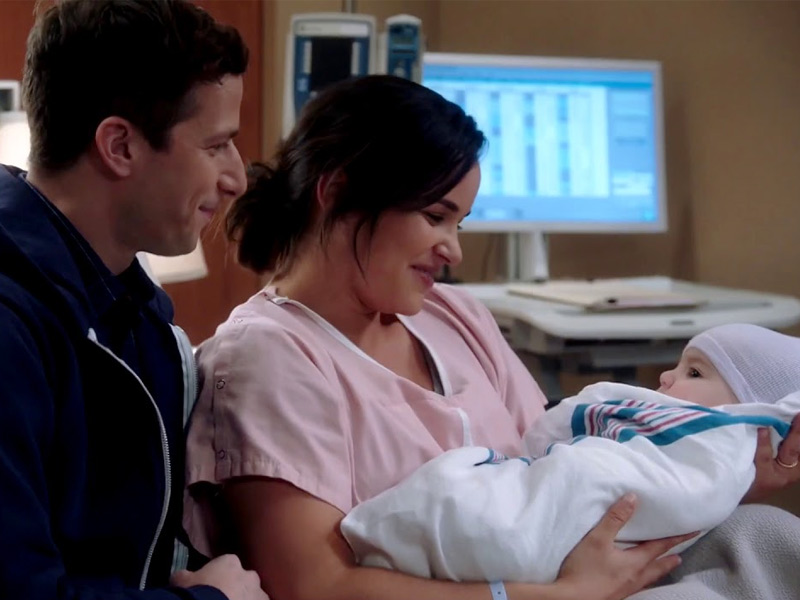 The program has done a fantastic job of portraying Jake Peralta's transformation over the seasons–from brilliant man-child to ideal husband material.
Jake and Amy's relationship has been a foundation of the program from its inception, and their story concludes where it began: founded in mutual love and respect, with enormous potential for their future.
Captain Holt and Kevin get more screen time than normal in Brooklyn Nine Nine season 8, as most of the plot revolves on their personal problems. Every time Andre Braugher appears on TV, 'Give the man his Emmy already, you monsters!' Holt and Kevin's relationship has never been the major love emphasis of any season, and they have always functioned best as the B-story.
After all, that's what brought us the phrase 'BONE!?' This season, they must carry the primary narrative for many episodes, yet their relationship lacks depth to maintain it.
Terry and Rosa are the same iconic figures they have always been, although they experience more professional development than emotional growth in the last season. It would be remiss of me not to acknowledge Alfred Hitchcock and John Scully. The program takes the rather perplexing decision to confine Hitchcock to a screen for most of the season. It's difficult to admit to a character like Hitchcock, but this season was when the show needed him the most.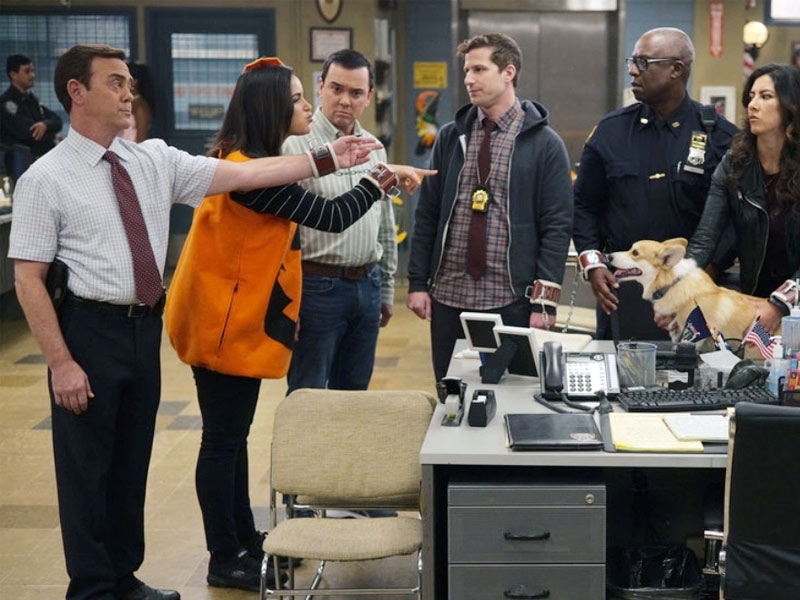 Hitchcock and Scully work their disgusting magic best when they are seated next to one other, and it simply feels like a weird character choice for their last appearances on the show.
As previously said, the presentation had a lot to cover in under five hours. The first and last episodes, in particular, feel crowded with components, and the spectator hardly has enough time to digest one scene, an emotional moment, or a gag before the program moves on to the next. The crazy ensemble of Brooklyn Nine Nine season 8 was its greatest strength, but the same ensemble made it impossible to devote enough time to offer each of them a genuinely satisfactory finale.
The rewrites and COVID-induced hiatus in filming, by no fault of the program, result in an obvious tonal discrepancy across the 10 episodes. The practical impacts of COVID are handled clumsily in the first two episodes before being consigned to the background. Episode 7 ('Game of Boyles') is based on Knives Out, which would have seemed more timely if the season had debuted in 2020. Now, the allusion feels fairly antiquated, which is rather concerning given that it was only a year ago, and it serves as a reminder of how much our material consumption has increased in the previous two years.
Similarly, there are a lot of lamps shading this season, which is when writers acknowledge or bring attention to a certain cliche that they are employing, like a wink to the audience showing, 'yeah, we know we're using this cliché, you don't need to tell us.' For example, when a character states their catchphrase is "slurp" Jake exclaims that he (and the audience) has heard nothing like it before. Although this tactic is common in comedy, the percentage of how often it was used in Brooklyn Nine Nine season 8 feels out of place when compared to prior seasons.
The two-part conclusion truly nails it and reminds us why we liked Brooklyn Nine Nine season 8 so much. Every third phrase is a throwback or a recurring humor, and while it might feel like a laundry list, it is heartening to see the writers' efforts to incorporate everything that made Brooklyn Nine Nine season 8 what it was.
Every member of the cast is fantastic as always, and they all settle into their parts with the comfort that comes with having played a character for almost a decade. As the season's recurrent Big Bad – Frank O' Sullivan, Head of the Patrolmen's Union–John C. McGinley is fantastically slimy.
Long-time fans of the program will be pleased by the sheer number of characters who make onetime cameos.
In the grand scheme of things, Brooklyn Nine Nine Season 8 is accompanied with a profound feeling of loss. Streaming services continue to dominate the entertainment business, and the more TV series that are made, the shorter the seasons grow and the less they appear to remain around. The seasons must be the optimum binge-able length, and many program producers have ended shows on their own terms rather than dragging it out for years.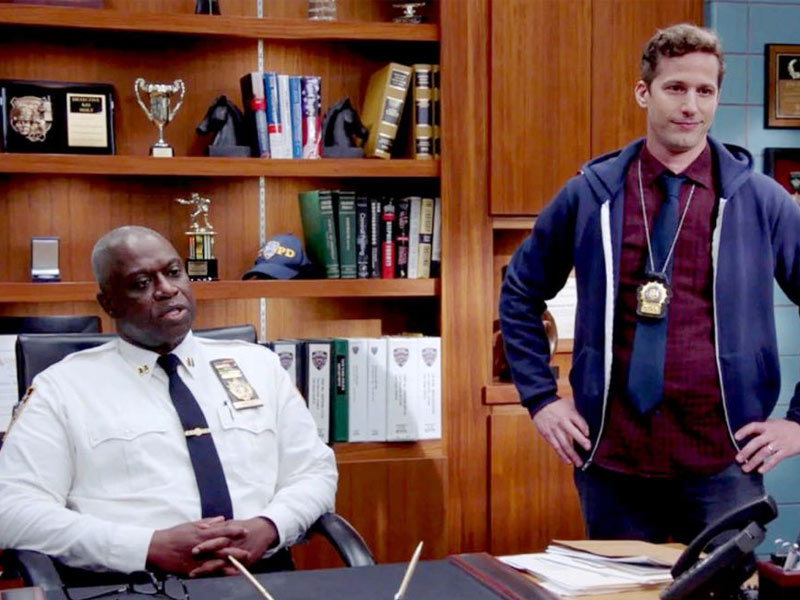 Examples include Schitt's Creek, Fleabag, and The Good Place. With long-running classics like Modern Family also no longer on the air, it's hard not to feel that this is the end of an era for situational comedy.
In some ways, the final three seasons of Brooklyn Nine Nine were a gift to the show's viewers, a reward for their fervent support that led to its NBC-led rescue. It's weird to think that this is the last time we'll hear that it's pronounced NI-Kolaj, or that the 'Dr. Goor' in Dr. Goor Productions is 'not a doctor, shh!'
Finally, Dan Goor and Michael Schur produced a consistently amusing, thought-provoking, uplifting program that audiences will remember as one of the best. Hopefully, this isn't Fremulon's last attempt at a workplace comedy. Maybe the actors will regroup and give us another heist episode one day. Until then, we'll be grateful for the eight years we've had with this entertaining program.