The picture has gotten favorable reviews from reviewers, and the IMDb rating for Nobody movie is 7.5 out of 10. Continue reading to learn more about the Nobody movie.
Nobody movie is an action thriller film written and directed by Ilya Naishuller. Bob Odenkirk, Connie Nielsen, Aleksei Serebryakov, RZA, Michael Ironside, Colin Salmon, and Christopher Lloyd are among the cast members of Nobody movie. The film has gotten mostly good reviews from reviewers, with an IMDb rating of 7.5 out of 10. Continue reading to get more about Nobody movie reviews from netizens.
Nobody movie offers the hard-hitting action that fans anticipate. Still, the plot lacks the emotional punch that allows the picture to fully connect with viewers.
In the Breaking Bad world, fans have known Bob Odenkirk as lawyer Saul Goodman for many years. The actor tries his shot at being an action star in Nobody. Derek Kolstad, a member of the now-iconic John Wick franchise's creative team, wrote the script for the picture. Because of that link, it was extremely simple to draw parallels between John Wick and Nobody, aiming that the latter may serve as a springboard to the next great genre series.
Unfortunately, the picture falls short of its lofty goals. Nobody movie provides the hard-hitting action that moviegoers anticipate. Still, the plot lacks the emotional depth that the picture needs to fully connect with viewers.
In Nobody, Odenkirk plays Hutch Mansell, a typical family man caught in the same daily routine and lived a fairly dull existence. Hutch's long-dormant nature is awakened by his own failure. Soon, he finds himself taking action and defending himself from crooks. That is until he becomes a victim of a home invasion and lets the criminals get the better of him.
Unfortunately, this new strategy puts Hutch in the crosshairs of deadly drug lord Yulian Kuznetsov (Aleksey Serebraykov), forcing Hutch to battle for his life against a bunch of Russians.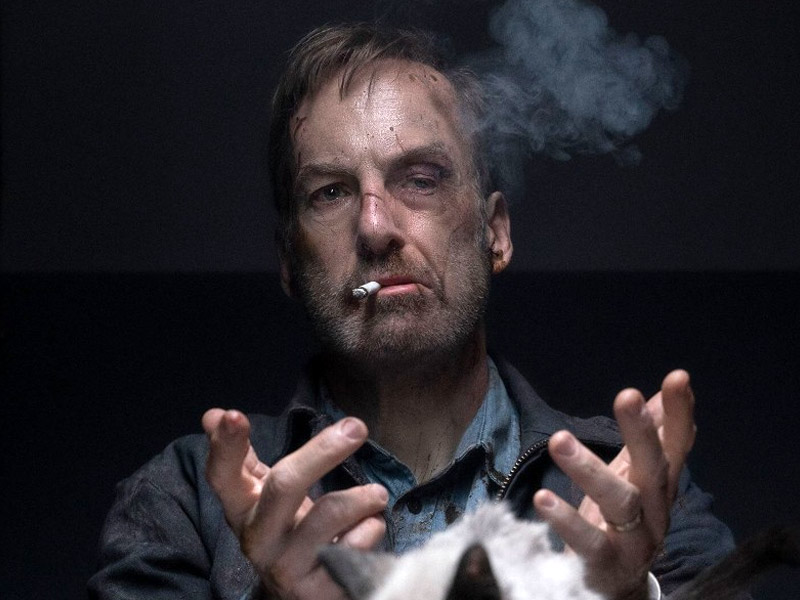 Kolstad's script pulls from the John Wick playbook in that it portrays Hutch as a man with a violent history who wants to go on to something more satisfying. Unfortunately, this viewpoint isn't completely filled out in Nobody since the film only scratches the surface of Hutch's family life. His wife and two children aren't fully formed characters. Still, rather devices are used to show Hutch's present situation and elicit spectator sympathy for the protagonist.
Nobody movie lacks a gripping emotional hook to lure viewers in, so the subsequent action sequences feel ordinary rather than cathartic. The weak plot is harmed further by the lack of deep and intriguing mythology to support Nobody's universe. Thus the script comes off as generic rather than unique.
Nobody movie director Ilya Naishuller, best known for his work on Hardcore Henry, is obviously in his element here, producing several entertaining action set pieces. Nobody movie doesn't come close to hitting the heights of John Wick or comparable films. Still, they're nonetheless effective and violent enough to help deliver on the R-rating.
The fan-favorite moment is about something of a girlie bracelet. The one who watched the movie knows what we are talking about.
Nobody is filmed in such a manner that Odenkirk clearly dedicated himself to the physical aspect of his role, which undoubtedly helps the action scenes flow and land with the desired impact. All of the action is also easy to follow, with most of it taking place in broader perspectives and with few fast cuts. They're seldom more than surface pleasures in terms of plot, but those searching for hard-hitting action will undoubtedly find something to appreciate. One action that stands out above the rest is the bus battle that occurs early in the film.
Odenkirk uses his endearing screen presence and charisma to shape Hutch into a character the viewer can cheer for. Part of the attractiveness of his casting, and what works well in the film, is that he isn't the stereotypical pick for this type of part. Yet, he manages to pull it off successfully. Odenkirk's emotional and comic abilities are also skillfully exploited, notably in sequences in which Hutch reflects on his life and the decisions he's made. However, because many of the other characters are underwritten, he must carry the picture on his shoulders. The supporting cast, which includes huge stars like Connie Nielsen, Christopher Lloyd, RZA, and others, is underutilized.
This is not to suggest that everyone in Nobody movie gives a poor performance; it's simply that, except Odenkirk, they have nothing to work with and fail to make an impact.
"Nobody" succeeds because it prioritizes scene design and action choreography over everything else, eschewing pretension and the overplotting that has become prevalent in the genre in recent years. It doesn't break any rules so much as it presents a great time inside a familiar framework. After a year of too few action films due to the blockbuster's cancellation, "Nobody" provides audiences with an adrenaline rush that nearly seems brand new.
Rather than becoming the next John Wick, nobody comes across as John Wick light, which may disappoint some. Nobody obviously understands what it is and never takes itself too seriously, so it's nice to see Odenkirk try something different at this juncture in his career. Nonetheless, these advantages do not contribute much to elevating the final product above the level of transient enjoyment.
Because of the epidemic, there is still a scarcity of high-profile genre releases. Thus people searching for elegant action may be drawn to Nobody movie. Still, it's hardly a title that begs to be seen in theaters, especially when Universal makes its films accessible on-demand immediately after their theatrical debut. Those who are interested can wait till Nobody can be seen at home.
Why Nobody can be like John Wick
Nobody, which depicts a former assassin seeking vengeance on the Russian mafia, sounds disturbingly similar to John Wick, but the parallels don't stop there.
They're both former assassins.
To begin with the obvious, both John Wick and Hutch are retired assassins, and they're both excellent at what they do. Some fans believe Wick is the true villain since he goes about murdering hundreds of men who can't defend themselves and, in some cases, don't even deserve it. The same could be said of Hutch.
Both depict the Russian mafia.
It is not uncommon for a Russian to play the bad guy in a Hollywood film since Americans and Russians have been at odds since the space race. Still, considering the other parallels, it has to be more than a coincidence.
Muscle Cars are prominently featured in both films.
In the film John Wick, the titular assassin appears to have two passions: dogs and muscle vehicles. The guy in the first film expresses his rage by driving around a dockyard in a 1969 Mustang GT. After the film, he's been handed a 2011 Dodge Charger.
Gun-Fu
Bob Odenkirk put in a lot of effort to play Hutch, and it paid off big time, as spectators can virtually feel every punch, kick, and gunfire. These elements are referred to as "gun-fu," a combat technique popularized by the John Wick films.
Though the gun-fu in the John Wick trilogy is more superior and far more ambitious, Keanu Reeves has been performing his own stunts for decades at this point, and the stunt coordinators have had three movies to polish it. However, if Nobody gets a sequel, it may ultimately match John Wick in terms of ambition.
Putting the Mobster's Money on Fire
Though Nobody movie has many parallels to John Wick, the film does a wonderful job of doing enough intriguing and unusual things to set itself apart from the now-iconic franchise. However, the plot is nearly beat for beat the same when it comes to the Russian mob storyline.
The Poster
Nobody's poster is nearly comparable to John Wick's: Chapter 2's, indicating who Universal is attempting to appeal to. Hutch's face is in the center of the poster, as is John Wick's, and he is surrounded by fists being thrown at him.