Butter chicken makes an appearance on the dinner table at every family celebration. I'd moan and scold mom for choosing him over me, but we all knew it was just a ruse since I'd always end up wiping the plate clean.
What Exactly Is Butter Chicken?
Butter chicken is cooked with marinated chicken that is grilled first before being served in a creamy curry made with tomato, butter, and a unique spice combination as a foundation.
Unlike other Indian curries, which begin with an onion and ginger garlic paste cooked in oil, butter chicken begins with a tomato foundation and is cooked in butter, giving it a somewhat sweet flavor.
Cashews and almonds contribute to the dish's sweetness and richness.
The dish, also known as Murgh Makhani in Hindi, is without a doubt India's most popular cuisine; it may even be one of the world's most popular foods. If you're going to an Indian restaurant for the first time, your friends will most likely recommend it as a good place to start. Its gently spicy, creamy, savory flavor makes it not only tasty but also approachable to nearly any taste.
The Origins of Butter Chicken
Moti Mahal Restaurant in New Delhi, India, is the birthplace of Butter Chicken.
The tale of how butter chicken was created is almost as fascinating as the meal itself. Mokha Singh Lamba built the Moti Mahal restaurant in Peshawar before the partition. Kundan Lal Gujral and Kundan Lal Jaggi both worked as servers there for several years. Thakur Dass worked at his family's rice and pulses wholesale company, directly across the street from the restaurant.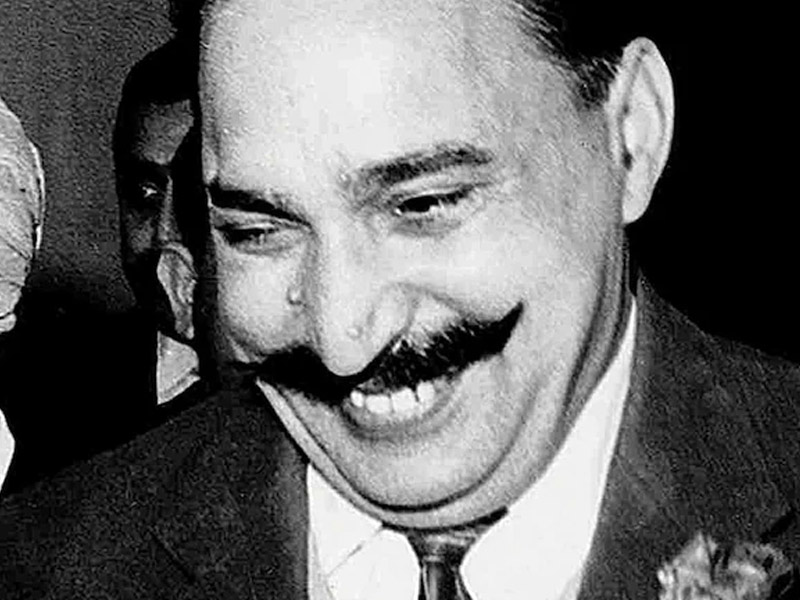 The Moti Mahal was closed down just before the partition. During these trying times, many refugees fled to India due to partition, bringing their diverse talents and culture.
When the opportunity to resurrect the ancient Moti Mahal in the capital area arose, Peshawar cuisine found a new home in Delhi. Mokha Singh Lamba, who was too old to operate the restaurant, was delighted for the three entrepreneurs to utilize the original logo and provided his full support to the venture.
With the region's expanding Punjabi population, a ready-made legion of prospective consumers wanted to enjoy traditional Peshawar food. The trio started off selling bread and tea, but after purchasing three tandoors, they began serving fish and chicken as well.
Without question, the difficulties and sufferings of partition established a deep relationship between the three entrepreneurs. They wanted the restaurant to succeed. Despite requiring a lot of hard work, with their wives earning additional money stitching, the brave entrepreneurs threw their hearts and soul into the enterprise. In 1947, they eventually located a store in Daryaganj and acquired the cash they needed to open their tea room. As the company grew, so did their notoriety. And then the inventions began.
They were preparing tandoori meals when they encountered a problem: if left hanging, the tandoori dried up, and they didn't want to waste anything, so they looked for a technique to keep the chicken moister.
When a Bengali client came into the restaurant and ordered a basic chicken dish, the easy solution came to him. There was simply tandoori, but the cook was instructed to prepare a sauce to accompany the meal. Initially, this was made using cream, butter, and tomatoes, along with a few seasonings. When they discovered that this was the best technique to rehydrate dry tandoori, they created butter chicken, which quickly became one of the most popular dishes in Indian cuisine.
Because Hindus made up the bulk of the population in Delhi before the partition, most of the cooking was vegetarian. However, the chicken was gradually added. Peshawar cuisine became the standard as demography changed due to the inflow of new people and influences. There is no question that the confluence of diverse cultures resulted in menu modifications. The example of butter chicken was not the only one. Soon after, buttered dahl appeared, and by the 1950s, Delhi had established itself as India's culinary and innovation capital.
The Moti Mahal has also become one of Delhi's most prestigious and well-known restaurants. During the 1950s, 1960s, and 1970s, it was home to several notable people. Both Soviet leader Nikita Khrushchev and American President Richard Nixon dined there. Jackie Kennedy famously dined with JFK, and even Queen Elizabeth II paid a visit. Khrushchev used to bring delegations to the restaurant for official events, which led to establishing a restaurant in Moscow in 1963.
The Moti Mahal grew from a single restaurant in Daryaganj to a global brand with Uttar Pradesh to New Zealand, Saudi Arabia, and Tanzania. It remains one of the most well-known names in Indian cuisine.
Why Is Butter Chicken So Popular?
Butter chicken has traveled the world since its inception in the 1950s. It's available in almost every town and city where there's an Indian restaurant. Go online, and you'll find hundreds of various reincarnations of the original recipe, some by the world's most famous chefs.
But, at its core, butter chicken is a simple meal. The mix of tandoori chicken with a creamy, somewhat spicy tomato sauce is delectable. While other, more sophisticated dishes may pique your interest from time to time, the home-cooked, comfort meal that butter chicken embodies will always be a winner.
While the trio of entrepreneurs has since passed away, their impact on Indian food and Delhi as a gourmet destination continues. They are arguably more than any other set of individuals responsible for internationalizing Indian cuisine and putting innovative delicacies like butter chicken on the map.
Butter chicken has traveled the world since its inception in the 1950s. It's available in almost every town and city where there's an Indian restaurant.
We know you are thriving to either eat it right now or cook a lot about the dish. 
Now Let's Dive into an amazing Butter Chicken Recipe…
Ingredients
Chicken and marinade ingredients:
1 pound boneless, skinless chicken thighs, diced into 1-inch cubes

1/4 cup full-fat Dahi

1 teaspoon olive oil

1 tsp. ginger garlic paste

1 teaspoon coriander (dry)

1 tsp Kashmiri Laal Mirch

1 tablespoon cumin

Season with salt to taste
To make the Curry:
8 to 10 almonds, whole

8 to 10 cashews, whole

2 tbsp unsalted butter 

1 tsp. ginger garlic paste

1 teaspoon granulated sugar

1 can (15 oz.) diced tomatoes

2 tbsp coriander (dry)

1 1/2 tablespoons garam masala powder

1/2 teaspoon Kashmiri Lal Mirch, ground

1 cup water 1/2 teaspoon salt

a quarter cup heavy cream

1/2 tbsp. Kasuri Methi
Marinate the chicken: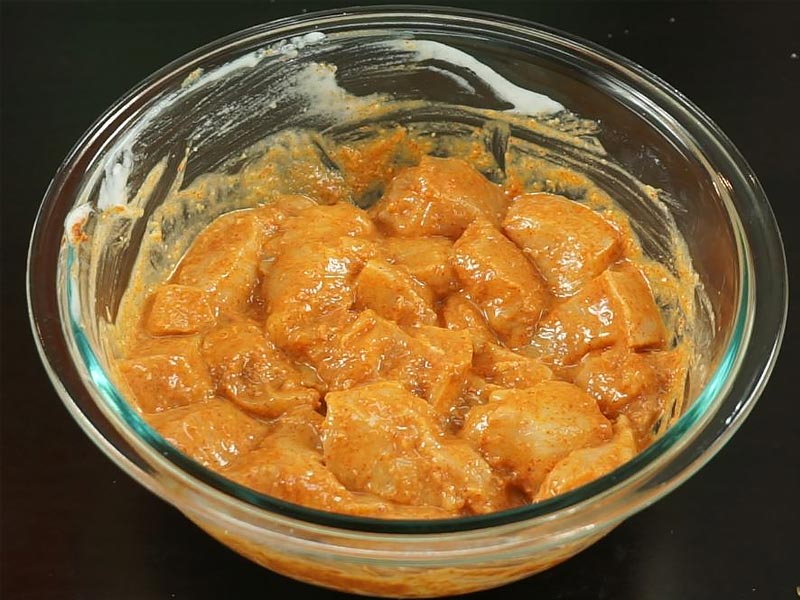 In a large mixing basin, combine the chicken and the remaining marinade ingredients. Massage the marinade into the chicken with your hands.
Refrigerate for at least 1 hour, or up to overnight, wrapped in plastic wrap.
Soak cashews and almonds for at least an hour (or up to overnight) before making the remainder of the recipe.
Cook the chicken
Heat a skillet or grill pan over medium-high heat to cook the chicken. Pour a spoonful of oil into the pan.
Working in batches, take the chicken from the marinade and grill it for 3 to 5 minutes on each side, or until cooked through (clear juice runs out of it when you cut into it). Don't overcrowd the pan.
When the chicken is done, place it in a separate dish. Set away, covered, for later.
Begin preparing the Curry:
In a medium-sized Dutch oven or pan over medium-low heat, melt 1 1/2 teaspoons of the butter. Cook for 1–2 minutes. When the butter has melted, add the ginger garlic paste, followed by the sugar.
Cook for 8 to 10 minutes over medium-high heat, occasionally stirring, until all of the excess liquid has evaporated. The sauce should have a loose, paste-like texture.
Combine coriander, garam masala, Kashmiri Lal Mirch, and salt in a mixing bowl. Cook for 2 to 3 minutes over medium heat, stirring occasionally. Remove from the heat.
Puree the sauce with the nuts: 
Place the paste in a blender or food processor bowl. Mix in the cashews and almonds that have been soaked. To make a smooth paste, combine all of the ingredients in a food processor.
Return the chicken to the frying pan over medium heat to finish the dish. To produce a smooth sauce, add the water to the paste and whisk. Add the grilled chicken and heavy cream to the sauce as it begins to boil. Stir everything together thoroughly. Simmer for 5 minutes with the lid on.
Turn off the heat and cover the pan to rest the butter chicken. Stir in the Kasturi methi and the remaining 1/2 tbsp butter. Cover and set aside for 8 to 10 minutes to allow the Kasturi methi flavor to infuse into the butter chicken.
Serve the butter alongside steaming basmati rice, roti, or naan. Leftovers can be stored in the refrigerator, covered, for up to five days.
This meal may be frozen for a month in an airtight sealed container or a zip-top bag. To keep the texture, thaw and reheat in a saucepan over medium-low heat.