The country that ran on jute and cotton clothing is slowly shifting towards modern materials and trends, with some designers taking ethnic/Indian trends into the global fashion industry with them. It is also noteworthy that the Indian fashion sector is now valued at INR 1000 crore, with a market worth estimated at INR 20,000 crore. Indian fashion, on the other hand, only accounts for 0.2% of the global market. However, given that Indian fashion is still in its infancy, this is to be anticipated.
Keeping its own fashion identity intact, the Indian fashion industry follows the latest trending fashion with ease and does so with pomp and glamour!
And with the advent of Social Media, this process has become even more versatile and enjoyable. With apps such as Pinterest and LBB (Little Black Book), men and women of all ages have started taking an interest in fashion, finding their own personal 'aesthetic.'
Without further ado, let us plunge into the latest trending fashion in India
.
1)Puffy Sleeves to keep you afloat!
Puffed up or exaggerated sleeves have always existed in the fashion industry. Still, the new SS21 fashion puts this trend under the spotlight. This fashion season, puffed sleeves can be seen the light and airy in bright colors, translucent materials, and bright designs, all crafted specifically for a comfortable yet elegant look.
From the general population to Bollywood stars like Sara Ali Khan and Malaika Arora, all have been spotted wearing these beauties. They are very versatile in nature and structure, completely compatible with a summer skirt or jeans of your choice. Many types of materials are used, but the most popular ones being Organza, Voile, and Cotton, all great choices if you want to achieve that opulent summer look!
2) Baggy/Flared jeans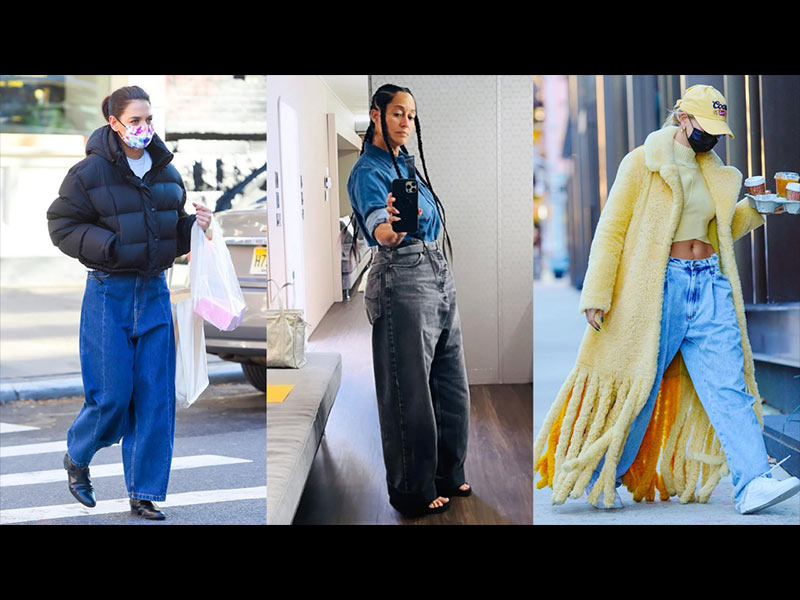 Invest in high-waisted baggy jeans if you want to stay up to mark with the latest in fashion trends right now. These jeans have become part of a fashion revolution in which most styles now favor comfort. That means it's time to ditch the skinny jeans (and the trash) and embrace the relaxed fit. The great aspect is that you may wear it in various ways while remaining comfortable when on Zoom calls or doing errands. If you want comfort mixed with style, these jeans are the way to go! 
You can style this look to match your preference. If you want comfort and want to look presentable, it is advisable to match it with a plain cropped tee, leather jacket (tanned or black), comfy sneakers/sandals, and accessories of your choice.
Deepika Padukone, for example, has been spotted wearing these high-waisted flared/baggy jeans with a corset top over a huge and flowing white formal blouse to serve looks.
3)Neon Culture
Neon culture has started to take roots in the Indian Fashion Industry. It can be seen in every niche, from western to ethnic; neon colors are incorporated in every style or outfit imaginable. The most iconic neon outfit being Deepika Padukone's neon Saree. These neon colors can be fashioned with simple statement earrings. If you want more pop, a pink eyeliner could work wonders! T-shirts, crop tops, and jackets have been popular for more practical and sporty attire in these hues. Neon-colored accessories, particularly shoes and purses, have also been popular.
Although, it is advised that you go with subtle side pieces so that the whole outfit gets balanced out. The Neon fashion trend is included in the list of the latest fashion trends for Indian wedding dresses.
On the global level, neon still fashionable is not only fashionable, but celebs are cranking up the volume. Ashley Graham, Hailey Bieber, and Bella Hadid have all been spotted in dazzling neon-green ensembles, proving that the trend is here to stay. They're not even dipping their toes into the hue. Chanel Iman donned a neutral mini dress and paired it with matching heels, while Bieber sported a neon-green tracksuit from head to toe.
4) Corsets!Corsets! and Corsets!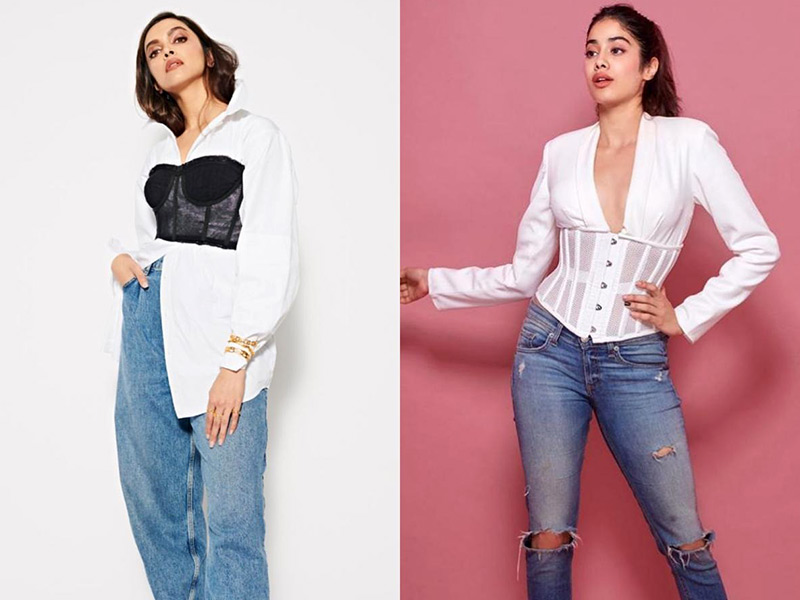 Because the current trendy shape is voluptuous, with big hips and breasts and a tiny waist, corsets have made a more obvious resurgence. Only fashion icons like Priyanka Chopra and Sonam Kapoor could be seen wearing a corset on the street until recently. Still, thanks to today's innovative construction of corsets, the trend is seen in more common women. These new corsets don't try to twist women's bodies into abnormal forms anymore. A basic corset pairs well with your everyday jeans and shirt.
A healthier woman can dress up with heeled shoes and a blazer to elevate her appearance with the corset. With the help of the internet, online Instagram stores have gained immense popularity selling corsets, LuuLiu being the top curators of corsets in the Indian fashion market right now. And Influencers like Komal Pandey and Dolly Singh include corsets in their favorite fashion pieces.
From underwear to outerwear, from corsets to bodices, from restriction to strength, and from boudoir to armor, it has changed aesthetically and symbolically. Constriction and liberation, domination and obedience, femininity and power are all meanings conveyed by the corset. A true source of empowerment for Women!
5)Tennis Skirts and Fashion courts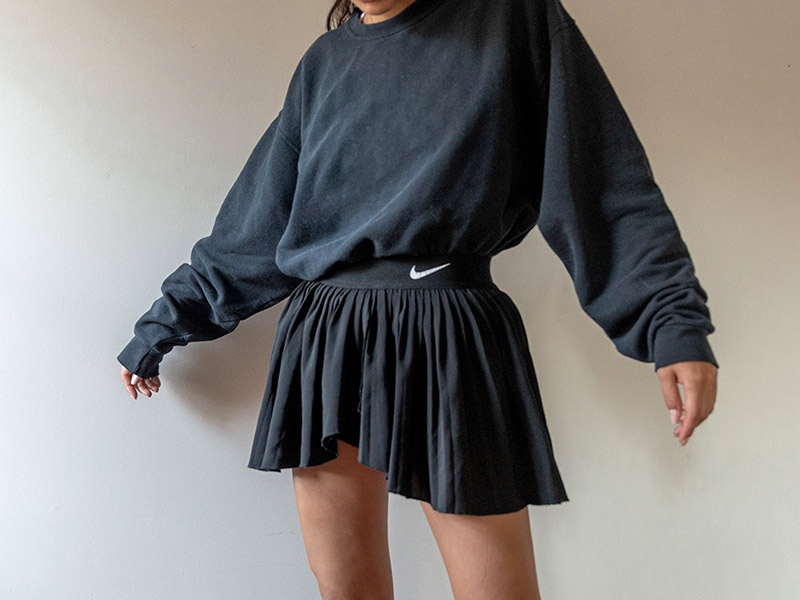 The Tennis Skirt's athleticism and outdoorsy optimism bring a pang of fresh colors in our lazy lockdown times, with its simple, clean, and crisp appearance and timeless sensibility have also contributed to its popularity on social media. 
For a casual appearance, pair your white tennis skirt with a charming graphic crop top. An oversized black hoodie and a white pleated tennis skirt are our recommendations. Combine it with a layer of gold necklaces and a sleek shoulder bag, which is again in style these days. For a more sexy or sultry, you can style the tennis skirt with a halter neck silk cropped blouse and tied-up kitten heels, styled with pearl chokers and pearl beaded shoulder bags.
6)Y2K fashion
Y2K covers the late 1990s and early-to-mid 2000s, so it catches the excitement of your childhood and early adolescence for millennials. Women dominated pop culture at the time, and this age was undoubtedly defined by them. It is defined by a distinct aesthetic period, incorporating fashion, hardware design, music, and furniture gleaming with tech optimism – sometimes literally. It is named after the Y2K Bug. Bright pinks, purples, and yellows, as well as low-rise jean skirts or trousers, are certain to be spotted. As I previously stated, accentuating the physique with form-fitting clothing was a significant trend in Y2K fashion. 
Luxurious consumerism, the hoarding of designer deadstock, and the pursuit of futuristic trends through apparel molded the culture of the late 1990s. This era's clothing and streetwear included many glitters, designer logos, and gowns that represented the notion of "streamlined" technology. A deeper explanation for our current obsession with the Y2K aesthetic might be that we are under comparable challenges to society in the 1990s. Surviving a pandemic entails hiding indoors, stocking up on supplies, and depending on technology to help us through these dangerous times, leading us to rediscover and fall in love with this trend.
7)Layers save lives
Layer clothing seems to be a style of dressing that involves wearing several garments on top of one another. Some of the levels serve distinct, mostly non-overlapping purposes. Using more or fewer layers, or replacing one layer but not the others, provides for adaptable clothing to meet the demands of each environment.
Knowing how to layer your essentials is one of the simplest ways to look like a star. It's time to embrace layering if you've been avoiding it. To begin, stick to neutral color palettes with one piece of vibrant clothing that jumps out. Another alternative for an effortlessly attractive appearance is to sling your coat/jacket over your shoulders. To prevent a fashion faux pas, avoid combining designs and patterns. It's also important to remember these 4 rules before you experiment with layering: Color is Key, Fabric is the Focus, Proportion plays, and just have fun with it!
Layering accessories are also a raging fashion trend right now. Specifically, minimalistic layered jewelry made from pearls, Gold, or platinum makes the fashion crowd go ballistic. Fashion curators have started creating and selling their versions of these layered necklaces. SNAStudio and Hannan jewelry are the best options. Both stores provide elegant and easy-to-coordinate layered jewelry pieces, which have gained a huge following. With the revolution of supporting homegrown shops and labels, Komal Pandey was seen wearing the layered necklace piece from SNAStudio.
Fashion trends will always come and go, and it completely depends on you if you want to follow the latest in fashion trends. But, what you should always prioritize is having confidence no matter what look or trend you go for and loving yourself no matter what!