After Life season 3, the writer/director/star, Ricky Gervais, admits that he made up his series After Life as he went along because he never knew and thought that if there would be a second season, let alone the third one, which is perfectly released in keeping with the themes of the show i.e. living in the moment and uncertainty. However, as the After Life season 3 premieres on Netflix, and Gervais has now promised that it will undoubtedly be the final one, and also there is an expectation of some conclusion and a good sense of closure at the end of season three than it was at the end of seasons one and two.
When we last saw Tony, at the end of season two, as the widower played by Gervais, he seemed to have broken the cycle of perpetual grief for his wife Lisa that is played by Kerry Godliman, who has died because of cancer, until his father died, which appeared to push him back into the grim darkness.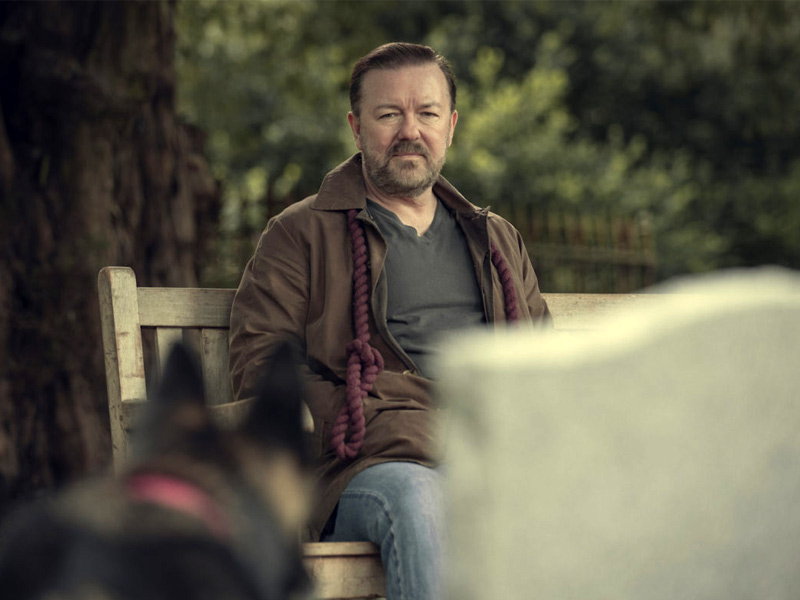 But the friendship of his with the nurse of his father, Emma that is played by Ashley Jensen, appeared to shine a light into his dark world, and at the end of the second season, we can witness how that friendship and possibly burgeoning romance saves Tony from the mere darkness that is consuming him, as the ringing of the doorbell from Emma is the thing that prevents Tony from swallowing a handful of pills. Despite the audience's relief at that point, the ending was still quite somber and ambiguous, leaving us to wonder how long Tony can keep the demons at bay.
As we start watching After Life season three, Gervais uses the very same method he used to in the start of season two to reintroduce us to the characters and tell us where they are now, through an opening montage set to music. This time, it's 10cc's "The Things We Do For Love," and as we go around to each character, there's a much lighter and happier feel to it all, as everyone appears to be happy, content, and settled, along with Tony, who spends a lot of time with Emma.
However, as the music stops and we delve deeper into each character's circumstances, we discover that things aren't as happy-go-lucky as they appear. Everybody seems to be dealing with a confidence crisis, which is a way different experience than we have ever expected from the bumbling and naively happy gang of misfits we have come to know. The sweet and innocent optimism of the supporting characters provided a crucial buffer for Tony's descent into melancholia in the first two seasons, and now it is up to him to rediscover his own sense of kindness to help others, which may just help him.
While kindness is undoubtedly a more prominent theme in season three, there is no escaping the still-dominant dominant theme of grief that looms over everything, as it has throughout the series. Is Tony's grief over Lisa's death magical? There isn't even a little. Is he in a different place at the end of Season 3 than he was at the end of Season 2? To respond would jeopardise the series' most enjoyable aspect.
The magic of After Life is that there are no major plot points to hit, no great, planned story to play out, in order to get from point A to point B. Instead, it's about being with these characters as they go through their days, experiencing their highs and lows, small victories and frustrating defeats. After Life season 3 is a series that is about life and death, but in the most mundane—and sometimes most significant—ways. Season three is much more reflective of life and the journey these characters take in exploring their own frailties and futures, rather than tying up plot points or even providing closure.
Season three continues Tony's insensitive scolding of Matt (Tom Basden), his boss/brother-in-law, with Matt finally maning up and challenging Tony to feats of physical fitness, a running gag that provides some of the series' biggest laughs. Exploring perpetual loser Brian's state of mind and life is a running gag that doesn't work as well as it should, as he gets his own storyline that isn't as effective as David Earl's performance as him.
And, in the end, there is no doubt about what the purpose of After Life is. After Life season 3 proves to be an excellent companion to season 1 and 2 of After Life, and it furthers the desires of Gervais to portray an honest reflection of life and death, along with the complicated journey that grief can be. Loneliness, anger, and hopelessness are all natural parts of the human experience, as are humour, pathos, kindness, understanding, and melancholy.
Instead of the sadness and reminders of the brutality of loss and the pain of grief, there is an underlying message of optimism, of living in the moment, of appreciating the opportunities and beauty that life has to offer.
But what is most surprising, at least to those who may see Gervais as a misanthrope at heart, is the series' whole-body embrace of humanity, of the importance of kindness and the effort to communicate the brevity of life and the subsequent importance of making the most of it.
After Life season 3 offers a sweet, sentimental and satisfying conclusion to a near-perfect series that warms the heart, challenges perceptions, confronts demons, and,  also makes your heart laugh out loud. It's disheartening to see it go. However, it gave us three perfect—if brief—seasons that can remind us of the unique vision of Gervais, which is both bittersweet and beautiful. The same as in real life.