One of Maharashtra's best-kept secrets is Lonar Lake. The stunning and mysterious Lonar Lake has got its name after the demon called Lonasura, and is blessed with fascinating temples, along with the one with erotic sculptures reminiscent of Khajuraho which serves as home to the Earth's only hyper-velocity impact crater in basaltic rock.
The crater was formed 52 thousand years ago when a meteor weighing 2 million tonnes crashed into the earth at an estimated speed of 90,000kmph. It carved a 1.8km wide and 150m deep crater. The jungle took over, over time, and a perennial stream transformed the base into a peaceful, green setting.
Despite its rarity, aside from locals and occasional trekkers, few people have heard of Lonar Lake. The Earth's largest and only hyper-velocity impact crater in basaltic rock was formed by one of the 30,000 to 1,50,000 meteors that fall towards the Earth each year. Lonar Lake has prompted NASA scientists and Geological Survey of India officials to seek answers to questions such as, "Why is the lake both alkaline and saline?"
Why does Lonar Lake support the unique microorganisms that are found nowhere else on the planet? Why don't compass work in some areas of the crater? What's at the bottom? But it is still an amazing place to pay a visit, so, let's explore Lonar Lake with this blog!
HISTORY OF LONAR LAKE
The crater lake was first mentioned in ancient Indian texts like the Padma Purana and Skanda Purana. The Ain-i-Akbari, a manuscript published around 1600 CE, also mentions it. According to the evidence, it was once a part of the Mauryan Empire. According to a popular local legend, the crater was formed when Lord Vishnu hurled Lonasura, a mythological demon who caused problems for the locals, back into the netherworld with tremendous force. This is thought to be what caused the crater to form.
MYSTERIES ASSOCIATED WITH LONAR LAKE
The Lake has both Alkaline and Saline Content- A lake can't be both alkaline and saline according to science. The presence of microorganisms that are both alkaline and saline in this lake adds to its enigma. Lonar Lake is divided into two different areas that never mix and these areas include an outer neutral region and an inner alkaline region, each having its own flora and fauna. The mud belt is devoid of vegetation because of the alkaline nature of the land.
No Compass works here- Another intriguing aspect of Lonar Lake is that as soon as you arrive, your compass's directional indicators either stop working or show significant variations. Scientists have long been perplexed by the erratic behavior of compasses in this area, and they have tried to find an explanation, but no one has justified the rationale.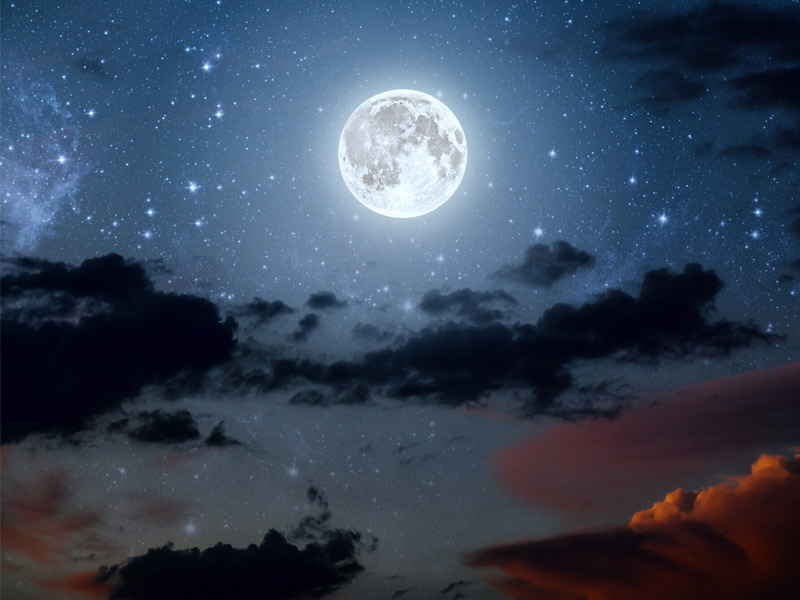 It contains traces of moon mineral- As per the NASA, crater's volcanic basalt makes Lonar resemble lunar craters. In addition, the newly discovered bacterial strain at the lake's crater site is like one found on Mars. The presence of specific rock minerals in the crater, such as micro breccias and glass spherules, draws close parallels to the moon's geology and crater formation.
HOW TO REACH LONAR LAKE?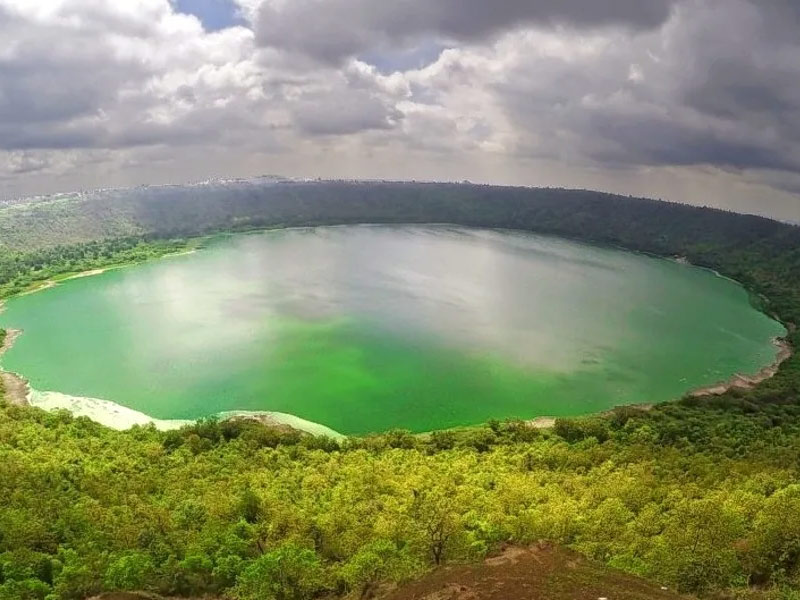 By any means of transportation, Lonar Lake is not well connected to other towns and cities. The best way to get to Lonar Lake is to first go to Aurangabad and then take a cab or bus there. Aurangabad is well-connected by rail, air, and road, and the journey from Aurangabad to Lonar Lake will take approximately 3 hours (150 km).
By Flight- The town of Lonar does not have its own airport. Aurangabad, about 150 kilometers away, has the nearest airport. To get to Lonar, you can take a taxi from the airport.
By Road- A good road network connects Lonar to all nearby cities in Maharashtra. You can drive yourself to Lonar or take a taxi from any of the nearby towns. You can also take a bus to Lonar from any of Maharashtra's major cities.
By Rail- Lonar lacks a railway station. Aurangabad has the closest railway station. From here, you can either hire a taxi from Aurangabad or can reserve a seat on one bus that run between Aurangabad and Lonar daily.
After reaching Lonar, you can easily take any of the public transport to reach Lonar Lake.
BEST TIME TO VISIT LONAR LAKE
To get a clear view of the surroundings, the best time to visit is between October and March, when the weather is not too hot or too rainy.
THINGS TO DO IN AND AROUND LONAR LAKE
Explore Lonar Lake-
Lonar lake is in a very stunning location and serves as the world's only saltwater lake in a basaltic rock which is believed to have been caused by a meteorite impacting Earth around 52,000 years ago. It is one of the oldest temples in South India and is built in the Dravidian style. Its popularity has recently grown because of its inclusion on the UNESCO list of world heritage sites. Throughout the temple, there are numerous carvings to be seen. The temple is made up of three separate structures. Two of them are Shiva temples that run east and west. The third structure is a Vishnu temple.
Witness Gomukh Temple-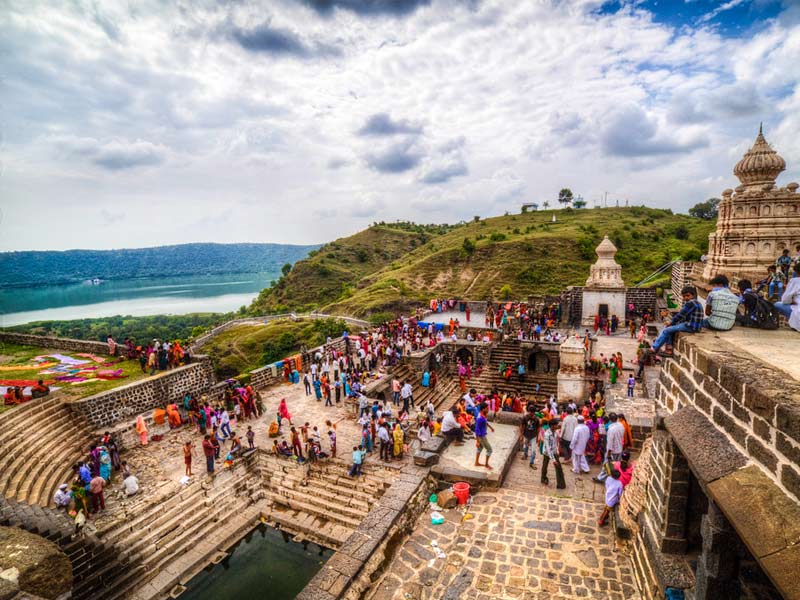 Devotees consider the temple to be holy because it is located near the stream's edge. Snakes, langurs, deer, foxes, and mongooses have been spotted nearby. A captivating sight worth seeing.
Daitya Sudhan Temple-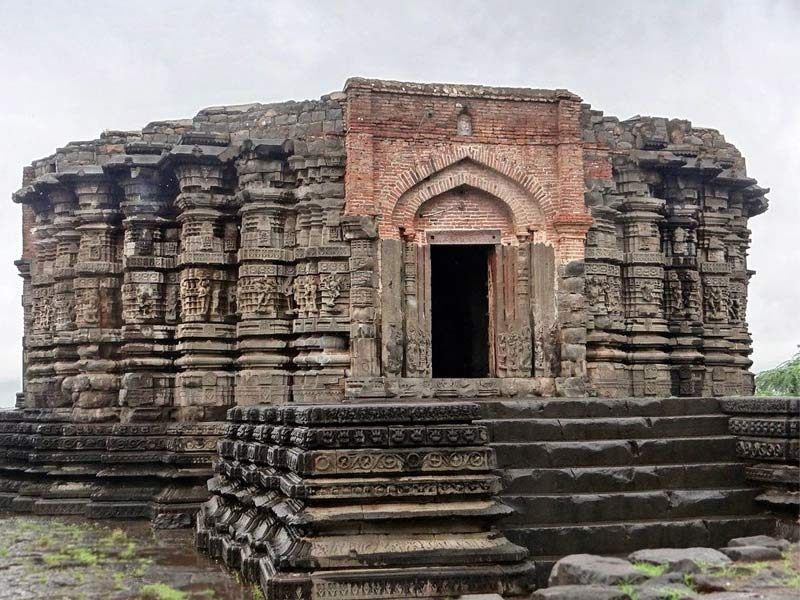 The Chaitya Dynasty ruled the region between the 6th and 12th centuries AD, and this ancient temple is dedicated to Lord Vishnu. The temple's shape is reminiscent of an irregular star. Daitya Sudhan temple is similar to Khajuraho temple in that it is made of a unique metal that resembles stone. Insides of the temple is dark, so bring a torch if you want to see the earnings inside and on the roof.