Midnight Mass, the only series that only really gets going in episode seven is a miniseries that is taking a unique place in everybody's heart. This miniseries can be a perfect weekend watch. It is a great option if you are looking for something in the horror genre. Directed and mostly written by Mike Flanagan of The Haunting of Hill House.
This American supernatural horror revolves around an isolated island community that witnesses a lot of supernatural events when a mysterious priest enters that island. The series was aired on September 24th, 2021, and is getting a lot of love and praise from people with so many positive reviews.
MAIN CAST OF MIDNIGHT MASS
The main cast of midnight mass involves-
Kate Siegel- Kate Siegel in Midnight Mass is Erin Greene. She is Riley's childhood sweetheart, who is now a school teacher on Crockett island and is expecting a child.
Zach Gilford- Zach Gilford is playing the role of Riley in the miniseries. He is a former venture capitalist who has returned to his hometown of Crockett island after four years. He was in prison for those four years for a drunk and drive accident that has resulted in a woman's death.
Kristin Lehman- She can be seen as Riley's mother, Anne Flynn in Midnight Mass. She is a devout, forgiving mother.
Samantha Sloyan- In the role of Bev Keane, an overbearing member of St. Patrick's Church is winning the hearts of many. Also, in midnight mass, she is an influential figure in the community.
Igby Rigney- He is Warren Flynn, the teenage brother of Riley, who works as an altar boy at the church.
Rahul Kohli- Rahul Kohli in Midnight Mass can be seen as Sheriff Omar Hassan. He is a Muslim Sheriff of Crockett island who is at odds with the town's Predominantly Christian population.
Annah Cymone- She can be seen as the mayor's daughter Leeza Scarborough who uses a wheelchair.
Annabeth Gish- Playing the role of Dr. Sarah Gunning in Midnight Mass. Also, she is a close friend of Erin.
Alex Essoe- Alex Essoe can be seen as Mildred Gunning, Sarah's aging mother who has dementia.
Rahul Abburi- As Ali Hassan, the son of Sheriff and a friend of Warren and Ooker.
Matt Biedel- As Struge, island handyman
Michael Trucco- He can be seen as Wade Scarborough, the mayor of the island.
Crystal Balint- As the wife of Wade and mother of Leeza, Dolly Scarborough.
Louis Oliver- As Ooker, a friend of Warren and Ali who also works as an altar boy at church.
Henry Thomas- As Ed Flynn, father of Riley, who works as a fisherman and is reluctant to welcome his son home.
Hamish Linklater- He can be seen as Father Paul Hill in Midnight Mass. He is an enigmatic new priest at St. Patrick's church who has temporarily arrived to replace the aging Monsignor Pruitt.
SYNOPSIS OF MIDNIGHT MASS
Midnight Mass basically tells the story of a small and isolated island community. The return of a disgraced man and arrival of an enigmatic priest amplifies the exciting divisions of the island. A new priest coincides with some miraculous and unexplained events. It divided the entire story into seven episodes, as follows-
Episode 1-
Titled as 'Book I: Genesis', episode 1 of Midnight Mass involves the returning of Riley Flynn to his hometown, i.e. Crocket offshore fishing village, after four years. He spent four years in prison because of his involvement with drunk and drive in which he crashed a woman. His family comprises his parents, Annie and Ed, with a brother, Warren. He had a childhood sweetheart, Erin Greene who has returned to the island and is pregnant and is working as a school teacher. And there is a newcomer, Father Paul, in the town who came to temporarily replace Monsignor Pruitt.
The town is suffering an economic crisis because of an oil spill that crippled its fishing industry. A strange movement on the island is noticed one night by Ooker and Warren while they were smoking marijuana during a night out. There was a strange movement in a remote area populated by feral cats, which later mauled entry. The same night Riley too notices the figure of Pruitt walking along the beach and suddenly that figure vanishes. And the next morning there were hundreds of dead cats were found along that same beach.
Episode 2- 
Titled as 'Book II: Psalms, episode of the Midnight mass begins with the townsfolk discussing and could not determine the reason for the death of cats. Bev was covering the perimeter of the church with 1080, with a hope of fending off potential predators. Father Paul then discovers that the daughter of the Mayor who uses the wheelchair was shot by a drunk Joe Collie accidentally and was paralyzed. Then during the manual annual festival of Ash Wednesday, the dog of Joe suddenly dies after eating the food off ground.
Joe suspects Bev for this, as he despises him for extracting church donations from the people of the town, convincing them to accept a settlement with the oil company that poisoned the waters of the bay. Erin then witnesses a strange and mysterious creature walking on her property. Riley attends a meeting with father Paul and there he expresses his contempt for the doctrine of theodicy, owing to his guilt over that fatal car accident that he has been a part of. And during the mas on Sunday, Father Paul insists Leeza rise from her wheelchair and she stands and walks.
Episode 3-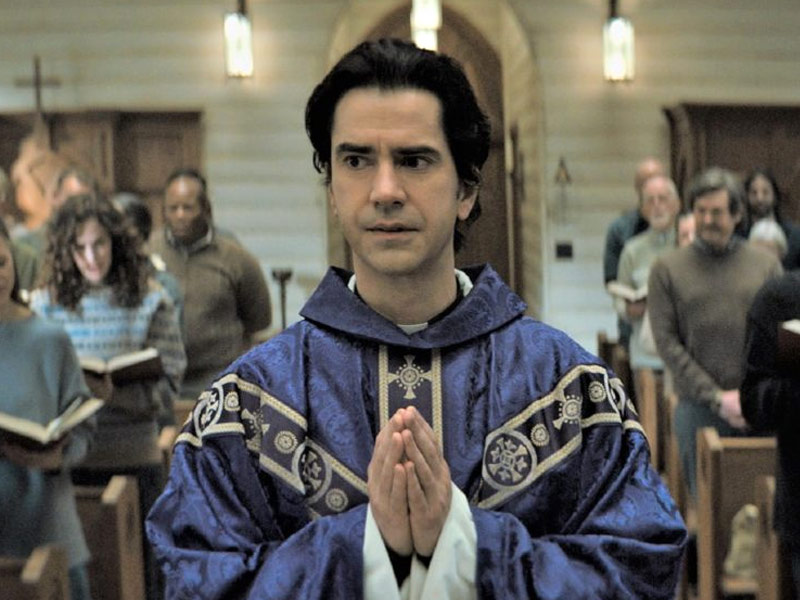 Titled as 'Book III: Proverbs', this episode of the Midnight Mass deals with the island of Crockett experiencing a religious revival as Leeza recovers suddenly. Leeza then meets Joe, who was till then unaware of her recovery. She, in tears, expressed her hatred for him for the years she has harbored towards him because he caused her that injury but ultimately forgives him. Joe witnesses an AA session with Riley and Father Paul. The Muslim Sheriff, who was facing utter harshness and puts him against the town's mostly Christian population, discovers that his son was reading the Bible.
Then he attempts to get Bev to stop him from handing over the Bibles to the children of the town, which was unsuccessful. Then Father Paul collapses in front of Bev and then dies after coughing blood, only to suddenly spring back to life. In a flashback, that takes place the night before his first sermon on the island, Father Paul was caught in a sandstorm and there he discovered an ancient ruin. After discovering that ruin he again got attacked by a vampiric creature who fed him its lifeblood and when he woke up the next morning, he regained his youth, revealing the identity of Father Paul as a revitalized Monsignor Pruitt.
Episode 4- 
Titled as 'Book IV: Lamentations, the episode begins with Erin discovering that she has suffered a miscarriage. Then, distraught, Erin spends her day with Riley and grieves for her unborn. Meanwhile, Father Paul becomes to show some symptoms of vampirism that also included, burning in sunlight, as Bev deduces his true identity. Father Paul is then visited by Joe, where Joe witnesses father Paul drinking the blood diluting it with wine. Then Father Paul hugs him tightly and Joe falls down.
That hits his head on the floor and he bleeds and Father Paul drinks his blood. Then, Bev, Mayor, and Scarborough discover the corpse of Joe, and Bev was elected to cover up that murder. After this, Riley meets Father Paul for AA, where Father Paul gives him the reason behind the absence of Joe that he has visited his sister. But Riley knew that Joe's sister has died months earlier. Then Riley comes back at night and confronts Father Paul, only to be attacked by the Angel, who is seen shedding its blood into a decanter.
Episode 5- 
Titled as 'Book V: Gospels'. This episode begins with a sudden disappearance of Riley and Erin filing a complaint about the same with Sheriff Hasan. Then on the evening of Good Friday, Father Paul delivered a sermon. Later that night, Riley appears on the doorstep of Erin and asks her to come with him for a boat ride. However, Erin agrees, and after rowing far away from the island, and reveals to Erin whatever happened to him. He told her that when a vampire attacked him and he recovered rapidly under the care of Father Paul.
And then he told her that Father Paul revealed his true identity to him, that he has the blood of the vampire that he diluted with wine and gave it to people to treat them. Then he confesses his love for Erin and as the sun rises, he combusts and quickly burns away into ashes.
Episode 6- 
Titled as 'Act of The Apostles', this episode of Midnight Mass deals with the returning of Erin to the island and telling the entire story to Sarah. She also relays her suspicion to Sheriff Hasan, but he refuses to investigate the church as he fears he will suffer alienation from the others, too. Then the night before Eaters, at the mass, Father Paul reveals he is Monsignor Pruitt to the residents and unveils the Angel to an awestruck crowd.
Pruitt informs the churchgoers that they all have the blood of Angel in their veins and encourages them to drink poison to die and be reborn. Many of them even drunk that poison. Ed is turned while Erin, Hassan, Leeza's parents. Then the dead churchgoers resurrect and attack those who have not drunk the poison. Ed is turned while Erin, Hassan, Sarah, Annie, and Warren escape.
Episode 7- 
Book VII: Revelation begins with the now-turned Mildred reunites with Pruitt, who were lovers years ago and Sarah is their daughter. Then it was revealed that he has brought this blood of angel to reunite with Mildred. Then some of the unturned townspeople set the whole Crockett island on fire. After this devastation and violence, Pruitt denounces Bev, and she denounces the father Paul. And Bev then orders her followers to burn everything except the church.
Then, Sheriff, Erin, and Sarah tried to burn down the church, but Bev wounds Hasan badly, and Erin dies as Angel attacks her. Only Leeza and Warren who rowed far from the island were the only survivors left from the island, and the rest of them died.