In the last few decades, Korean Dramas have been a great dominant genre, with the increasing trend of a craze in people for Korea's culture. There is a whole huge list of Korean dramas available on various OTT platforms, especially Netflix. Out of these various amazing Korean Dramas, one recent drama has made its way to one of the top shows to watch on Netflix and i.e. Squid Game.
In the entire world of Korean Drama content on Netflix Squid Game has marked its special place in just a couple of days. This new thriller Korean Drama, Squid Game is great to watch and if you have watched none of the Korean drama till now, then this can be a great option, to begin with. Squid Game is the most popular Korean drama to date.
Just like Hunger Games, As the Gods of Will, Battle Royale, and Alice in Borderland, Squid Game forces strangers to fight to the death in a deadly and twisted competition. And it awarded the one who survives for a long time an obscene amount of money. But something is there that sets this show apart from the rest is that each one of these participants actually volunteers to play of their own free will. Squid game is a perfect show to binge-watch to treat the cravings of watching something thrilling, interesting, and exciting.
If you are a fan of K-dramas, then how can you miss Squid Game and it's every single detail. That is why this blog is here to help you out for the same as here. You can get every detail of this amazing Korean, Drama i.e. Squid Game………
CAST OF SQUID GAME 
The amazing cast of this South Korean includes-
Lee Jung-Jae as Seong Gi-hun, is a chauffeur and gambling addict living with his mother and is struggling financially to support his daughters.
Park Hae-soo is Cho Sang-woo. He is the head of the investment team at a security company and is junior to Gi-hun. Also, he was a gifted student who studied at Seoul National University but is now wanted by the police as he has stolen money from his clients.
Jung Ho-Yeon, as Kang Sae-byeok, is a North Korea director who plays the game to find a surviving family of a broker who is still across the border.
Oh Yeong-su as Oh II-nam is an elderly man suffering from brain tumor and is playing the game as denied to waiting to die in the outside world.
Heo Sung-Tae is Jang Deok-su. He is a gangster who enters the game to settle his massive gambling debts.
Anupam Tripathi, as Abdul Ali, is a former worker from Pakistan and is playing this game to subsidise his family as his employer refused to pay him for months.
Kim Joo-ryoung as Han Mi-nyeo, is a mysterious and manipulative lady who is asserted to be a poor single mother.
Wi Ha-Joon as Hwang Jun-ho is a police officer who guards into the game to find his missing brother.
This is only the main cast of the show. However, there are so many other supporting actors too who contributed to the show.
PLOT OF SQUID DRAMA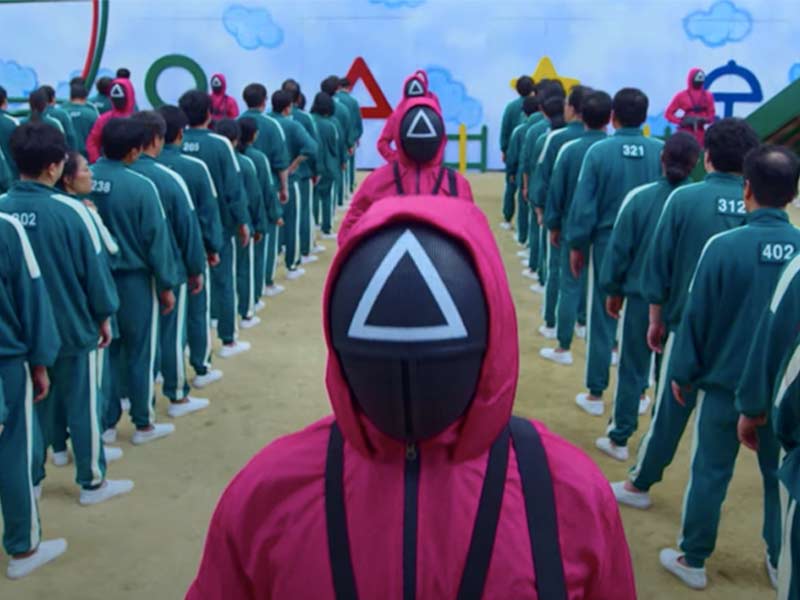 This 9 episodes Korean drama, i.e. Squid Game, was released on 17th September 2021 and is making the fans literally crazy about it. The plot of Squid Game revolves around a survival game. The plot of the series involves Seong Gi-hun who has got fired from his job and is leading a life full of difficulties and financial crisis. While leading a miserable life, he hears about a secret survival game that can earn him 45.6 billion if he wins, as it is the winning prize. Then he takes part in the game.
SQUID GAME, AN HONEST REVIEW
Squid Game is a great show to binge-watch on Netflix and is breaking all the records on the platform. In a nutshell, it is so amazing to watch this amazing show. It is the story of 456 debt-ridden contestants as they compete in a series of games for children to earn the cash prize. Then soon, it was discovered by the participants that this game involves some deadly stakes, and when organizers talk about the eliminations, they were really particular about it. In the series, we are introduced to some contestants who were going to be a part of the show. All of them are in great debt and in financial distress.
The subplot of the show is smartly written where detective Hwang Jun-Ho (Wi Ha-Joon) leads this plot. Overall, it is fun to watch the contestants playing the squid game. There is a lot of violence and some amazing terrifying revelations and nerve-wracking moments. But what makes Squid game beyond just a textbook survival show is its rare moments shared by contestants of camaraderie.
However, Korean dramas are making their way to impress the audience in every way. But Squid Game is something new and different in this genre. People who have watched Squid Game already are eagerly waiting for season 2 and we hope it will also be aired soon.