Chicago is without a doubt one of the best food cities in the country, but when it comes to signature dishes, it's in a class by itself. The question here isn't "What food is Chicago famous for?" but "What foods is Chicago famous for?"
When it comes to the best pizza in Chicago, locals are divided between deep-dish and tavern-style. When you start talking handhelds, you'll learn about Chicago hot dogs, Italian beef, the jibarito, and something called a Gym Shoe.
Food tours in Chicago on Cozymeal will allow you to discover some of the most iconic Chicago foods, whether you're a local or visiting the Windy City for the first time.
Lou Malnati's Chicago Deep-Dish Pizza
Deep-dish pizza is perhaps the most well-known Chicago food. The Chicago deep-dish pizza, with its thick crust, zesty tomato sauce, personalized toppings, and a massive layer of cheese, dares to be different.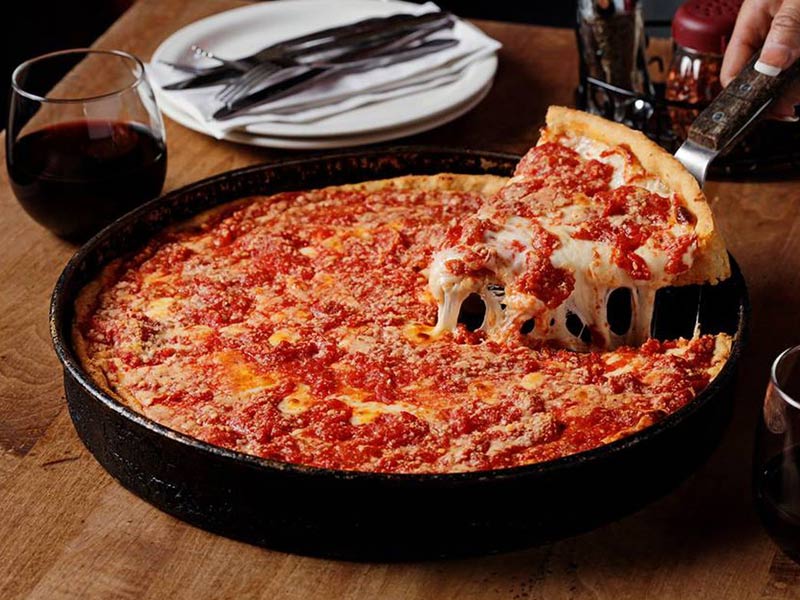 There is a lot of local competition claiming to have the best deep-dish pizza in Chicago, but Lou Malnati's is the undisputed champion. The heavy blend of cheese and vine-ripened tomato sauce inside a one-of-a-kind, oh-so-good butter crust has a special place in the hearts of Chicagoans.
Portillo's Chicago Style Hot Dog
A true Chicago hot dog is made with the following ingredients: a water-bathed (not boiled) Vienna beef hot dog in a steamed poppy seed bun with yellow mustard, fluorescent green relish, chopped white onions, spicy sport peppers, tomato slices, a dill pickle spear, and a dash of celery salt.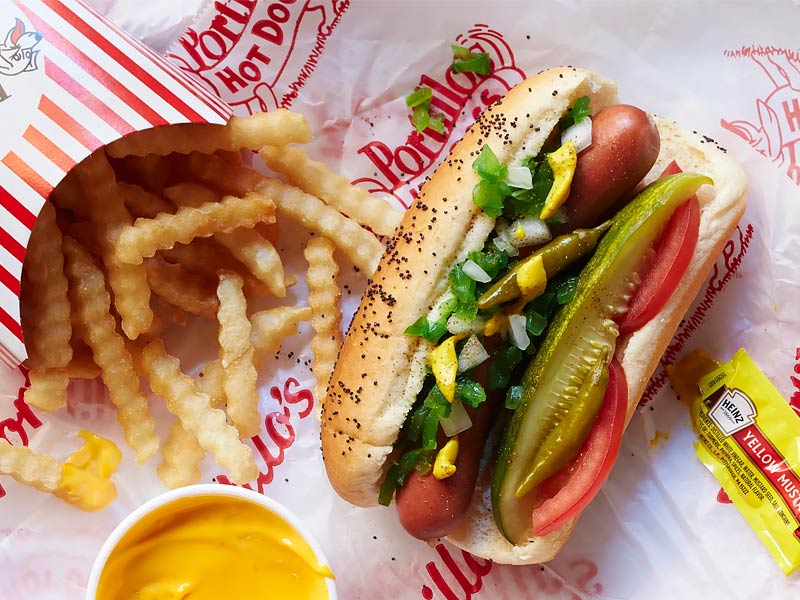 Of course, ketchup is strictly prohibited. The best hot dogs in Chicago can be found at Portillo's, which serves the quintessential example of this famous Chicago dish.
Chicago Style Popcorn
Garrett Popcorn's Garrett Mix is synonymous with Chicago popcorn. Garrett's CaramelCrisp and CheeseCorn popcorn flavors are combined in this famous Chicago popcorn, which is made in old-fashioned copper kettles using secret family recipes. Since the shop's inception in 1949, the mix has been a popular Chicago food.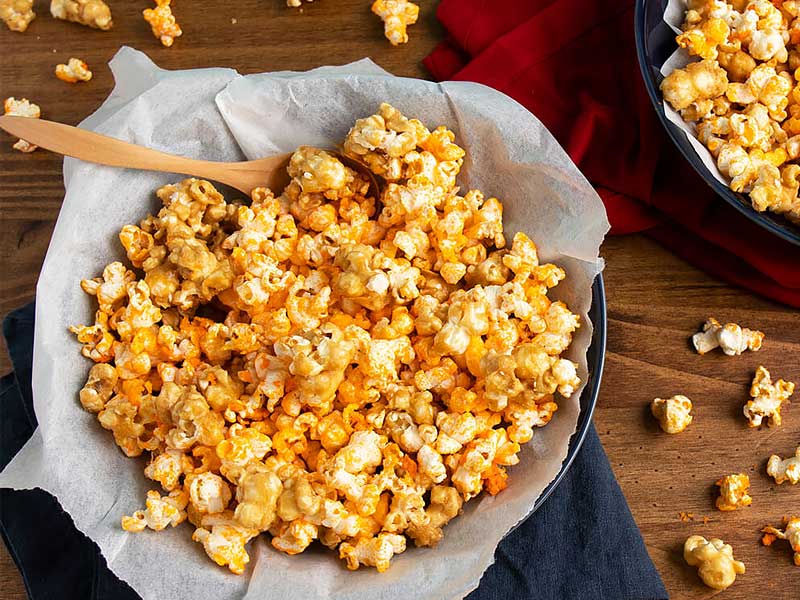 Garrett's has multiple locations throughout Chicago (as well as several other cities around the world), each offering a variety of popcorn flavors in their signature blue-striped tins. When you see the out-the-door line, you'll know you're close to one of Chicago's shops.
Al's Italian Beef Sandwich
One of the city's most famous creations is the Italian beef Chicago sandwich. A crusty Italian roll is piled high with thinly sliced and seasoned roast beef, as well as your choice of peppers and au jus sauce. Locals are divided over who makes the best Italian beef Chicago sandwich in town.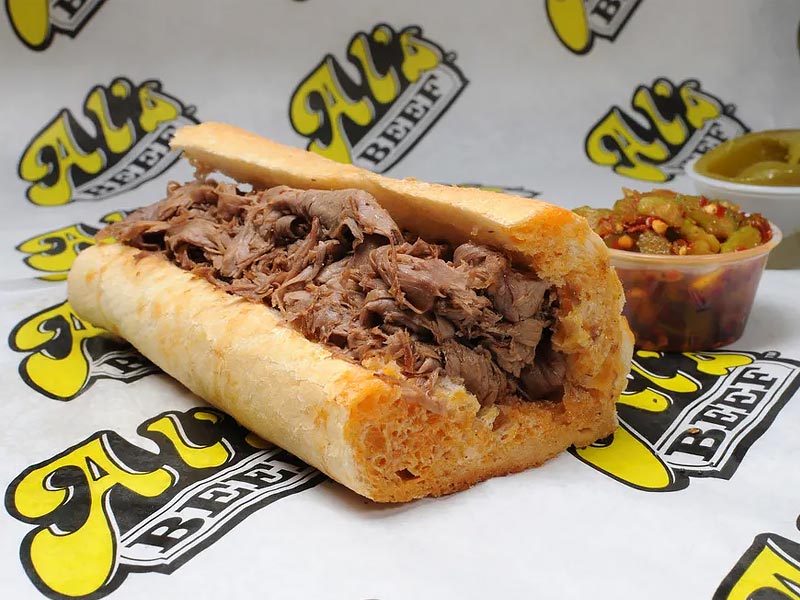 Since its inception in 1938, Al's claims to be the inventor of this iconic Chicago dish, and it has won numerous awards. You can order your sandwich dry (with just a splash of gravy), wet (with extra gravy), or dipped at Al's (loaded with gravy). You can also top it with a variety of cheeses, sweet peppers, or spicy giardiniera.
The Original Rainbow Cone
A cake cone piled high with chocolate, strawberry, Palmer House (vanilla with cherries and walnuts), pistachio, and orange sherbet is this classic Chicago food (in that order).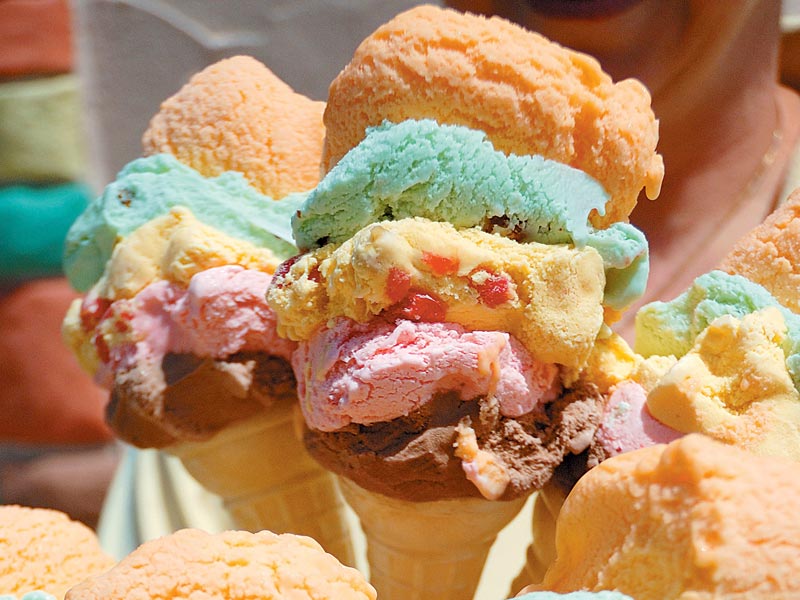 It's a summertime favorite and Instagram-worthy dessert that hasn't changed much since it was first scooped in 1926.
This Chicago food is available at both its original location in Chicago's Beverly neighborhood and its second location at Navy Pier.
The Tamale Guy's Tamales
Tamales were not invented in Chicago, but the Tamale Guy's tamales are among the city's most iconic foods. Claudio Velez, also known as the "Tamale Guy," is known to walk through the doors with his famous red coolers brimming with hand-rolled tamales, eliciting a cheer from the locals. Visitors to the Tamale Guy's brick-and-mortar shop in West Town can now get their fix of perfectly seasoned chicken, pork, or cheese and pepper.
Ann Sather's Cinnamon Rolls
Cinnamon layers rolled into a satisfyingly chewy, buttery dough dripping with a sweet vanilla glaze. Ann Sather here. And its cinnamon rolls are one of the famous Chicago foods that have kept customers returning for nearly 80 years.
Ann Sather sells a variety of breakfast items (which will not disappoint if you feel the need to order some "real" food), but Chicagoans have been coming here since 1945 for the oven-fresh, made-from-scratch cinnamon rolls.
Santorini's Flaming Saganaki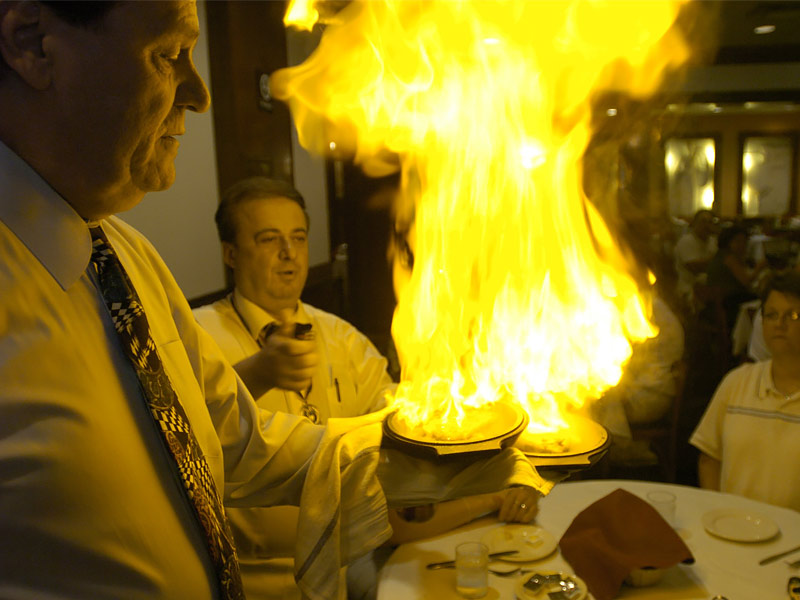 This pyrotechnic special is one of the best Chicago foods in town: a brick of white cheese coated in flour, nestled in a small frying pan, doused in oil, and set aflame. Flaming saganaki is said to have originated in Chicago at The Parthenon, a now-defunct Greektown hangout. Though the restaurant is no longer in business, the dish lives on. It's difficult to find a Greek restaurant in Chicago that doesn't serve this theatrical Chicago food, but Santorini has carried the torch with a focus on authentic flavors and fresh ingredients. For maximum satisfaction, their flaming saganaki is extinguished with lemon juice and served with piping hot pita.