Kyrgyzstan is one of Central Asia's largest and most beautiful countries. Kyrgyzstan, with its breathtaking topography, is known for a variety of outdoor enthralling activities, making it a paradise for adventure seekers.
The places to visit in Kyrgyzstan are stunning and make excellent honeymoon destinations. Kyrgyzstan is a hidden gem that should not be overlooked when compared to other Asian countries. To assist you in planning a vacation out there, here is a glimpse of the best tourist spots for a surreal vacation in this Asian country.
Bishkek
Bishkek, the capital city and one of the most beautiful places to visit in Kyrgyzstan, is bordered by the mighty Tian Shan Range. Bishkek, known as the gateway to Ala Archa National Park and the Kyrgyz Ala-Too Mountains, is home to state museums, art museums, galleries, and an opera and ballet theatre.
The Manas Monument is located in the centrally located public square, Ala-Too Square, and was built in memory of the Kyrgyz Epic of Manas. The city is always buzzing with tourists from all over the world.
Ala Archa National Park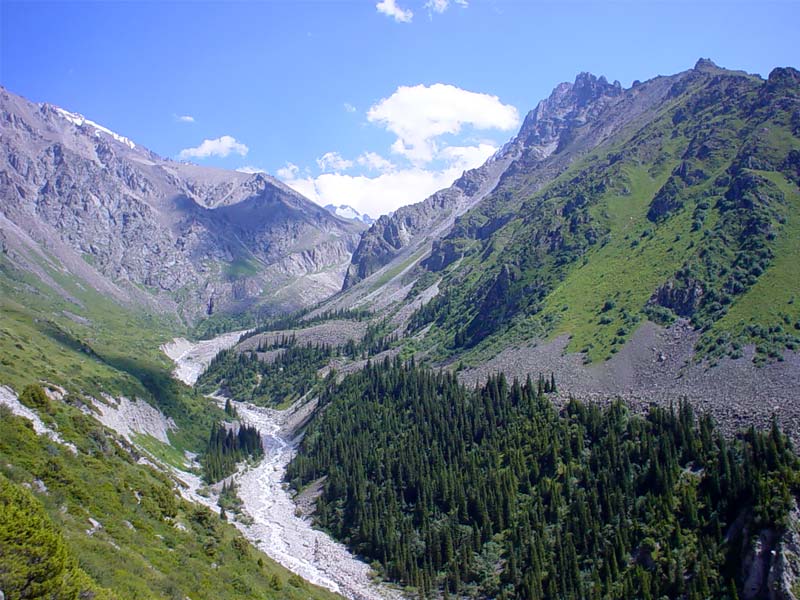 Ala Archa National Park, located in the Tian Shan Mountains, is surrounded by alpine vegetation and offers spectacular scenery. Ala Archa National Park, located 40 kilometers from Bishkek and one of the must-see places to visit in Kyrgyzstan, is open all year. Ala Archa National Park, popular with both locals and tourists, is ideal for picnics, wildlife trails, mountain treks, nature walks, and hikes.
Issyk Kul Lake
Issyk Kul Lake, located in the Northern Tian Shan Mountains, is a sprawling endorheic lake known for its tranquillity and scenic beauty. It is the second largest lake in the world after the Caspian Sea, and it is surrounded by the stunning Tian Shan ranges.
Issyk Kul Lake, estimated to be 25 million years old, is one of the few ancient lakes worth visiting in the world. Swimming, rafting, kayaking, and horseback riding on the bank are among the activities popular with tourists.
Song Kol Lake
Song Kol Lake, located at an elevation of 3000 meters, is known for its heavenly beauty and serenity. Song Kal Lake is Kyrgyzstan's second largest lake, surrounded by mountains and verdant meadows. This lake, which can only be reached by horseback, is breathtakingly beautiful.
Karakol
Karakol, a major tourist attraction and one of the most popular tourist destinations in Kyrgyzstan, reflects the country's true culture and traditions. From hiking to trekking, a sunset cruise to food tours and city walks, the area has it all to make your vacation worthwhile and exciting.
There are cafes and pubs to unwind in, as well as sprawling local markets for some hearty retail therapy. Furthermore, the Karakol visit should include a visit to the Animal Market, where the barter system is still in use.
Cholpon Ata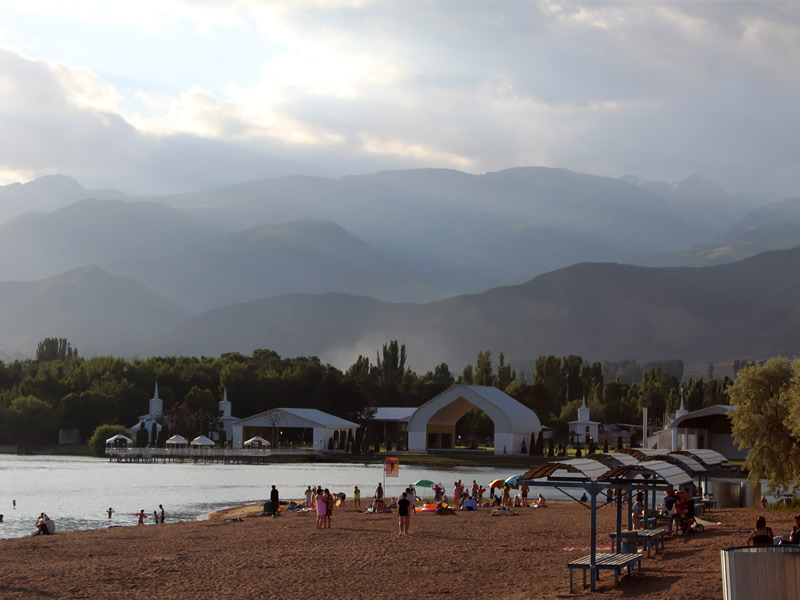 Cholpon Ata is a bustling resort town on the northern shore of Lake Issyk Kul. Cholpon Ata is popular with tourists all year because of its museums, famous statues, and monuments. Must-see attractions include the Museum of Petroglyphs, the Historical Museum, the Equestrian Hippodrome, the Lenin Statue, and the Veteran Monument. The beauty and wilderness of Cholpon Ata's abandoned airport and runway are unquestionably worth seeing.
Osh
Like Bishkek, Kyrgyzstan's capital, Osh is the country's cultural capital, displaying a beautiful fusion of Kyrgyz, Uzbek, and Tajik cultures and traditions. There are bustling bazaars and markets where one can buy traditional souvenirs, handicrafts, and trinkets, as well as restaurants where one can enjoy traditional cuisine. Take walking tours to get a sense of the country's culture.
Burana
Burana is a small hamlet in the Chuy Region, but the historical Burana Tower and remnants of Balasagun make it one of the best places to visit in Kyrgyzstan. The Burana Tower is one of the most well-known historical minarets.
This 25-meter-tall tower reflects the rich history of Silk Caravans, attracting visitors from all over the world. Bal-bals, which are gravestones engraved by nomadic Turkic tribes, can also be seen in the field near the Burana Tower.
Kel Suu
Kel Suu, located in the mountains bordering China, is one of Kyrgyzstan's most popular tourist destinations. Lake Kel Suu, with its greenish-blue water, surrounding mountains, and tranquillity, is one of the best places to visit in Kyrgyzstan. The lake is pristine and popular for swimming, diving, and kayaking.