Mandu, Madhya Pradesh, is located at an elevation of 633 meters and overlooks the Malwa plateau to the north and the Narmada valley to the south. It is appropriately known as the para mamas' fort capital.
This town is perched on the Vindhya Range, which runs for 13 kilometers. This beautiful town in central India near Indore has a rich history that includes many ancient monuments and palaces that have stood the test of time.
There are numerous things to do in Mandu that will provide you with an unforgettable experience.
So, if you are planning a trip to this historical city shortly, take a look at our list of some of the best things to do.
Jahaz Mahal
The magnificent structure of the Jahaz Mahal covers a large area in Madhya Pradesh's Mandu region. It is believed that this architecture was built in the second phase of the 15th century to accommodate Sultan Hhiyas-ud-din Khilji's 15,000 consorts. This magnificent structure evokes Mandu's medieval era.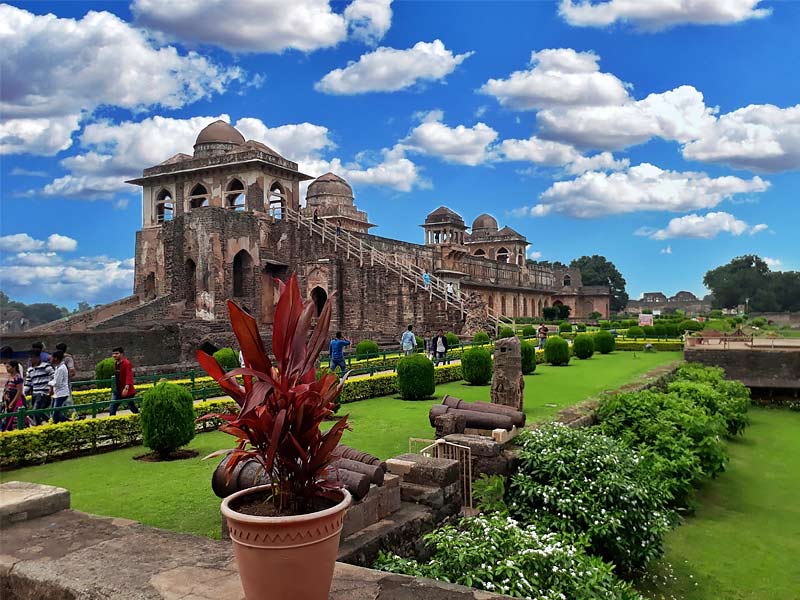 This lovely structure appears to float gently on the water in the middle of a pond. The structure and architecture of this Jahaz Mahal are magnificent. This palace combines Mughal, Afghan, Mesopotamian, and Hindu architectural styles.
This structure, which resembles a massive ship, was built with extreme precision, including water supply channels that finely reflect the pond water that overlooks the palace. The balconies were built in such a way that sound is amplified and echoes throughout the corridors of Jahaz Mahal.
Shopping In Mandu
A trip to any location is incomplete unless you visit the nearby attractions. Tourist attractions in Mandu should not be missed when visiting Madhya Pradesh. Tourists look forward to buying anything indigenous to the area in addition to sightseeing.
Shopping in Mandu is as interesting as visiting historical structures. The malls retain an ethnic feel to the core. People in Mandu's livelihoods have not yet been impacted by urbanization.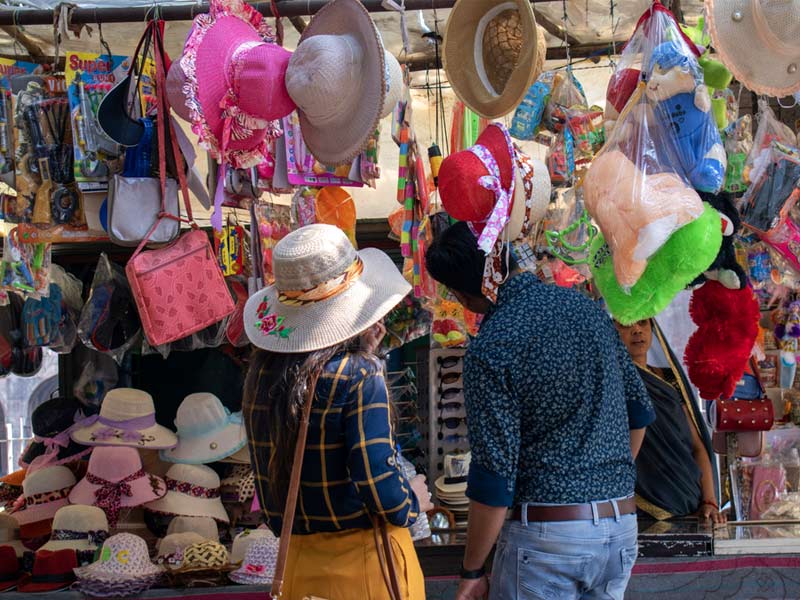 Mandu has several local shops that capture the essence of old bazaars and sell a wide range of goods. Everything from home decor to wall pieces, gift items, and showpieces is available here. Tourists typically purchase brightly colored fabrics and textiles.
From here, you can see the massive red stone mosque.
All thanks to Hoshang Shah's commanding architectural structures. This structure, however, was completed during the reign of Mohammad Khilji. Despite its simplicity, this red stone mosque is regarded as one of India's finest examples of Afghan architecture.
Hindola mahal
The luxurious building that used to be Ghiyas-al-din sultan Ghiyas-al-din sultan Ghiyas-al-din sultan Ghiyas-al-din sultan Ghiyas-al-din sultan Ghiyas This palace is a perfect example of Malwa-sultanate architecture.
The sculpture's structure is unique, and its engineering technique draws thousands of visitors each year. Sandstones were used to build the Hindola Mahal. It has intricately carved panels with cold and hot water facilities that connect to the palace's underground rooms.
The Hindola Mahal is currently being reconstructed into a T-shaped structure that serves as an open-air theatre or audience gallery. The simplicity of this monument sets it apart from the others. The Munj Talao, which surrounds the Hindola Mahal to the north, is a breathtaking sight for visitors. It is an excellent destination for history buffs. It is worth visiting for its outstanding scenic beauty and exquisiteness.
Jain Temple
Among all other architectural structures influenced by Islamic methods, this Jain temple stands out as an exception, unique. It is a modern architectural structure with gold, silver, and marble statues of Jain Tirthankaras. There is also a beautiful Jain museum inspired by Shatrunjaya, the hilltop temple in Palitana, Gujarat.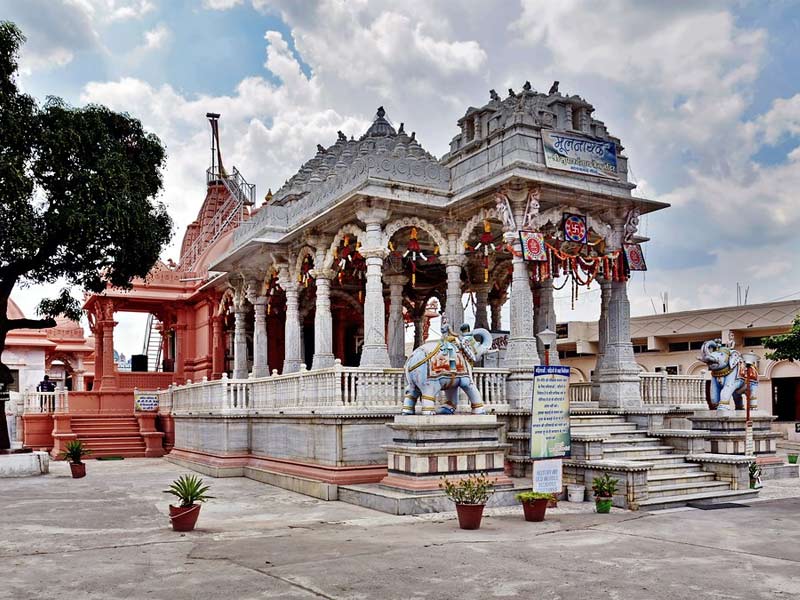 The Jain temple in Mandu is the only non-Muslim work of art and architecture among the city's many mosques, palaces, and dargahs. Some of the idols' eyes have been adorned with gleaming jade eyes. The Jain museum, which is modeled after the Palitana temple, is located in the back.
Lohani caves
Shaiva yogis used to hide in these rocky cells. The origin of these caves, however, is unknown to Mandu residents. Because there are no carvings or inscriptions on these caves, we cannot determine their exact age. They are simply a collection of finely cut rocks that resemble underground cells that have been inhabited since pre-Muslim times.
The excavations, which took place in the 11th and 12th centuries of the Shaivism tradition, are one of the most amazing archaeological sites to visit. During the excavation process, ruins of temples and sculptures of Hindu gods and goddesses were discovered in this area. Only a few of these ruins are on display at the Chappan Mahal museum.
Camping in Mandu
The Malwa Retreat is a well-kept camping site in Mandu that is surrounded by gardens and lakes. It is located one kilometer from the village center and overlooks a long, deep ravine. The building has both air-conditioned and non-air-conditioned rooms that overlook the garden and share a common verandah. Each room has its own balcony with a view of the ravine.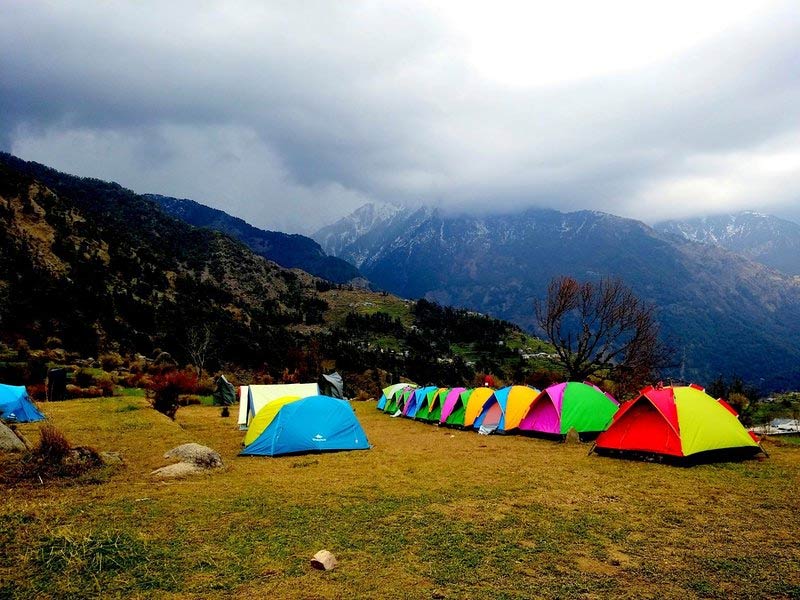 This retreat's rooms are clean and spacious, with TVs and bathrooms. There is an outdoor kitchen. This allows you to enjoy watching your food cook. The food and service are both excellent. It is best to bring your own tents to the Malwa retreat because what they provide is a concrete structure with tarpaulins thrown over it.