Rajasthani food packs a punch of spicy and sweety goodness, enriched with complex spice combinations. Even the names of the dishes sound like War Cries, but we sure don't mind getting attacked by them!
From Dhoklas to Kalakands, Rajasthani cuisine has its flair and charm. The Rajput people's hunting expeditions and local warriors' lifestyles have resulted in a wide variety of creative recipes and ingredients that can be stored for days without becoming stale. Water scarcity and a lack of fresh green vegetables have both affected their cooking styles as well. Therefore, Rajasthani cuisine is mainly dominated by dishes that don't need many ingredients or are pickled in nature (or pickles). It is considered to be one of the top cuisines of India.
Rajasthani people are known for having a good business sense, as evident from their restaurants spreading their influence on the service industry rapidly. We all love a good plate of Laal Maas and Paneer Lababdar. So, it is obvious that India has amassed a lot of Rajasthani restaurants right now. 
So! in case you ever ask Google if there are "Any Rajasthani restaurants near me?"
We provide you with a list of 7 Rajasthani restaurants around India that are all the hype right now.
1)Utsav- Celebration of Thali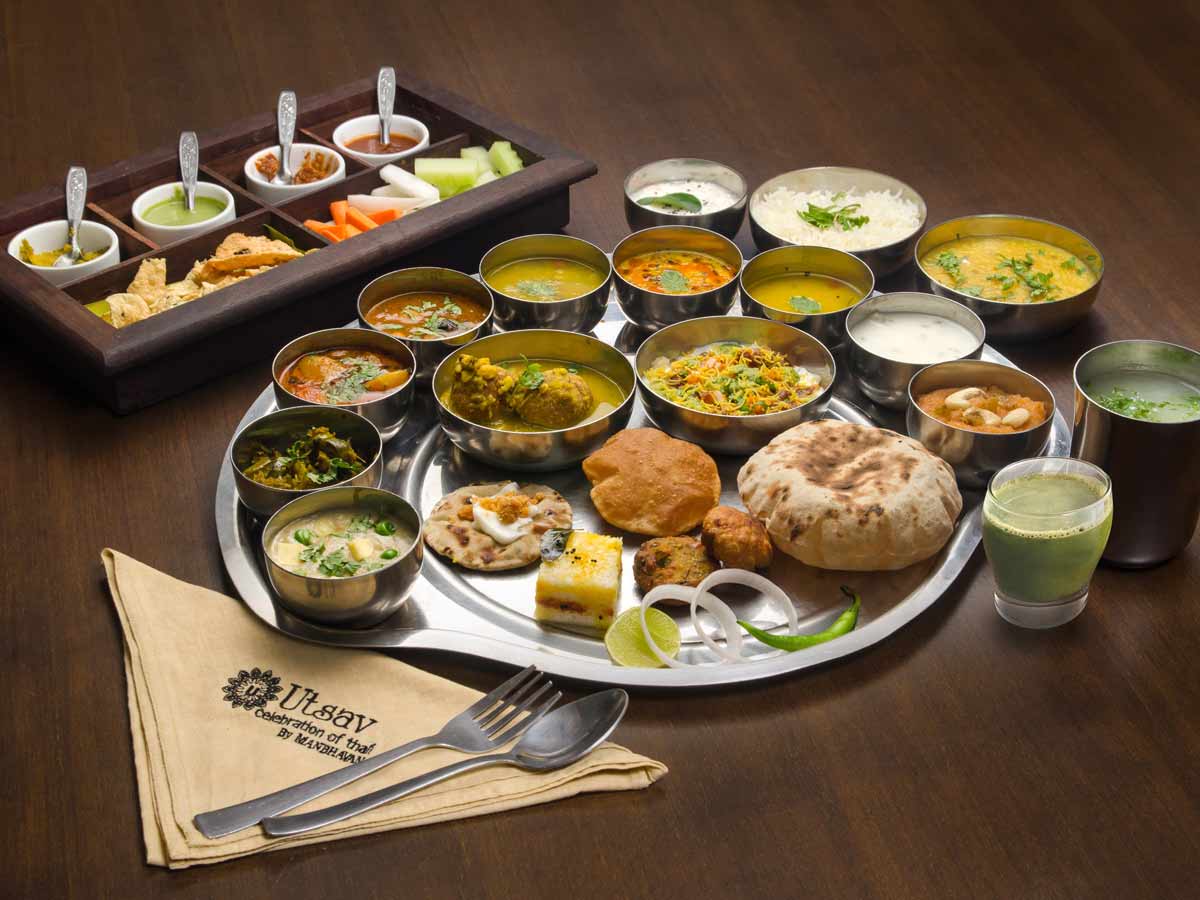 Utsav by Manbhavan is located in Thuraipakkam. The ambiance has an overall Indian feel to it with good interior structures. If you want a good thali experience in Chennai, Utsav is the place to go! There are many thali restaurants in Chennai, but this one has the best thali food and comes highly recommended by many locals for good thali cuisine. Diners can also choose what they want in their Thali, i.e., some thalis can be customized according to the customer's preferences. Utsav restaurant is beautiful. The seating is luxurious and convenient, with delicious food being a plus to their already compliment-worthy atmosphere. It cost ₹ 1000 for two people approximately.
2)Suvarna Mahal, Jaipur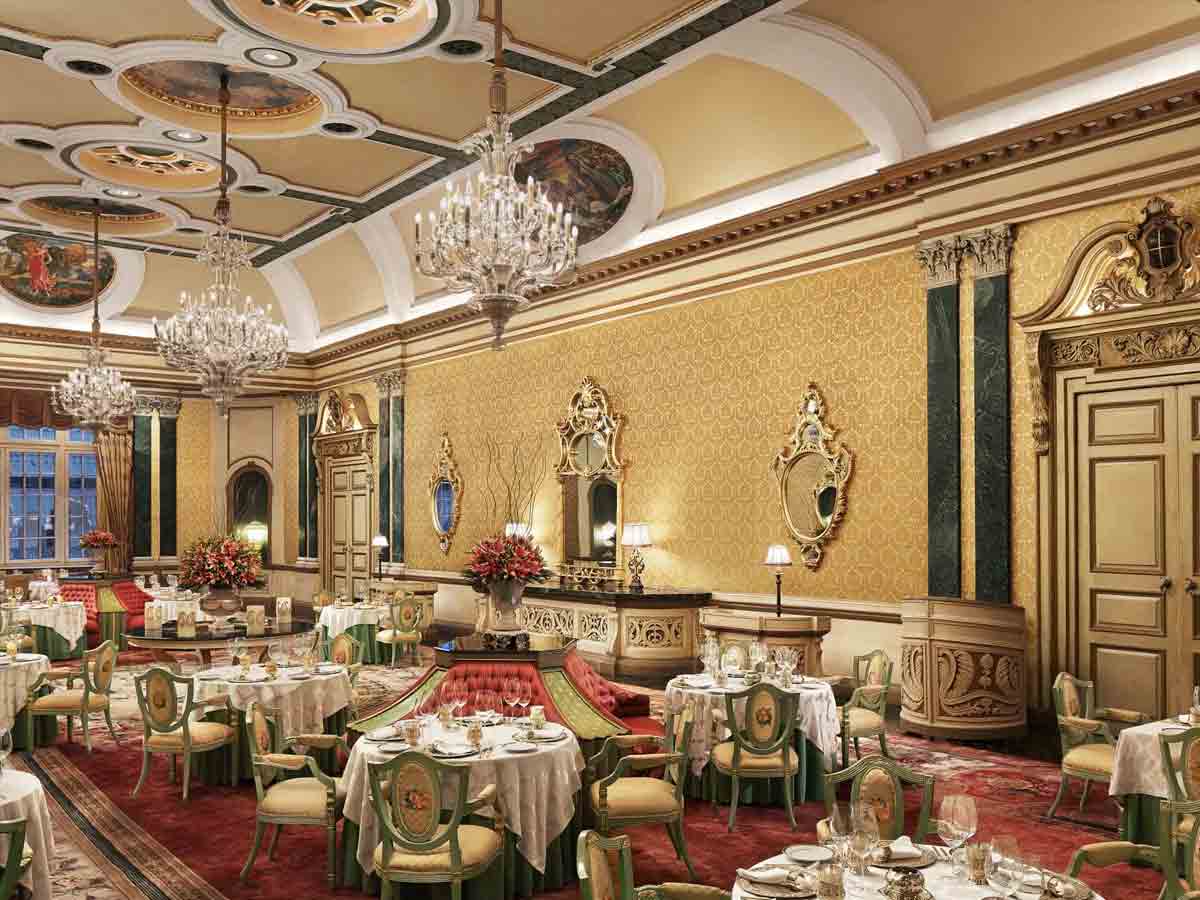 This posh restaurant, owned by the Taj Group, is the flagship dining venue at the opulent Rambagh Palace hotel. The Victorian interiors, Florentine ceilings adorned with portraits and mirrors, beautiful tapestry, and lavish silverware further add to the luxurious atmosphere it strives to create. The dining hall reverberates with live classical music in the evening, reflecting the Maharaja's sophisticated lifestyle. After you add a bottle of vintage wine from the restaurant's cellar to the mix, you have a fine-dining experience to remember you'll remember for 7 lives. 
For lack of a better word, the food here is fantastic! The menu features authentic dishes from the royal houses of Jaipur, Mewar, and Awadh. Anything from Jodhpuri Gatte and Murgh Ka Shorba to Lal Maas can be found here, and all with a touch of luxury. The first-class service and delectable fare transport you to the luxury of generations of royals who have witnessed courtly pleasures for decades. Suvarna Mahal is open from 12:00 pm to 02:45 pm and 7:00 pm to 11:45 pm. Lal Maans, Chaap Ke Sule, Murgh Gulab Chaap, and Bharwan Gucchi Masala are some of their must-try menu items. Suvarna Mahal costs 5000 rupees for two people (approx.)
3)NH18, Bangalore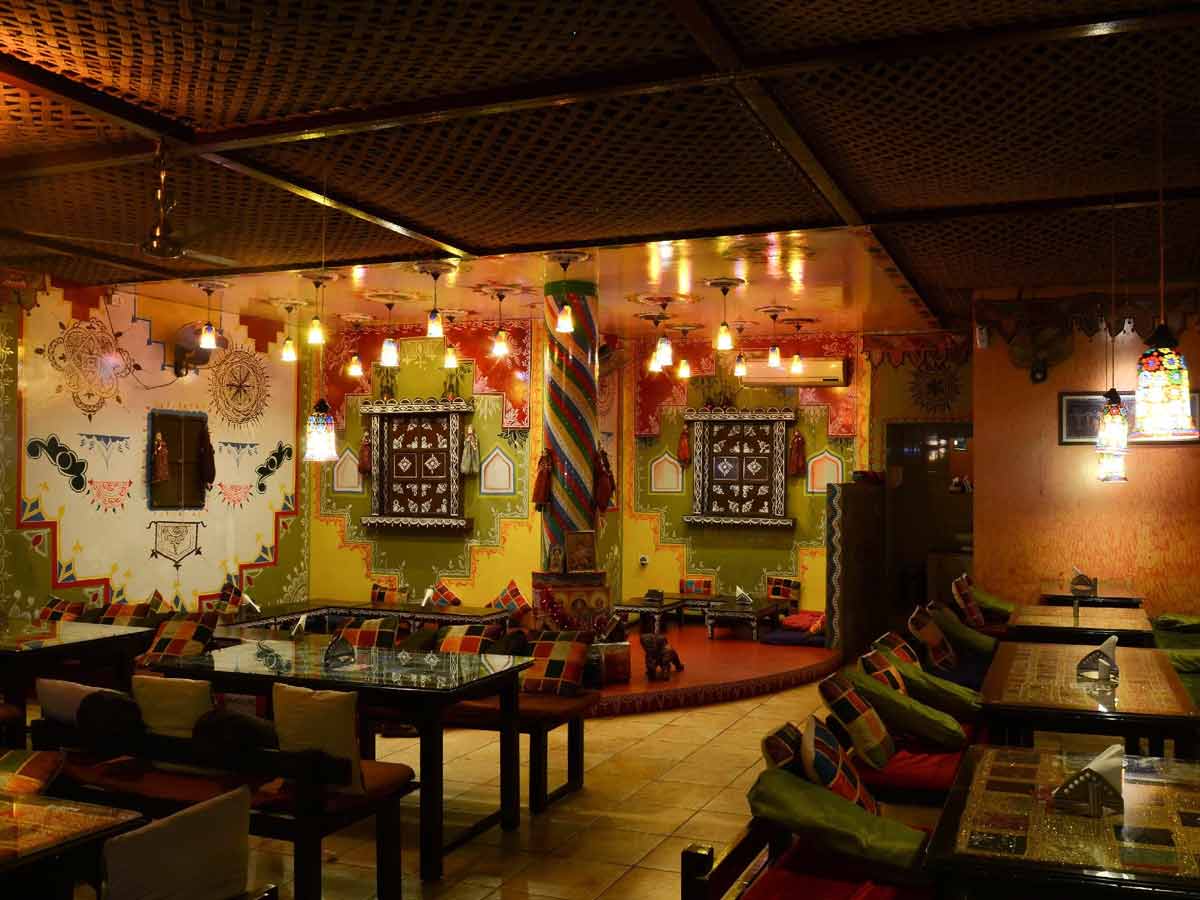 NH8 is a well-known restaurant that exudes a sense of celebration. Looking at its colorful walls, bright seats, soft pillows, and rainbow-themed lanterns will get you to immediately take out your phone to capture unforgettable memories. Their Rajasthani food sizzles with the same vibrancy of flavors as the vivid decor. Just thalis are served here, and the Marwari Gutta Masala, Rajasthani Kadi, and North Indian Combo are unique standouts. However, you should probably try the Lassi available at this establishment to round out the spiciness.
 This is undoubtedly one of the best Rajasthani restaurants in Bangalore, where you can bring your whole family. Enjoy limitless lunch thalis with dishes such as Dal Bati Churma, Rajasthani Khichdi, and more.
4)Choki Dhani, Jaipur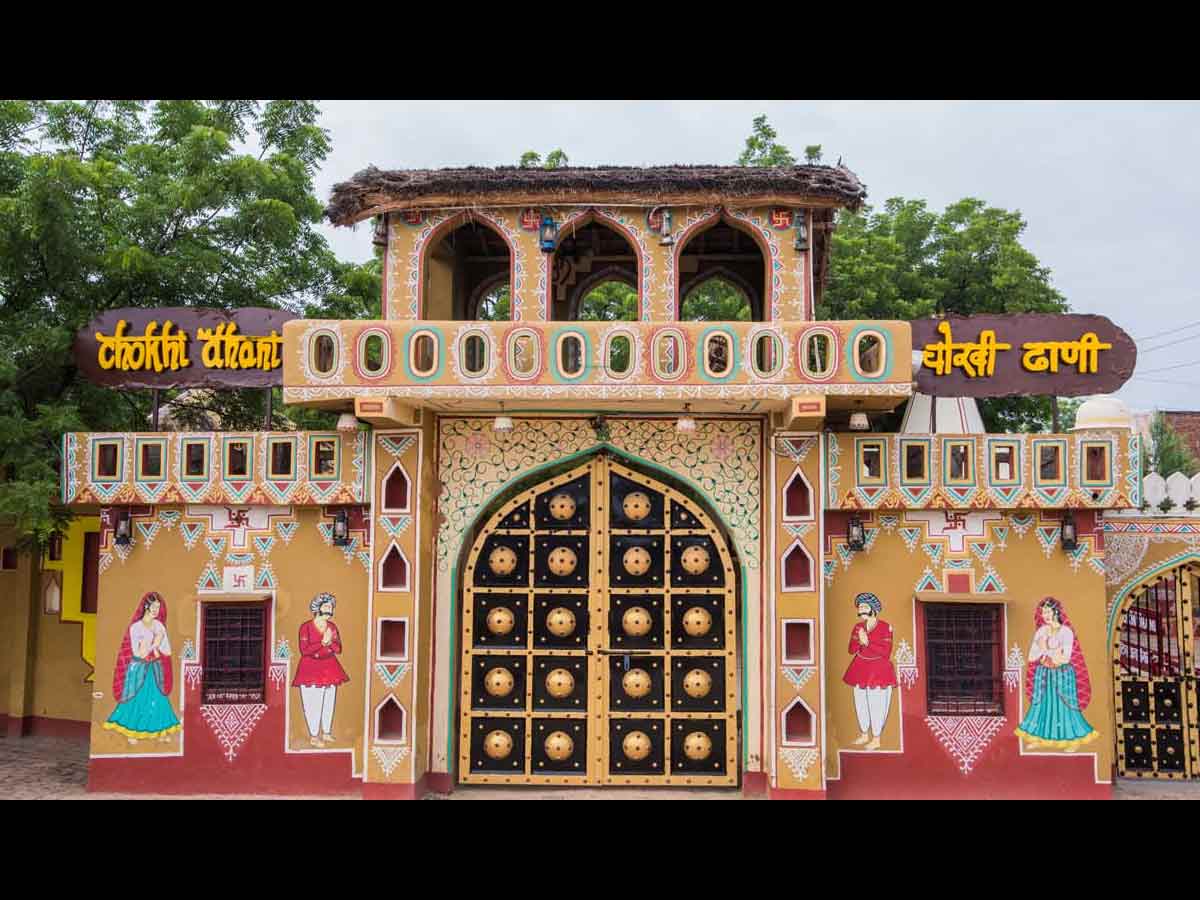 This well-known Jaipur village-themed resort enchants tourists to view the region's cultural splendor, which includes folk dance and rhythmic beats in the backdrop. Taking a camel ride when you're here is said to whet your appetite before diving into the hotel's ghee-based culinary delights. Chokhi Dhani's vibrant thalis, which come in various flavors, transport you to a state of paradise. This place commands that any soul who visits Jaipur should treat themselves to the tantalizing thalis here. It serves nutritious and nourishing meals in sustainable and biodegradable containers.
Chokhi Dhani is a magical location for youth, with daily mini-shows including a puppet show and an acrobat show. This restaurant is an experience in and of itself, not just a restaurant or a resort. The open area is well-used, with Rajasthani kalbeliya singers, a Royal Elephant trip, Mehandi, and magic, to name a few activities. It's worth spending an evening in a Rajasthan restaurant to round off your adventure.
5)Ghoomar Traditional Thali Restaurant, Delhi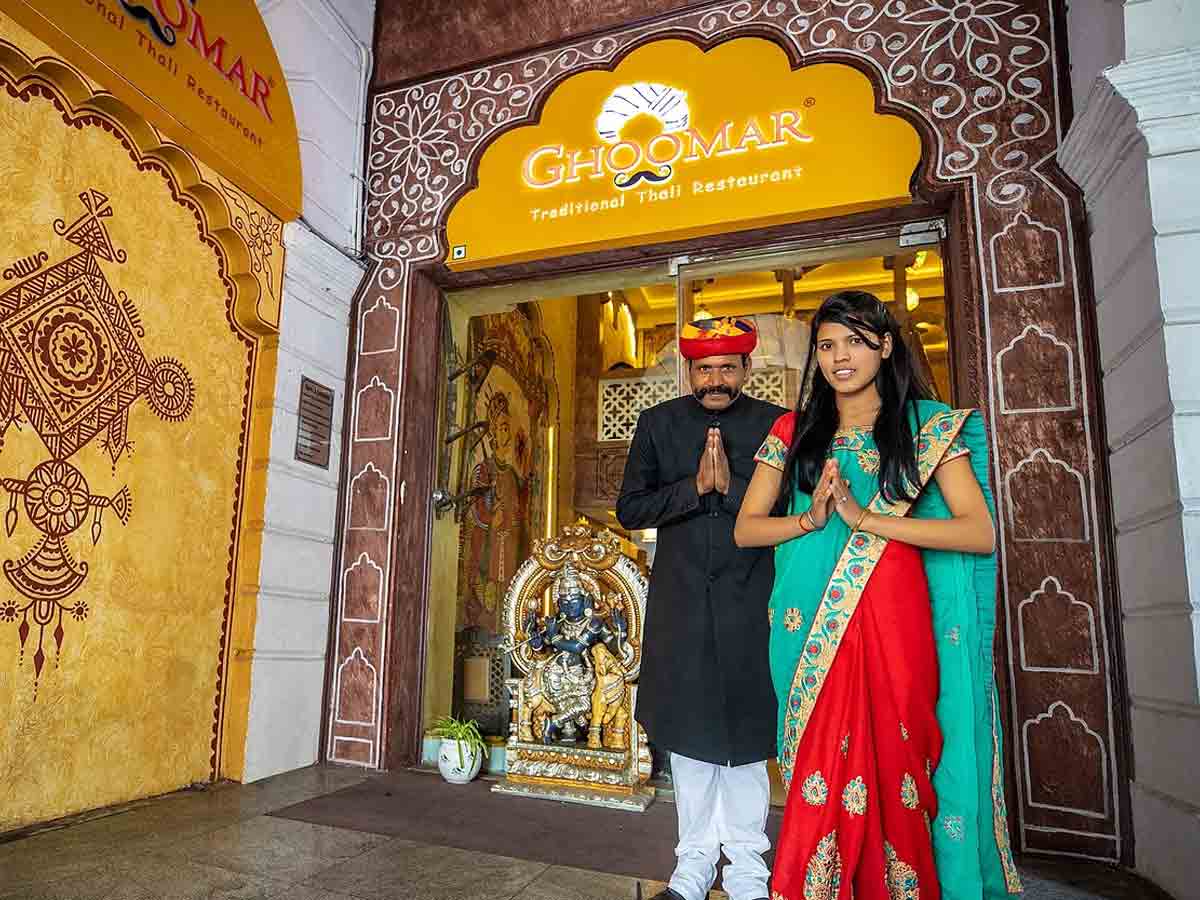 The Ghoomar Restaurant is situated in Central Delhi's Connaught Location. It has a rather typical ambiance that makes you feel like you're in Rajasthan. Within the kitchen, there is a high degree of cleanliness. The service is very friendly, and you can make sure you eat to your heart's content. The meal is cooked with only the finest ingredients. 
Ghoomar is a miniature Rajasthan in and of itself, with its rich and royal history reflected in its interior, ambiance, cuisine, dress code, and staff hospitality. Ghoomar serves traditional Thali to appease your Marvadi/Rajasthani food cravings. Thali offers a variety of curries flavored with desi ghee and marvadi spices with an earthy flavor. They have a mildly spicy and garlicky flavor that is delicious. The waiters are so nice; they want their customers to savor and every dish.
6)Nirvana, Jodhpur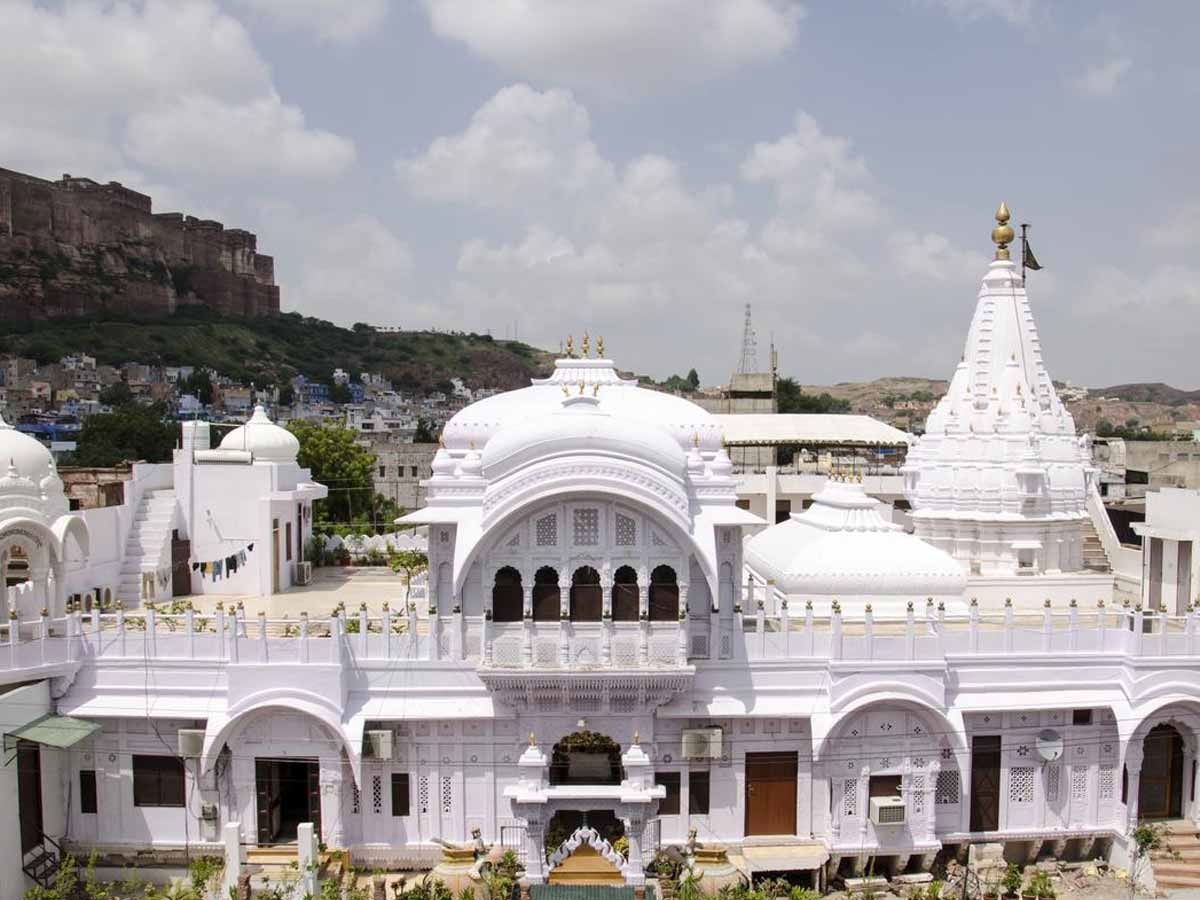 Nirvana, which shares its grounds with a hotel and a serene Rama Temple, is regarded as one of the best restaurants in Jodhpur, Rajasthan, in terms of aesthetics. This restaurant has a rooftop dining area with stunning views of the city and an indoor café with Ramayana wall paintings. As a result, in addition to dining, you can take some lovely pictures here to make your moments more unforgettable. Nirvana provides mouth-watering vegetarian cuisine with the royal smell of Rajasthan and tastes utterly divine, in addition to breathtaking views. They also serve continental meals, which are well-liked by both locals and visitors alike.
7)Jharoka 360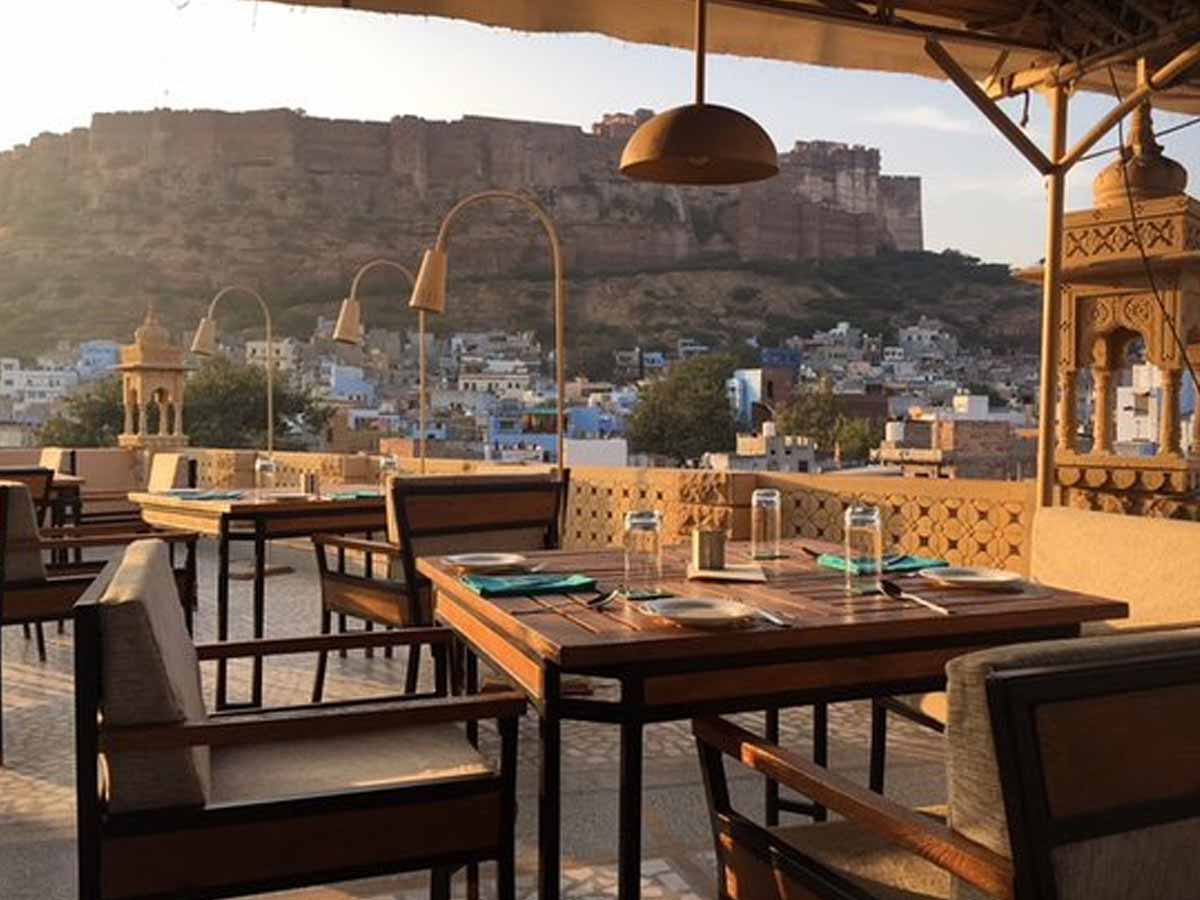 Jharokha 360, a part of Jodhpur's popular Stepwell House, is widely regarded as one of the best family restaurants in the city. This small yet elegant establishment is renowned for serving a variety of meals, both vegetarian and non-vegetarian, as well as Rajasthani specialties. The Govind Gatta is considered to be very famous among tourists among the glorious delicacies. Also, when you're there, try a dish called Aloo Shimla Mirch. It is one of their signature meals, loved by both locals and visitors alike. Aside from delicious meals, Jharokha 3600 offers a variety of drinks and cocktails to travelers.