Today, in Ghaziabad, Prime Minister Narendra Modi officially opened the priority segment of the Delhi-Ghaziabad-Meerut Rapid Rail Transit System (RRTS) Corridor. Sahibabad, Ghaziabad, Guldhar, Duhai, and Duhai Depot are the five stations that make up the priority portion that runs between these two locations. This stretch is covered in the first phase. There is a diversion from the main corridor that leads from Duhai to Duhai Depot.
Namo Bharat, India's first semi-high-speed regional rail service, offers a plethora of modern amenities for passengers.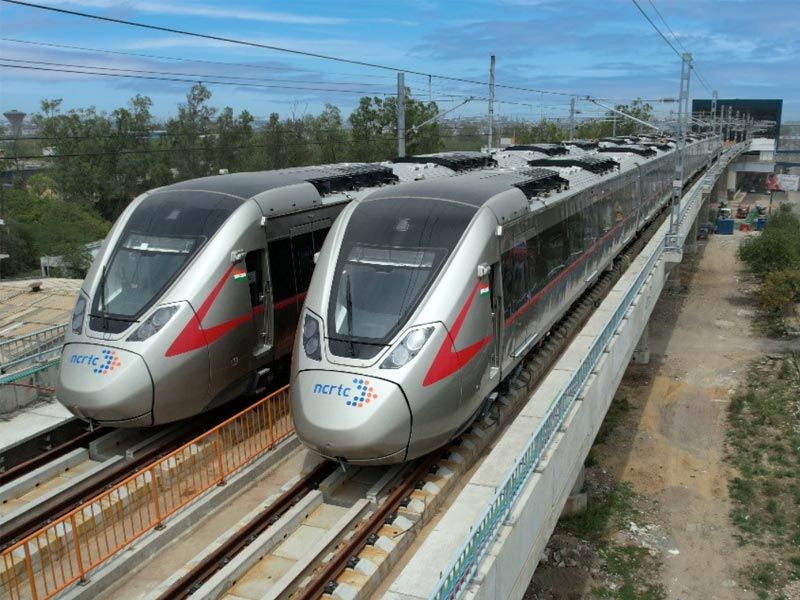 This is a thorough explanation of the Rapid Rail's timetable, costs, security measures, and more:
What time does the Namo Bharat Rapid Rail run?
On October 21, passenger services are scheduled to launch, running from 6 a.m. to 11 p.m. Trains will initially operate every 15 minutes, though there is a chance that this will change in the future.
 What is the Rapid Rail fare?
The priority section fee for a one-way trip from Sahibabad station to Duhai Depot station is Rs 50, but the premium-class coach fare for the same route is Rs 10.
Ways to purchase tickets for Rapid Rail?
Paper tickets with QR codes can be purchased by commuters at ticket counters in RAPIDX stations or via ticket vending machines (TVM).
National Common Mobility Card (NCMC) top-ups and paper QR code-based ticket purchases are made possible via ticket vending machines equipped with the Unified Payments Interface (UPI).
Bank notes, bank cards, UPI, and National Common Mobility Cards are available as payment methods.
What is the Rapid Train's Speed?
Trains operating in the priority segment can reach top speeds of 130–140 km/h. The coaches' inside screens show information about station and speed.
Although trains have a maximum speed of 160 kmph, their actual speed will be slower. On this route, the trip from Sahibabad to Duhai Depot stations takes about 12 minutes.
Rapid Rail Security: AI-powered baggage scanning devices that can detect forbidden or restricted items are installed at stations in the priority section of the Delhi-Ghaziabad-Meerut RRTS Corridor.
For station safety, the Uttar Pradesh Police have sent out a dog squad, a bomb detection and disposal squad, and a quick reaction team.
CCTV cameras at the station and central security control levels of RAPIDX stations continuously monitor and issue al.
How many Rapid Rail coaches—premium or reserved—will there be?
Six coaches total, including a luxury coach, are included in each RAPIDX train. Beside the first-class coach is a women's only coach.
Differently coloured seats, possible vending machine installations, reclining seats, coat hooks, magazine holders, and footrests are just a few of the unique facilities found in the premium coaches. 
Additional Rapid Rail Amenities: RRTS trains have a number of passenger-focused features, including Wi-Fi, mobile and laptop charging ports at each seat, and overhead luggage racks.
When the RRTS corridor is completely operating, the three to four hours it currently takes to travel between Delhi and Meerut by road will be reduced to just 55 minutes.