Russia may not be the first place that comes to mind when considering a cuisine excursion, but the country boasts a plethora of delectable traditional delicacies to taste. Visitors to Russia are frequently startled by the variety and tastes of Russian food, which is inspired by Russia's proximity to Europe, Asia, and the Middle East.
Soups, porridges, and filled dough are among the most traditional Russian food created with vegetables and wheat.
Borscht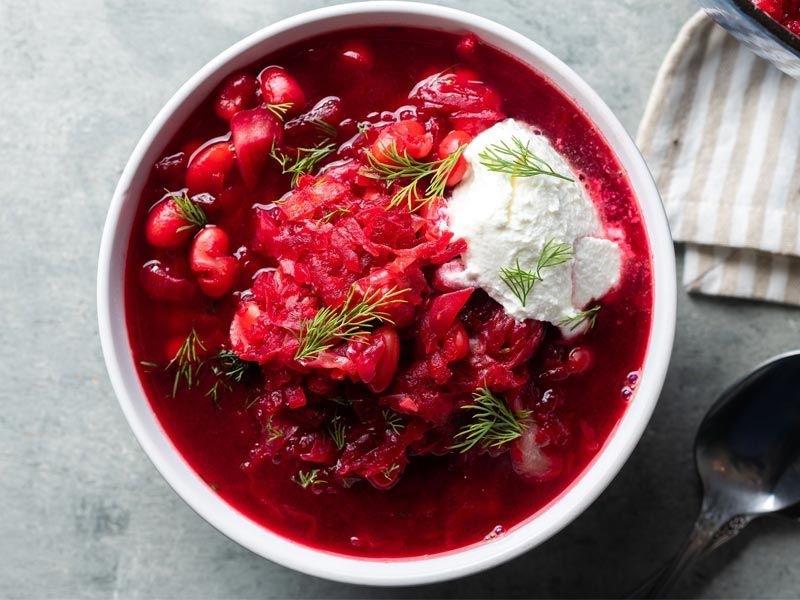 Borscht is a beet soup that originated in Ukraine and rapidly became a Russian speciality. To many Westerners, beets may appear to be an unusual soup foundation, but there are several reasons why this hearty soup is one of Russia's most famous recipes. It's loaded with beef and sautéed veggies, including cabbage, carrots, onions, and potatoes. It may be eaten hot or cold, with a dollop of fresh sour cream on top.
Shchi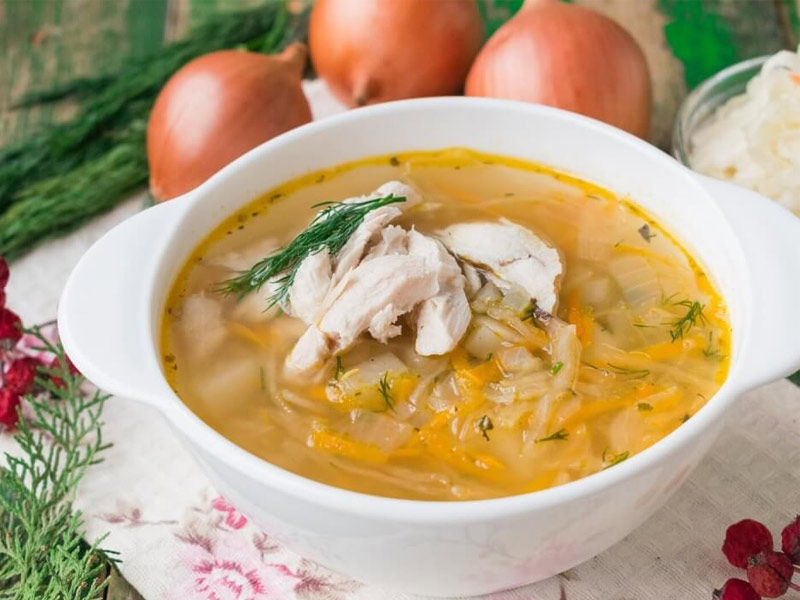 Shchi is a type of cabbage soup made from fresh or fermented cabbage. While different recipes call for different ingredients, shchi frequently includes potatoes, carrots, onions, and perhaps some form of meat, such as chicken. Sauerkraut can also be used in cabbage to make sour shchi.
Solyanka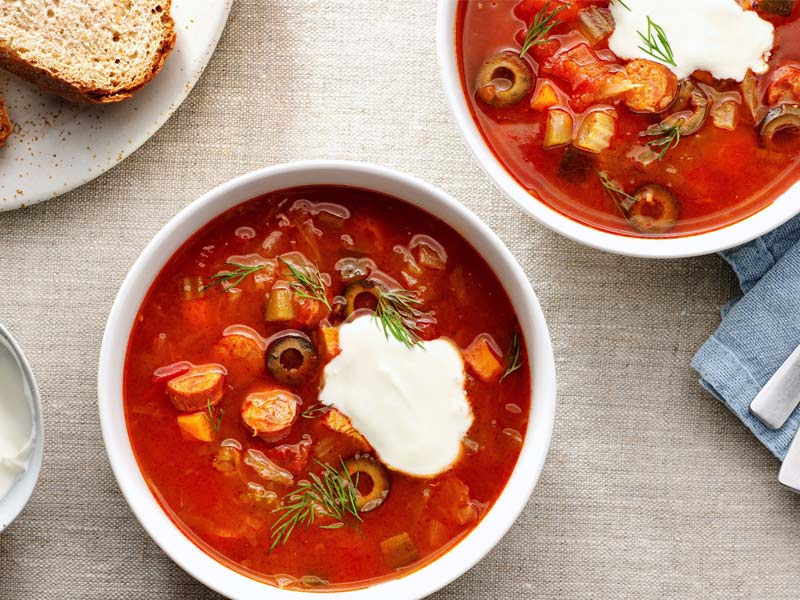 Solyanka is a thick soup that is filling enough to serve as dinner on its own. This soup contains a variety of meats, including sausage, bacon, ham, and beef, and vegetables, including cabbage, carrots, onions, and potatoes. Chopped pickles and the usual lemon slice garnish play a significant part in this meal's sour taste, and it is frequently served with fish and pickled cucumbers.
Palmeni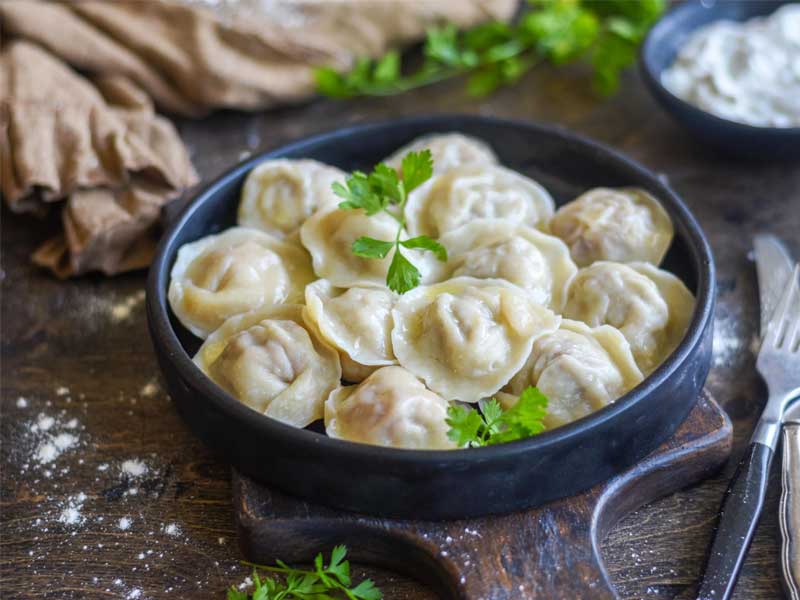 It's difficult to picture modern Russian food without the classic dish pelmeni or dumplings. Many people argue over the dish's origins because numerous nations worldwide have their versions of it. Examples are Uzbek manti, Georgian khinkali, Jewish kreplach, and Chinese xiaolongbao. Many assume that the recipe arrived in Russia from China in the 15th century via Siberia and the Ural.
Dumpling sculpting is still a family ritual in many households. Traditional Russian dumplings are filled with a mixture of three types of minced meat: beef, lamb, and pork. They are then placed in a big dish and topped with sour cream.
Pancakes from Russia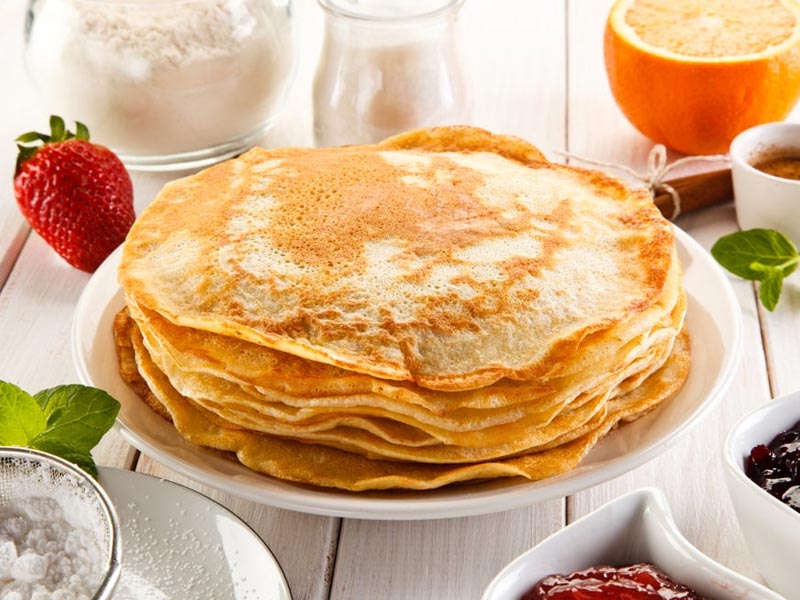 Blini are Russia's equivalent of a thin French crêpe. In most Russian restaurants, they're a popular dish, with savoury contents made from buckwheat and sweet toppings made from white flour. Toppings such as smoked salmon, creamy mushrooms, sour cream, jams, and condensed milk are available, but the high-end, cherished combination is a tablespoon of red salmon or black sturgeon caviar.
Another delectable Russian pancake is the cottage cheese variation known as syrniki, a denser version of ricotta pancakes consumed for breakfast or dessert. They're great with handmade jams prepared from Russia's huge assortment of berries. Condensed milk, honey, and sour cream are other popular condiments.
Russian salad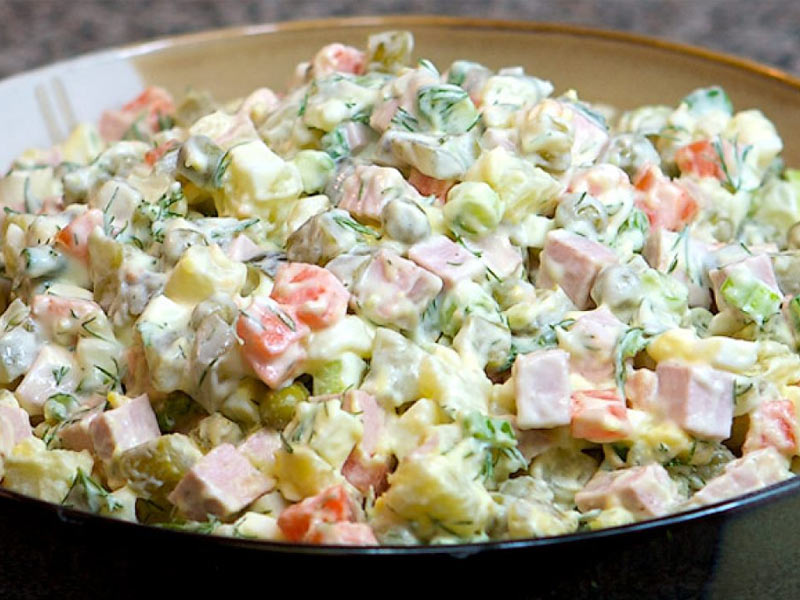 This scarcely needs to be mentioned because 'Russian salad' is one such meal that has spread globally, and chances are you've had a variant in your own country. On the other hand, the Russian version is fresher with a small sprinkle of mayonnaise; this is opposed to the ratio of the soft-boiled, mayonnaise-heavy western counterparts. This might be because fresh cucumber or crisp Russian pickles were used. The basis of diced potato, peas, egg, and mayonnaise/sour cream is still widely used.
In Moscow, however, it is known as the Olivier salad. It is named after chef Lucien Olivier, who developed the secret recipe there in the mid-1800s, albeit the original components have been replaced with cheaper, more readily accessible Russian food. You'll also discover a variety of cold Russian salads that will compete for your attention.
Salted herring or smoked salmon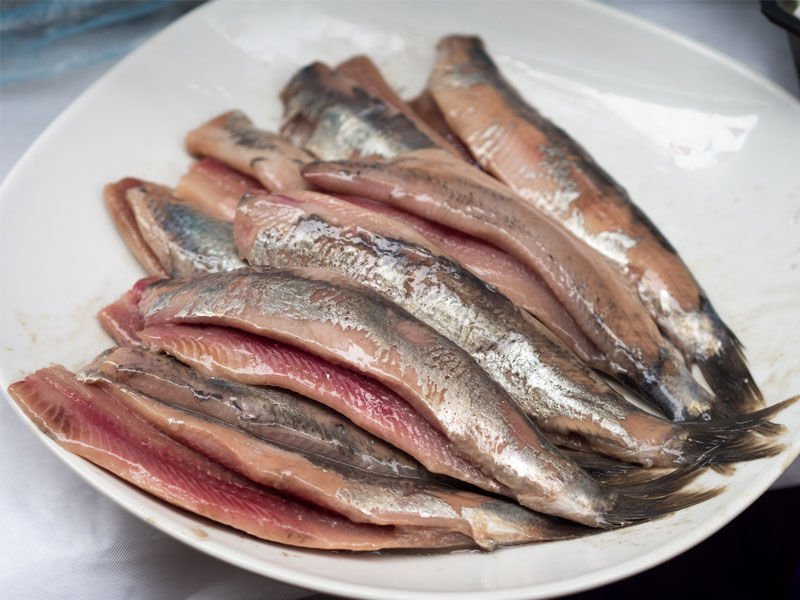 River and saltwater fish are smoked, salted, and marinated and are skilfully prepared to have a delicate and fresh flavour. On menus, you'll generally find marinated, or smoked salmon served alone as a dish or with pancakes, and salted herring served in salads, one of which is informally termed 'herring beneath a fur coat' or shuba, where layers of shredded boiled vegetables, beets, onions, and mayonnaise cover salted herring. Tartare is also regularly featured in Russian food. Trout, carp, zander, sturgeon, and sterlet, often known as the Tsar fish, are popular in Moscow.
Shashlik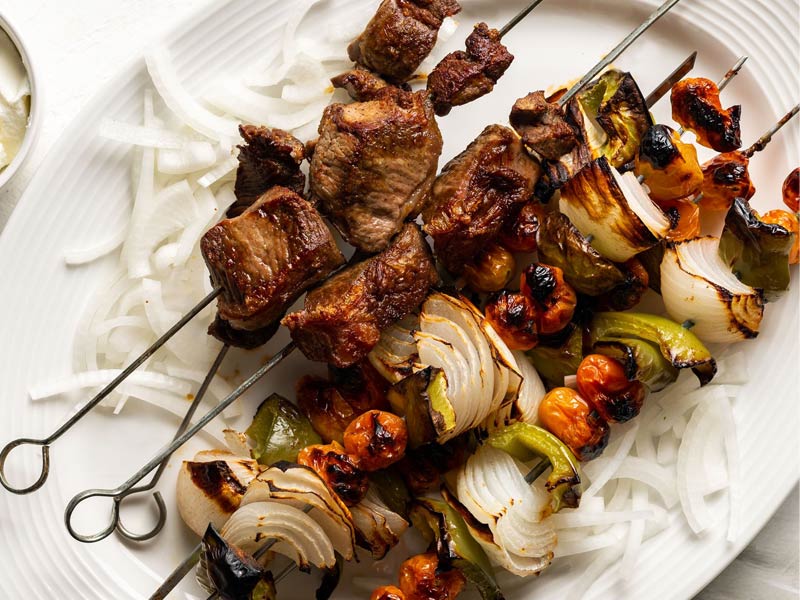 If semi-raw marinated fish isn't your thing, these grilled meats and fish on skewers are difficult to resist. This meal is similar to shish kebab, but the Russian version is served with chunkier parts of lamb, beef, chicken, or fish, unleavened bread, Russian pickles, and a sometimes spicy tomato sauce. If your travels lead you to Moscow's Izmailovsky flea market (a must-see), you'll discover a variety of market stalls offering shashlik sticks fresh off the grill.
Stroganoff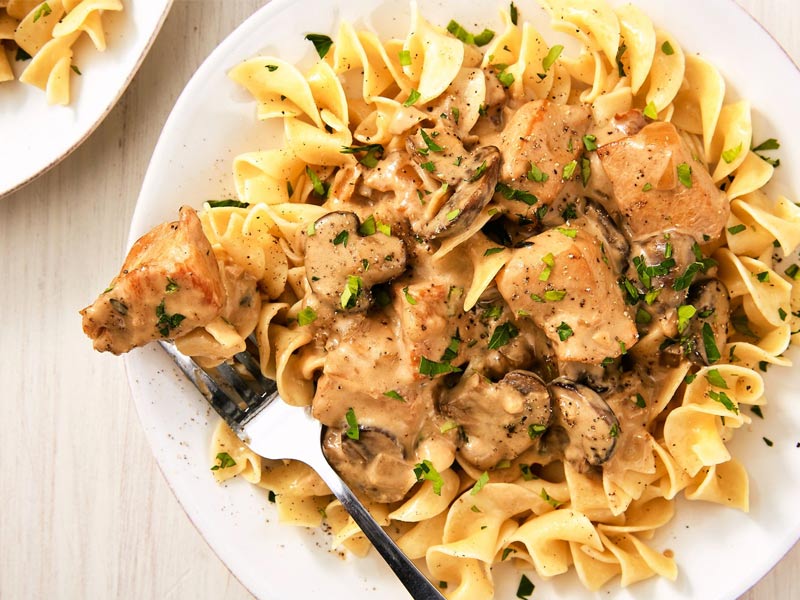 Eating stroganoff from its Russian origins is all you would expect from a Russian food served on dinner tables worldwide. It's better than anything you've ever had at home: it's tastier, smoother, and creamier. The credit belongs partly to Russian sour cream, but Russia also has some of the tastiest and most diverse mushroom varieties. You'll want to try this meal if it's paired with interesting types of hunting/game meats (again).
Julienned mushrooms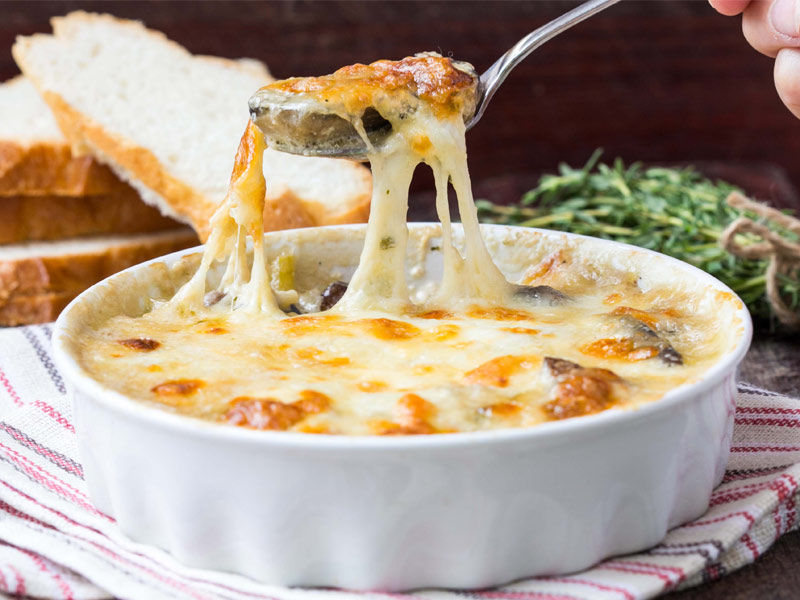 This creamy mushroom dish, which tastes similar to stroganoff but without meat, is available as a hot appetiser on practically every menu. This Russian food is composed of thinly sliced mushrooms, cheese, sour cream, and cream and broiled/grilled for a crusty top, served in a small metal plate or bread crust, and combines some of Russia's omnipresent components with a hint of French obsession.
While the fundamental components of this rich, small-serving meal may not dazzle tourists, it is a distinctive dish in Russian cuisine. Mushrooms, in whatever form, are a must-try in Russia, where mushroom hunting is nearly a national activity. When you're done with the cream, try a selection of pickled mushrooms.