Michael E. Porter, a Harvard Business School professor, inspired the Five Forces paradigm. Porter's Five Forces is a model that identifies and analyses the five competitive forces that shape any sector and aids in determining the industry's weaknesses and strengths. Five Forces analysis is widely used to define the corporate strategy by identifying an industry's structure. Porter's approach can be applied to any economic sector to better analyze industry competitiveness and increase a company's long-term profitability.
Porter 5 Forces is a simple and clear but powerful weapon for analyzing the competitiveness of your company/firm's external environment and determining the potential profitability of your strategy.
Here is the list of Porter 5 forces
1. Threat of new entrants
New entrants into a sector bring with them the new capacity and a drive to capture market share. The gravity of the danger is determined by the barriers to entry into a particular industry. The need and requirement for economies of scale, high customer loyalty for existing brands, huge and intensive capital requirements (e.g., large investments in marketing, HR, and R&D), the need for accumulated experience, government laws, and limited access to distribution channels are examples of barriers to entry.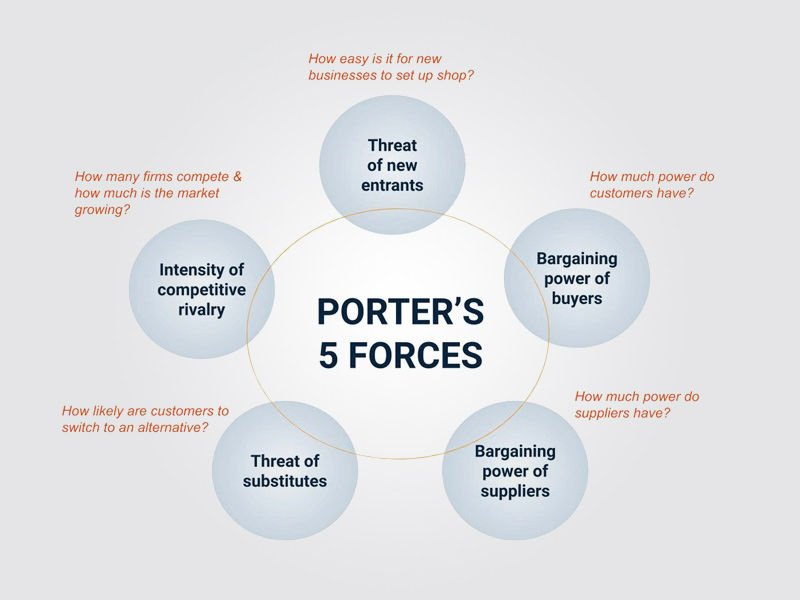 2. Suppliers' bargaining power
This force investigates and assesses a company's supplier's capacity to boost prices or reduce the quality of acquired goods or services, hence diminishing an industry's profitability potential. Supplier accumulation and the availability of alternative suppliers are important factors in determining and influencing supplier power. They have more authority since there are fewer of them. When a company or a firm has many suppliers, it is in a better position. The switching costs of enterprises in the industry, potential replacements, the strength of their distribution channels, and the uniqueness or level of distinction in the product or service the supplier is supplying are all sources of supplier power.
3. Buyer bargaining power 
Buyer bargaining power is sometimes referred to as the market of products. This force examines how customers can put the company under pressure, which influences the customer's susceptibility to price fluctuations. Customers have a lot of power when there aren't many of them and many options to buy from. Furthermore, they should be able to easily transition from one organization to another. Customers' purchasing power is minimal and low when they buy little and small amounts of things/units and act independently. The seller's product or services are extremely different from any of its competitors.
Customers have become more knowledgeable and, as a result, more powerful due to the internet. Customers may simply compare prices online, obtain information about a wide range of products, and gain instant access to offers from other companies. Companies can limit buyer power by introducing loyalty programs or differentiating their products and services.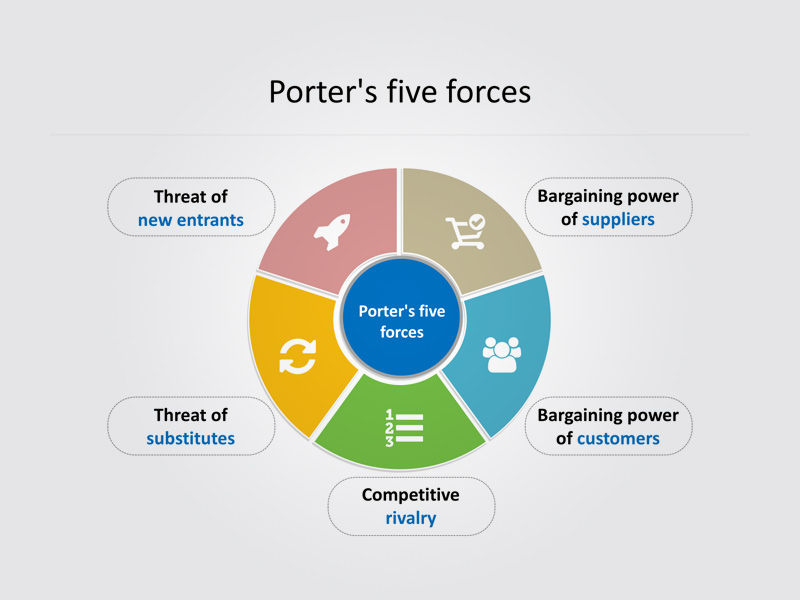 4. Threat of substitute products
Customers are more likely to move to alternatives when products exist outside of the range of standard product boundaries. To find these options explore similar products that are branded differently by competitors. For example, Redbull or Sting (Energy drink) is not typically regarded as competitors to coffee companies such as Chaayos, Nespresso, or Starbucks. Instead, every product that meets a similar demand for buyers should be considered.
However, because both coffee and energy drinks satisfy a similar demand (i.e., remaining awake/getting energy), customers may be willing to transfer from one to the other if costs in either coffee or energy drinks rise too quickly. This will eventually affect an industry's profitability and should thus be considered when assessing the industry's attractiveness.
5. Existing competitors' rivalry
This final force of Porter 5 Forces assesses the market's present level of competition, determined by the number of existing competitors and what each competitor can do. When many competitors are about similar in size and power, when the industry is growing slowly, and when consumers may simply switch to a competitor's offering for little cost, the rivalry is intense.
An industry's concentration ratio is a reliable indicator of a higher level of competition. The smaller this ratio, the more intense the rivalry is likely to be. Furthermore, rivalry or Competitors will be more severe when exit obstacles are high and encouraging enterprises to stay in the industry even though profit margins are dropping.
What are the advantages of using Porter 5 Forces Model?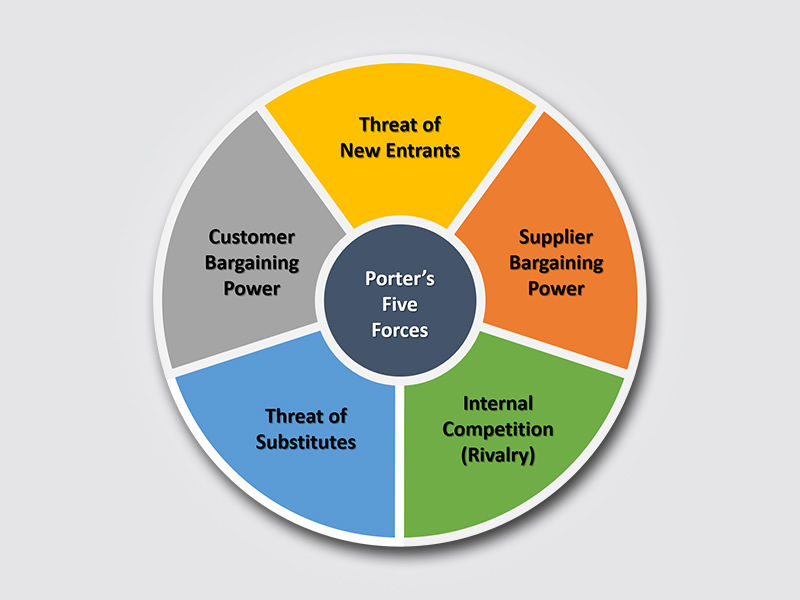 We've all heard how important it is to undertake extensive competitive research. In reality, this is an essential component of any effective marketing approach. Keeping up with what your competitors are doing will help you assess their strengths and shortcomings, giving you a clearer understanding of what to avoid and use as inspiration. Knowing exactly what is going on in your industry (such as current trends) will make your business more dynamic by adjusting to meet consumer expectations.
Michael Porter 5 Forces Analysis takes things a step further, asking you to examine certain market components in great detail to make more effective business decisions. Understanding an industry's profit opportunity and any potential dangers to your performance allows you to more readily identify your company's strengths and capitalize on them or find your flaws and how to improve on them.
For example, deciding to enter a market that is already saturated owing to high demand indicates that there will be more competitors to contend with. As a result, to stand out, you will need to invest more money in marketing, sales, and product development, and you may have to lower your prices. Similarly, you may believe that relocation to a less competitive market is the solution. However, using Porter 5 Forces Model, a company can determine whether or not demand exists.