The Deccan Odyssey 2.0, a renowned tourist destination in Maharashtra, is preparing to resume operations after a nearly four-year suspension brought on by the COVID-19 epidemic. The first trip will depart from Mumbai's Chhatrapati Shivaji Maharaj Terminus (CSMT) on Thursday as part of the relaunch, which will be a key day for the state's tourist sector.
A ceremonial flag-off from CSMT will kick off the Deccan Odyssey 2. 's grand reopening at 2 p.m. Renowned luminaries including state legislative assembly speaker Rahul Narvekar, tourism minister Girish Mahajan, and education minister Deepak Kesarkar will be present for this historic occasion. Radhika Rastogi, the principal secretary for tourism, and Shraddha Joshi Sharma, the managing director of MTDC, will also be on board.
One of India's best luxury trains, the Deccan Odyssey welcomes high-end and foreign travelers. Travelers may be forward to a distinctive and sumptuous experience when it reopens.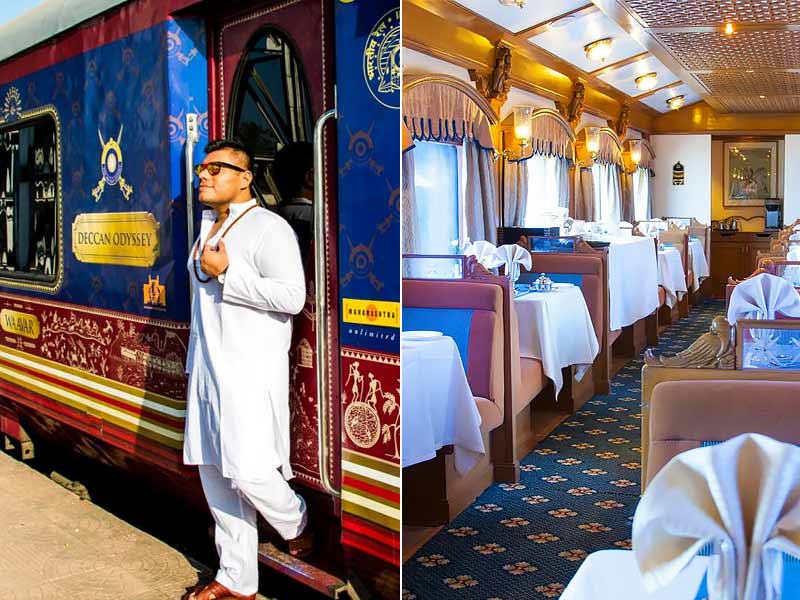 The increased route network of the updated Deccan Odyssey 2.0 is one of its most notable characteristics. Along with stopping in beautiful locations within Maharashtra, the train will now travel via Gujarat, Rajasthan, Delhi, Uttar Pradesh, Madhya Pradesh, and West Bengal in addition to other states.
Before it was temporarily suspended owing to contract changes, the train, which was first introduced in 2004 by the previous prime minister Atal Behari Vajpayee, had been carrying passengers for nearly 15 years. The reinstatement of this opulent train service is a testament to the tourism industry's tenacity and resurgence.
A gym, connected bathrooms, personal cooks, and two presidential apartments in each coach are just a few of the facilities offered by the updated Deccan Odyssey 2.0. At the multicuisine restaurants Peshwa-1 and Peshwa-2, patrons may enjoy fine dining. They can also use the onboard internet and telecommunication facilities to keep connected and listen to music for enjoyment.
Notably, the train complies with cutting-edge ecological and safety requirements, placing special emphasis on the bio-disposal of waste, improving the environment and the well-being of passengers.
The Deccan Odyssey 2.0 will go over some fascinating new itineraries, offering passengers a variety of experiences:
Mumbai's Maharashtra splendor Indian Sojourn: Mumbai CSMT-Nashik-Aurangabad-Pachora-Kolhapur-Madgaon- Vadodara, Udaipur, Jodhpur, Jaipur, Agra, Sawai Madhopur, Delhi CSMT
Delhi-Sawai Madhopur-Agra-Jaipur-Udaipur-Vadodara-Mumbai: The Indian Odyssey Delhi-Agra-Sawai Madhopur-Udaipur-Jodhpur-Jaisalmer-Jaipur-Delhi-CSMT Heritage Odyssey
Mumbai CSMT-Chhatrapati Sambhaji Nagar (Aurangabad)-Ramtek-Warora-Pachora-Nashik-Mumbai CSMT Darjeeling Mail: Mumbai CSMT-Vadodara-Udaipur-Sawai Madhopur-Jaipur-Agra-Benaras-Siliguri Darjeeling Mail Return: Siliguri-Benaras-Agra-
With these exciting routes and luxurious amenities, the Deccan Odyssey 2.0 promises an unforgettable travel experience, beckoning tourists to explore the diverse cultural and natural treasures of India once more.
The Deccan Odyssey 2.0, which has these thrilling itineraries and opulent facilities, entices travelers to rediscover India's rich cultural and natural riches by promising a unique travel experience.