Is anyone willing to say no to healthy food? Drooling, eh? Particularly when it's tasty and cheap and jumbo-sized… If you've ever dreamed of being jumbo-sized and eating your diet like a Lilliputian, this list is for you. On XXL scale, enjoy some delicious Indian Marvels, The largest foods found in India.
Samosa
Samosa has a savory filling such as delicious potatoes, carrots, peas, meat, or lentils and is a fried or baked pastry. For any festival, this crispy and flaky snack is a great appetizer. On any street corner in India, you can find it. It's the most popular snack in northern India, but if you're bored and want to try something different with your standard-sized samosas, then in Raikot, Punjab, visit Gill dairy and sweets. The largest samosas are sold in this store, each weighing over 5 inches. They're selling just 5 samosas per head. So if there is anything different you want to sample, then taste it.
Cost per plate: Rs 30, with Chutney, Dahi, and Chola, you can enjoy your samosa.
Destination: Gill diary and sweets, Barnala Chowk, Raikot
Momos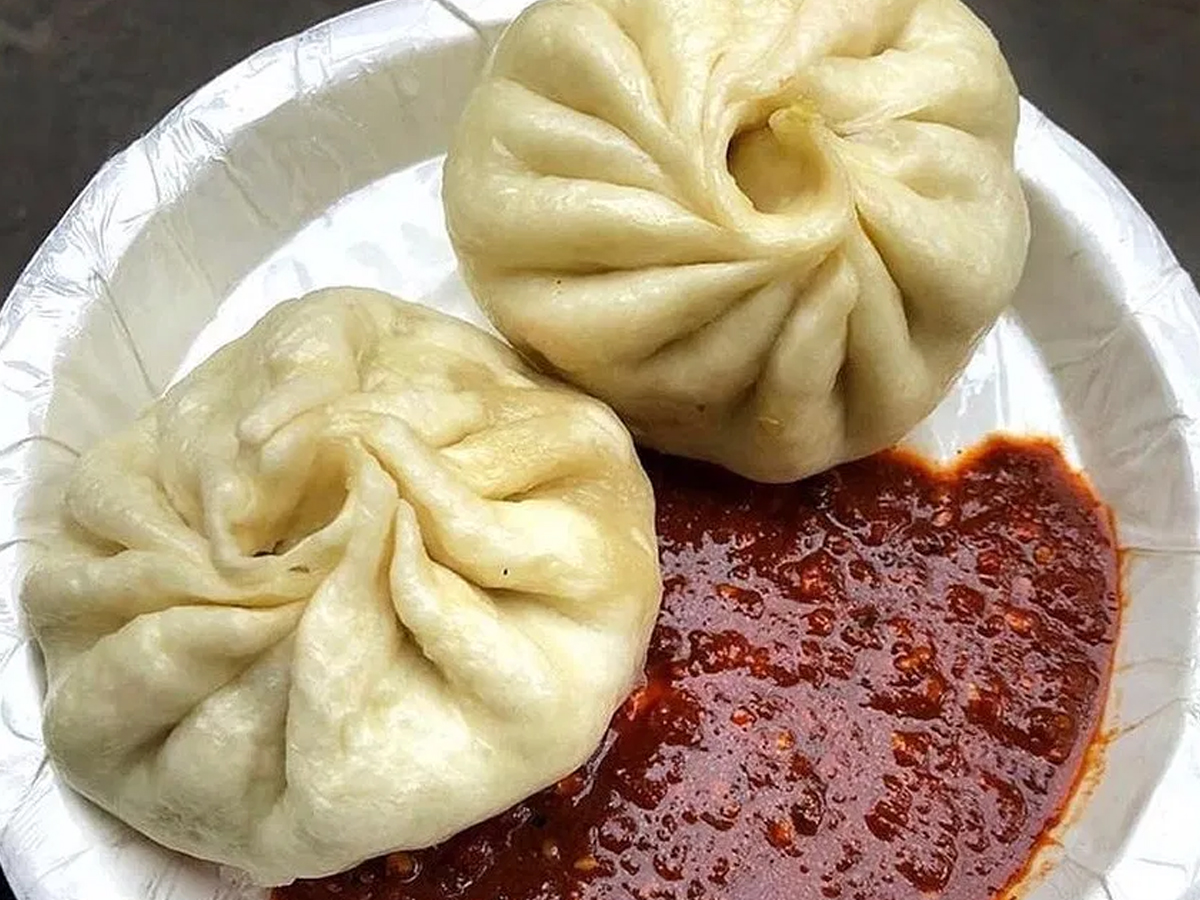 Momo is a form of dumpling from South Asia that is common across the Indian subcontinent. It's one of India's most loved South Asian dishes. A different selection of momos with various fillings, such as chicken, veggies, paneer, soybeans, can be found. Cooked momos, steamed momos, tandoori momos, but what about momos that are jumbo-sized?
So if you're a lover of momo, and you've tried all sorts of momos, but not the largest, then you can hurry up and visit Delhi's Laughing wala. They're usually referred to as Bauji Momos. Each momo is about 100 grams in weight.
Price per plate: Rs 50 (2 momos in each plate).
Destination: Laughing wala on Chattori Road, Delhi's Kamla Nagar Market.
Dosa
A staple food in his home area is Dosa, crispy, savory pancakes from South India. Urad dal and rice are the principal ingredients. Masala dosa, Rava dosa, ghee roast dosa, neer dosa, and several more are his combinations.
You can visit Sagar Ratna, New Delhi, to taste the largest Dosa in India. Every Dosa is around 1 kg in weight and 5 feet in height. These dosas, cooked in desi ghee, produce 5000 calories.
For a single person, too many. So go with your friends and family and enjoy eating with them in the race.
Per Dosa cost: about Rs 800.
Place: Sagar Ratna
Bhatura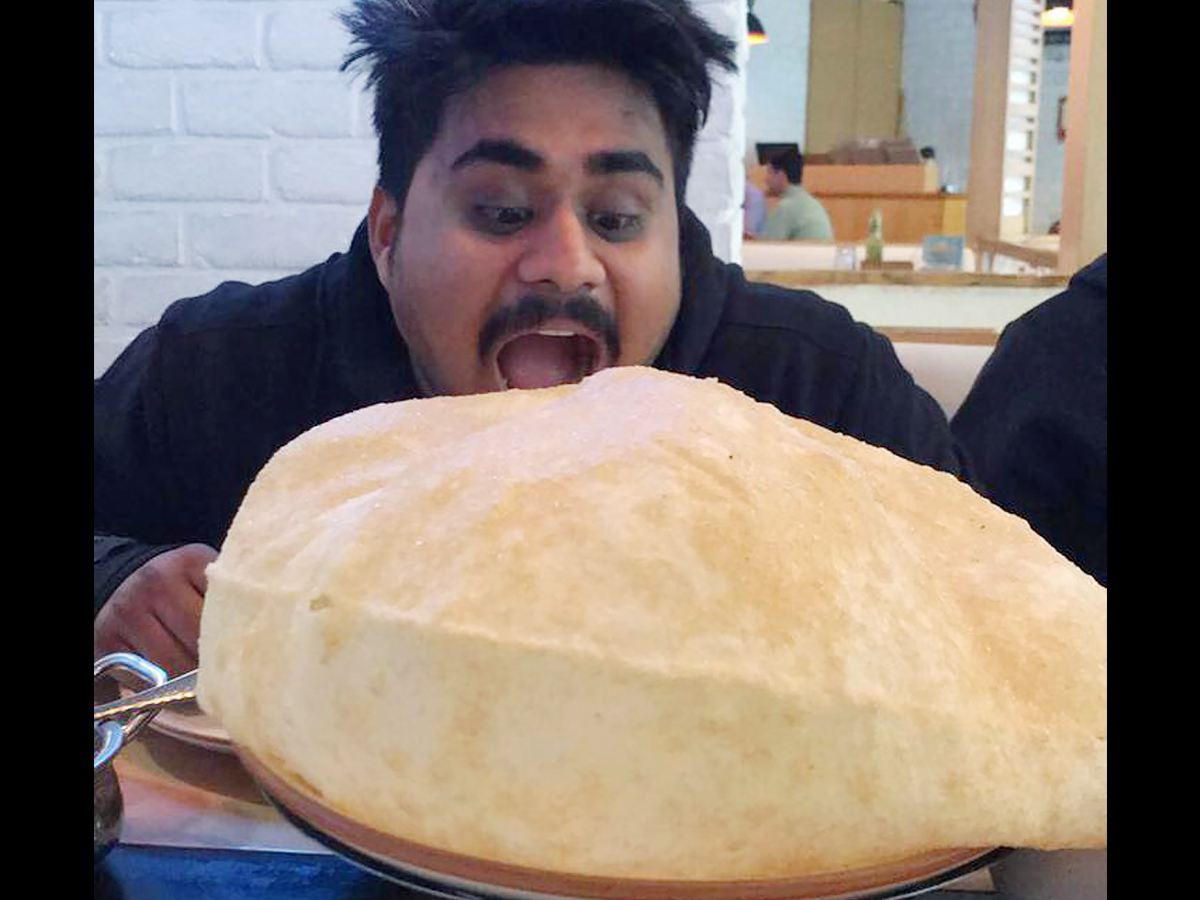 Bhatura originates from the Indian subcontinent and is a soft deep-fried leavened bread. Aloo Bhatura and Paneer Bhatura are combinations.
Chickpea curry, chole, or Channe is sometimes eaten with it, rendering the popular dish Chole Bhature. Visit 'Punjabi by Nature' in New Delhi to sample the largest Bhatura. The Bhaturas are so huge here that they look like massive balloons in height.
This jumbo-sized delicacy, eaten with Cholas, is lip-smacking.
Cost per dish: Rs 275, with your friends and relatives.
Destination: Punjabi by nature, DLF mall, new Delhi
Pizza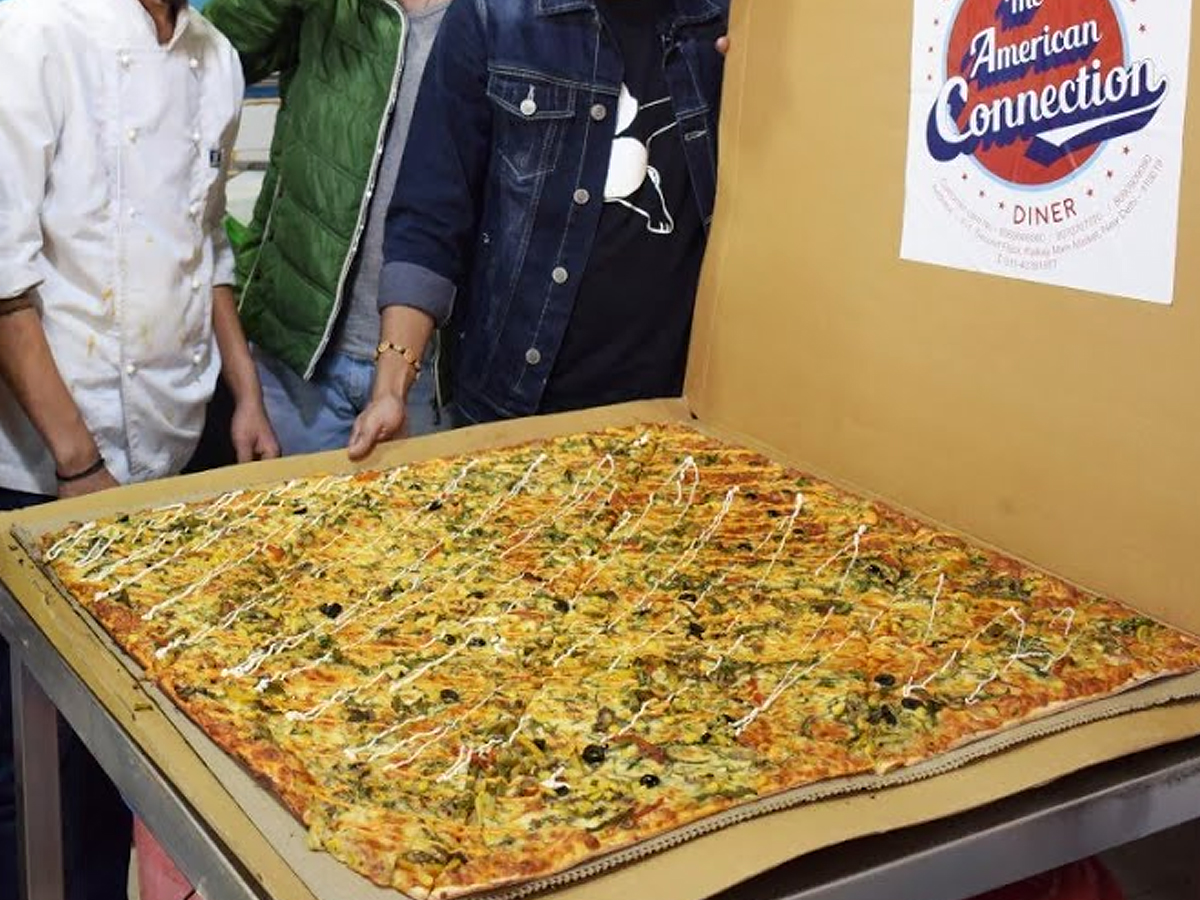 For pizza, there is just one word, and that's passion.
Oh, for pizza fans, that's what a pizza is. Everyone's heart was captured by a savory dish of Italian origin, consisting of a traditionally oval, flattened base topped with tomatoes, cheese, and sometimes assorted other ingredients baked at a high temperature.
Explore America Connection Dinner in Kalkaji, New Delhi, to enjoy a cheesy mouth-watering beast pie. They serve the most giant pizza with dough weighing about 2.5 kg and 2.5 kg of cheese and toppings per your preference and appetite.
Your heart would definitely melt like cheese with this 34-inch pizza. This pizza costs about Rs 2000, available in both veg and non-veg versions, the price which differs according to your choice of toppings.
Destination: American connection diner in Kalkaji, New Delhi
Paratha
A paratha is a flatbread originating from the Indian subcontinent, widespread in India, Sri Lanka, Pakistan, Nepal, and Bangladesh.
There are countless varieties of parathas in India. Still, there is only one place to taste the largest Paratha, and that is the Tapasya Paratha junction in Rohtak. The measurement of this Paratha is 24 inches and 2 feet in diameter. These parathas, products in multiple flavors, are appetizing.
Here, you will take on the Partha challenge. You get food for free for a generation and insurance coverage of Rs 1 lakh if you finish 3 Parathas in 50 mins and win the challenge.
Each Paratha requires around: INR 500 for different stuffings and varying rates.
Location: Junction of Tapasya Paratha in Rohtak, Haryana
Biggest Thali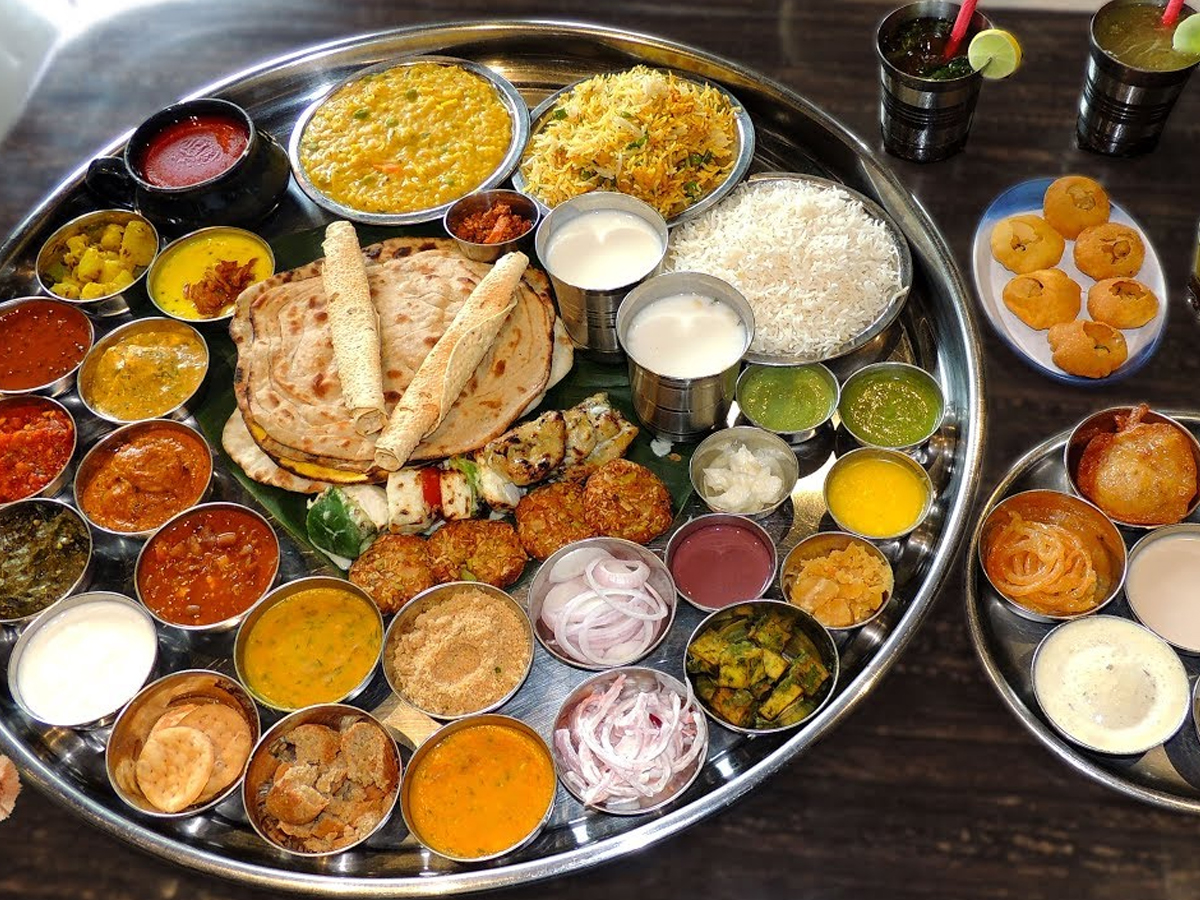 Happy and sweet with the snacks, now if you want to eat a full course meal and you're still too tired, then the Dara Singh thali is for you. Maharashtra offers the world's most extensive veg and non-veg Thali, Mini Punjab Lakeside Mumbai.
With over 38 varieties, the veg Thali costs around INR 1199, including many curries, dals, rotis, rice, chutney, sweets, and drinks.
In one curry, you'll get the flavors of the whole of India.
The cost of a non-veg thali is approx INR 2200. It involves too many delicacies, including butter chicken, fish curry, Amritsari chicken, various dals of minced mutton curry, chicken biryani, murgh musalman, and the list goes on of mouth-watering dishes. For a food critic, this spot is paradise. Here, you have to accept Dara Singh thali's challenge, finish it in just 30 minutes, and get your meal free and a spot in the hall of fame.
Destination: Mumbai's Mini Punjab Lakeside, Maharashtra.
Largest Burger
Descending from the cheese world, the Burj Khalifa is a total mega-wonder. The burger is vegetarian gratification on a platter of potatoes and cheese as the core components, complete with nuggets on its crest. It's definitely going to take a whole tribe's appetite to tackle the 40 cm wall, so make sure you have your mates along!
Cost: Rs 550
Location: Burj Khalifa, by Chitchat Chai, Kandivali, Mumbai
Largest Naan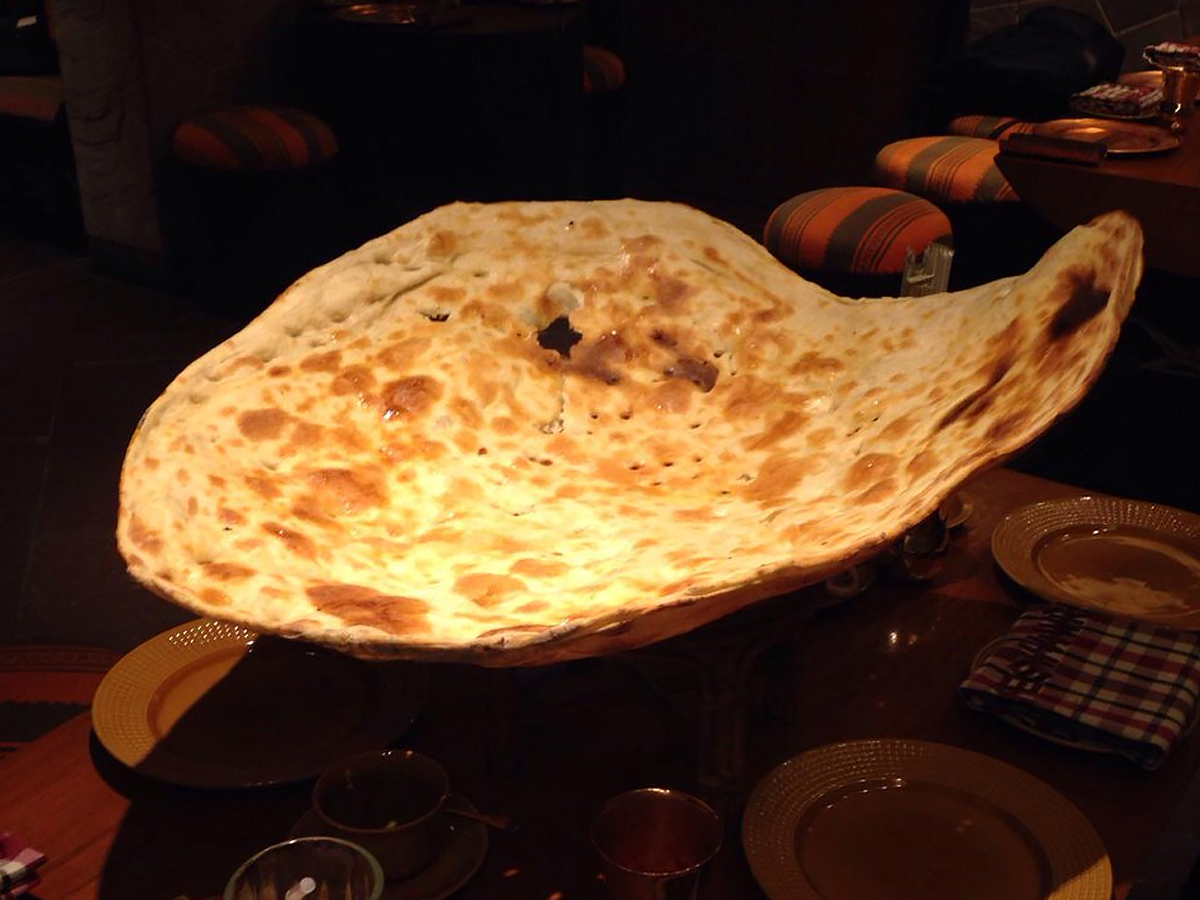 ITC Maurya, ITC Bukhara, known best in Delhi for its North Indian cuisine hotel, features the largest Naan as a critical spotlight.
One such classic dish in this restaurant is the table-sized Naan, the largest Naan you'll ever eat.
The table-sized Naan, a beacon of culinary perfection, blends ingredients such as flour, oil, milk, and a leavening agent 8 times larger than a typically-sized naan. It is 36 inches long and 30 inches tall (3″*2.5″) and costs around 1,675.
The Naan Bukhara or Naan family made in a tandoor (clay oven) is a fine pair with the real delicacy of Bukhara's iconic 'Dal Bukhara.'
Location: Maurya's ITC, Bukhara
When you share it with your loved ones, visit these locations with your family and friends and be on a seafood diet, the meat tastes better. See it and eat it. Be an excellent tasty researcher and share with us your food experiences.