Motuo, the final county in Tibet where the Brahmaputra River crosses over before flowing into India, is isolated in Eastern Tibet as the only county with no roadway connectivity to the outside world among China's 2,100 counties. Motuo, the most isolated county in southeastern Tibet, is on the southern slope of the Himalayas. The mysterious Motuo County, which covers an area of 30,550 square kilometers and has a population of around 10,000 people, is mostly populated by the Menba and Luoba ethnic groups.
Motuo, in southeastern Tibet, is located deep in the lower reaches of the Yarlung Tsangpo River. In Tibetan, it means "Hidden Lotus." Tibetan Buddhists also refer to it as "Pemako" (Lotus Array). It lives on in the hearts of Tibetans as a symbol. When viewed from above, Motuo is supposed to resemble a fresh and elegant lotus flower, with the surrounding mountains serving as petals and the core county of Motuo serving as stamens. Trekking into Motuo is like traveling across the world since you can observe natural plants from all over the world.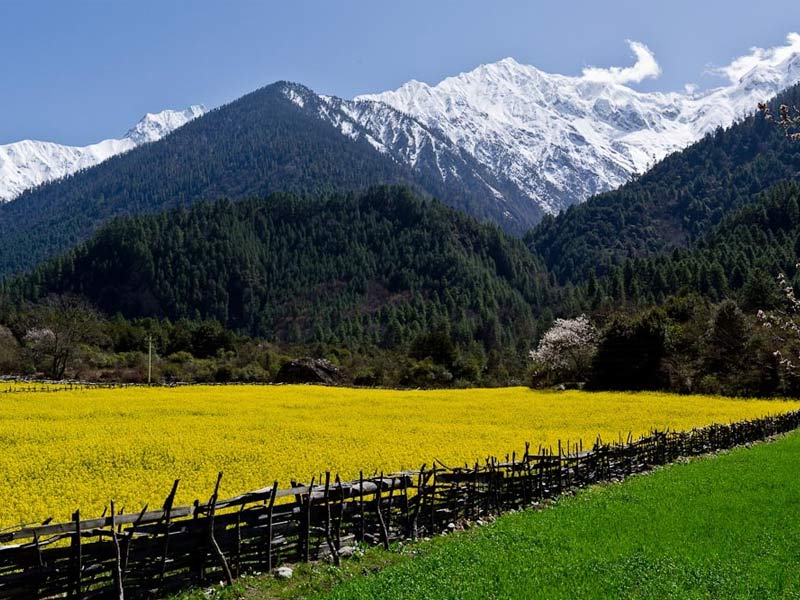 Motuo, or "hidden lotus" in Tibetan, is Tibet's cleanest and holiest area, according to the Tibetan Buddhist scripture "Bka'gyur." As a result, most of the locals, namely the Menba minority, are descendants of individuals who came from other parts of Tibet more than a century ago.
Although it is difficult to picture eating tropical fruits like bananas and pineapples amid snow-capped mountains, this is exactly what happens in Motuo. Motuo, in the lower reaches of the Brahmaputra River, has a typical sub-tropical wet climate with lots of rainfall and spring-like days all year.
Meanwhile, Motuo, which stands 1,000 meters above sea level on average, is shielded from the outer world by a halo of snow-capped mountains.
Motuo State Natural Reserve is in canyons at a height ranging from 750 to 4,800 meters, and it is home to several waterfalls and rivers, as well as a diverse flora ranging from tropical to cold-weather species. Motuo has been nicknamed the "Natural Museum of Tibet" or "Tibetan Botanical Garden" because it has one-tenth of Tibet's plant species. Plants from both the cold and subtropical zones coexist on this little isolated "island."
When is the best time to visit Motuo?
Motuo has a year-round spring climate, with lots of rain and an average temperature of 16°C. Motuo is best visited between May and October of each year. Doxiong La Mountain's snow landscape may still be seen from May to August. Although the rainy season occurs in the summer, it is also a unique experience to admire the snow landscape and wander through the virgin forest during the rainy season. The flowers over the entire plateau area blossom around May. Only by visiting Motuo can you experience the plateau's distinctive beauty.
The Best Way to Get to Motuo
You may go from Lhasa to Nyingchi by vehicle or aircraft, or you can fly from Beijing, Chengdu, and other cities to Nyingchi Mainling Airport and then transfer to Pai Village.
Trekking in Motuo Pai Village is the starting point.
Pai Village is renowned as the starting point for the hard walk to Motuo (Metok), the most remote county in southeast Tibet and the only county in Tibet unreachable by modern vehicles. Motuo, on the southern slope of the Himalayas, is revered by Tibetan Buddhists as the "Lotus Holy Land."
Pai Village, between Nangaba Mountain and the Yarlung Tsangpo River, serves as a supply transfer station for Motuo. The route from Pai to Motuo is one of Tibet's most classic hiking trails. The reasons are obvious: from November to June, the mountain paths are covered in ice and snow; from June to September, it's pouring season, which means sliding, landslides, mud-rock flows, and leeches are prevalent; and only in October is the weather acceptable for trekking. Although we were still in the rainy season, we went, although it had poured and snowed only the week before.
You will travel by car from Pai Village to Songlinkou in the morning, where the actual trekking will begin. The way up the snow-covered mountains is rocky and steep. In May or June, a large area of snow appears halfway up the mountain, and the entire summit is covered in ice and snow. It's easy to get lost, therefore it's best to hire a guide to show you the route. It is advisable to cross the Doxong La Mountain before 1 p.m. because the weather in Tibetan places varies. Namcha Barwa, which sits between heaven and earth, is the most picturesque location on the entire voyage. It's also relaxing to quietly gaze out at the snow-capped mountain. 
After crossing across an open meadow, you will arrive at the first day's camping spot – Lage. On foot, it takes about 9 hours.
Lage: The First Stop
The height drops from Lage to Hanmi, and the scenery is mostly rustic, with towering virgin woods and several huge and tiny streams. The entire section of the road is excellent, but it becomes muddy when it rains. When trekking to Hanmi, keep in mind that there will be more leeches. Many leeches are concealing themselves behind green leaves. They will cling to people as they pass by. As a result, don't expose your arms or thighs because of the scorching temperature. It is best to take precautions ahead of time.
After passing through the large cave, you will arrive at your overnight stay at Hanmi. The entire journey lasts for 9 hours.
Hanmi Village: The second stop
Starting from Hanmi, you will travel through the leech region; it is preferable to use plastic tape to tie the legs together to avoid getting stung; it is also effective. You will arrive at Laohuzui (Tiger's Mouth) after crossing Ani Bridge (Bridge NO.1). It's a path carved into the cliff. This road runs parallel to the canyon. The narrowest section is only half a meter wide and must be crossed sideways.
Later, you'll cross over Bridges Nos. 2 and 3, which have a lot of huge and tiny landslide regions and only one person may pass at a time. Check with your teammates to see if there are any falling rocks overhead.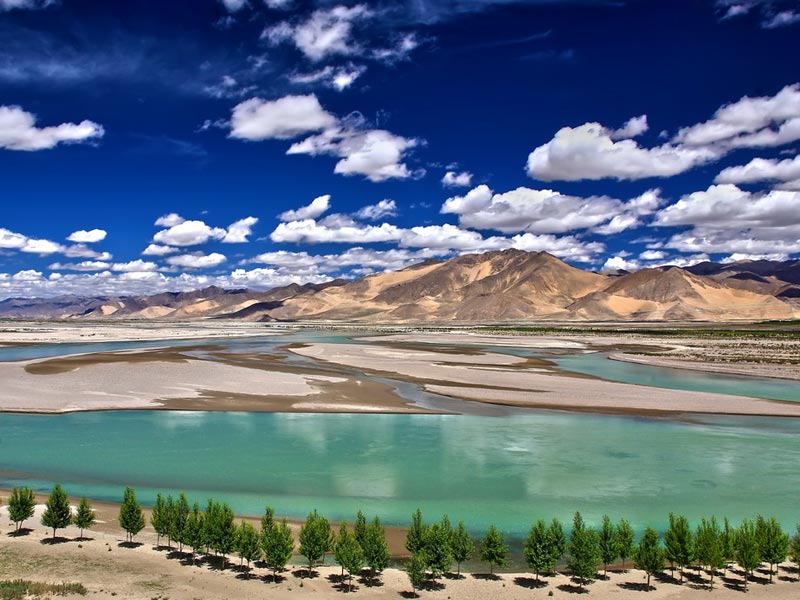 You will arrive at Beibeng Village after passing via Bridge No. 3 and Jiefang Bridge. You can either return to Motuo county or continue hiking. The entire journey takes around ten hours.
Motuo arrival?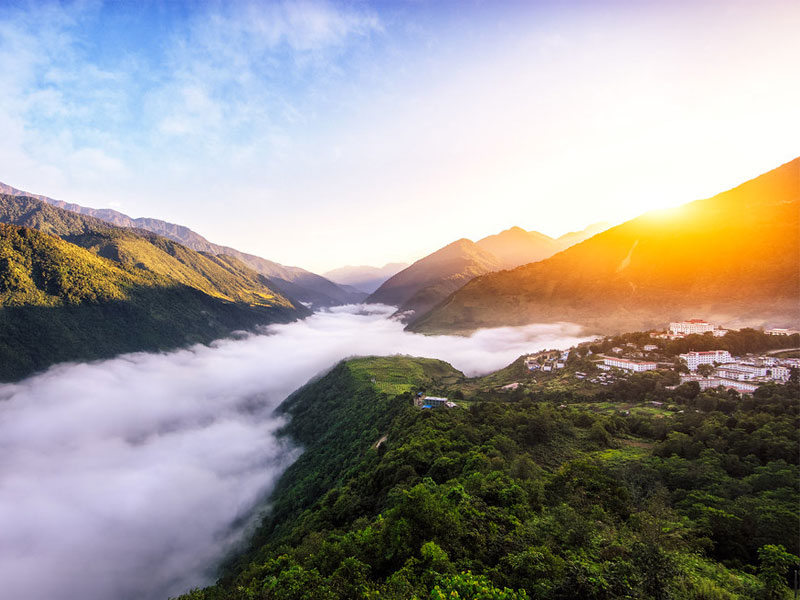 The Yarlung Tsangpo River is accompanying the trek on this day, and tropical vegetation flourishes freely on both sides of the route. The beautiful river has been running for thousands of years under the canyon's boiling river surface. Along the journey, you'll pass across various ancient bridges and caravans. Continue on after passing past Yarang Village.
Around three o'clock in the afternoon, you can see Motuo on the opposite side of the mountain, where the mountains and rivers are set against the snow-capped peaks, creating an isolated spot.
Aborigines such as the Menba and Luoba ethnic groups were once referred to as "wild communities" because they had brief contact with the outside world. Some isolated communities are still shrouded in mystery. In this beautiful reserve, the locals revere nature. This country is endowed with mystery and tranquillity, as are its people are simple and powerful hearts.
In this unspoiled region, we could see towering peaks and deep ravines surrounded by clouds and mist. Many birds sang in the woodland, and sunlight streamed through the mist and trees. All year, water mist floated from the Indian Ocean and Bangladesh Bay, enveloping the towering summits. Azaleas and orchids abound, while wide fields of big white lilies bloom.
According to Tibetan Autonomous Region officials, Motuo will get roadways by 2012, making it Tibet's sole county without them. The highway project began in 2009, and the Galongla tunnel, a crucial component, was finished on December 15, 2010.
Although Motuo is highly beautiful yet not accessible to international visitors, other regions of Eastern Tibet may be explored.