The greatest approach to understand the place is to try its food. You may learn about their culture, tradition, and hunger via their cuisine. However, when we think about South Indian food, the only thing that comes to mind is Dosa, Idli, and Sambhar, among other things. So, if you enjoy the cuisine and wish to explore the southern trails, this article is for you. 
Indian cuisine consists of far more than the overhyped Butter Chicken, Roasted Chicken, and Naan. These North Indian culinary items may be found on most restaurant menus. Still, they are only the tip of the iceberg in terms of all the tastes of India accessible to consume.
South Indian food is one of India's most popular local cuisines. It is largely a synthesis of the cuisines of the five Indian states of Andhra Pradesh, Karnataka, Telangana, Tamil Nadu, and Kerala and the union territories of Pondicherry, Lakshadweep, and the Andaman & Nicobar Islands. The cuisines all employ spices specific to the area, and the amount of spiciness varies greatly.
South Indian food is well-known for its liberal use of coconut in curries. Other popular and fundamental components include curry leaves, mustard oil, red chilies, and oil.
The aroma of crisp vadas, the sound of spluttering mustard seeds, the taste of piping-hot sambar prepared with fresh tamarind, and the touch of feather-light, delicate idlis – there's no denying that South Indian food is a sensory delight.
We Tried to go a little different, and this list will not have Dosa, Idli, Vada, Upma, or Uttapam. We thought to give the spotlight to the lesser-known south Indian Food, so you can learn more about the relishing and amazing taste of south Indian food.  
Beyond Idli and Dosa in South India, we have attempted to demystify and explain the various tastes of South Indian Food. Check em out!
Fish Molee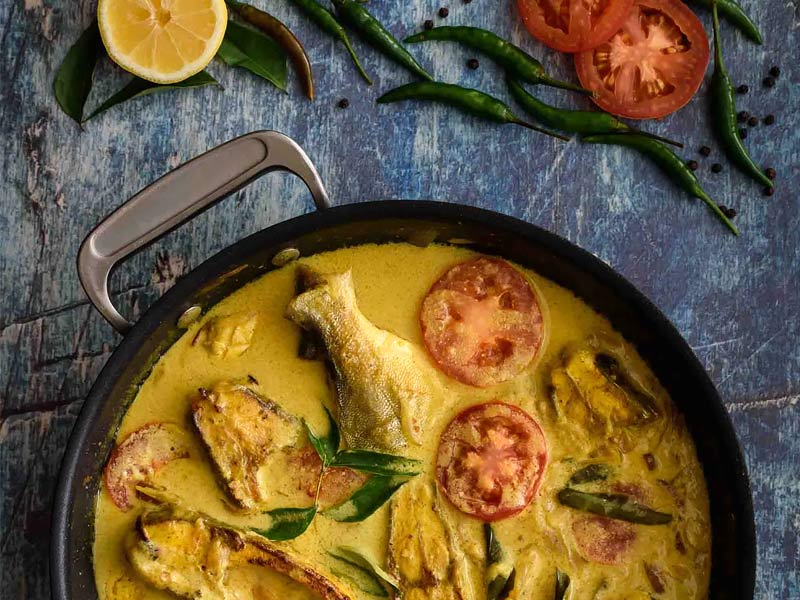 Fish Molee, also known as Fish Moolie, is a Kerala specialty that tastes divine. Fish molee, made with coconut milk and traditional spices, is best served with appams. This fish stew, reminiscent of classic Portuguese flavors, contains moderate seasonings and is one of the state's most popular meals.
Think of it as more than simply another fish curry. With its origins in the days of the Portuguese in India, this is a popular lunch meal in Kerala. It goes well with Appam.
Kerala Prawn Curry
Kerala Prawn Curry is the state's trademark cuisine, filled with slightly spicy, fiery, and sour flavors. The delectable meal goes well with Malabari Parotha, bread, rice, or appam. This south Indian food is made with coconut milk and occasionally topped with raw mango shreds and peppercorns.
The best delicious prawns in coconut curry. This Malabar curry will definitely take your breath away! When you combine this delectable curry with steaming hot rice, you'll understand what we mean.
Not to mention that the marinated prawns, raw mangoes, and drumsticks give this meal acidic, sour, and spicy flavors, resulting in an excellent supper dish that works well with toast, idli, appam, and even rice.
Bise Bile Bhaath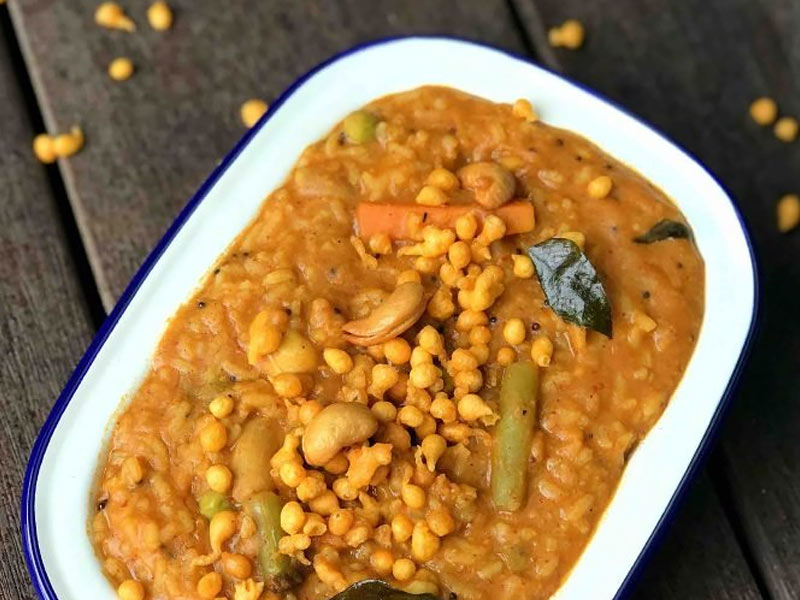 Bisi Bele Bhaat is a popular Karnataka dish. It is created by cooking steamed rice with toor daal, veggies, and spices. It is the regional equivalent of the north Indian dish "khichdi." It goes well with boondi raita, chutney, salad, papad, or potato/banana chips. It is a component of Udipi cuisine.
Parrota
The Malabar or Kerala parotta, a flaky, layered bread composed of refined wheat flour or maida, is commonly referred to as a parotta. It is a popular street and restaurant cuisine throughout the state, and it is typically served with beef fry.
In reality, the parotta-beef fry combination has political significance in Kerala. It is often used as a symbol of a state that values the international origins of its modern culinary culture.
Serve with Erachi Varattiyathu (Kerala-style dry beef fry), a spicy and tasty meal of beef pieces fried with ground spices, black pepper, coconut, and chilies.
You can also Enjoy this with vegetable korma. The amazing blend of vegetables with aromatic coconut oil and infused spices makes the combination a heavenly delight for vegetarians. 
Appam Ishtu
Appam is a feathery light crepe-like delicacy made with fermented rice flour and coconut milk batter. Appam is a South Indian food that is best served with Ishtu (better known as stew). This is a bowl-shaped pancake prepared from fermented rice batter that originated in Kerala. Served with coconut milk or korma (vegetable and yogurt curry).
You can select from chicken, mutton, beef, or veggie stew. Ishtu is also prepared in coconut gravy flavored with mild spices.
Chicken Chettinad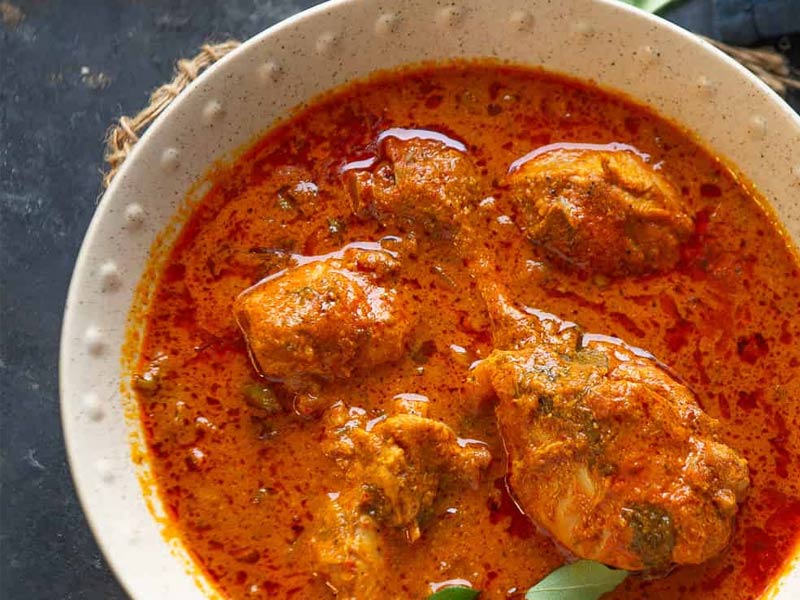 A spicy chicken recipe with marinated chicken pieces in ginger, garlic, cumin, fennel, peppercorns, and red chilies, cooked with onions, tomatoes, cinnamon sticks, and cloves. With cooked rice or chapati, serve. This dish is from the Tamil Nadu state of Chettinad.
Puttu Kandala Curry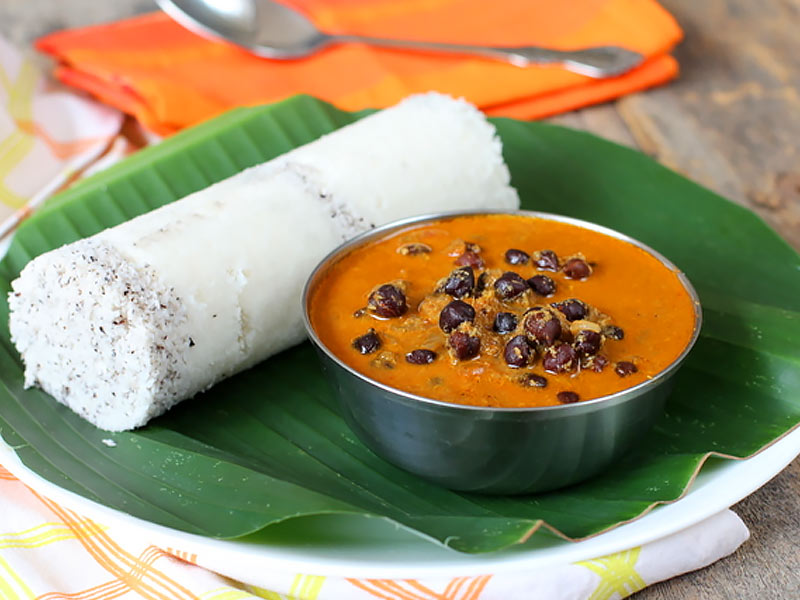 Puttu with Kadala Curry is a very popular breakfast meal in Kerala. Puttu is steamed rice that has been filled in metal cylinders to give it form. Puttu is another Kerala dish eaten with Kadala curry (black peas/Kala chana curry). Kadala curry is a spicy and sour curry prepared with black peas, curry leaves, and coconut milk. The meal is served with ripe bananas on the side and is topped with shredded coconut.
The crumbly texture of Puttu combined with the acidic flavor of Kadala Curry make this meal a Malayali's favorite breakfast in nearly every district of the state.