Whatever you choose, whether it's a trip to the mountains, a staycation in the suburbs, or a luxurious retreat surrounded by nature, our travel decisions may be made more sustainably.
These accommodations are ideal for your next trip if you're seeking eco-friendly lodgings that integrate with the environment while still standing out for their smart design.
These accommodations, which can be found all throughout India, provide well-designed stays in the midst of nature with a focus on sustainability and mindful practices.
Laterite House, Alibaug
In the laid-back seaside town of Alibaug, which is only a short boat trip from Mumbai, this villa in contemporary design opens up to views of the hills. Its four bedrooms, private pool, stylish living room/dining area, outdoor lounge, and expansive lawn make Laterite House the perfect choice for a peaceful weekend away from the city.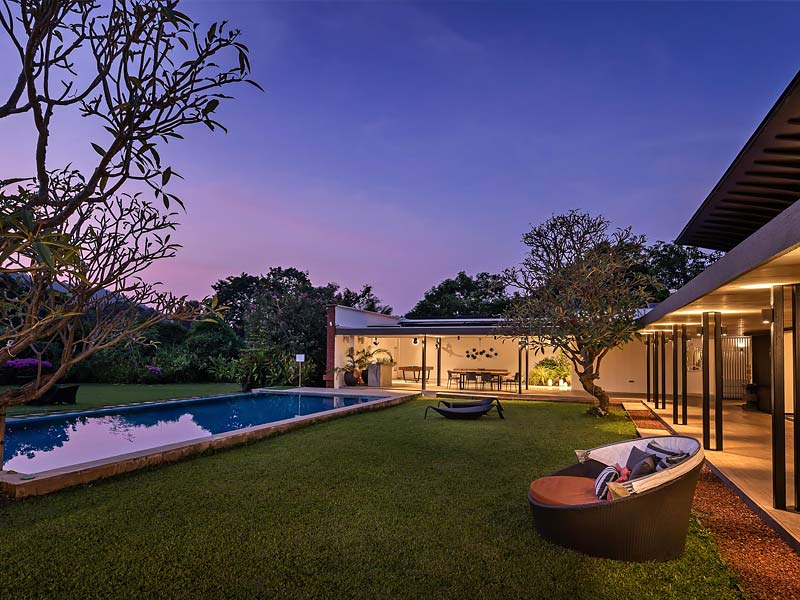 Large glass windows in the rooms allow one to enjoy the views even when inside, and the inclusion of greenery adds a touch of nature. The private villa uses solar energy for more than 85% of its total needs while putting a special emphasis on water conservation. This ensures both luxury and sustainability. 
Additionally, the moist waste from the kitchen is recycled in compost pits to create organic lawn fertilizer. Here, guests can enjoy yoga and spa treatments, complimentary breakfasts made with locally-sourced ingredients, and open-air BBQ events. The property also provides its visitors with a concierge service.
The Owl's Nest, Dharamshala
This opulent farm stay is located in Dharamshala's forested neighborhood on a one-acre organic farm. It is surrounded by nature and has two roomy bedrooms that can accommodate four people. It also has a mind cave that's ideal for quiet activities like reading, meditation, and self-reflection.
This home, which blends contemporary and traditional styles and is tucked away from the hustle and bustle of the city, provides modern conveniences and access to local tourist attractions.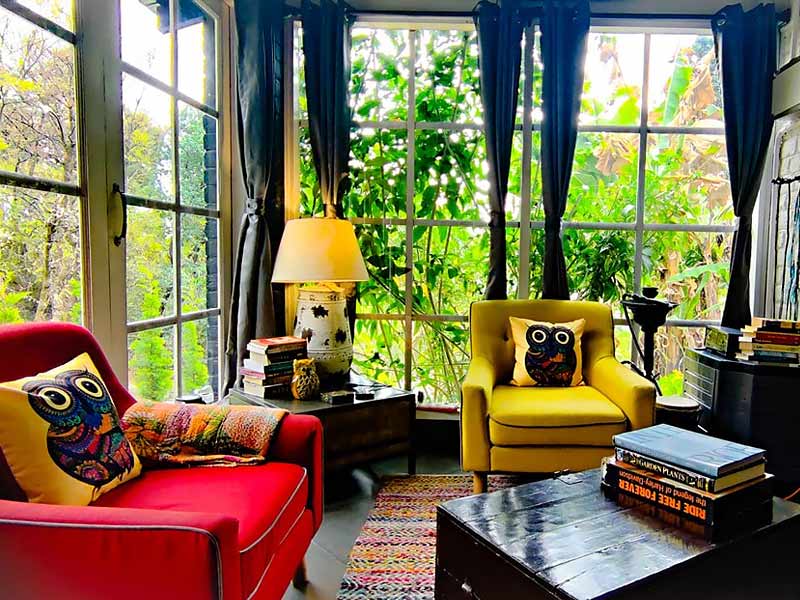 At this lodging, the owners have made an effort to encourage sustainable living, bringing guests closer to nature. The Owl's Nest develops a living area for humans that merges with nature rather than shuts it out, from farm-to-table meals using seasonal produce to not messing with the natural surroundings. 
Even though it is a self-catered stay, the caregivers can provide vegetarian meals with fresh local ingredients. There is plenty of space in this guesthouse, with a sunroom, a yoga room, and a hammock area.
Evolve Back, Coorg
Evolve Back is a luxury resort with pool villas in the middle of nature, created to provide visitors with a true coffee and spice plantation experience. The design company, Earthitects, decorated the villas in two architectural styles that are distinctive of the Coorg region while utilizing natural materials and rustic textures.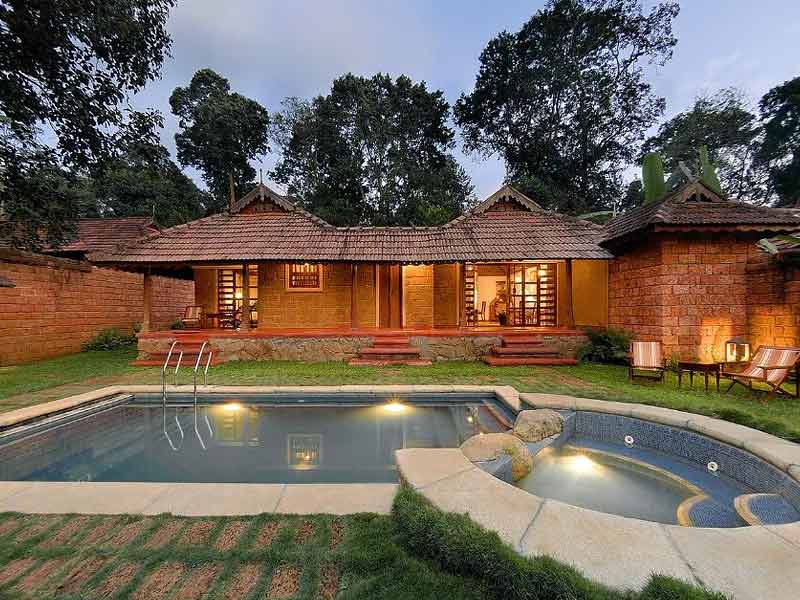 The design is in the details, be they tiled roofs, terracotta flooring, hand-cut laterite bricks, mud walls, or thatched roofs. When visiting, eat at the machan, a cane and wood building encircling a tree from which you can see the lake and the nearby estate. A vernacularly constructed gazebo that looks out over the beautiful plantation is also located in the middle of a lily pond. 
Other things to do at this location include bird watching, plantation walks, coracle rides, a worker's trail, and a coffee museum with seminars on the art and science of coffee. Restaurants with a side of nature are also available at Evolve Back, along with an Ayurvedic spa.
Fragrant Sun by the Lake, Pune
This property is a good choice if you want a rustic experience in the middle of nature. Fragrant Sun, a three-bedroom eco-friendly home perched on a hill and offering views of Mulshi Lake, is tucked away and quiet.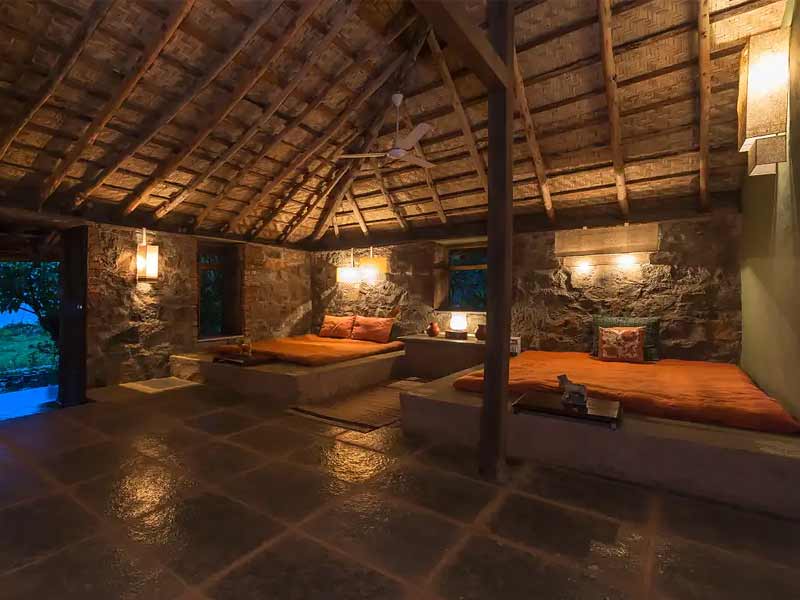 The house was built with repurposed furniture and natural resources including stone, brick, and wood. Spend time relaxing amidst nature while here by going on a hike or swimming in the lake. Additionally, there is a sizable communal outdoor table with a natural cover where you can have a delicious breakfast spread or have a bonfire on the lawn in the evening while enjoying wood-fired pizza. 
There are plenty of things to do in the villa, including board games, badminton, and table tennis. The interiors are warm and inviting and decorated in a bohemian and rustic style. The distant setting adds to the tranquility of the stay.
Makaibari Bungalow, Darjeeling
Makaibari Bungalow, a lovely five-bedroom home perched on a hill in Darjeeling, has sweeping views of the neighborhood tea garden. Solid oak ceilings, Sabyasachi wallpaper in the corridor, and doors ornamented with bronze fittings are all features of the elegantly decorated interiors.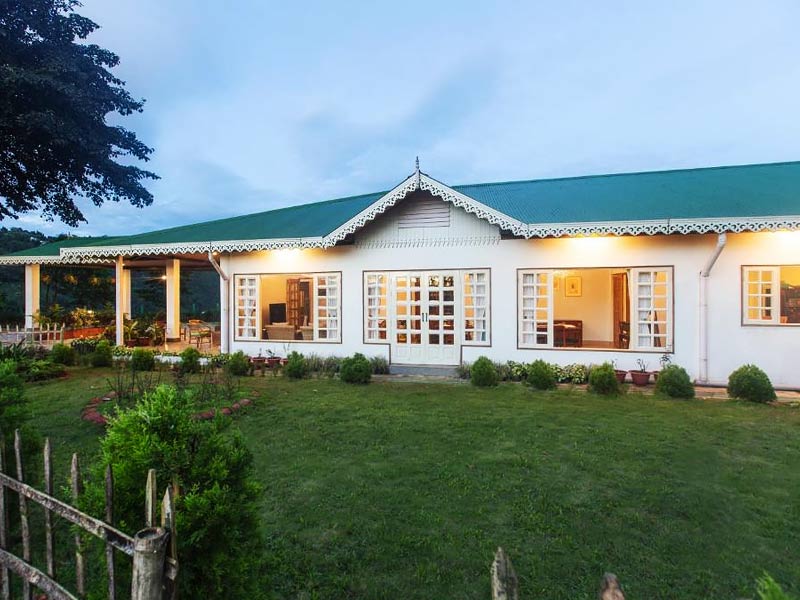 The area is decorated to look like the home of a tea planter, complete with a porch-style veranda where guests may unwind and savor a delicious cup of tea. Herbs, fruits, and vegetables are cultivated in an organic garden as well.
The building uses solar energy, collects rainwater, and prohibits single-use plastics. Explore the mountain town, walk on tea trails, and eat chef-prepared Nepali food while you're here. One might enjoy reading a book in the tranquility of nature while sitting by the fireplace at night.
The Tamara Kodai, Kodaikanal
This historic resort, which spans eight acres and is situated 6,500 feet above sea level in the Kodaikanal highlands, was built in the 1840s.
One of the first few homes to be erected in this area was the original structure known as Baynes Bungalow, which belonged to a British district judge. It was rebuilt and reopened as La Providence in 1860, serving as a rest home for Nagapattinam monks.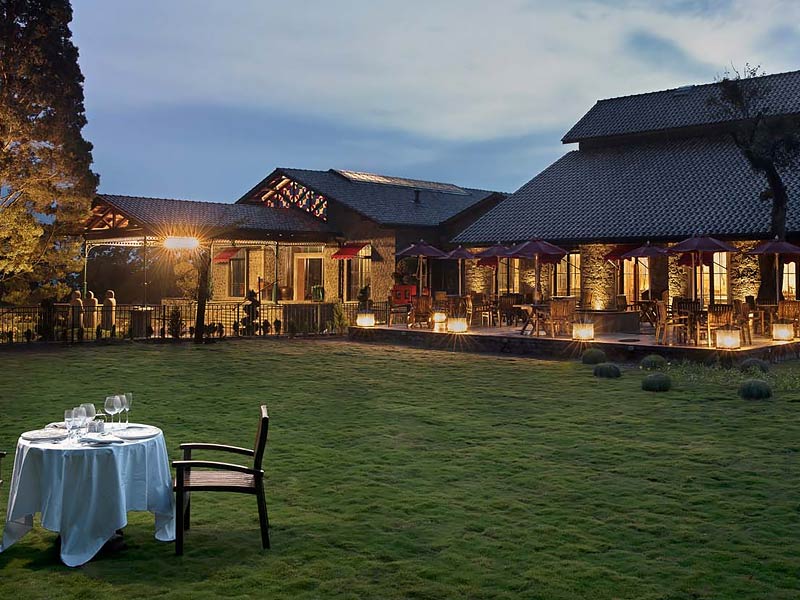 Since then, the modern site has undergone restoration, expansion, and repurposing while retaining some of the original architecture. The Tamara Kodai not only offers a piece of history, but it also prioritizes sustainability, with its objectives in line with the 17 UN Global Goals for Sustainable Development. 
It provides luxurious apartments in an environmentally sensitive atmosphere, including adequate water management, garbage disposal, and conserving 1.5 acres of land for flora. During your visit, you can take advantage of the spa, pool, bonfire, restaurants, and a variety of other activities.
Chandralok Villas, Lonavala
Chandralok Villas is a pet-friendly hotel that offers contemporary amenities in a classic setting. It has four private pool villas and is located in the Lonavala hill station. Each villa features four sizable bedrooms, a living and dining room, tiny rooms on the mezzanine floor, and balconies the size of Lilliputians.
The kitchen garbage is composted, discarded saree fabric is repurposed into the villa's design, and solar energy is used to heat the water instead of a geyser. Additionally, guests can pick their own organically produced herbs and veggies from the property to use in the chef-prepared meals.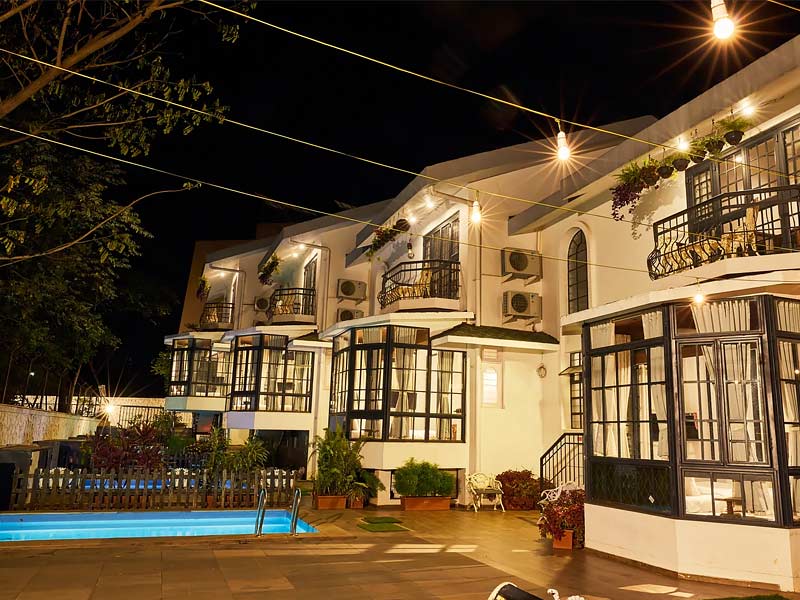 When visiting, consider supporting a good cause by shopping at the pop-up store inside the building, which sells locally manufactured cloth bags, tableware, and other trinkets made by women-owned enterprises and the Blind Home & Samvad Shala. The family-run hotel is the perfect place for a quick trip with friends or family because it provides wonderful service and activities.