Do you frequently notice itching scalps or bothersome white flakes on your shirts? Are there mounds of hair in your washbasin or washbasin?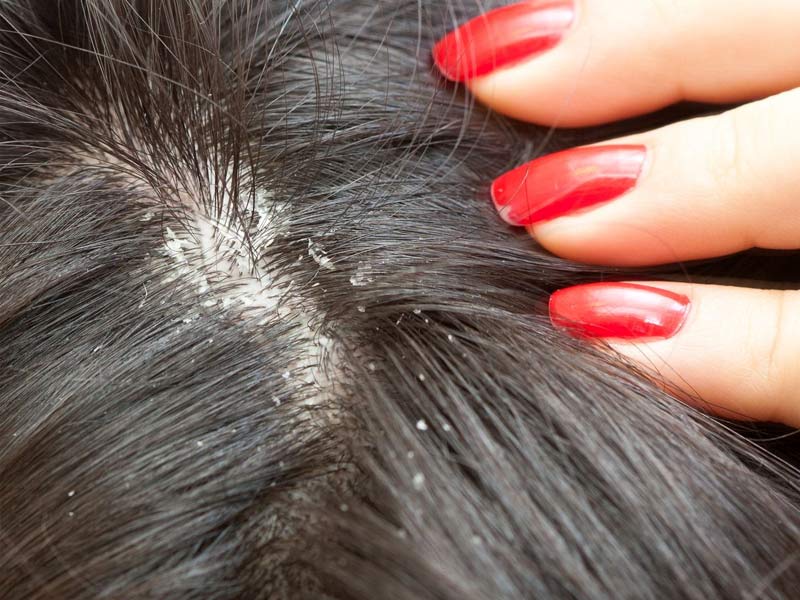 Be cautious, as these can indicate that you have dandruff on your head. It is not something you should take lightly and can occur in both men and women, regardless of age or gender. Understand how to treat dandruff at home with these natural solutions.
Several successful DIY cures for dandruff include:
Lemon juice and coconut oil
Everybody's granny recommends coconut oil. Its antifungal qualities might offer significant relief from dry scalp and itching. Equal parts coconut oil and lemon juice should be combined, then applied to your scalp. After letting it sit for ten to fifteen minutes, thoroughly rinse your hair. This will promote hair development and nourishment in addition to helping you get rid of dandruff. Since oil freezes rapidly in colder weather, it's important to warm it in the winter.
Yoghurt
The protein and lactic acid in yoghurt fortify your hair from the inside out and help lessen dandruff. It is a veritable gold mine of beneficial microorganisms and keeps the scalp from peeling. Spread some fresh yoghurt on your hair and scalp. After letting it sit for ten to fifteen minutes, rinse with warm water and pat dry. Yoghurt has a lot of anti-fungal effects, so you might try adding black pepper to it.
Neem
Since ancient times, neem leaf paste, when freshly powdered, has been used to treat skin conditions. It's an easy remedy for itchy and dandruff due to its antibacterial, antifungal, and antimicrobial qualities.
As an alternative, you might just boil some fresh neem leaves, let the water cool, and then use it to rinse your hair.
Aloe Vera
A natural coolant that relieves flakiness and skin irritation, aloe vera relieves itching and leaves your scalp feeling cool and itch-free. Aloe Vera has antifungal qualities that help treat dandruff and remove dead skin to promote the growth of new skin cells.
After applying aloe vera gel to your scalp and letting it sit for around 30 minutes, wash your hair with a gentle shampoo.
Apple cider vinegar (ACV)
ACH unclogs hair follicles and pores while acting as a natural hair cleanser. Its acidic properties aid in the removal of dead skin cells from the scalp, stop fungus from growing, and balance the pH of your scalp.
After shampooing, just combine two tablespoons of apple cider vinegar with a cup of cold water to make a mixture, then rinse your hair. Give it a couple of minutes to settle before cleaning it off. It can be used once a week for optimal results.
Salt
Excess oil on your scalp can be absorbed by salt, which irritates and itches it. Since pimples on the forehead are also caused by an oily scalp, it is best to treat dandruff at home as soon as possible.
Simply mix a small amount of salt with your regular shampoo and wash your hair. Apply it all over your scalp in gentle circular motions, then exfoliate. After a minute or two, give it a wash in lukewarm water.
Vinegar and olive oil
Olive oil is a lightweight natural conditioner that doesn't weigh down hair because it acts as a conditioner. When combined with vinegar's acetic properties, the mixture both increases blood circulation and protects the scalp from fungal infections.
Combine 1 tsp olive oil and 2 tsp vinegar. After evenly applying the mixture to your hair, massage your scalp for five minutes. For optimal effects, wash it with antidandruff shampoo and then apply a conditioner.