Nobody likes gaining weight and look fat. But what if you gain weight and want to lose it without much effort and by keeping yourself fit? The best way to do this is by eating salads that will make you lose weight, keep you healthy, and taste superb. Isn't this interesting? Aren't you thinking that you will get bored eating the same salad every day? If yes, then there is the solution to this problem of yours too.
We have some amazing options of salads that can let you lose weight and you will never get bored because of it. Yes! The image of salad that immediately strikes your mind is of some boring and sad tomatoes with some lettuce leaves and a watery dressing. But here is more than that!
Even Celebrities do follow this, click here
HERE ARE SOME RECIPES FOR SALAD FOR WEIGHT LOSS THAT WILL HELP YOU TO SHRED THE EXTRA KILOS, WILL KEEP YOU FIT, AND YOU WILL NOT FIND SALAD BORING FROM NOW!
CHOPPED VEGETABLE CONFETTI SALAD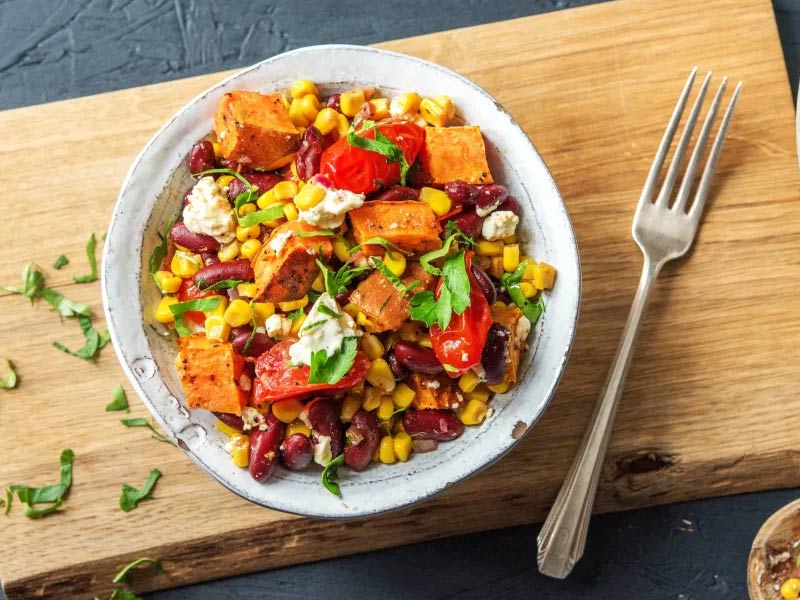 This super tasty salad is packed with fibers and delicious flavors. It is a colorful and power-packed salad that will keep your tummy full for a longer time. 
INGREDIENTS NEEDED-
The ingredients needed to prepare this salad are- chopped cauliflower, chopped broccoli, chopped carrots, chopped celery, chopped onion, chopped red pepper, minced garlic cloves, olive oil, apple cider vinegar, salt, pepper, and Italian seasoning.
HOW TO PREPARE-
Mix all the finely chopped veggies, give them a whisk in olive oil, and add pepper and Italian seasoning. For the dressing, combine the vinegar and garlic. Now, pour the dressing into your veggies and let it chill for an hour or two, and your salad is ready!
STACKED SUMMER VEGETABLE SALAD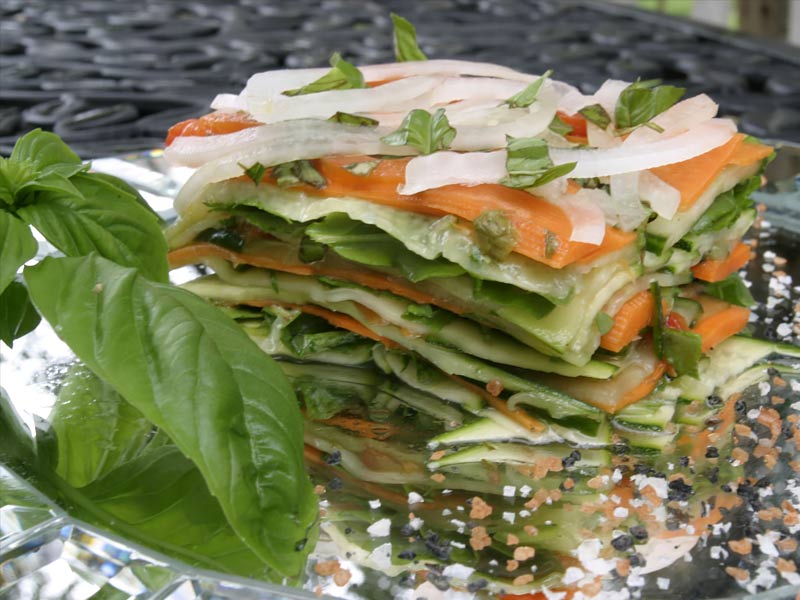 This delicious salad is worth trying. This will not only make you lose weight but also give you the immense pleasure of taste. 
INGREDIENTS NEEDED-
The ingredients you will need to prepare this salad are red onion, zucchini, carrots, torn lettuce, lemon juice, olive oil, salt, black pepper, and fresh snipped dill.
HOW TO PREPARE-
Peel the carrots and cut them nicely, and slice the onions. Now, shave the zucchini into thin strips, season it with the salt, and then drain it in the colander for about 15 minutes. Now take a separate bowl and pour some olive oil into it, add some lemon juice. Now make a layer of zucchini followed by the layer of carrots and onions, and drizzle the dressing with a pinch of pepper and dill. Repeat the procedure for other layers and let it chill for an hour. 
FRUIT SALAD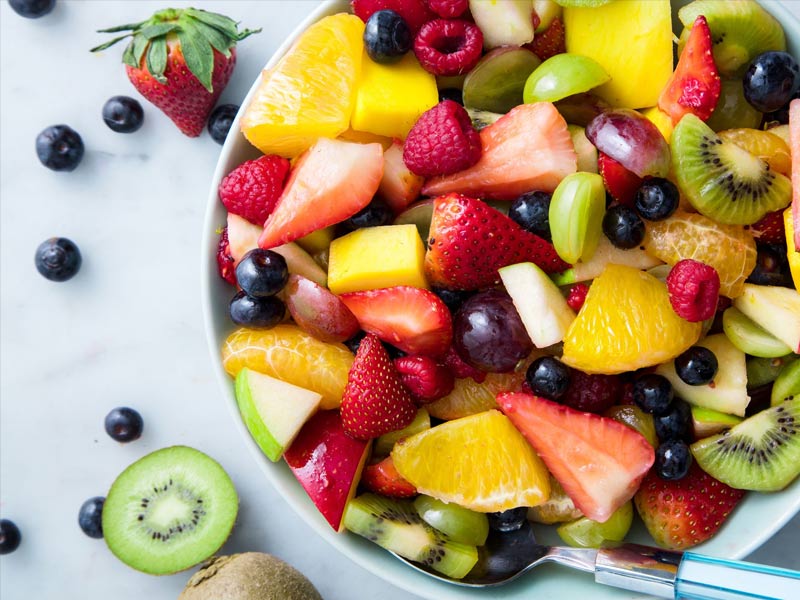 One of the easiest and tasty salads to prepare to lose weight. The sugar in the fruits provides energy and is natural. This salad can serve the best your cravings for something delicious and healthy.
INGREDIENTS NEEDED-
The ingredients used in this salad include- diced apples, pomegranate, diced pineapples, chopped strawberries, and non-fat yogurt.
HOW TO PREPARE-
Mix all the diced and chopped fruits in a bowl if you want, then add some nuts, too, like almonds, walnuts, and pistachios. Then drizzle some yogurt over it and let it get chilled, and then your treat is ready to eat!
GREEK SALAD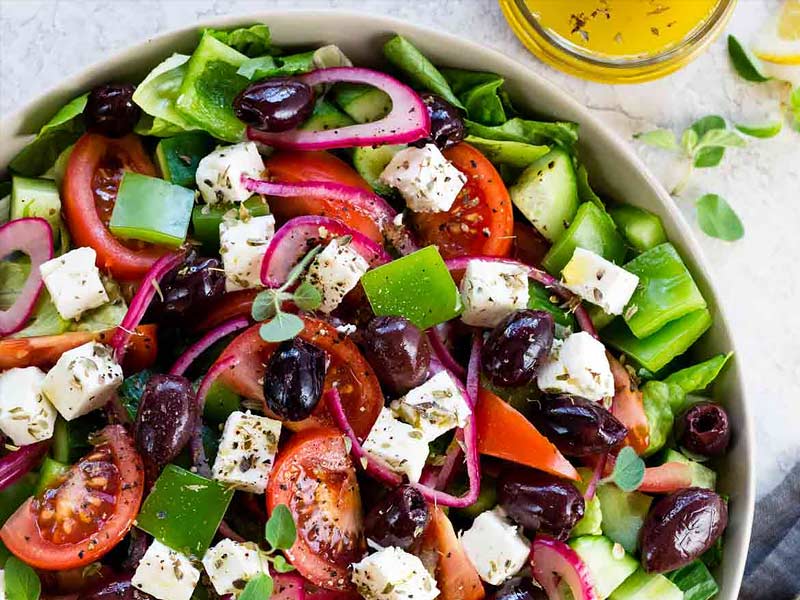 This salad is so refreshing and helps up to a great extent in losing weight. The ingredients used in the salad are so fibrous that they keep you healthy and helps in the shredding of extra kilos. 
INGREDIENTS NEEDED-
The following ingredients are needed for this delicious salad- Romaine lettuce, sliced cucumber, sliced red onions, sliced olives, halved cherry tomatoes, crumbled goat cheese, fresh lemon juice, salt, and pepper.
HOW TO PREPARE-
Prepare a dressing with olive oil and lemon juice with a pinch of salt and pepper. Now toss all the sliced veggies in the dressing and then serve it with the fresh goat crumble. 
CHICKPEAS SALAD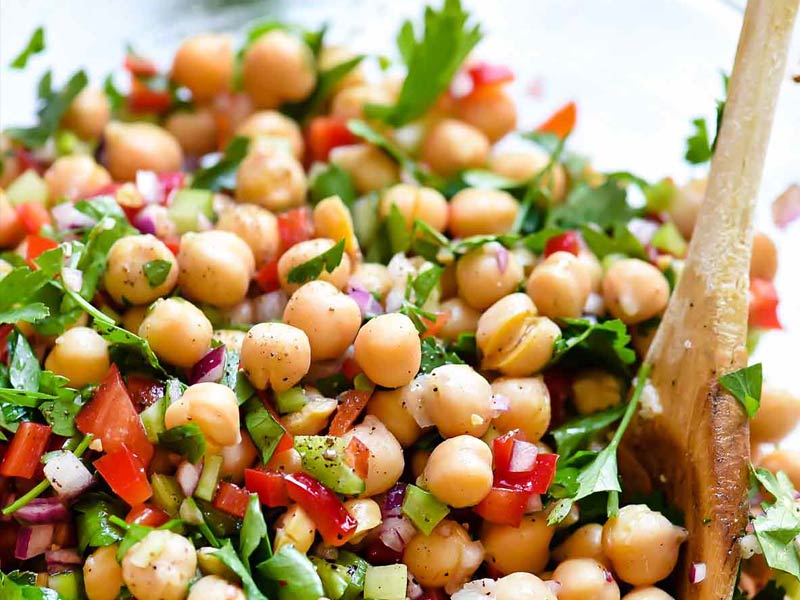 Chickpeas are one of the best sources of fibers, proteins, and nutrients. All these components are very important when it comes to the shredding of extra kilos. This salad can prove to be the best substitute for a meal.
INGREDIENTS NEEDED-
The ingredients needed for this salad are- chickpeas (boiled), chopped cucumber, chopped tomatoes, chopped onions, coriander chutney, lemon juice, salt, black pepper, and cumin powder.
HOW TO PREPARE-
Mix all the veggies and chickpeas in a bowl. Then for the dressing, add lemon juice and coriander chutney with some black pepper and cumin powder. Salt can be or cannot be added. It is up to you. Also, if you want to make it more refreshing, you can add some extra coriander to the salad. This is it, and your salad is ready!
MEDITERRANEAN QUINOA SALAD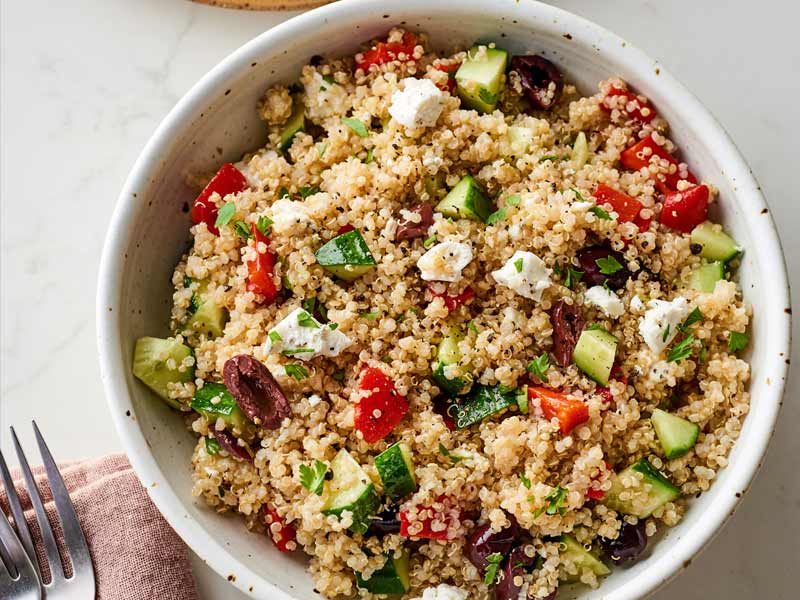 Quinoa is the best source of protein and fibers. It is a grain that has enough nutrients and lesser calories. This salad is perfect for persons who want to lose weight and want to eat healthy and tasty.
INGREDIENTS NEEDED
The ingredients required to prepare this salad are cooked quinoa, diced bell peppers, garlic pods, cubes of zucchini, lemon juice, chopped parsley, olive oil, and salt and pepper to the taste. 
HOW TO PREPARE-
In a pan, grill all the veggies with salt and pepper. Quinoa is a bowl mix olive oil, garlic paste, lemon juice, pepper, and salt for the dressing. Mix all the veggies with the quinoa, drizzle the dressing, and serve with chopped parsley.
Losing weight is not a task of a day or two. Have patience, eat healthily, and replace your meal with these delicious salads.