Pattaya is a beach-loving city on Thailand's eastern Gulf coast. It was a sleepy fishing village until the 1960s. Still, now it's bordered by resort hotels, high-rise condos, shopping malls, cabaret bars, and 24-hour clubs. Wat Phra Yai Temple, located nearby, has an 18-meter-tall golden Buddha. There are also several designer golf courses in the vicinity, some of which have views of Pattaya Bay.
Pattaya, the wonderland, is famous for its jazzy parties, but it gladly invites others to join in on the fun. The city known for its nightlife and street food is also the birthplace of Buddha preachers! Pattaya is also a backpacker's hell for all the devils out there. The Eastern seaboard of Thailand is home to enthralling Pattaya tourism sites. You can visit the country's most vibrant party streets or be humbled by calm religious treasures.
Scroll down for some amazing Pattaya visiting places…
Big Buddha Hill 
The Wat Phra Khao Yai is ranked first on our list of the greatest sites to visit in Pattaya. The majestic statue of Lord Buddha is located 100 meters above sea level on an 18-meter-high hill. The slope is so large that you can see Jomtien Beach on one side and Pattaya on the other. With its bells, burning incense, and several smaller figurines, it provides a reflecting atmosphere.
Hours of operation: 6:30 a.m. to 5:00 p.m.

There is no entry cost.
Art In Paradise – The Parody Of Pattaya
The sightseeing in Pattaya would be incomplete without a visit to this sanctuary. This is not your normal art gallery, as you may have imagined. You don't have to go around the cluster of photos admiring their beauty; there's another degree of thrill to it. Instead, the art is brought to life, and spectators are invited to participate. The top Pattaya tourist attraction encourages you to take photos from every aspect and enjoy the ultimate fun it has to offer.
Hours of operation: 9:00 a.m. to 9:00 p.m.

Adults pay 500 Baht, while children pay 300 Baht.
The Floating Market – Sabziwala On Boat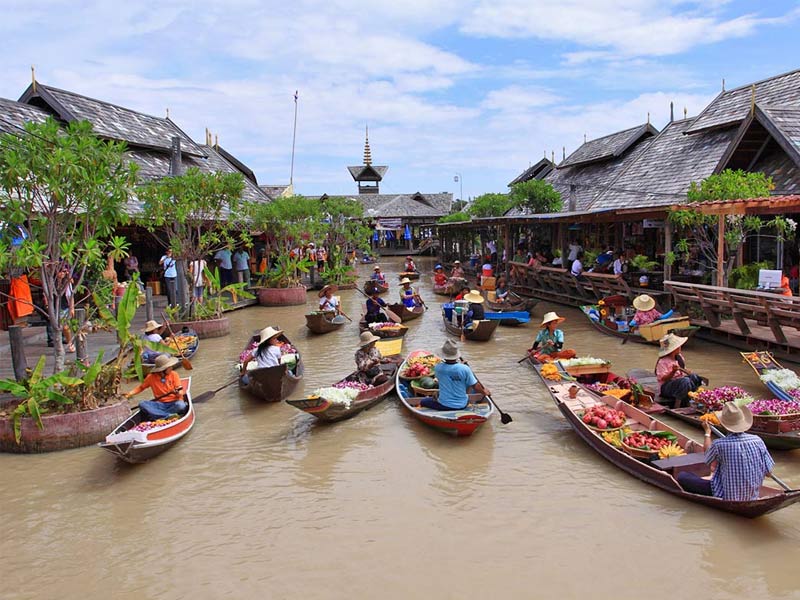 The 'Four Regions Floating Market' encompasses most of Thailand, including the North, Northeast, Central, and South. The famous Pattaya tourist attraction includes stalls, meals, souvenirs, art, handicrafts, and much more. This is one of the most popular sites to visit in Pattaya, with over 114 vendors selling their items aboard traditional boats and canoes. The remainder of the market is designed like a stilted town with covered pathways and sturdy bridges.
Hours of operation: 10:00 a.m. to 11:00 p.m.

Everyone must pay a fee of 200 Baht to enter.
Underwater World
This is not your typical aquarium. This is a sophisticated marine display where you can spend the night with the animals. The main draws here are feeding koi fish from bottles and diving with sharks and rays. In Underwater World, you can see otters devouring other fish and shark feeding. Without a doubt, this should be at the top of your list of things to do in Pattaya.
Visiting Hours: 9:00 a.m. to 6:00 p.m. 

Admission Fee: 500 Baht for adults and 300 Baht for children
Sanctuary Of Truth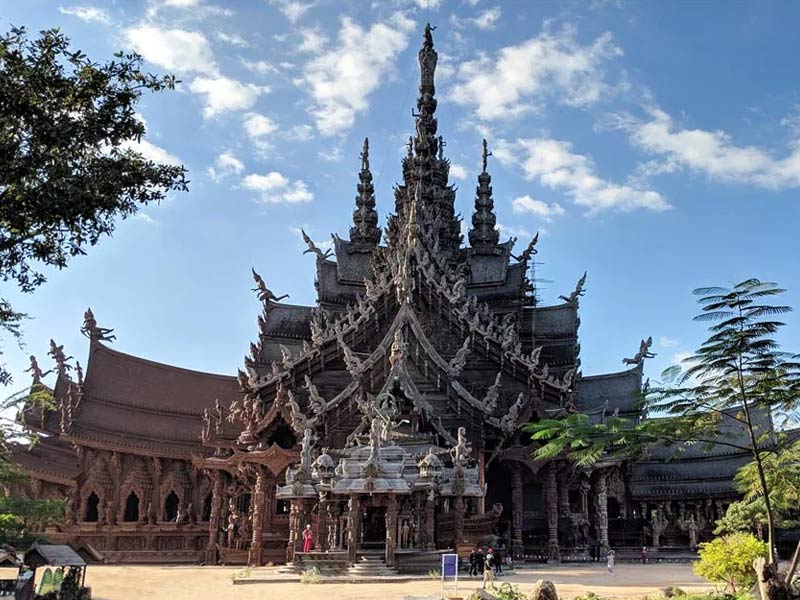 This is a genuinely magnificent teak construction. The temple explains the significance of religion, art, and philosophy in human evolution and the foolishness of ignoring morals. It is a creative depiction of human effort and expertise. Because of its unique wood cravings that are not chemically treated, the 'Sanctuary of Truth' must be visited while sightseeing in Pattaya.
Visiting Hours: 8:00 a.m. to 6:00 p.m.

Admission Fee: 500 Baht for all.
Jomtien Beach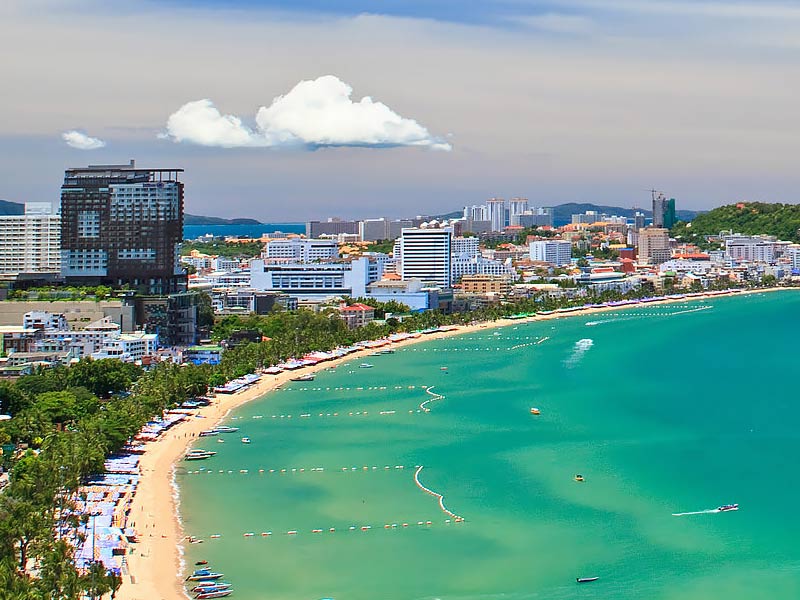 Are you ready to escape the city's rush and bustle? Relax at Pattaya's highlight, Jomtien Beach. Soak in the rays near the pristine beach's tranquil coast. With your loved ones, seek refuge in the shade given by trees at the beach's edge. The alley along the beach is lined with well-known eateries and shacks serving delectable Thai cuisine. Take a walk along the beach and breathe in the fresh air to revitalize your soul.
Entry Fee: Nil

 Best Restaurants: Emily Restaurant, Sandar By Sea, Real India Restaurant, and Fraser's Sports Bar and Pub
Nang Nooch Village
Nang Nooch Village is one of the top tourist attractions in Pattaya, not only for its flora but also for everything else. A stunning orchid garden will awaken everyone's inner gardener, and the zoo is enjoyable for all ages. Tourists can also watch Thai boxing events, cockfights, and elephant shows, all of which are high ethical standards.
Visiting Hours: 8:00 a.m. to 6:00 p.m. 

Admission Fee: 500 Baht, which includes cultural presentations and elephant performances

The Beach Restaurant, Preecha Seafood Restaurant, and Livv Finest Food and Drinks are the best places to eat.

Nong Nooch Garden and Resorts and Baan Pictory Resort are the best places to stay.
Min Siam
This wonderful Pattaya resort combines Thailand's and the world's attractions. Min Siam brilliantly showcases the dummies of the most famous world places. The museum's history and concept make it a must-see. Take a great ride with your children and family to this fantastic Pattaya destination.
Visiting Hours: 7:00 a.m. to 10:00 p.m.

Entry Fee: 600 Baht for everyone 

Must Visit: The Banglamung night market is quite close to Min Siam.
Chompoo Wildlife Sanctuary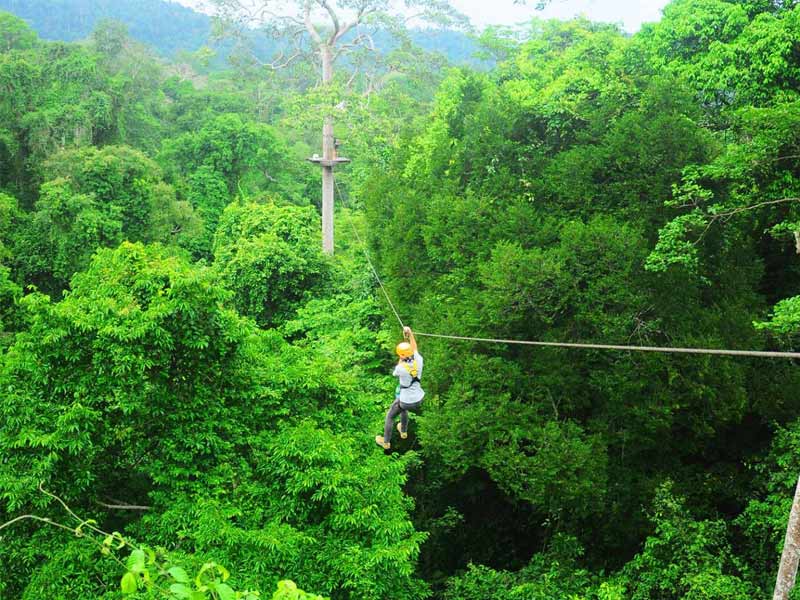 The exciting tour takes place in the rainforests of Chompoo Wildlife Sanctuary and includes a 3-kilometer zipline route. The amazing Thai jungle canopy rushes from tree to tree. The course consists of a series of lines connecting 24 treetop platforms, one of which is 300 meters long. Along the way, the guides will take you on a fantastic voyage of stunning fauna and vegetation.
Visiting Hours: 6:00 a.m.; make a reservation before you go.

Entry Fee: The standard rate is 2500 Baht.
Khao Chi Chan 
The most visited attraction in Pattaya is the greatest stone etching of Buddha. The illusion of the world staring down on you from the limestone hill is humbling. The Buddha projection is 109 meters tall and is outlined with a gold laser. It serves as a focal point for several other attractions, including the nearby sea and its gorgeous reservoir known as Silverlake.
Visiting Hours: 8:00 a.m. to 5:00 p.m. 

Entry Price: There is no admission fee.