It is not every day that you visit one of the most popular destinations in the world for shopping and entertainment. Atlantis the Palm Dubai has a surface area of 44 hectares. It is a 1500-bedroom hotel on a man-made island, where everything is possible.
Keeping up with Dubai's unbelievable hospitality, Atlantis the Palm guarantees that its visitors have the most opulent hotel stay with state-of-the-art amenities and splendor.
Besides the luxury stay, Atlantis the Palm provides its guests with a range of activities to enjoy, delight, and enjoy. Here's the greatest of the incredible stuff in the palm of Dubai at Atlantis.
Best Time to visit Atlantis the Palm in Dubai 
You need to wait for a certain season to come to visit Atlantis. At any time of the year, you will be able to experience its magnificence. You should be aware that visiting the richest city would cost you a fortune, too. You should visit this place in the hot summer days of April and May to acquire the lowest-priced rooms in Atlantis because of the warm weather. You will receive fewer crowds and all that it offers at an affordable price.
In November and December, folks who love to travel through winter can visit the resort. Although winter is not very chilly, several winter festivities and carnivals can be enjoyed during this period. If you are ignorant about this activity, you need to search or hire a guide to inform you about the festivities. It is not an important time or season when the place is full of wonderful landscapes, restaurants, and architecture at Atlantis Dubai. You will be surprised to see the submarine suites and all that this resort has to offer.
Things to enjoy in Atlantis the Palm Dubai
1. The Avenues & Legends of Atlantis Stores: Go Shopping!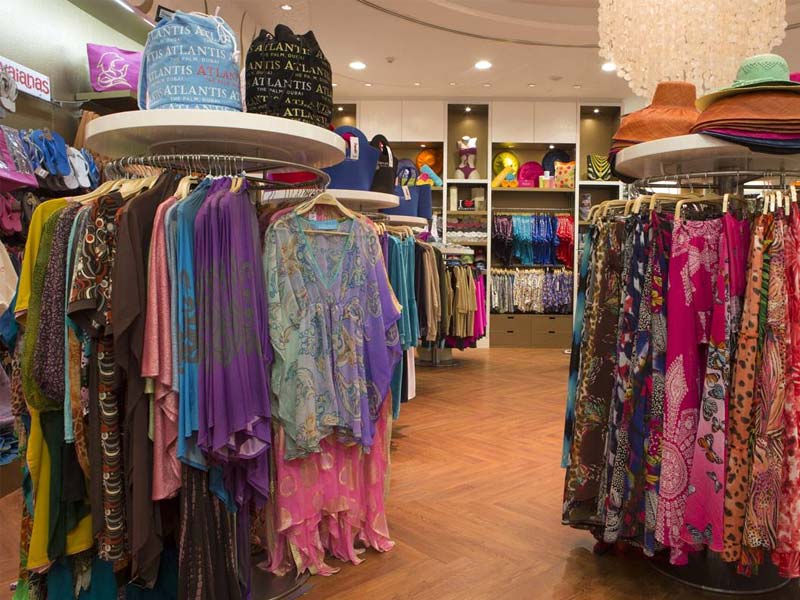 You don't have to travel anywhere else since Atlantis the Palm has the top brands and retailers in the world, all under one roof. It contains magnificent collectibles, all types of opulent boutiques, confectionaries from the world's biggest brands, and so much more. You may acquire everything from the smallest souvenir to the world's most amazing brands.
The shopping complex ensures that you have everything you need for a wonderful holiday and that you do not go empty-handed. You may explore the artistic stores and exteriors while shopping for swimwear, footwear, clothing, toys, and accessories. You must keep one thing in mind, however. All of the items will be expensive, just like the rooms at the Atlantis Dubai.
2. Atlantis Restaurant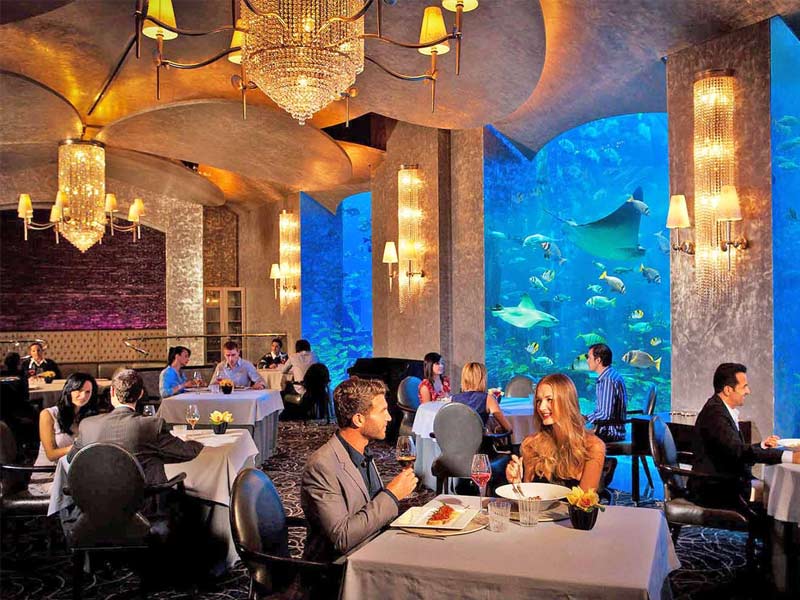 This restaurant will provide you with the best dining experience. A ceiling-to-floor aquarium in place of massive walls creates an ambiance you could only imagine. Aside from the sumptuous cuisines and delectable meals, you can also send a special message to your loved ones, which will be delivered to them by a certified diver driver across the aquarium. Where else would you find such an adventure? To enjoy a once-in-a-lifetime experience, you should eat different foods and pretend to be a celebrity while you're still in the restaurant.
3. Underwater Suite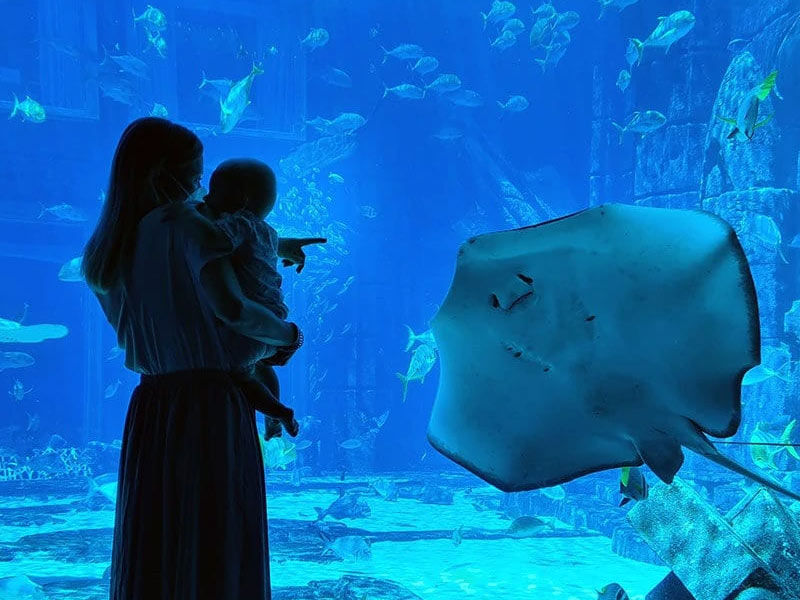 An undersea suite is exactly what it sounds like. It's not every day that you can sleep surrounded by magnificent aquatic life. You should not miss out on seeing the Ambassador Lagoon with rare aquatic species and discovering the marine life all under one roof.
The rooms give you the sensation of being underwater. Still, they also include a personal spa bath and a butler available 24 hours a day.
4. Aquaventure Waterpark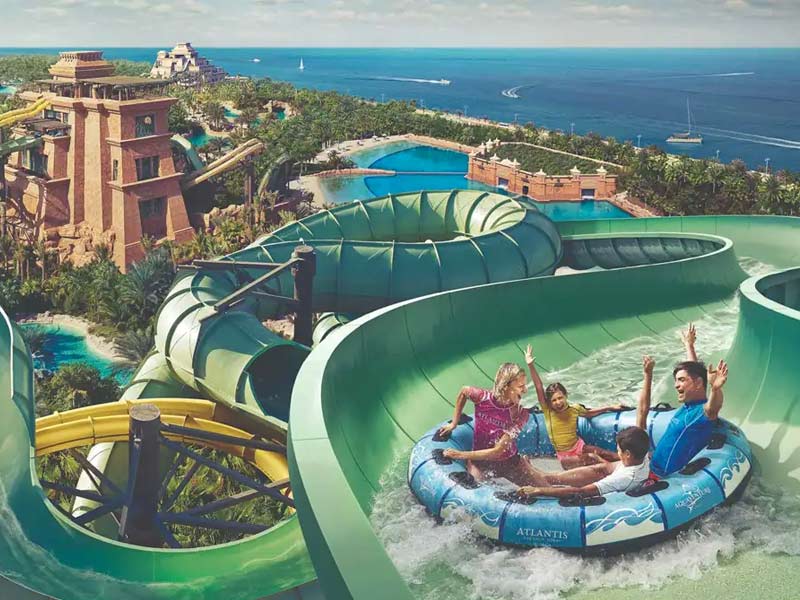 When it comes to Atlantis waterpark in Dubai, there is none other than the Aquaventure Waterpark, which adds an adventurous twist to your trip. It is rumored to be the best in Dubai. Having various water rides and all those towering waterslides that speed you through a shark tank and raise your adrenaline level to an unhealthy level. This waterpark is not only for children but also for those who want to have a good time. It is open to tourists and resort guests and is known as the best waterpark in the Middle East and the UAE.
5. Aquaventure Beach and Nasimi Beach Club
Atlantis the Palm Dubai rooms are not the only option for taking some time off for yourself and resting your body. You can go to Aquaventure Beach and relax in the sun. It is one of Atlantis' most beautiful beaches. Another beach that can entice you is the Nasimi Beach Club. When the sun goes down, this beach transforms into the best nightclub you've ever visited. During the colder months of the year, it hosts worldwide music artists. It's the ideal spot to dance and have a good time if you're a party animal. You should go and have the most incredible night of your life.
6. ShuiQi Spa Of Atlantis: Rejuvenate Your Senses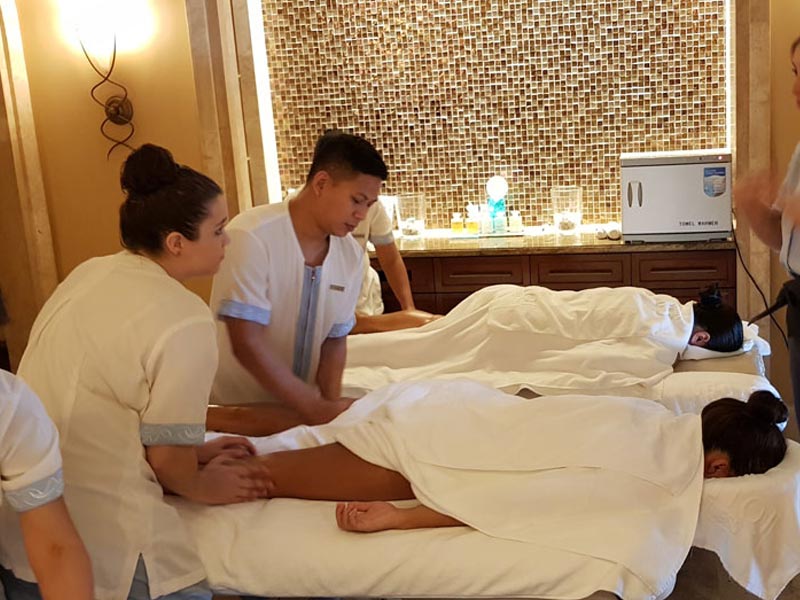 Don't forget to visit the ShuiQi Spa at the end of your journey to Atlantis the Palm in Dubai. It features 27 treatment rooms and offers a variety of high-end massages. You will feel the rest that your body requires after such an exciting vacation with various therapies and treatments. It is not only concerned with massages and therapies, but it also assists you in improving your flexibility and balance, which are especially important in today's working environment.
It is one of the nicest spa resorts you could ever visit, and why would you leave this spot behind while living a wealthy lifestyle? Make a point of visiting this spa to assist your mind regains its calm and wellness.