North-East India's most well-known for tourist places in Sikkim. High altitude lakes, rolling green slopes, colorful rhododendron forests, blue rivers, milky waterfalls, gorgeous monasteries, and unsurpassed vistas of Mt. Kanchenjunga/Khangchendzonga, the world's third tallest mountain, dot its magnificent scenery. 
North, South, East, and West are the four districts that make up the state. Gangtok (East Sikkim), Mangan (North Sikkim), Namchi (South Sikkim), and Gyalshing (West Sikkim) are the four district capitals (West Sikkim). Gangtok is the state's major capital. Tourists may enjoy something different in each of these districts.
Sikkim's villages, monasteries, festivals, and food all reflect the state's unique culture. The people's traditional attire is as intriguing as the buildings constructed in the traditional style of architecture. Different communities' cultures, customs, and traditions coexist peacefully. The Lepchas, Bhutias, and Nepalese are the three main tribes. Summer is a beautiful season to visit Sikkim. The greatest time to go sightseeing and adventure is when the weather is nice. Sikkim is blanketed with snow throughout the winter, yet it is incredibly lovely. During the winter, there are several festivals.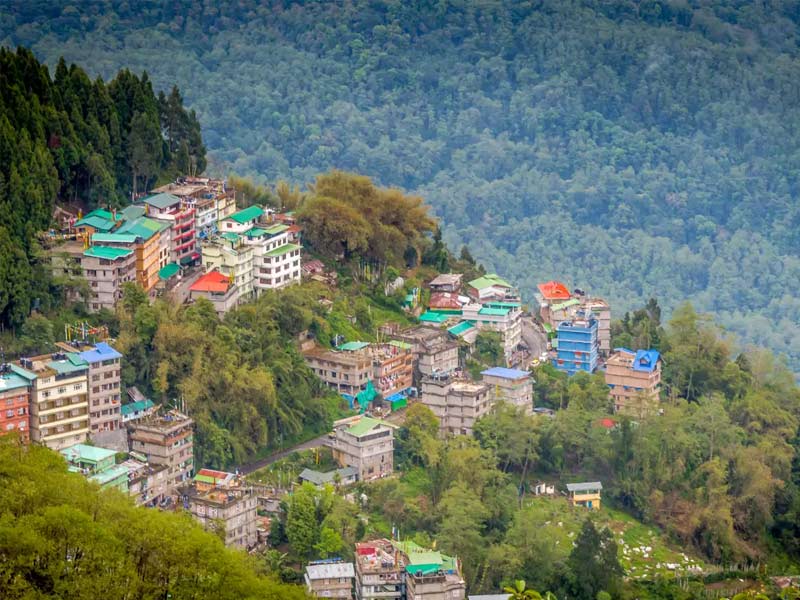 The Different Parts of Sikkim and What they offer
East Sikkim
Gangtok, Tsomgo Lake, Baba Mandir, Nathu La Pass, and Zuluk are the major tourist places Sikkim. Gangtok is a popular destination for honeymooners. It is both gorgeous and interesting, with a wide range of activities to choose from. The views of Mt. Khangchendzonga are incredible. Buddhist temples, art and craft centers, and cable car excursions are part of a sightseeing tour.
West Sikkim
West Sikkim has its treasure trove of tourist delights just waiting to be discovered. Tourist places in Sikkim include Pelling, a tiny hill village. Its countryside is studded with monasteries, lakes, and waterfalls. You will be treated to breathtaking vistas of Mt. Khangchendzonga. 
Other attractions in Pelling include the holy lake and Asia's second tallest suspension bridge. Other popular tourist places in Sikkim are Kaluk and Rinchenpong, both of which are known for their ethereal beauty. Yuksom, which serves as the starting point for the Dzongri and Goecha La treks, is also in West Sikkim.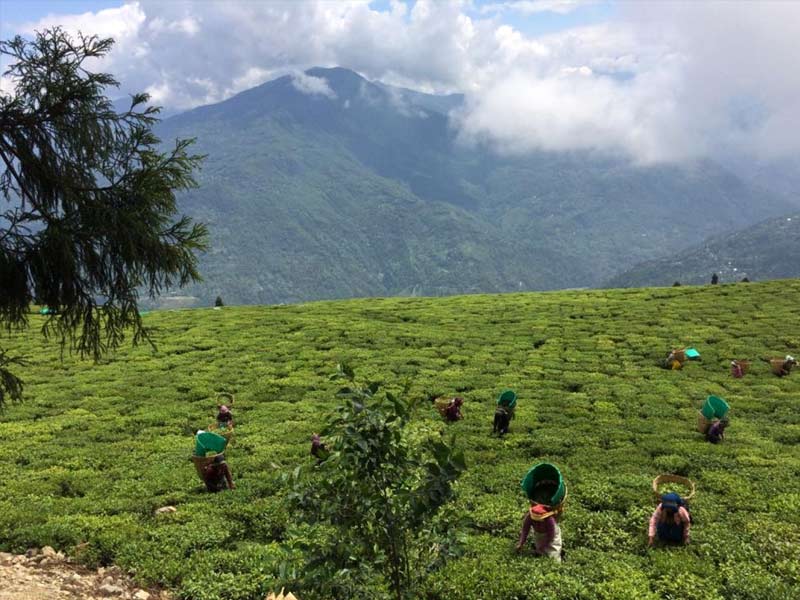 North Sikkim
When it comes to tourism, North Sikkim is just as intriguing as East Sikkim. Because of the various sightseeing options, it is also excellent for a family vacation. You may go to Lachung, a picturesque hamlet on the banks of the Lachung River. Yumthang is well-known for its rhododendron valley and hot springs. North Sikkim also gets a lot of snow in December. It's a fantastic time to go to enjoy the snowfall. The temperature frequently drops below zero. Snow has blanketed the entire countryside. Everything in the room is white! 
Zero Point, located near Yumthang, is the last stop for civilians before crossing the border into China. Gurudongmar Lake, at over 17.800 feet, is one of the highest lakes in the world. This region has the UNESCO World Heritage Site Khangchendzonga National Park. It is a national park as well as a biosphere reserve. Rare Himalayan animal species such as the Himalayan Tahr, Himalayan Blue Sheep, Himalayan Black Bear, Tibetan Wild Ass, and red panda can be seen.
South Sikkim
A trip to Sikkim would be incomplete without a stop in South Sikkim. Its eerie beauty assures that it will be included in each Sikkim tourist guide. Namchi, Sikkim's cultural and religious center, is located here. The 108-foot Lord Shiva monument and the 118-foot Guru Padmasambhava statue are two popular tourist places in Sikkim. Ornithologists and bird watchers should go to Ravangla in South Sikkim. Several uncommon bird species, including the dark-throated thrush, babblers, and cuckoos, can be seen. Temi Tea Garden, Sikkim's sole tea estate, is located here. Go camping in Sikip, visit a sacred cave in Rabong, and go on a wildlife-spotting hike in Maenam Wildlife Sanctuary.
Now that we know each part of Sikkim and what they have to offer let us look at best tourist places in Sikkim
1)Gurudongmar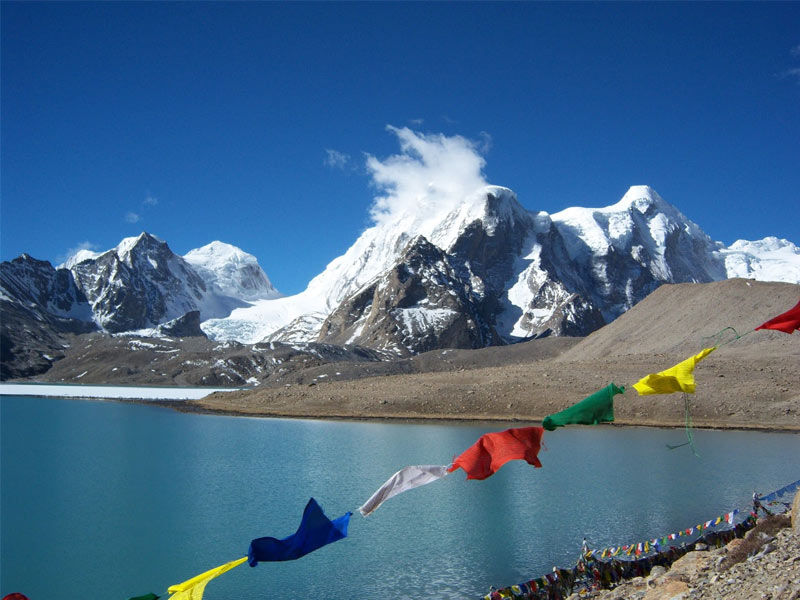 Gurudongmar Lake, which is located at an elevation of 17,800 feet, is one of the world's highest lakes. Along with its amazing visual splendor, this lake also has religious importance since its water is thought to have healing properties. This lake also offers a breathtaking view of Kanchenjunga, which you will remember for the rest of your life. 
2)Lachung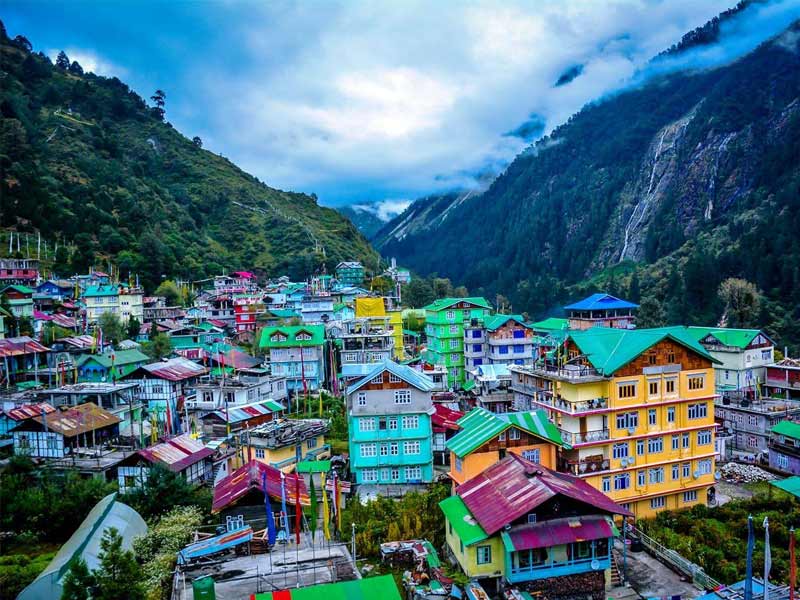 This lovely mountain town is surrounded by apple orchards and is home to the 19th-century Lachung Monastery. Yumthang Valley, often known as the Valley of Flowers, is Lachung's main draw. This valley is well-known for its treasure trove of waterfalls, hot springs, rivers, blossoming flowers, green grass meadows, rich forests of pine and silver fir, and the majestic Himalayan mountains surrounding it. Yumthang Valley is a piece of heaven on Earth, and missing it would be a huge mistake. Yumthang Valley is also home to the Shingba Rhododendron Sanctuary, which is home to forty rhododendron species as well as birds like the hoary-throated brewing and wood-snipe.
3)Changu Lake/ Tsomgo Lake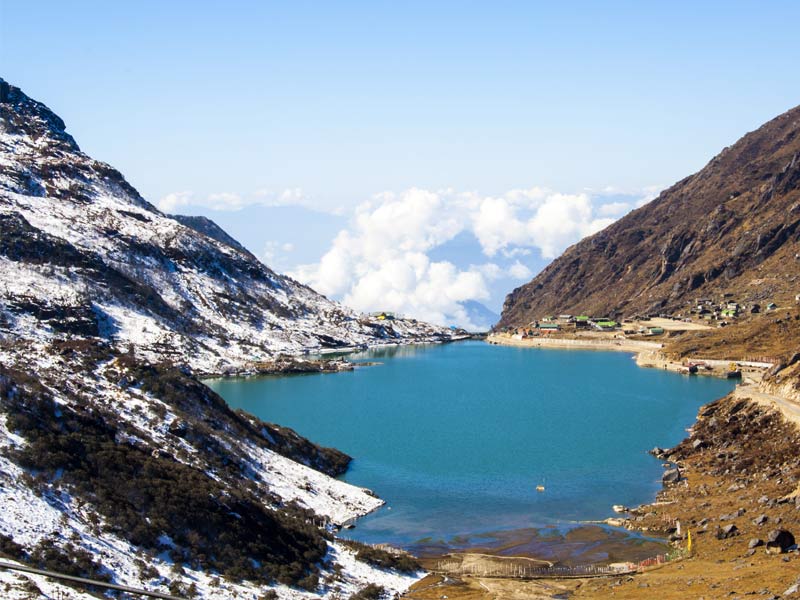 This glacier lake in East Sikkim is a famous tourist attraction. Aside from the lake, you'll see Brahminy ducks, magnificent flora, including blue and yellow poppies, primulas, and unique yaks.
4)Gangtok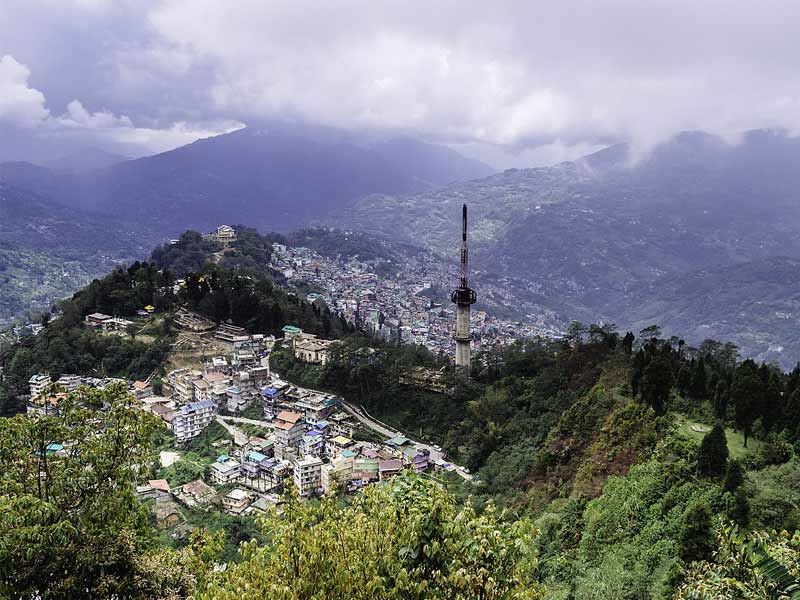 Gangtok, Sikkim's capital, is the state's most visited city. You can't plan a vacation to Sikkim without stopping in Gangtok. The city provides a panoramic picture of Kanchenjunga's towering snow-clad summit. Gangtok is a very clean city that never fails to revitalize your soul. It is well-known for its trekking and hiking arrangements. You may also spend your day paragliding or riding a yak. 
Banjhakri Falls and Energy Park, Kyongnsola Waterfall, and Enchey Monastery are among the other attractions in Gangtok.
5)Rumtek Monastery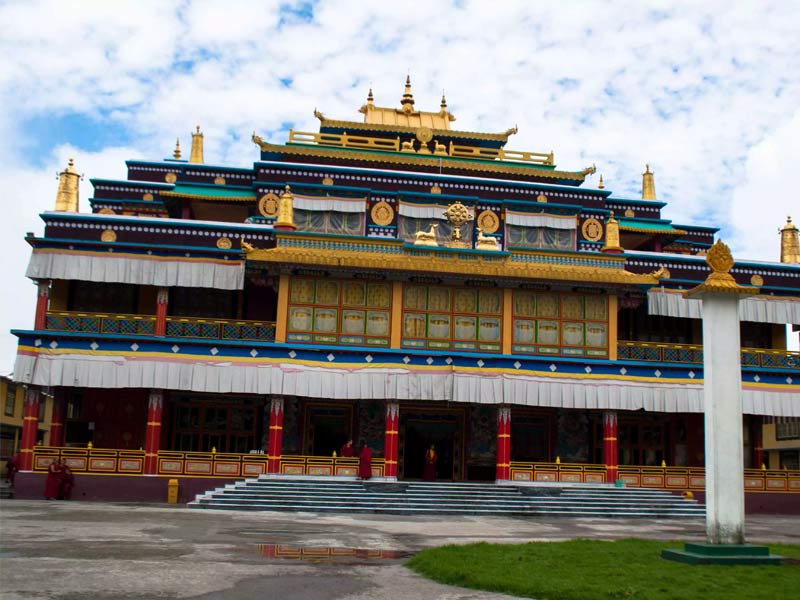 Rumtek monastery, also known as the Dharma Chakra Centre, is one of the major monasteries in Sikkim. It is perched above a hill. This temple is surrounded by a lovely green mountain range. A wonderful synthesis of nature and spirituality will provide you with nothing but profound joy and ultimate tranquility. Rumtek Monastery also has some of the world's best architectural craftsmanship. This monastery houses a golden stupa and numerous other sculptures dating to the 16th Karmapa. It also houses some of the world's most unusual religious scriptures.
6)Pelling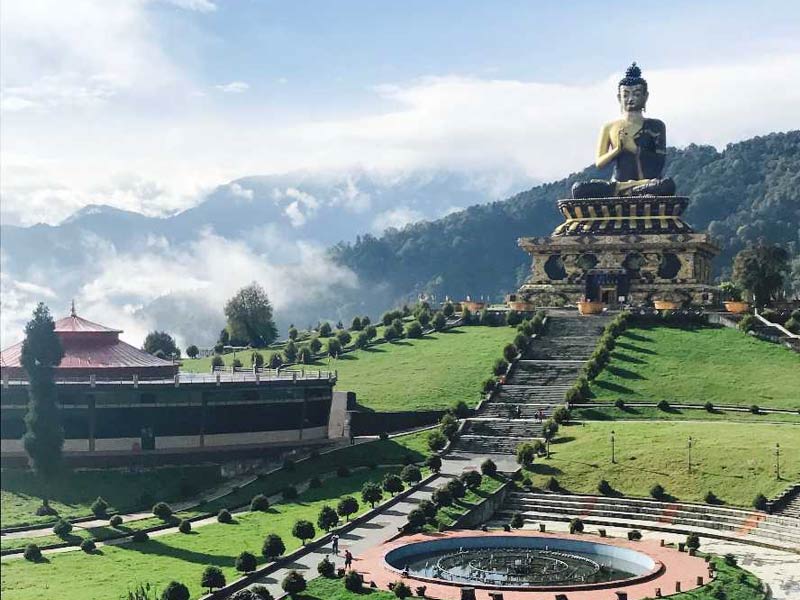 Pelling is a tiny village in the Kanchenjunga foothills. Though this village is less appealing than others in Sikkim, it offers unrivaled views of Kanchenjunga at daybreak from the ridge. There are a few monasteries where you can find spiritual solace. Visit Rabdentse Palace Ruins, Kanchenjunga Waterfall, Rimbi Waterfall, Changey Waterfall, Singshore Bridge, and Sewaro Rock Garden as well.
7)Teesta River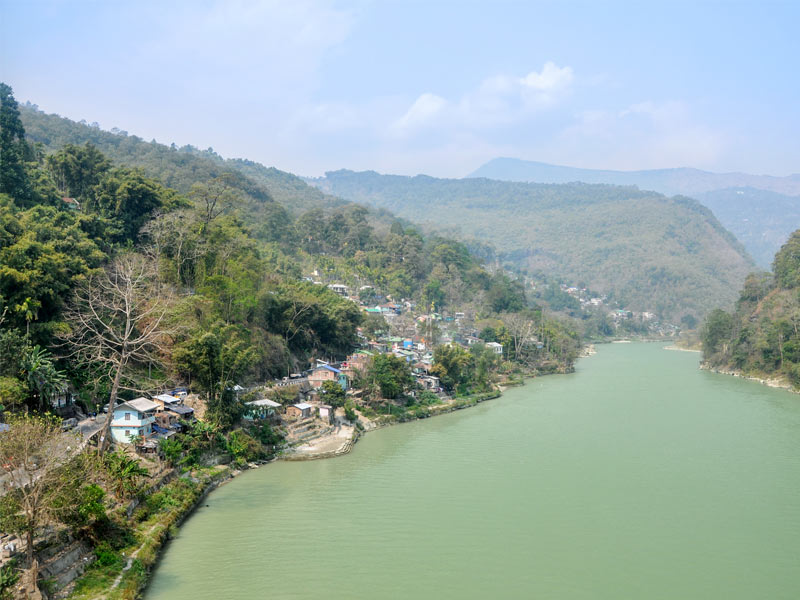 If you're looking for an adrenaline rush, white water river rafting on the Teesta river is the activity for you. The exciting rapids will fulfill your appetite for adventure. There are other spots along the way for overnight camping. During the winter, the river freezes and provides a spectacular picture. If you want to escape the excitement of river rafting, you may try kayaking. Another draw is the diverse vegetation and animals on the riverfront. Visit Triveni Sangam, the meeting point of the Teesta and Rangeet rivers.