Gokarna is a city in Karnataka's Uttara Kannada district, and its name etymologically translates to "cow's ear." According to popular mythology, it is the location where Lord Shiva emerged from Mother Earth's incarnation in the form of a cow. The town is interspersed with ancient temples and is home to one of the oldest temples from time immemorial, Mahabaleshwar, which is enshrined with Lord Shiva. The town is around 59 kilometers from Karwar, 483 kilometers from Bengaluru, and 238 kilometers from Mangalore.
Furthermore, the town's rural appearance has drawn the attention of many tourists and foreigners. There are several beaches, pilgrimage sites, and waterfalls that are popular tourist destinations. In reality, the town is built around the River Aghanashini, revered by devotees as a sacred location.
It is a hamlet of golden beaches called by their shapes, such as Om Beach and Half Moon Beach. The term "Paradise Beach" does not do it justice! However, due to the recent tourist surge, the town now attracts both adrenaline junkies and those seeking spiritual tranquility.
The huge palm palms, the peaceful waves of the ocean flowing towards the rocks, and the evenings spent watching the sun dissolve into the water give the location a surrealistic feel.
Aside from the beaches, there is the Mahabaleshwar Temple, which draws many worshippers and saints. Yana is another charming village near Gokarna, with lush surroundings and rocky terrain ideal for cycling and trekking. Another prominent sport is mountaineering.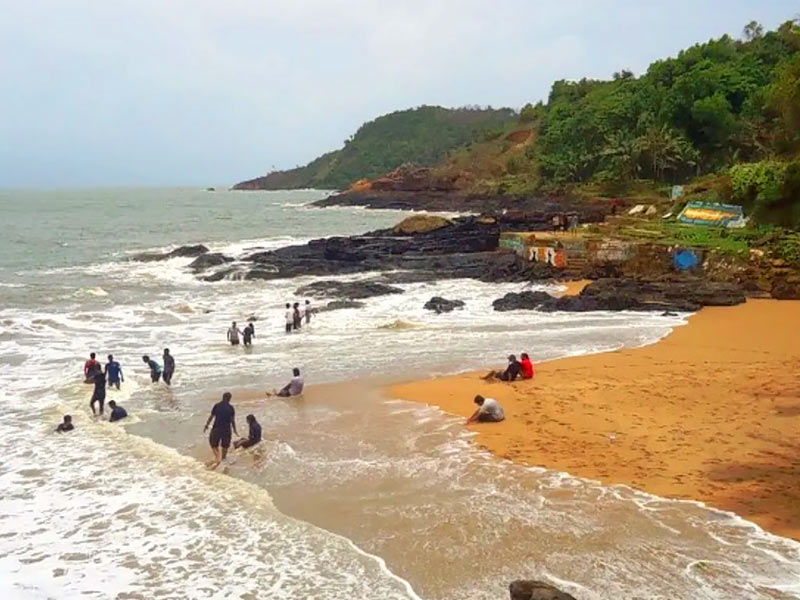 The tranquil beaches are ideal for watersport activities like surfing, scuba diving, snorkeling, parasailing, and jet skiing. Suppose you wish to participate in watersport activities. In that case, the optimum time to visit is after the monsoon, from September to December. Gokarna's winters are colorful, with a moderately chilly climate and beautiful green surrounds. Summers in Gokarna are hot and humid, followed by showers that calm the environment with a significant rainfall.
Let's dive deeper into Gokarna
.
Gokarna is a town in the Indian state of Karnataka on the western coast. The tiny town is located in the Uttara Kannada district, in the Kumta taluka. It is roughly 150 kilometers south of Goa. Gokarna's position is ideal, with the Aghnashini River to the south and the Gangavalli River. Both of these rivers go into the Arabian Sea, and Gokarna sits proudly between them.
How to Get to Gokarna: There are several ways to get to Gokarna.
Air: The nearest international airport to Gokarna (about 150 kilometers) is Dabolim in Goa. Hubballi airport in Hubli, on the other hand, is the closest domestic airport to Gokarna (about 145 kilometers). From Dabolim airport, you may take a train, bus, or taxi to Gokarna. In contrast, from Hubballi airport, you can take a bus or a taxi to Gokarna.
Rail: All trains traveling on the Western Rail lines or the Konkan rail lines stop at Gokarna Road station. As a result, this rail line is well served by Goa, Mumbai, Pune, Mangalore, and Bengaluru (Bangalore). Gokarna town is 6 kilometers from the Gokarna Road railway station. You can easily catch an auto that will take you there. However, due to the tiny size of the station, not all trains may stop at Gokarna Road Station. The primary railway stations where you may get down are Ankola station to the north of Gokarna and Kumta station to the south. Following that, you can easily take a bus or a taxi to Gokarna.
Road: Several government and private buses travel to Gokarna from major cities like Bengaluru (Bangalore), Hyderabad, Mumbai, Pune, Goa, and Mangalore. Private taxis may also be hired from these cities to take you to Gokarna. Most buses, however, will drop you off at Madangeri cross or Gokarna cross, which is around 10 kilometers from Gokarna's main town.
Go to Gokarna from Madangeri or Gokarna cross: The main Gokarna town is 12 kilometers from Madangeri or Gokarna cross. You may board a government bus departing from Kumta (Kumta-Gokarna-Kumta route bus). All buses traveling to Gokarna from the south will stop at Madangeri or Gokarna crossroads. To go to Gokarna, you may alternatively take an auto from Madangeri cross or Gokarna cross. Remember to haggle with the car drivers. As of 2019, the bus fare is INR 15 per person. The auto fare is INR 250 (comfortably seats three persons) from Madangeri or Gokarna cross to Gokarna main town. If you ask the cars to take you to the beaches, they will charge you extra.
Best time to visit Gokarna: 
Gokarna may be visited at any time of year. However, October to February are perfect for visiting Gokarna since the temperature is nice and the humidity is at its lowest. Summer lasts from March through May, and it is too hot to relax on the beaches. The monsoon season lasts from June until early September, when the beaches are either closed or barren and untidy. If you want to see the vibrant temples, the ideal time to visit Gokarna is around the Shivratri celebration in March and the Ganesh Chaturthi festival in August.
Gokarna's History
There are numerous intriguing legends and folklore about how Gokarna acquired its name. Gokarna, which means "Cow's ear," is derived from two Hindi words: Go = Cow and Karna = Ear. Surprisingly, even the zoomed-out map of Gokarna town resembles an ear.
Lord Shiva has chastised Lord Brahma for his hubris since he thought himself to be greater and the creator of the cosmos. Lord Brahma performed penance and begged Lord Shiva for pardon at the site of Gokarna. Lord Shiva came in front of Brahma through the ear of a cow, impressed by his penance. As a result, the area became known as Gokarna.
According to another legend, Ravana's (demon King of Lanka) mother was a devout follower of Lord Shiva and desired to worship the primary 'Atma linga' (Soul of Lord Shiva). As a result, Ravana traveled to Mount Kailash (Lord Shiva's home) and did hard penance to persuade Lord Shiva to grant him the 'Atma linga' as a boon. Lord Shiva eventually came and handed Ravana the 'Atma linga' because he carries it immediately to Lanka without laying it on the ground, or else the linga will permanently embed where it is placed. After getting the boon, Ravana began his trip back to Lanka.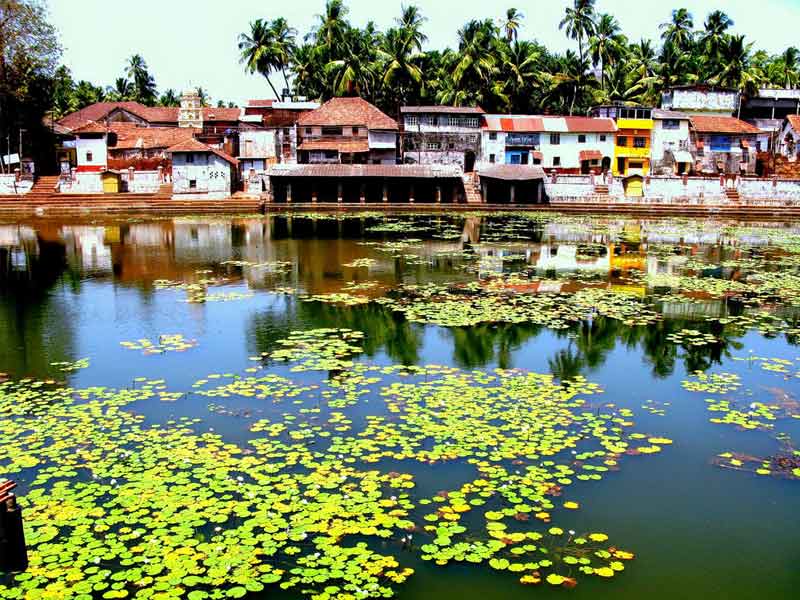 Lord Vishnu knew Ravana was wicked. If he successfully brings the 'Atma linga' to Lanka, he will get immortality and invincibility. He also knew Ravana was timely with his nightly prayers. So he enlisted the assistance of Lord Ganesha and developed a strategy in which Ravana was required to set the 'Atma linga' somewhere along his path. As Ravana approached Gokarna, Lord Vishnu concealed the sun with his 'Sudarshan chakra,' creating the illusion of darkness. At this point, Ravana was looking for someone to carry the 'Atma linga' for him till he finished his nightly rites.
Lord Ganesha came in front of Ravana dressed as a Brahmin kid tending his cow. Ravana urged him to keep and preserve the 'Atma linga' without laying it down. As soon as Ravana completed his rituals, Lord Ganesha fled, leaving the linga on the ground. The 'Atma linga' became firmly embedded in that location. Ravana, agitated, attempted to chase Lord Ganesha and his cows. He injured Lord Ganesha's head in the process, but the Lord was able to vanish.
As one of the cows began to go below, he grabbed only its ear. As a result, the location was given the name Gokarna.
Ravana attempted to uproot the 'Atma linga.' As a result of his power, some dispersed parts were separated, flung in various places. The dispersed lingas fell in Dhareshwar, Shejjeshwar, Gunavanthe, Surathkal, and Murudeshwar, while the major 'Atma linga' remained stationary. The surviving linga took on the appearance of a cow's ear after the fragments scattered in these locations. As a result, the location was given the name Gokarna. Ravana called the linga 'Mahabal' after failing to uproot it. Later, a temple named 'Mahabaleshwara temple' was erected here.
Since then, Gokarna has been a pilgrimage center, but due to the inflow of visitors to its unspoiled beaches, the town's prominence has shifted to that of a "beach resort." Gokarna has a laid-back attitude that draws many international tourists. Thus numerous shacks, hotels, resorts, and restaurants have sprouted up to cater to the influx.
Nonetheless, a huge number of devotees continue to travel to this temple town to pray. Overall, Gokarna is endowed with two sorts of tourist attractions: temples and beaches.
Sri Mahabaleshwara Swamy Temple
In the fourth century, the temple was constructed completely of granite in the Dravidian architectural style. The temple's sanctum sanctorum holds the 'Atma linga,' venerated by crowds of visitors visiting Gokarna. The Mahabaleshwara temple is known as 'Dakshin Kashi' (i.e., Kashi of South). It is fairly close to the major Gokarna beach. The Hindu holiday of Shivratri is celebrated with great pomp and circumstance at Gokarna, where a chariot parade, known as Rath Yatra, is performed.
Maha Ganapathi Temple
This temple was erected in honor of Lord Ganesha. He was instrumental in rescuing and erecting the 'Atma linga' at Gokarna. The sanctum sanctorum of Maha Ganapathi temple is adorned with a 5-foot-tall granite statue of Lord Ganesha. Ravana's strike (in the shape of a hole) on the idol's head may still be seen. The temple is next to the Mahabaleshwara temple. It is customary to worship Lord Ganesha in front of the Mahabaleshwara temple's 'Atma linga.'
Kotiteertha
Kotiteertha translates as "Thousand Springs." this is a man-made pond-like water body utilized for religious idol immersions. Devotees often take a dip at Kotiteertha before visiting the temples.
Shiva Caves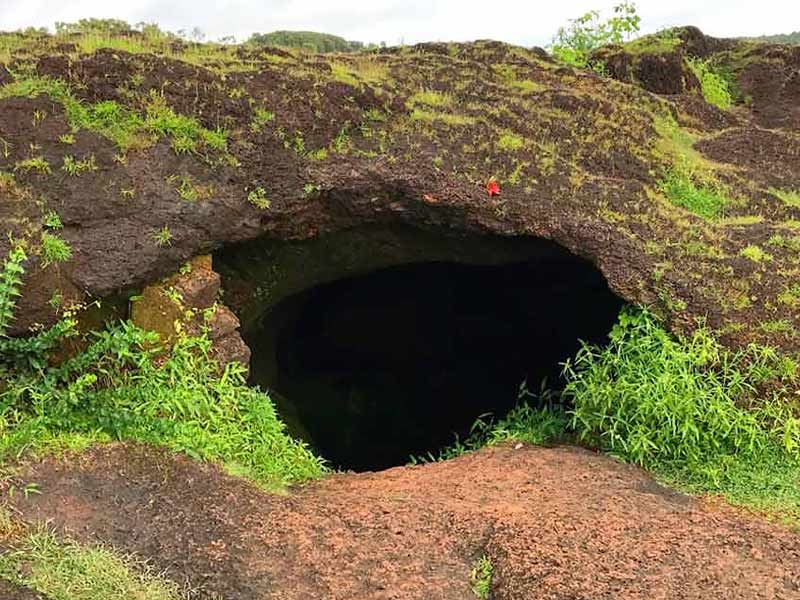 These caverns are also known as 'Gogarbha' (womb of a cow). It is believed that the cow Ravana captured fled and carved a tunnel in a neighboring hill. Locals believe that entering Gogarbha will lead a devotee to the holy city of Kashi in Varanasi. Sadhus (saints) and followers frequently visit and repose in the caverns.
View from the Cliff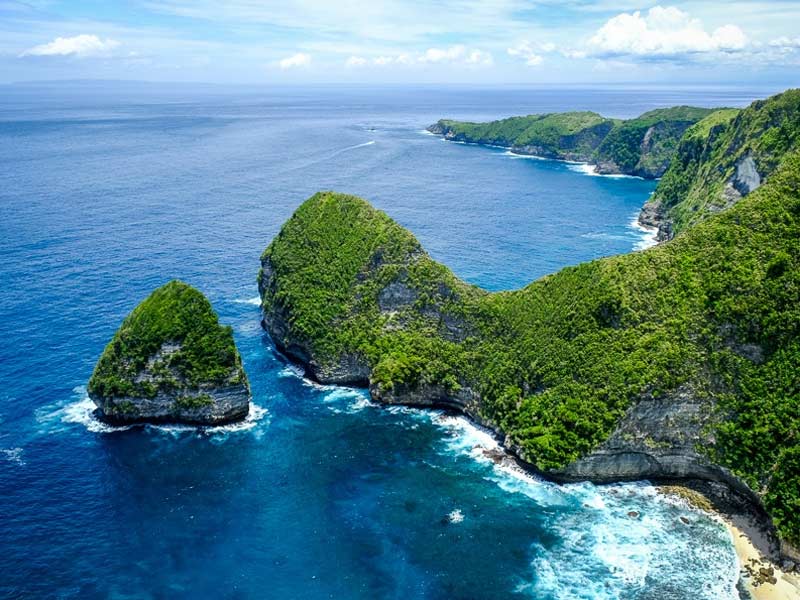 Of course, this isn't a beach but rather a vantage point. A route leads up a hill to the right of the Kudle beach parking area. This will lead you to the cliff overlook, where you can see the full width of Kudle beach. The main beach of Gokarna may be seen if you walk a little farther to the left. The ideal times to see the viewpoint are at sunrise or sunset. Because this location is very unknown, it is exceptionally calm and devoid of crowds.
Gokarna Beaches
Gokarna is a mountainous location with beautiful beaches beyond the hills. You will not reach the beaches by driving or walking on a flat road; instead, you will have to hike or drive via the twisting roads on the hills. There are five beaches of importance in all, three to the south and just two to the west. All beaches are linked by pathways through the hills and forest and may be reached by trekking from Gokarna's main beach to Paradise beach or vice versa. The beach trail trip is quite popular among young people.