Hampta Pass is a cross-country trip that begins in the lush greenery of the Kullu area and finishes in the dry desert of Spiti. This is an all-in-one trip that takes you through alpine woods (Maple, Birch, Oak, and Deodar) and into broad meadows, hiking close to streams, and then a sharp ascent all the way to the pass. Throughout the journey, you will be treated to a diverse array of rare alpine wildflowers.
These lovely flowers adorn the environment. The contrast of the huge rocks against the delicate blooms creates a one-of-a-kind picture. You may expect three major landscape changes in only the first two days: alpine woodland, green meadows, and moraine. A lush valley on one side and a chilly desert valley can be seen at the same time. The first side of the pass is a steady rise that aids in summit success, while the other side of the pass is a sharp fall that provides all of the mountain rushes you were looking for. From the pass, Indrasan, Deo Tibba, and Indrakila can be seen.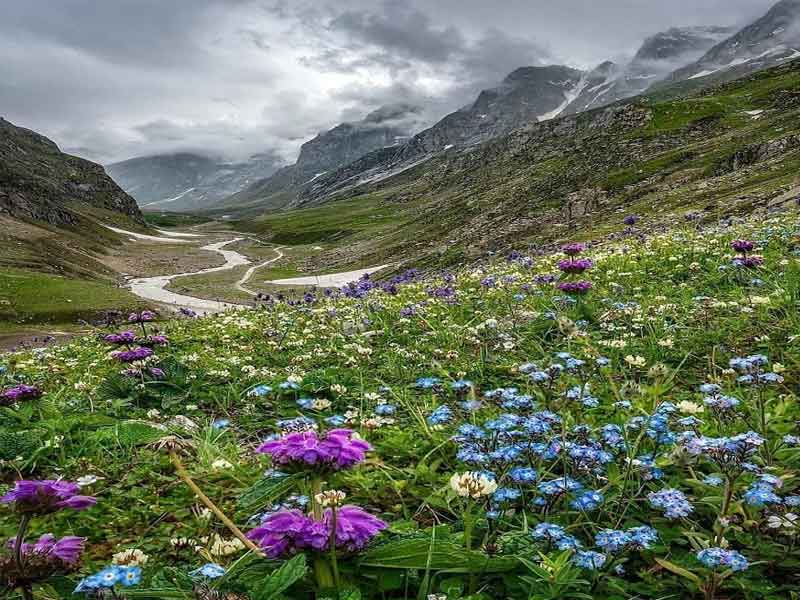 Streaming into ice-cold waters is one of the most exhilarating aspects of the Hampta Pass Trek, although it may be difficult. During the journey, there would be two water crossings.
The hike is located in Himachal Pradesh's Pir Panjal range and is classified as simple to moderate in difficulty. At its highest point, the trip reaches an elevation of 14,100 feet. The months of June through September are ideal for a visit. The temperature often ranges from 10 to 18 degrees Celsius during the day and 0 to 5 degrees at night. Because this trip includes a few high-altitude campsites, such as Seagoru and Balu ka Ghera, the temperature can dip to sub-zero at night.
Hampta Pass is located in a narrow passage between Lahaul's Chandra Valley and Himachal Pradesh's Kullu Valley. In the summer, when the dry cold desert of Lahaul is desolate, shepherds from the lower Himalayan area regularly utilize this route to seek high-altitude pastures.
On the journey, there would be no cellphone network. You'll be primarily hiking beside running streams, with a handful of water crossings along the way. Expect snow at the pass, and we'll supply you with microspikes to walk on it. You may also watch our video on how to walk in the mountains.
Because the Hampta Pass trek takes place during the peak monsoon season, there is a risk of rain throughout the trek days. Therefore bringing rain gear is essential. Also, because this is one of the cooler treks, you'll need to bring warm clothes.
If you want to see snow, we recommend coming in June and July. If you want the lush green sections of this journey, you must visit between August and September.
Shiagoru will be the coldest campsite of the journey, and the next day a river must be traversed without shoes in the morning. Therefore floaters are required. On the journey, avoid wearing flip-flops.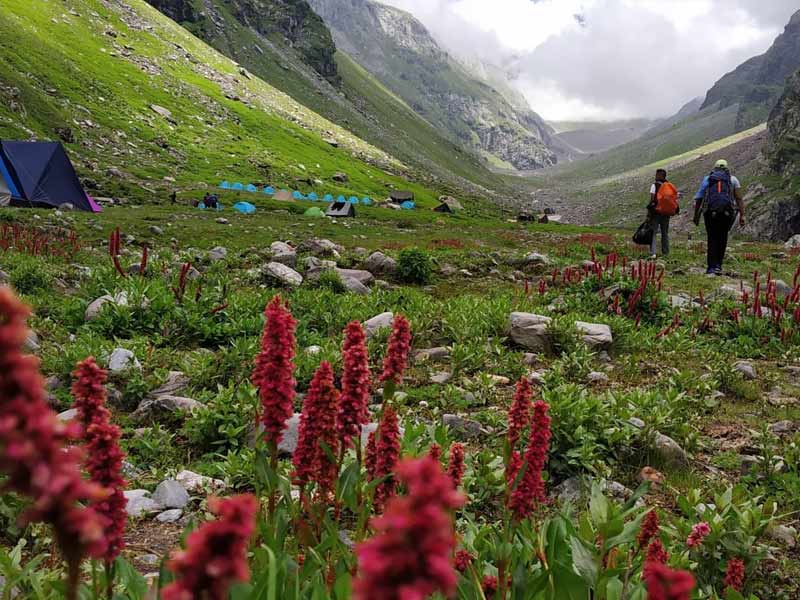 When you get to Chandratal, time stops, and you will be taken away by the sheer magnificence of this lake. Throughout the day, the colors of the pristine blue sea change. The lake's crystal pure turquoise waters radiate and form a new image. Chandra Taal, also known as the Lake of the Moon, takes its name from its crescent form and is located in the Lahaul region of Himachal Pradesh's Lahaul and Spiti district (India).
The lake is located on the Samudra Tapu Plateau, which has a beautiful view of the Chandra River. On one side, the mountains view the lake, while on the other, a cirque shuts it. An interesting aspect of this lake is that there is no apparent supply of water for it. Still, there is a visible exit, implying that the water in this lake originates from underground, which is quite rare. According to tradition, deity Indra's chariot picked up Yudhistra from here, attracting many worshippers to this lovely lake.
The Base Camp
This incredible adventure begins in Manali and travels through many magical expanses to the enchanted Balu Ka Ghera, which is said to be famed for brown bears that hibernate there in the winter. Because of the desolate sand and dust that accumulates here, it is also known as 'Heaps of Sand.'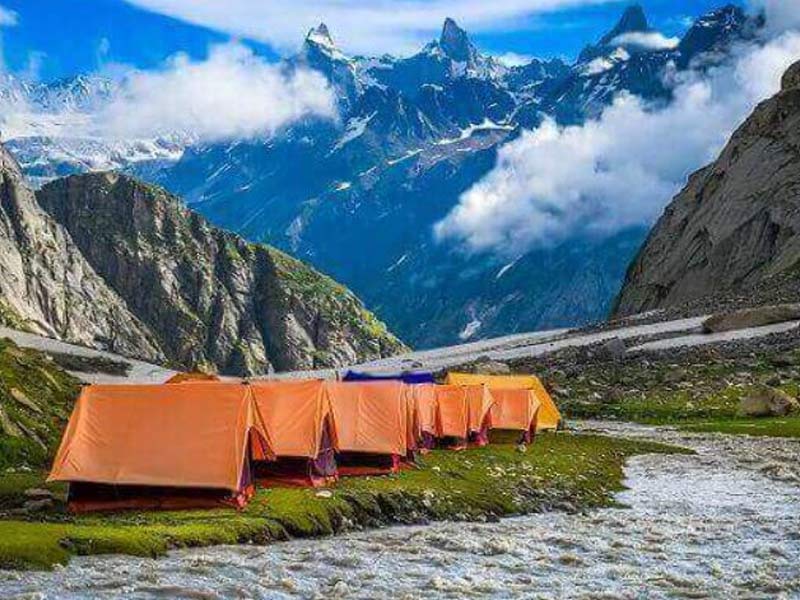 Balu Ka Ghera, located at a terrible height of 11,900 feet, provides an excellent view of the Dauladhar Ranges. This will be your trek's base camp because it marks the stretch when you will look across the Hampta Pass and reach Chandratal Lake.
This location will captivate you with its wonderful attractions, including stunning enraptured bridges, swift-flowing streams, and a natural array of flowers. With a river running on one side and a water stream rolling on the other, the simple sand grounds provide an excellent camping location.
About The Locals
Living among the homes in India's wonderland, the inhabitants of Himachal Pradesh, particularly Manali, are extremely humble and naive in their living traditions. The people's remarkable socio-cultural lifestyle is mirrored in their traditional history and primal tradition since they are mostly farmers and craftspeople.
There is a living inspiration of tribal norms, practices, and ideologies with an unmeasurable appreciation for the environment and creation. Various handloom work and art forms may be found here, and a strong appreciation by the locals for visitors, contributing to the locals' incomes through tourism.
Points of Elevation
This fantastic trekking trip provides breathtaking views of the Hampta Pass and Chandratal Lake. Beginning your trip in Manali at 2050 meters, you will travel by road to Jobri, which will bring you to Chika at 3100 meters.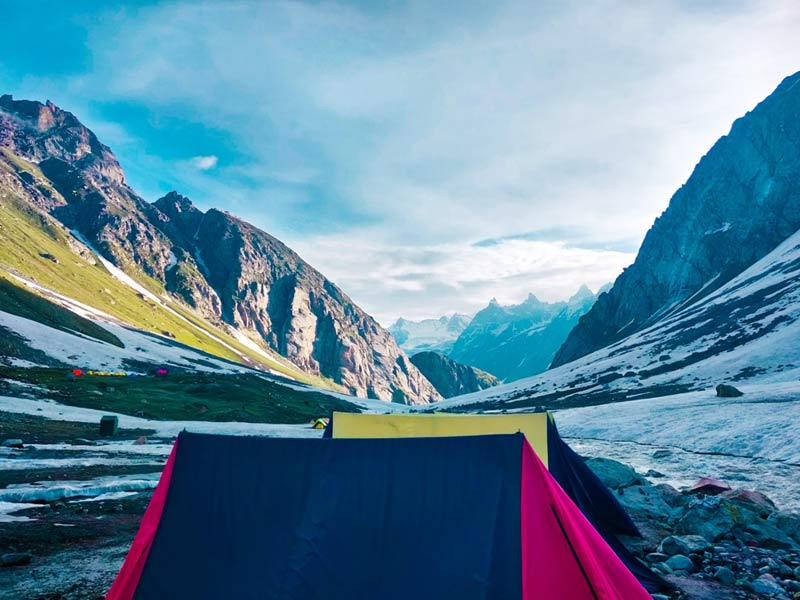 Trek through the gorgeous scenery to the Hampta Pass, which sits at an incredible elevation of 4268 meters, and then on to Siagoru, which sits at 4000 meters. After passing through Chatru at 3100 meters, you will arrive at the beautiful Chandratal Lake, which reaches a towering 4270 meters. The walk from here will lead you to your Base Camp at 3600 meters, Balu Ka Ghera.
Permits
The trek's needed permits and camping fees may be included as part of the trekking excursion. Please bring your ID cards, as well as photocopies of your driving license, voter ID, or passport (along with a visa for non-Indian visitors) and passport-size photographs. A medical certificate proving your fitness for the journey, as well as a disclaimer certificate proving your willingness to participate in this trek, are required.
Medical Advice and Emergency Numbers
Throughout the walk, the guides will have access to a well-stocked first-aid kit. We recommend that you have your own personal supply of first aid supplies on hand, such as medications, antiseptics, insect repellents, prescription drugs, and so on. All preventive steps will be taken to protect your safety. Still, there is no harm in being informed of common healthcare knowledge.
CPR and basic medical information regarding altitude sickness (Acute Mountain Sickness) should be available. This sickness is related to trekking and has symptoms such as headaches, sleeplessness, gastrointestinal difficulties, lung problems, ataxia, etc.
Please see your doctor before your journey to obtain prescription medications for such potential scenarios. Only consume them if necessary, as they are powerful and have severe effects, especially if consumed during your walk.
Because the Hampta Pass is located in Manali, Himachal Pradesh, always have the following emergency contact information with you at all times.
Police Station, Manali: 100, 01902 252326
Police Station, Kullu: 100, 01902 222775
Fire: 101, Emergency Services: 108
District Control Room: 1077
Ambulance: 102, 01982 52014
Blood Bank – Kamla Nehru Hospital: 01902 2625097
IG Hospital: 01902 2883305, 01902 2883315
Tourism Office: The Mall, Manali – 01902 252175
Major Attractions
Manali: Nestled in Himachal Pradesh's Himalayan Mountains, the famed town of Manali is a popular tourist destination for reasons other than hiking. The well-defined snow-capped mountains and beautiful waters of the Beas River Valley provide an amazing vacation experience. In ancient times, nomad hunters lived the valley, followed by shepherds and farmers, with apple orchards dominating the area today. The 'Switzerland of India' serves as a gateway to various adventure activities in Leh, Lahaul, Kinnaur, and Spiti.
Chika: After a series of hairpin turns on the route from Manali to Jobri, your arrival in Chika, a lovely small town, will signal the start of your incredible adventure. Chika, located at the height of 3100 meters, is a picture-perfect setting with lush flora, massive cliffs, grassy meadows, rapid rivers, and stunning waterfalls. The path here is densely forested with deodar, oak, maple, and toss trees, as well as deep alpine woods. The lush valleys with a stunning view of the Rani Nullah are a treat to see. A variety of snow-lined hills may be seen beyond the riverbeds en route Chika, which also serves as an excellent campground.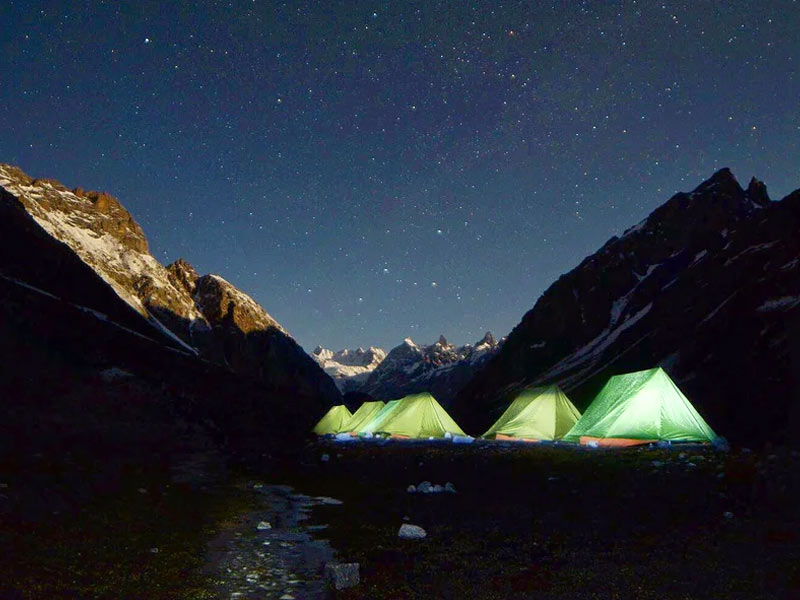 Balu Ka Ghera: Also known as 'Heaps of Sand,' the grounds of Balu Ka Ghera provide an excellent camping spot. The view from here includes lovely fields with marigold specks, as well as herds of sheep and horses that graze here. There have been reports of Brown Bears being sighted in this area, where they hibernate during the harsh winters. The trek's base camp is close to crystal clear lakes, with a view of snow in the distance. The location is adorned with rocks, wildflowers, and magical caverns, providing you with unrivaled county views.
Hampta Pass: A vast plateau at the valley's apex, the Hampta Pass rises at a magnificent 4268 meters. The magnificent Inderkila, Deo Tibba, and Indrasen peaks may be seen here, with a view of Himalayan mountains to the east and Spiti to the west. Snow-capped mountains surround you on all sides, leaving you entranced in the lap of nature. The route to the Hampta Pass is adorned with beautiful scenery and glacier valleys.
Siagoru: Located beyond the Hampta Pass and a short descent later, Siagoru is a popular camping spot for trekkers on the way to Chandratal Lake. At 4000 meters, this location's magnificent mountains, snowy landscapes, stunning streams, and flowing rivers make it a much-valued road.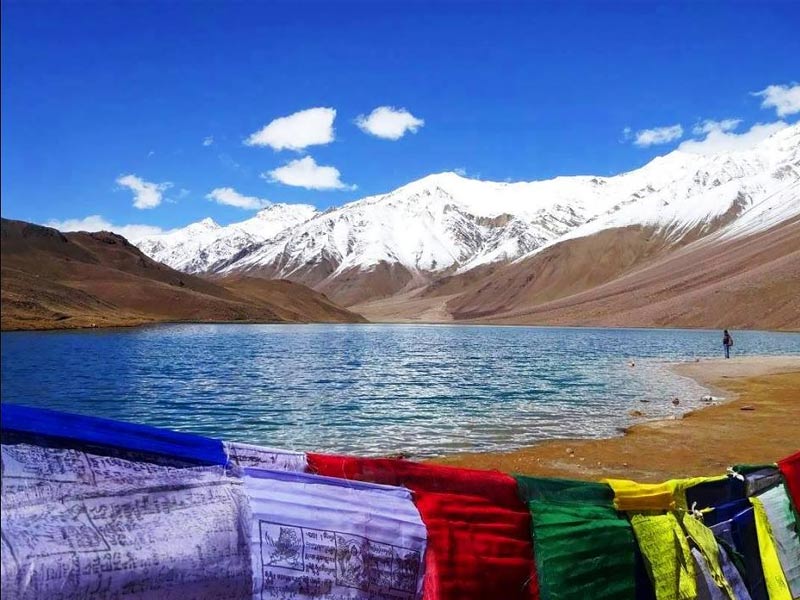 Chandratal Lake: The Chandratal Lakes, a pleasant and hidden sanctuary at 4300 meters in the Himalayas, are located in the Spiti Valley between a low ridge and the Kunzum Ranges. The name 'The Moon Lake' comes from its crescent shape and the beautiful scree mountains beyond this wonderful lake. This incredible site is only accessible for three months of the year, and the rest of the season is frozen and blocked off. Its hue varies from blue to green depending on the sky, making it unique.
The Hampta Pass is also known for its numerous meandering streams and falling waterfalls. And, on your journey, you will have to cross several streams, sometimes barefoot. It'll be something to dip your feet in the bone-chillingly cold water and continue the journey.
Walking across snow passes and snow bridges is the highlight of this journey. During the winter, the streams are covered in a thick layer of snow, and as you walk on them, you can hear the gurgling sound of the water flowing beneath. This is a once-in-a-lifetime opportunity.