Disclaimer: We advice not to travel to Kyiv, under any circumstances currently

---
Kyiv, one of the few European hidden jewels still unspoiled by over-tourism, is one of those places that will leave you wanting more after your journey.
The city is now probably best known for its proximity to one of the world's worst nuclear disasters, Chernobyl. Still, there is so much more to do in Kyiv than that. We will explore all of the fun things to do in Ukraine's capital city together while answering all of your questions about Kyiv. Without further ado, let's get started with our Kyiv things-to-do list.
The forested slopes rising above the vast Dnipro River are dotted with golden domes and gleaming spires. With its traffic-clogged boulevards, retail malls, many cathedrals, spectacular music, and active nightlife, Kyiv has accepted capitalism while remaining strongly rooted in its tradition. The Caves Monastery is Ukraine's spiritual core, and adjacent, a massive Brezhnev-era Motherland monument with sword and shield casts an all-encompassing eye over the city, the river, and its island beaches.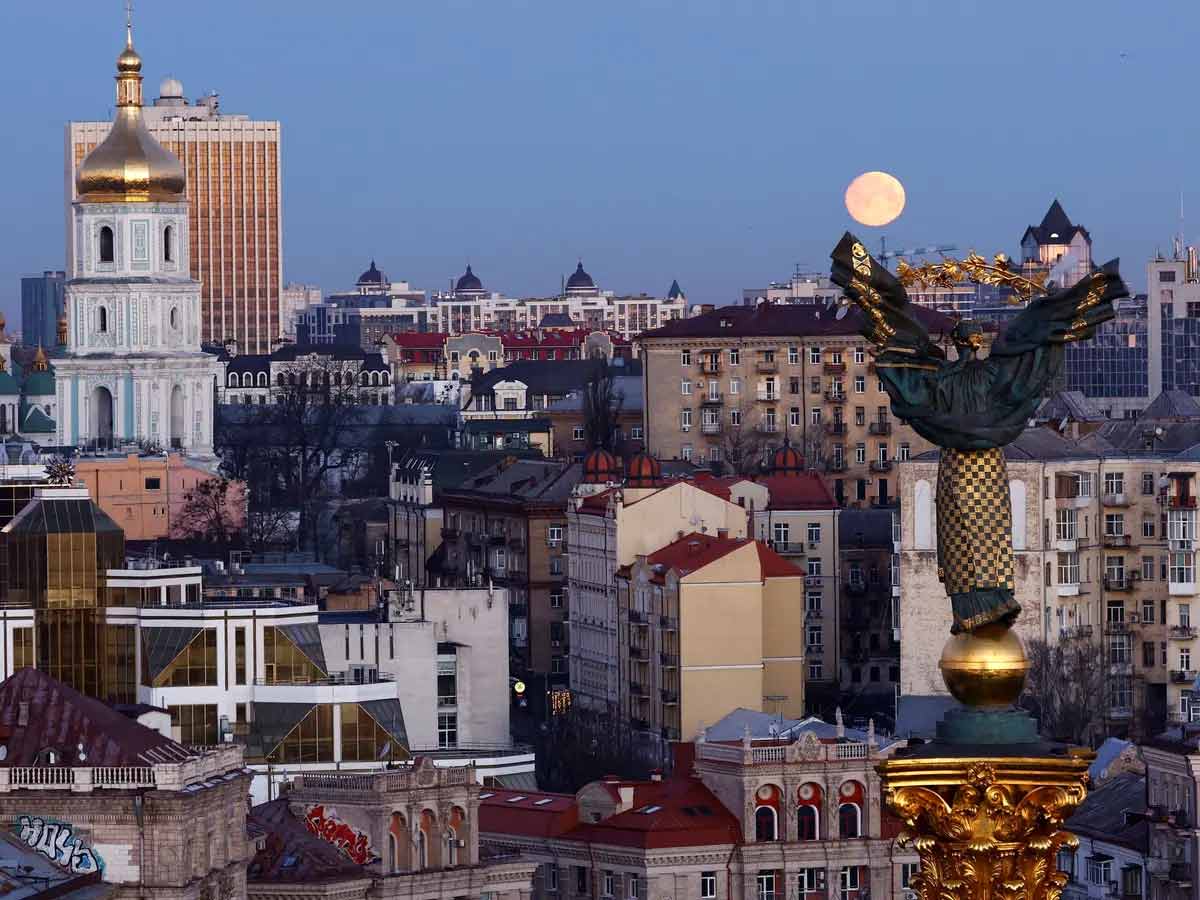 When Should You Go to Kyiv?
From June to September, summer is the greatest season to visit Kyiv. Contrary to my recommendations for other European locations, Ukraine is still a hidden treasure that hasn't succumbed to over-tourism; therefore, going during peak season is still encouraged.
Visiting around this period will also allow you to take advantage of as many summer activities as possible while in a city like Kyiv. Throughout Ukraine, there are several music festivals, flea fairs, and other interesting activities taking place at this time.
What can you see in Kyiv? 
Walking through the streets of Kyiv, one can see various periods collide: Soviet architecture with orthodox churches and imperial palaces characterise the Ukrainian city, which a great deal of political turbulence has recently shaken. Kyiv has embraced modernity and has a lot to offer – its diversified art and cultural scene may keep you occupied for days on end, so prepare ahead of time.
Golden Gate Monument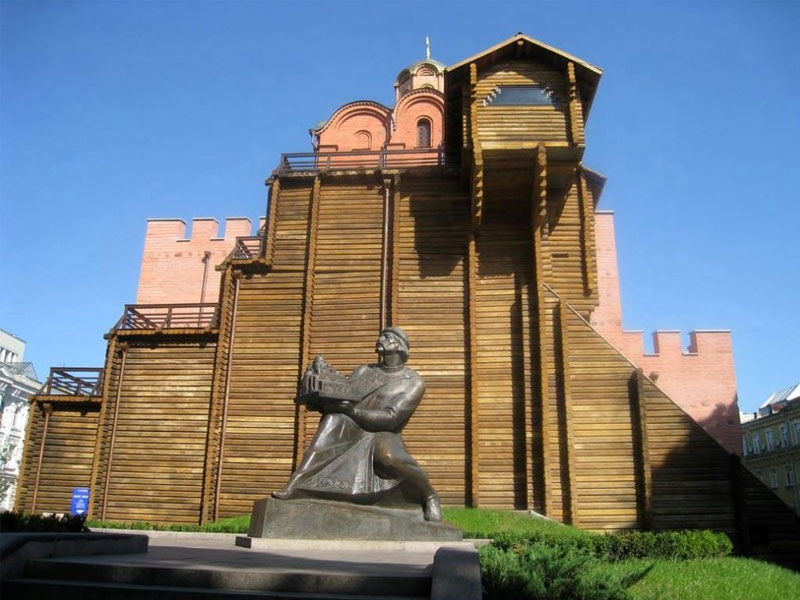 The restoration of the Golden Gate Monument began in 1982, on the occasion of Kyiv's 1500th anniversary. It drew considerable controversy since it hinted that the original remains of the tower would have to be demolished to create the new memorial. It has now been reconstructed in a brick-and-wood mix.
Independence Square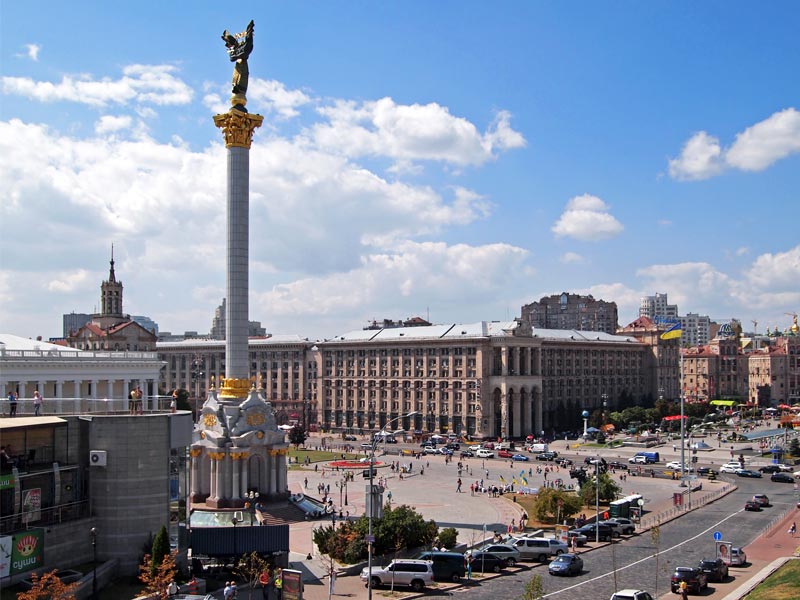 Kyiv's great social heart, the Orange Revolution's seat, holds many concerts, events, and festivals. It is therefore noted for its bright and active environment. This is where actual life occurs, surrounded by fountains, monuments, and an underground retail centre.
You will arrive at a familiar location after strolling up Khreschatyk street. A location you may have seen in the headlines a while ago. That's right, and you've arrived at Independence Square (or just Maidan), a square resembling the 2014 Ukrainian Revolution, but with fewer flames and more flowers. The plaza is extremely large and bustling, especially on weekends, making it an excellent area to people-watch. Within the Square, there is also a permanent open-air installation chronicling the events of the 2014 Revolution. If you're wondering what occurred in 2014, this was a fascinating read.
There is also a beautiful observation platform at the top of the Globus Mall, where you can get a nice view of the Square from above.
Khreshchatyk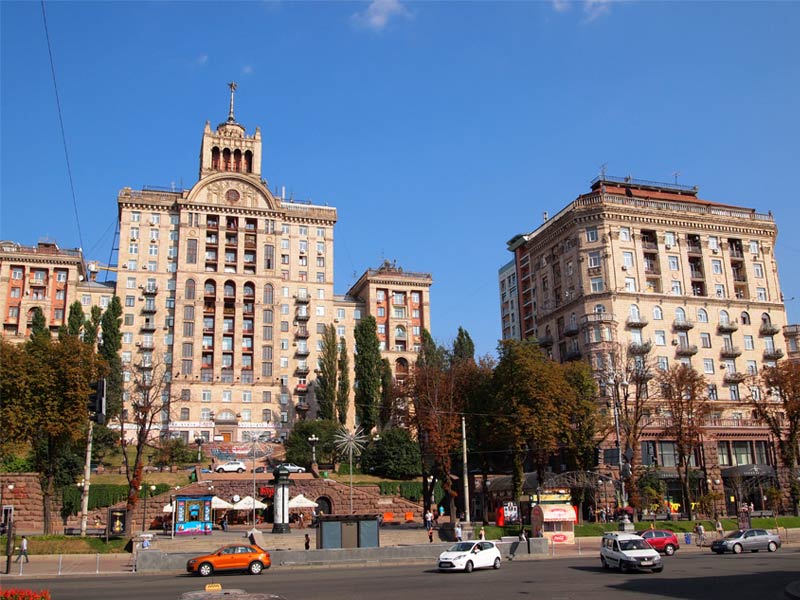 The major Boulevard of Kyiv, this tree-lined avenue is dominated by Stalin Empire architecture and expensive stores. It spans nearly a kilometre through a valley, which is popular on weekends when closed to traffic. Start your day with a stroll down the famed Khreschatyk Shopping Street, lined with brand-name stores and people going up and down the streets. A prominent street food booth called Kyivska Perepichka, located near Khreschatyk street, where you can sample the city's best deep-fried dough sausage. It's inexpensive, excellent, and convenient, so stop by for a quick snack.
Pechersk Lavra in Kyiv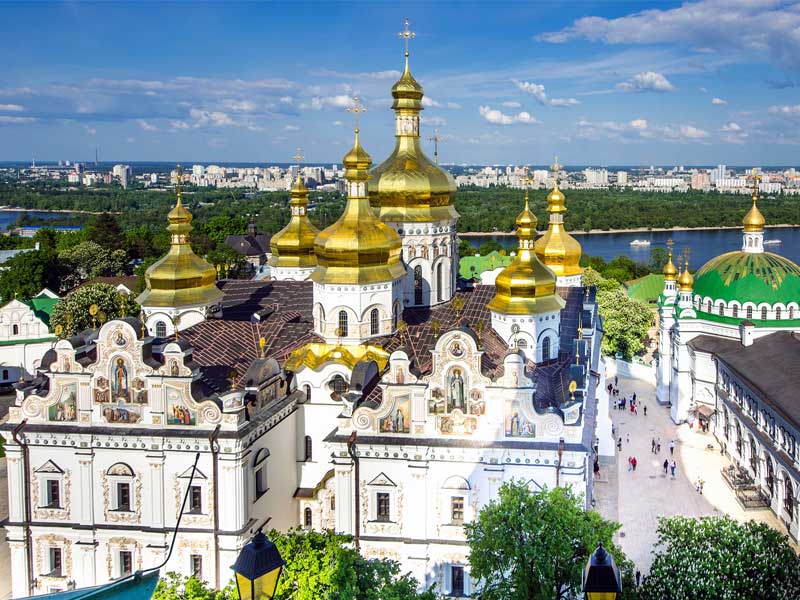 This monastery is a historic pilgrimage site and a UNESCO World Heritage Site, with spectacular cathedrals, museums, and scary monastic caverns. It was also named one of Ukraine's Seven Wonders in 2007.
The Kyiv Pechersk Lavra caves are a mediaeval network of tiny tunnels with several housing quarters and subterranean chapels erected in the 9th century AD. Nowadays, it is a destination for Orthodox pilgrims to pay their respects to the mummified monks, sacred relics, and icons discovered throughout these underground passages. You can walk in and explore a tunnel as a visitor. Still, it's dark and narrow, so I wouldn't recommend it if you're claustrophobic. If you choose, you may also purchase a candle at the cave's entrance to illuminate the journey.
Andriyivsky Uzviz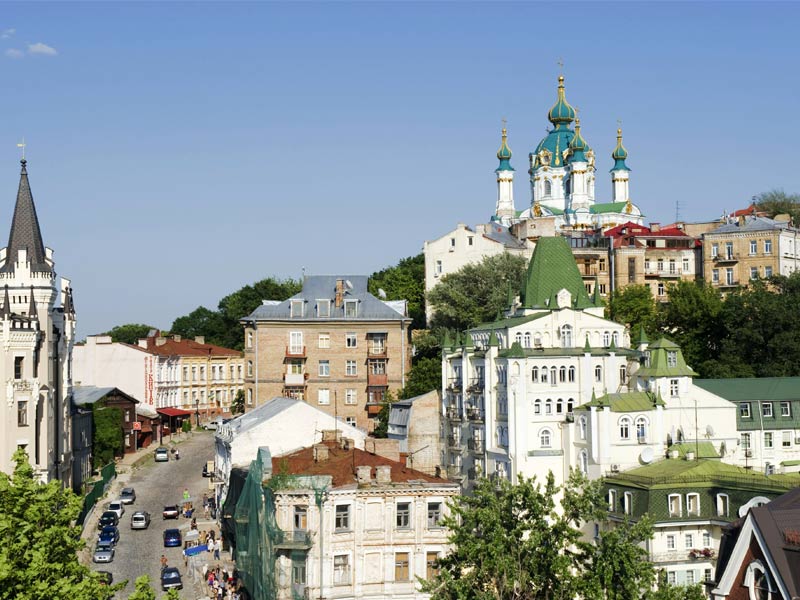 The gorgeous and steep cobblestone slope Andriyivsky Uzviz translated as "Andrew's Descent," is flanked by souvenir vendors and artists. Historic monuments, like the Castle of Richard Lionheart, are scattered throughout the descent and are extremely beautiful.
St. Volodymyr's Cathedral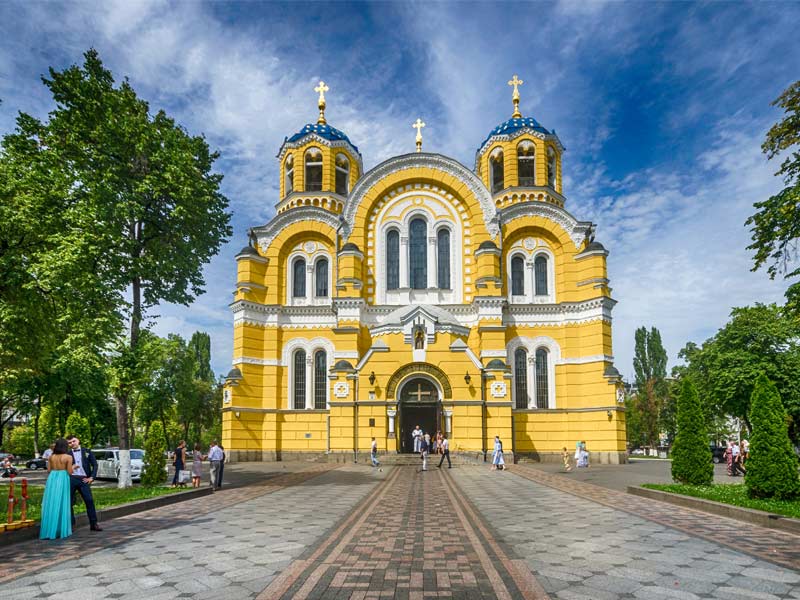 St Volodymyr's Cathedral, located in the city centre, is a lively, brightly frescoed 19th-century cathedral and a recognisable landmark. It is the main cathedral of the Ukrainian Orthodox Church. One of these is St. Volodymyr's Church, a bright yellow Neo-Byzantine cathedral not far from Universitet Metro Station, making it an excellent site to begin your first day in Kyiv.
It's bright yellow exterior leads to an ornate gold-accented fresco-lined interior, a hallmark of Eastern Orthodox design common in this region of the world. The admission is free, but as soon as you take out your camera and start taking pictures, the woman working there will rush in front of you and urge you to pay for the photo/video ticket, which appears to be the usual in Ukraine. If you wish to take pictures, the cost of such a ticket is roughly 50 UAH or USD 2.
The Cathedral of St. Sophia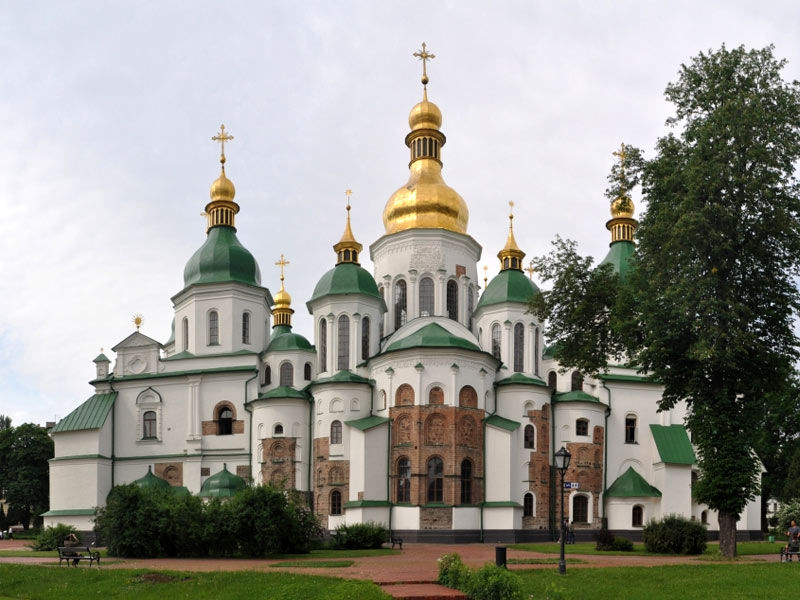 The magnificent mosaics and amazing paintings adorn this 11th-century church, a museum. This, along with the Kyiv Pechersk Lavra, is on the UNESCO World Heritage List. St. Sophia's Church is another Orthodox cathedral erected in the 9th century AD by the Kievan Rus to mimic the Hagia Sophia located in Constantinople a few decades before, thus the name St. Sophia. There are various structures inside the Cathedral area that you may visit. Still, one of the highlights for me was the Bell Tower, which you can climb to gain a perspective of Old Kyiv from the top. You can even see the St. Michael's Golden-Domed Monastery from up there.
The Motherland Monument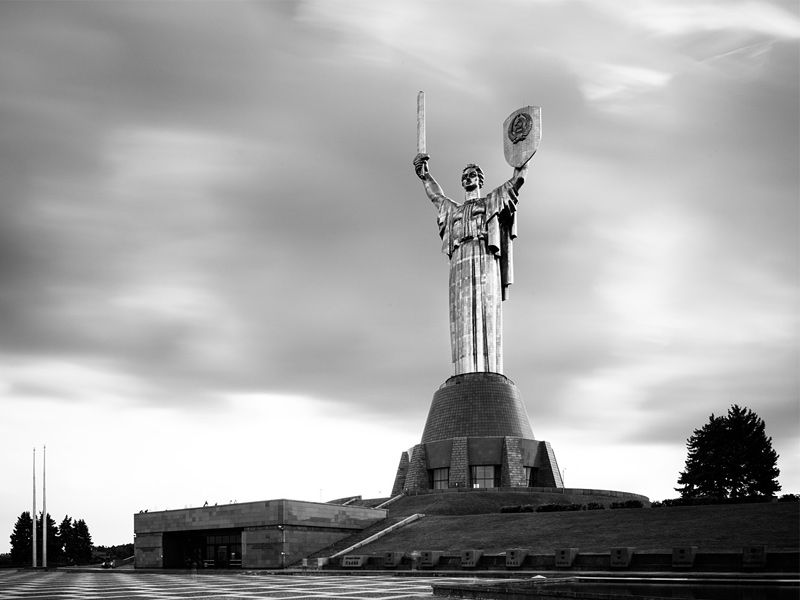 Kyiv Pechersk Lavra is massive, and you will most likely spend at least 2 hours walking around that area. When you arrive at The Motherland Monument, it will most likely be right before sunset, which is ideal because the monument is most beautiful during the Golden Hour. Because most of the walkway surrounding The Motherland Monument is also exposed, it is advisable to visit the monument when the sun isn't too hot.
Within the monument park, you can also visit several museums, including the Ukrainian State Museum of the Great Patriotic War, which was built to honour Kyiv's defenders during WWII, and the Local Conflicts' Museum, which contains information about the local struggle between Ukrainians and the Soviet Union from 1936 to 1989.
The Golden-Domed Monastery of St. Michael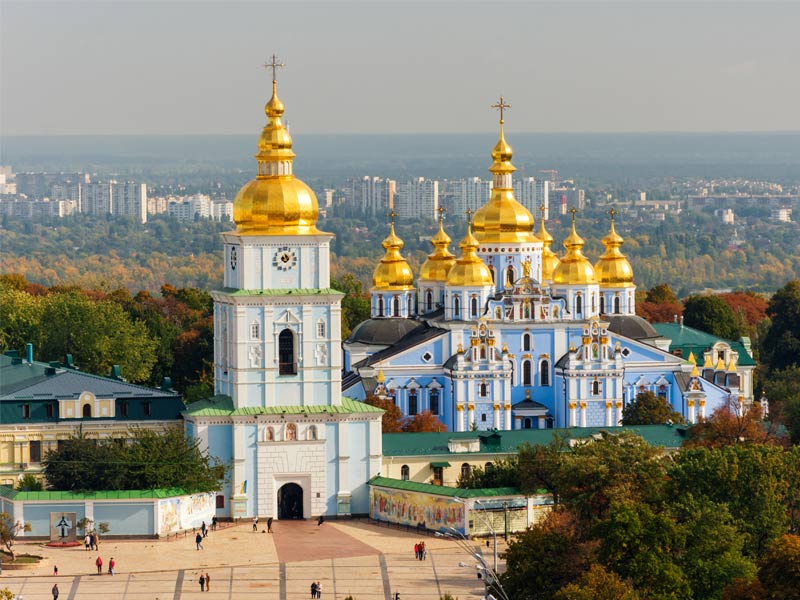 St. Michael's Golden-Domed Monastery is located on the banks of the Dnipro River. It has soaring domes, mosaics, and recollections. It was completed in 1713 and has been supplemented, restored, and reconstructed multiple times. The magnificent church you noticed from the Bell Tower is St. Michael's Golden-Domed Monastery, which is a terrific destination to visit next.
Unlike St. Sophia's Cathedral, St. Michael's Golden-Domed Monastery is a working monastery hence admission is free. On the surface, the monastery is a combination of Ukrainian Baroque architecture. At the same time, on the interior, it preserves its original Byzantine design. St. Michael's Golden-Domed Monastery is one of the most picturesque religious buildings in the city due to its many golden domes, vast size, and blue-painted façade.
Ukraine's National Opera House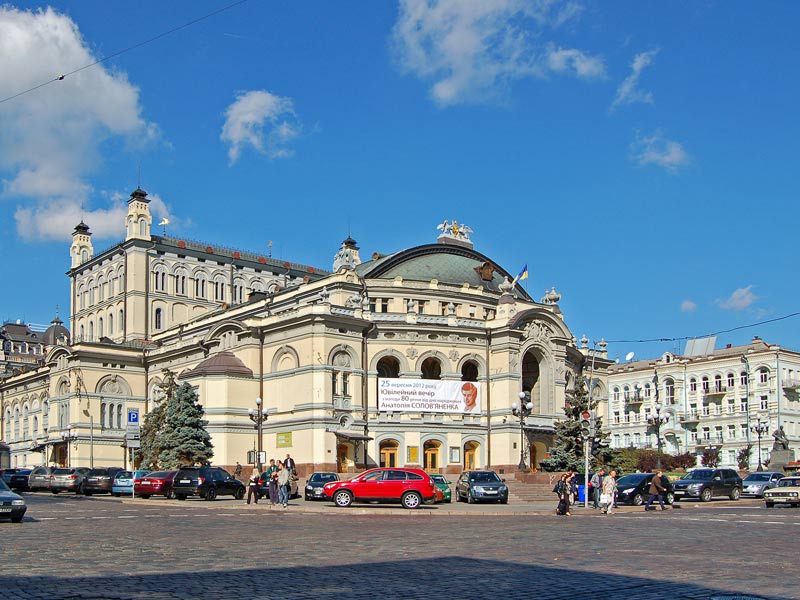 This ancient Opera House, one of Ukraine's oldest buildings, welcomes you to an evening of classic opera or ballet. The famed expertise of its performing artists, along with the regal aura of the building itself, will make for a truly unique night out in Kyiv. However, book ahead of time because popular concerts tend to sell out quickly.
Ukrainian National Chornobyl Museum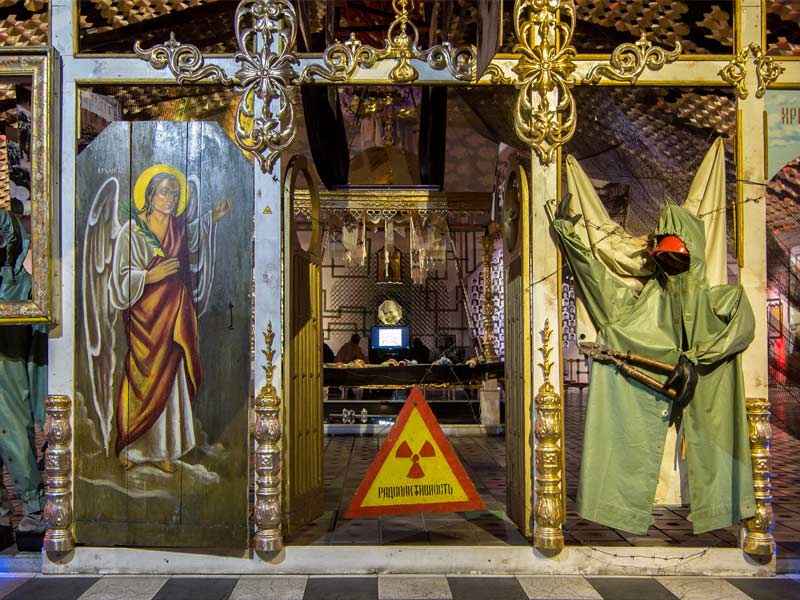 The Ukrainian National Chernobyl Museum is a museum dedicated to revealing all the specifics of what happened that night in 1986 when the explosion occurred at the Chernobyl Power Plant and the events that followed. Every day except Sunday, the museum is open from 10 a.m. to 6 p.m. The entrance cost is 100 UAH, the photo charge is 36 UAH, and the audio guide deposit is 100 UAH.
How to Arrive in Kyiv, Ukraine
Flying into Kyiv with Ukrainian Airlines is the most efficient method to get to Ukraine from another continent.
If you are in Europe, you may fly with a low-cost airline such as Ryanair or take the train from any major European hubs such as Berlin, etc. However, if you choose to go by rail, your trip duration will significantly increase.
Finally, the simplest choice is to fly directly from Bangkok to Kyiv on a Ukrainian airline if you are in Asia. They are inexpensive and fly nonstop to Kyiv in 11 hours.
With the current situation between Ukraine and Russia, we strictly advise not to travel to Ukraine.