When somebody mentions Goa, people immediately think of the huge and magnificent beaches. But Goa is more than just its beautiful beaches and water. It is also gifted with a diverse landscape due to its location in the Sahayadri highlands. Goa has many small and large hills from which streams, springs, and spectacular waterfalls arise. There aren't many waterfalls of Goa, but they're all worth seeing. These waterfalls, surrounded by vegetation, cliffs, and sanctuaries, show another aspect of Goa, making it an all-rounder in terms of tourism.
Here are the top 8 most popular and stunning waterfalls of Goa that will make you drool and goggle in wonder.
1.Hivre Waterfalls – Paradisiacal Marvel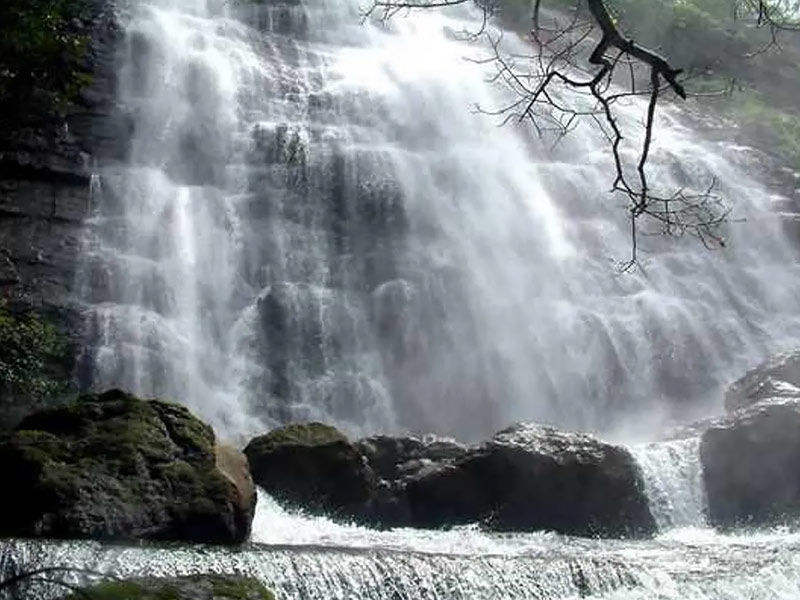 As one of the most well-known waterfalls of Goa, Valpoi. Hivre Waterfalls are popular not just with nature enthusiasts and tourists but also with hard-core hikers. It is popular with both locals and tourists, and it is especially crowded on weekends. It is, without a doubt, Goa's best waterfall. Moreover, it is one of the nicest spots to visit in Goa during the summer.
Hivre Waterfalls are 14 kilometers from Valpoi City and may be reached by passing via Thane village.

Hivre Waterfalls Activities Include: Advanced Trekking

Stay Options Near Hivre Waterfalls: Homestays are mostly located in the Valpoi region. Cajueiro Homestead is one of the top homestays.

Other nearby attractions are Nanuz Fort, Tambdi Surla, and Sri Mahadev Temple.
2. Dudhsagar Waterfall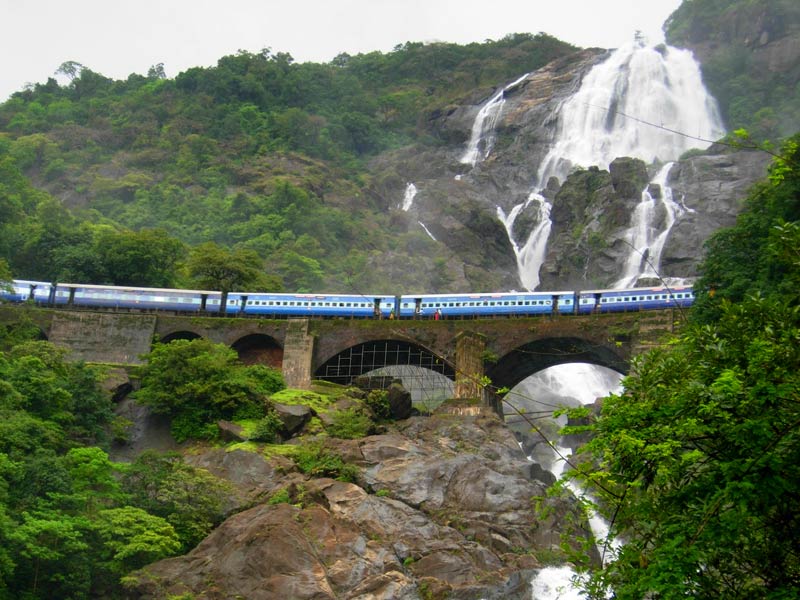 Dudhsagar Falls, which flows from the Mandovi River, is undeniably one of India's most magnificent waterfalls. This spectacular four-tier waterfall, plunging down from a height of 130 meters, right along the Goa-Karnataka border, captivates tourists with the beauty of its frothy and milky water, pouring sound, and surrounding flora.
How to Get to Dudhsagar Waterfalls: If traveling by train, get off in Kulem, which is 8 kilometers from Dudhsagar Falls. Kulem has a bike rental service. To get to the waterfall, use the route off NH 4A in Kulem.
Overnight camping in the surrounding forest is one of the things to do at Dudhsagar Waterfalls.

Stay Options Near Dudhsagar Waterfalls: Hotels, guest houses, and homestays are available in Kulem, which is 8 kilometers from Dudhsagar. Dudhsagar River 

Side Rooms, Jungle Book, and Dudhsagar Spa Resort – a GTDC property – are popular places to stay.

Other nearby attractions include the Shayadri Spice Farm and the Bhagwan Mahavir Wildlife Sanctuary.
3. Kesarval Waterfall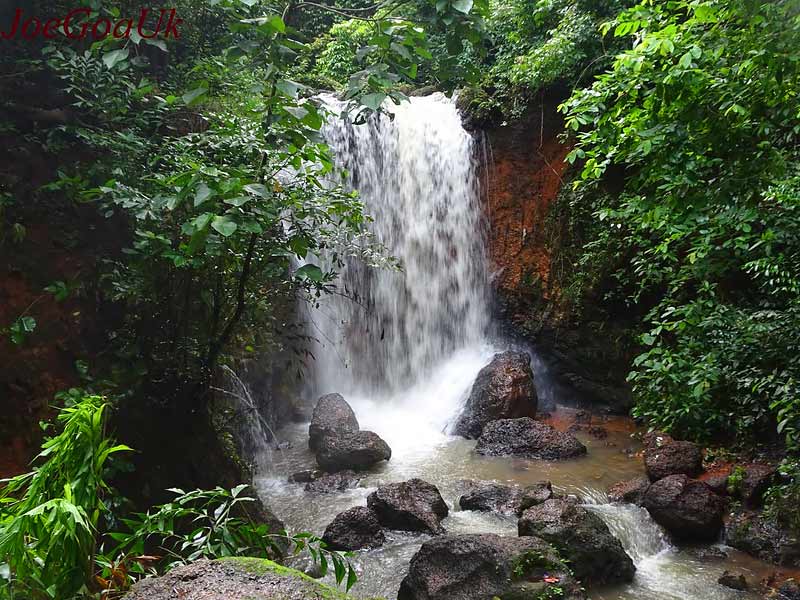 Kesarval Falls, also known as Kesarval Spring, is one of Goa's most magnificent waterfalls and a perfect site to spend some time swimming and admiring the stunning beauty. It is located on the Verna Plateau. This waterfall, which translates to "eagles," is located in a forest of betel palm plantations, which is considered to be the home of eagle birds, hence the name.
How to Get to Kesarval Waterfalls: The waterfall is accessible via the Panaji-Margo route. It is 22 kilometers from Panaji.

Activities at Kesarval Waterfalls: Bathe in the waterfall's water, which is thought to have healing properties.

The Village Inn, Fernlodge Studio Apartments, and Dom Pedro's Haven are good places to stay near Kesarval Waterfalls.

Other places to visit near Kesarval Waterfalls are Santana Church, Rachol Fort, and Mormugao Fort.
4. Kuskem Waterfall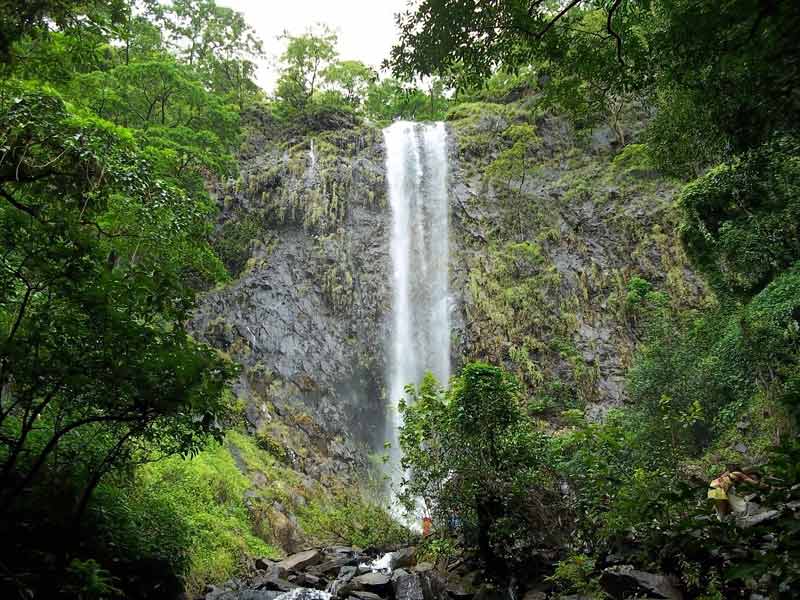 Kuskem, a modest and seasonal cascade in Goa's Canacona taluka, is not a well-known waterfall. This waterfall, located in the center of a popular animal refuge, falls from a great height and turns practically transparent water at the bottom. Nevertheless, Kuskem is undoubtedly one of the must-see waterfalls of Goa, especially during the monsoon and post-monsoon seasons.
How to Get to Kuskem Waterfalls: Take cabs or motorcycles from Margao, Panaji, or Canacona to Hathipol, the starting point for the hike to Kuskem Falls.

At Kuskem Waterfalls, you can do the following: Hiking to the Kuskem waterfalls is a thrilling excursion for hikers and adventure seekers.

Stay Near Kuskem Waterfalls: Forest Department Eco Cottages at Cotigao Wildlife Sanctuary

Other nearby attractions include the Cotigao Wildlife Sanctuary and the Chapoli Dam.
5. Bamanbudo Waterfall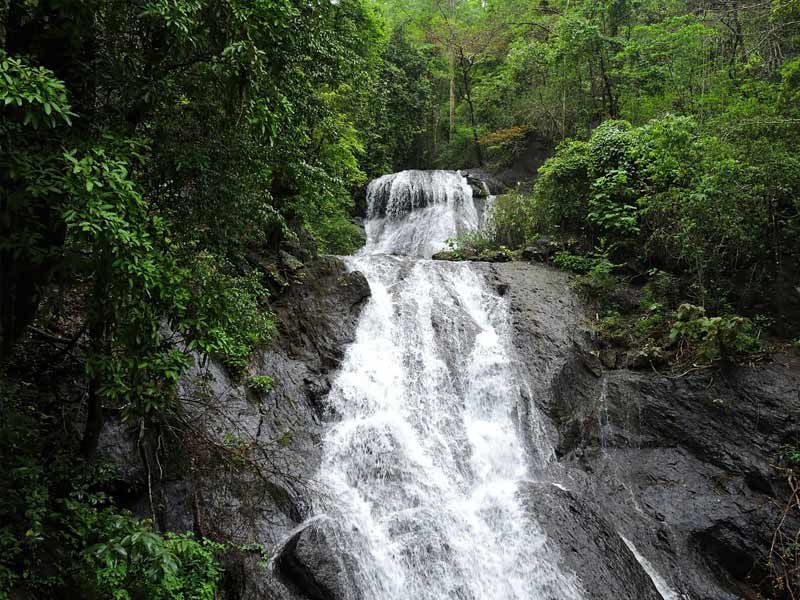 Bamanbudo is another gorgeous waterfall in North Goa, set against the backdrop of Ambe ghat. There is no need to trek to reach Bamanbudo, one of the unknown waterfalls of Goa, as it is located right on the road. So, while you're in Goa, make sure to stop at one of the most tranquil waterfalls in India!
The Bamanbudo Waterfalls are accessible via the Canacona-Naturlim Road.

At Bamanbudo Waterfalls, you can do the following: Taking in the tranquility of the setting and observing birds.

Accommodation Near Bamanbudo Waterfalls: Canacona, 16 kilometers away, is a popular choice for visitors to Bamanbudo. Canacona provides something for everyone's budget, from luxury resorts to decent-budget hotels. Among the alternatives are the Lalit Golf and Spa Resort, Goyam Beach Resort, and Oceanic Hotel.

Other attractions around the Bamanbudo Waterfalls are the Cabo de Rama Fort and the Cola Beach.
6. Netravali Waterfall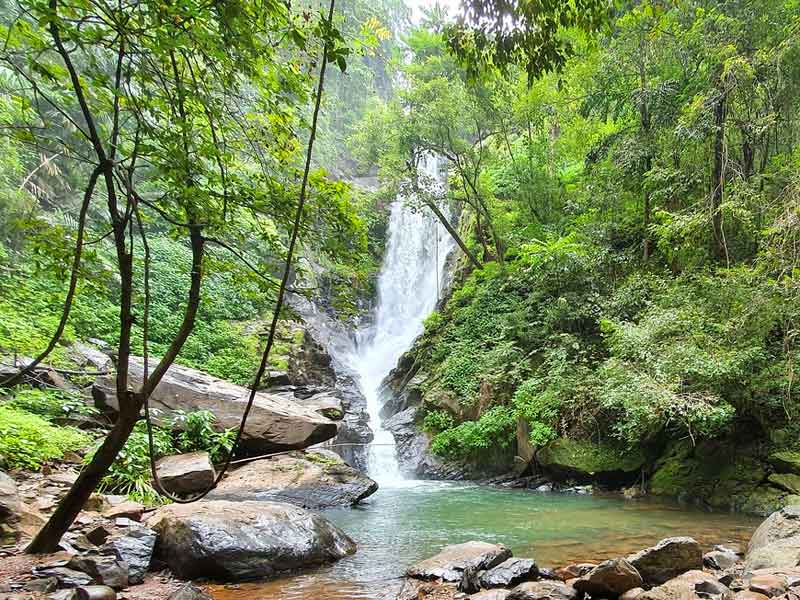 Admire the majesty and grace of Netravali waterfall, which covers an area of 211 square kilometers. Netravali Waterfalls, located in the Western Ghat Range and conserved as a wildlife sanctuary, entices all nature lovers and enthusiasts. This is the most beautiful waterfall in North Goa. It is especially beautiful in the post-monsoon and winter seasons. Are you planning a trip to one of the top waterfalls of Goa? When in Goa in March, pay a visit to the falls.
How to Get to the Netravali Waterfalls: Netravali Falls in Goa is a 2-hour journey from Margao. It is a destination nearest to the railhead.

Activities at Netravali Waterfalls include bird watching and wildlife sightings.

Angan Village Stay by Verlem Eco-Tourism Cooperative Society is one option for lodging near the Netravali Waterfalls.

Other places to visit near Netravali Waterfalls include the Madei Wildlife Sanctuary.
7. Tambadi Surla Waterfall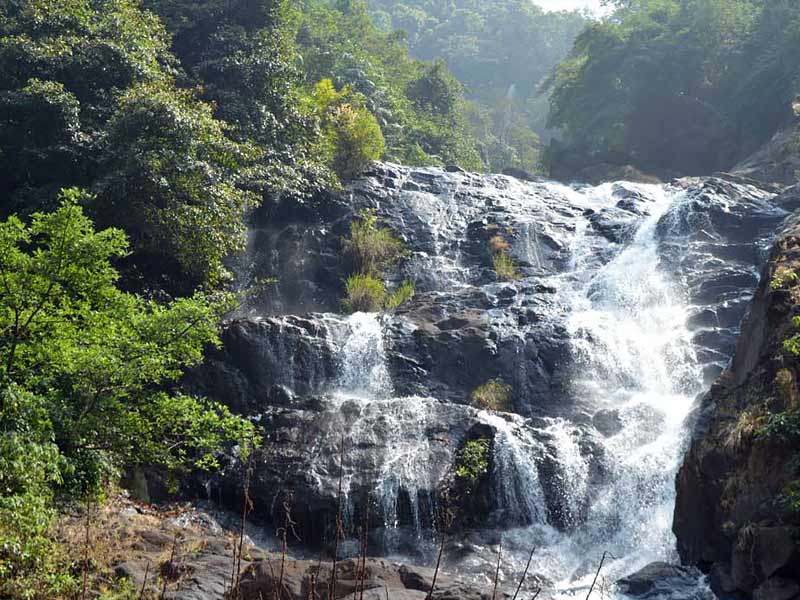 Listed as one of the mesmerizing waterfalls of Goa, there is no shortage of natural attractions in North Goa, ranging from nature reserves to beaches. However, Tambadi Surla has a unique name among travelers. The deep jungle enclosing the cascade, mysterious beauty, and ancient temple at the bottom is the sight's most appealing features. Hiking through Bhagwan Mahavir Wildlife Sanctuary will lead you to Tambadi Surla, one of Goa's top waterfalls.
How to Get to Tambadi Surla Waterfalls: Drive to Carnazol, off NH 4A, then hike through the sanctuary to the falls.

Tambadi Surla Waterfalls Activities: Observing vegetation and fauna at the Bhagwan Mahavir Wildlife Sanctuary

Nature's Nest is one of the lodging options near Tambadi Surla Waterfalls.

Tambadi Surla Temple, also known as Mahadev Temple, is another attraction near Tambadi Surla Waterfalls.
8. Arvalem waterfall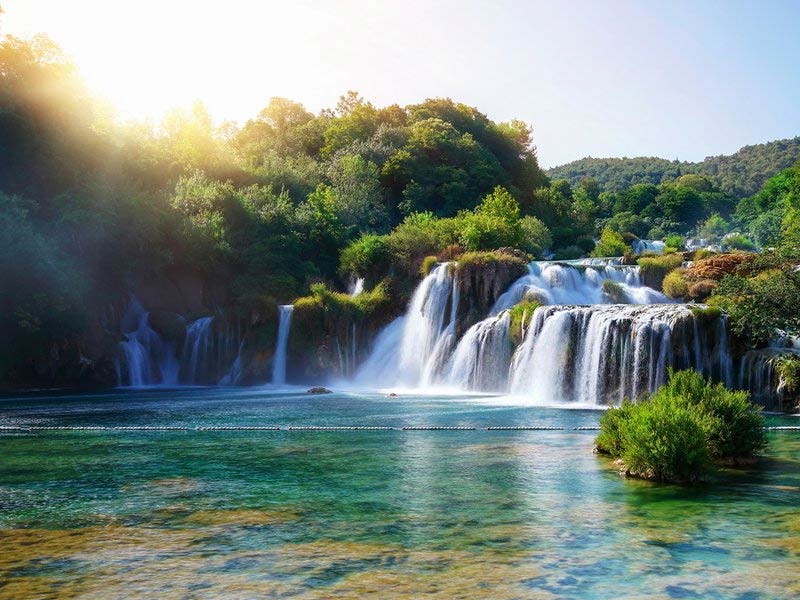 This rushing stream tumbling down from a grassy hillside of 50 m altitude near Sanquelim village is known as the Harvalem waterfalls. Arvalem waterfall is one of Goa's most popular waterfalls, complete with a park and observation area where locals may rest and enjoy the natural beauty. It is one of the greatest tourist destinations in Goa.
How to Get to Arvalem Waterfalls: The nearest railhead is Sanquelim, which is 2 kilometers away. Regular bus services and rental bikes are also available from Panaji.

At Arvalem Waterfalls, you can do the following: Swimming and a picnic during the day.

Sanquelim, Bicholim, Mayem Lakeview, Backwoods Camp, and Vila Nova Resort are good places to stay near the Arvalem Waterfalls.

Other nearby attractions are the Arvalem Rock Cut caverns and the Rudreshwar temple. For those seeking adventure, head up to the Valpoi hamlet (12 kilometers) to enjoy white water rafting.