Netrani Island is a small Indian island in the Arabian Sea known as Bajrangi Island, Pigeon Island, and Heart Shape Island. It's about 10 nautical miles (19 kilometers) off the coast of Karnataka, near the temple town of Murudeshwara in Bhatkal Taluka. Over 15 kilometers away, the mainland can see the island. The views from above create the impression that the island is heart-shaped.
Wild goats and pigeons are among the animals that live there. It is easily accessible from Bhatkal, Mangalore, Goa, Mumbai, or Bangalore and provides scuba diving facilities. Dive shops in Murdeshwara and Goa organize visits to the island regularly to conduct tourism activities. Nitra Gudo is the native name for it. This is where the famous Hindu temple Jai Bajrangbali Temple may be found.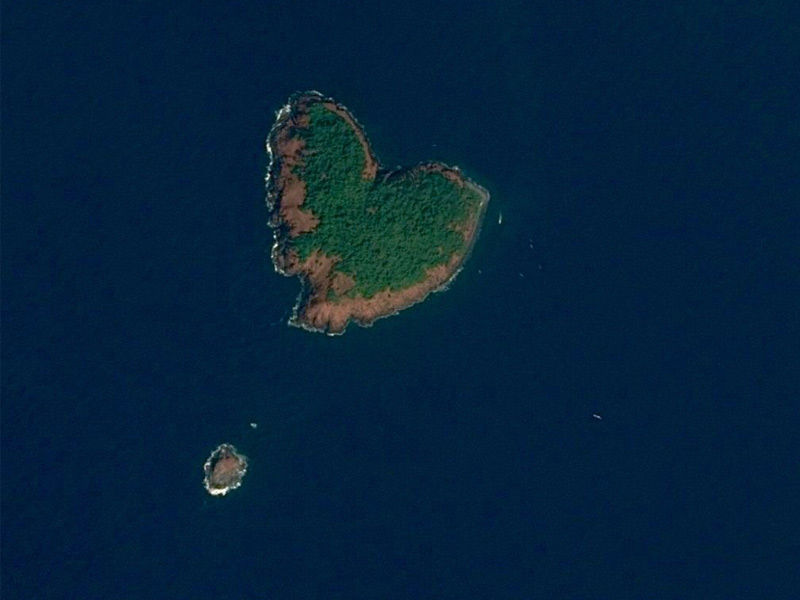 The Netrani Coral Reefs
Butterflyfish, triggerfish, parrotfish, eel, and shrimp abound in the reefs of Netrani Island, a coral island. Orcas and whale sharks have also been spotted surrounding the island, according to divers. Sea snakes and fish are favorites of fish eagles. Apart from bats, a type of mongoose has been spotted here, suggesting mammalian residents. Snorkelers have also seen whale sharks. One study discovered 89 different types of coral fish.
Tourism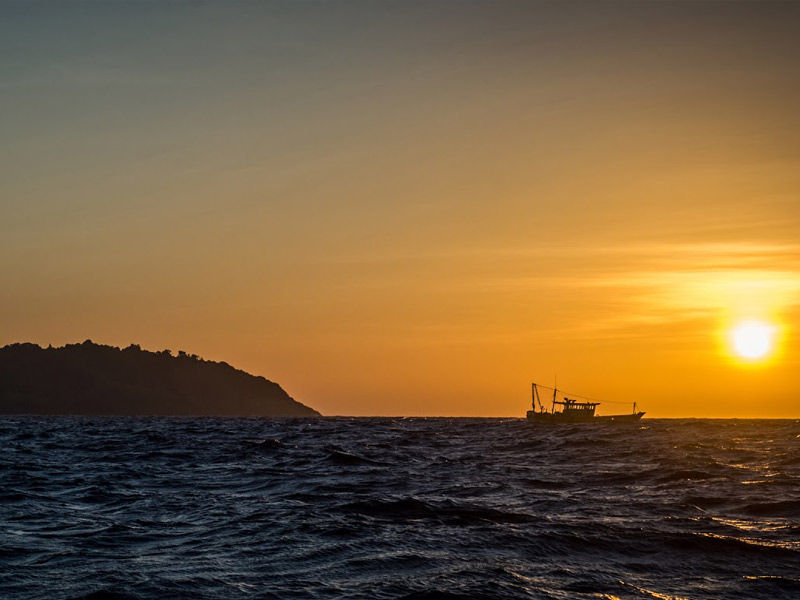 Since Netrani is a small island, the tourism scope isn't too big, so the government has introduced fun activities such as snorkeling and scuba diving (mainly water sports) to attract more tourists. What makes it even more exciting is that Netrani Island is a beautiful coral island, making it one of the top sites in India to go scuba diving. It's so abundant and diverse that it can compete with scuba diving in the Andamans.
According to a study, there are roughly eighty different types of coral fish found here; some of the most noteworthy species include fish eagles, sea snakes, and mongoose. Between December and January is the best time to visit Netrani Island. During the monsoons, especially from June to September, when the sea is stormy and risky for such adventurous activities, scuba diving, snorkeling, and other water sports are discouraged.
Murudeshwar's temples and the famous Manglorean cuisine are also noteworthy. It is a serene, quiet, pleasant vacation spot with excitement, waiting at its footstep to take you on an exhilarating scuba-dive.
Scuba-diving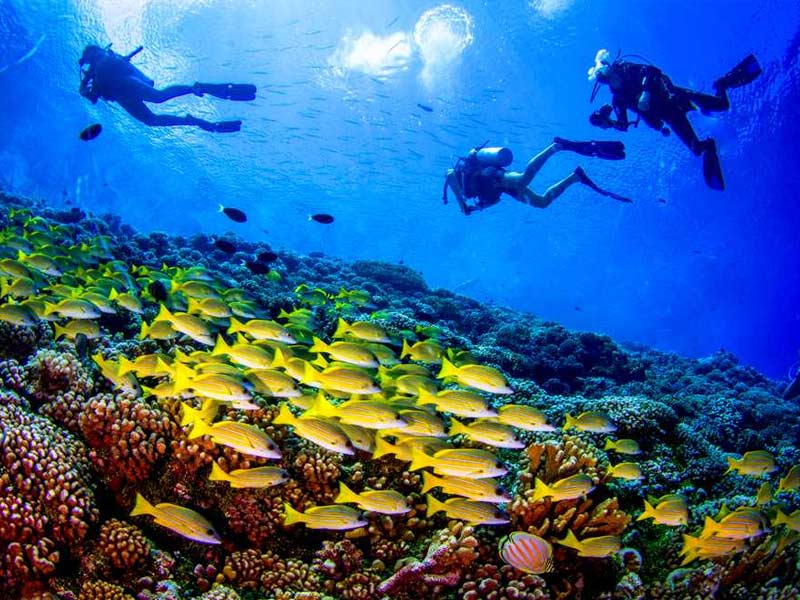 Netrani is a prominent scuba diving location in Karnataka, located off the coast of Murudeshwara. The Netrani Islands, popularly known as Pigeon Island, are located off the coast of Murudeshwara. This is a beautiful island with a dense forest of trees and curved rocky formations that provide shelter for many pigeons. With its reefs and pristine waters, the island is one of India's greatest snorkeling and diving destinations.
Snorkeling chances abound here for both novices and deep-diving professionals. Murudeshwara, as a scuba diving location in Karnataka, has several operators who offer single dives and scuba diving schools. Swimming like a fish, seeing them up close underwater, and witnessing colorful corals will be a once-in-a-lifetime event for everyone in the family.
Scuba-diving courses in Netrani Island
Single:- Anyone with basic health and a desire to explore the undersea world can attempt a single scuba dive. Students will be briefed on numerous hand gestures that must be utilized for communicating underwater and basic breathing principles and how to use the equipment by an instructor. Learning how to equalize pressure on the ears and not misinterpret hand symbols is critical for a good dive. Some companies arrange for a quick trial session near the beach or in a pool. A teacher dives alongside the learner and guides him or her underwater in this mode, allowing the student to see undersea fish and rocks up close.
PADI/SSI:- Another form of scuba diving course available in the Netrani Islands is solo diving. Individuals interested in solo scuba diving can enroll in a PADI (Professional Association of Diving Instructors) or SSI (Scuba Scuba Instructors International) certification course (Scuba School International). The course lasts about 5-7 days. It is divided into three sections: classroom sessions, confined dives (swimming pools), and open water diving. After completing the course, you will be able to dive without the assistance of an instructor and even guide other divers.
A single scuba dive might set you back more than INR 4000. Depending on the size of your group and the season, you may be able to negotiate cheaper pricing with the operator on the island off Murudeshwara.
There are holes and unexploded bombshells on the island since it was utilized for army training by the Indian government. The government, however, discontinued the target training in 2012 because it was damaging the region's ecological balance. Access to the island is not easy; you must first obtain authorization from the Deputy Commissioner and the Forest Department before visiting Netrani Island. On the island, there are a few modest shrines that appear beautiful when illuminated up.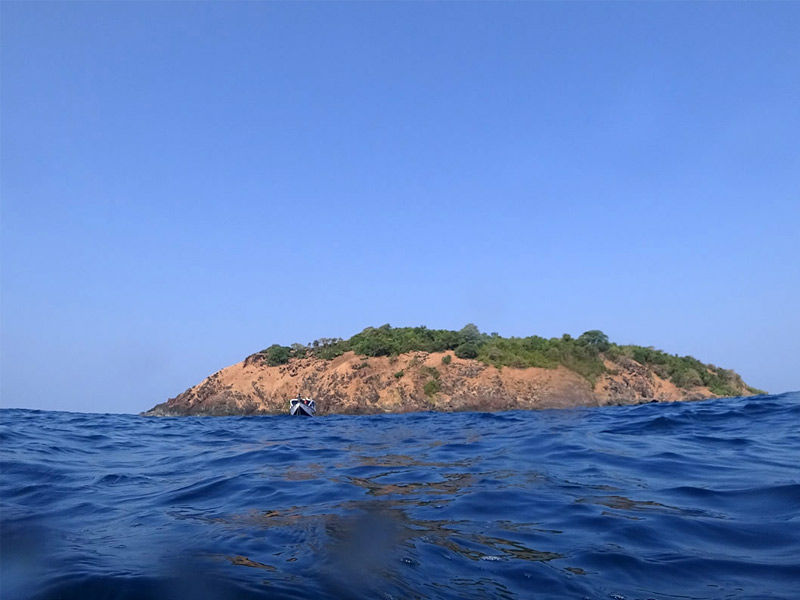 Netrani is also a fishing harbor with several fishermen on the job. The Statue Park and Murdeshwar Fort are among the other nearby sights to visit. From Murudeshwar, an exhilarating boat voyage of 70-90 minutes would take you to Netrani Island. You will have the opportunity to see a diverse range of fish life that is native to the Arabian Sea and different assortments such as Napolean Wrasse, Cobia, Stonefish, Black Tip Sharks, and Great Barracuda, Turtles, and Stingrays, among others.
This submerged venture is perfect for acknowledged jumpers of all expertise levels because it has a calming effect on your nerves. The island is also a popular site for marriage proposals and anniversaries because of its unique heart shape.