Padamchen, a little settlement on the Silk Route circuit 14 kilometres from Rongli and 4 kilometres from Zuluk, is perched on a hill slope at 8000 feet and surrounded by deep trees. Padamchen has exceptionally good weather all year, which is one of the key reasons for its appeal. If you are not used to the stinging cold and snowfall but want to see the stunning dawn, fantastic views, and meandering roads and valleys of the Silk Route circuit, staying at Padamchen might be a good option.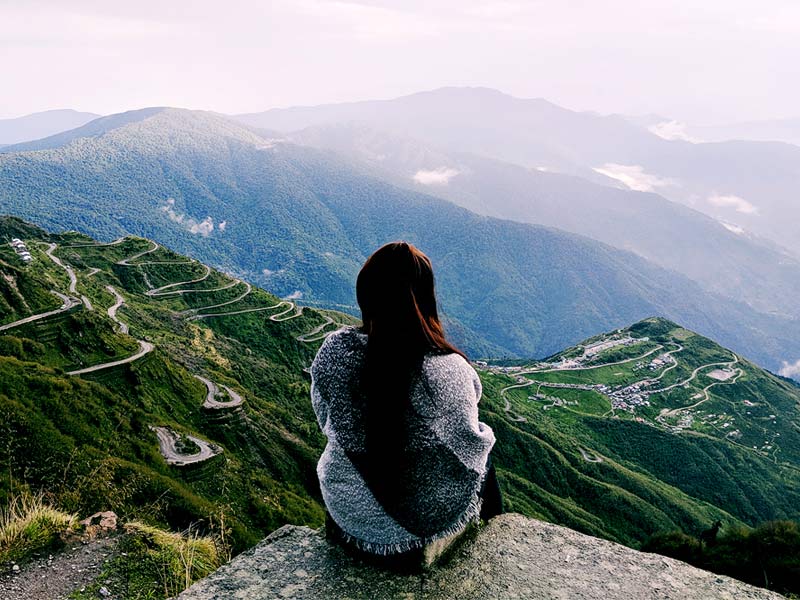 Sikkim is a state in India's northeastern region. It is bounded to the north and northeast by China's Tibet Autonomous Region, to the east by Bhutan, to the west by Nepal's Province No. 1, and the south by West Bengal. Sikkim is also close to India's Siliguri Corridor, Bangladesh. Sikkim is the least populated and second smallest state of India.
Sikkim, a portion of the Eastern Himalaya, is known for its biodiversity, encompassing alpine and subtropical temperatures and being home to Kangchenjunga, India's highest mountain and the third highest on the planet. Gangtok is the capital and largest city of Sikkim. The Khangchendzonga National Park, a UNESCO World Heritage Site, covers over 35% of the state.
Padamchen offers some of the greatest views of Sikkim's valleys and forests and the Himalayan foothills. The forests surrounding Padamchen support a diverse bird population, and bird watchers would enjoy exploring them. Padamchen also has a historic Forest Resthouse. You may observe the hardwood floors, fireplace, verandah, and wooden furniture from the lost days of the lonely Woodland Officers and Sahibs. They used to travel this route by visiting this forest resthouse.
Padamchen is a settlement nestled in the Himalayan foothills, surrounded by a bird-filled forest. A nearby waterfall and pleasant weather make this Silk Route settlement one of the ideal spots to stay before venturing into the high-altitude Nathang Valley or Kupup Lake. Padamchen, located at 7,000 feet, is magnificent in its own right. This charming community is located 8 kilometres from Zuluk and 14 kilometres from Rongli.
With its stunning scenery and meandering roads, this quaint town on the Sikkim Silk Route circuit certainly provides a welcome respite. The historic Forest Resthouse at Padamchen transports you back in time to the days of Forest Officers and Sahibs who used to walk this route.
When is the best time to visit Padamchen?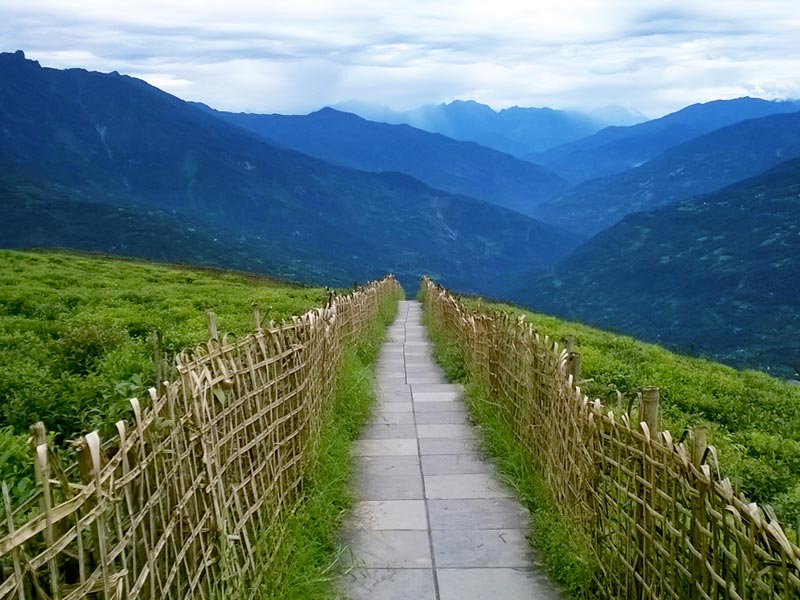 Padamchen has pleasant weather all year. The winters are not as cold as in the upper areas of the Silk Route circuit (Nathang, Lungthung, or Zuluk), and the region receives plenty of sunlight. Padamchen does not get snow; however, it does get cold in the winter (January to March). The entire region surrounding Padamchen receives abundant rainfall and is densely forested. Suppose you appreciate bird watching, butterfly viewing, amazing vistas and wonderful sparkling sub-Himalayan weather. In that case, Padamchen is a good option.
Padamchen's Nearby Attractions:
Padamchen is an ideal base for touring the other major locations on the Silk Route circuit. A day's drive from Padamchen may take you to the three-level zig-zag roads of Zuluk, the tranquil Kupup Lake, Nathang Valley, and all of the other attractions on the Old Silk Route circuit. Thambi View Point, located at 11,200 feet and offering a breathtaking view of Mt. Kanchenjungha and Lungtung Dhupidara, is about an hour's drive away after navigating the zig-zag roads.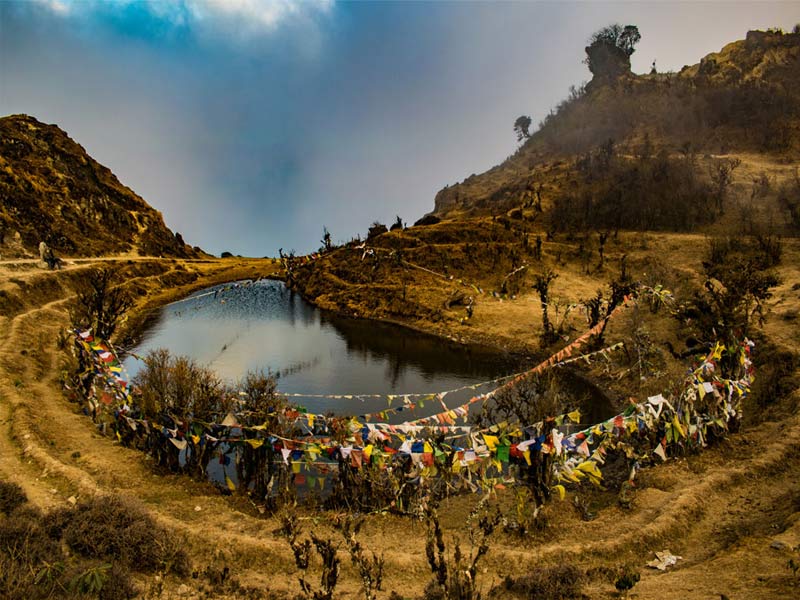 After another 30 minutes, you will arrive at the serene Kalpokhri Lake, Kupup Lake, and Adi Baba Mandir. The shape of Kupup Lake is strikingly similar to that of an elephant; therefore, it is also known as Elephant Lake. The highest golf course in the world and the Jelepla Pass are both located near Kupup Lake. Those who want to venture further afield can enjoy the breathtaking vista of Tsomgo Lake and travel to Gangtok.
Things to do in Padamchen:
Take the early morning dawn trip to Thambi View Point to view the stunning sunrise over the towering Mt. Kanchenjungha range. The zig-zag road going to Thambi View Point covers some undiscovered territory. It provides amazing views of the Eastern Himalayas.
Padamchen is around 14 kilometres from Rongli; however, you will require permits to access Padamchen (even if you are an Indian citizen) because the Indian Army guards it. You must bring proof of Indian citizenship with you to go to this location, and permits are available at the Rongli Checkpoint.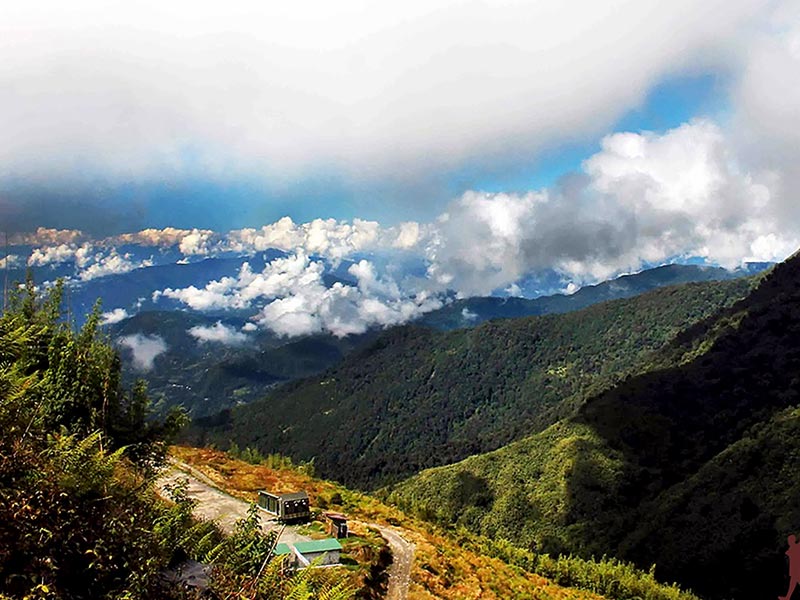 Lodging and eating facilities at Padamchen:
Padamchen features a variety of homestays. The Govt. Forest Guesthouse, on the other hand, is the greatest location to stay in Padamchen. The Guesthouse is comfortably equipped with sofas, fireplaces, wood-panelled walls, and hardwood flooring. Staying at the guesthouse will provide you with an unforgettable experience of living in the woods.
The Forest Guesthouse has recently been outfitted with tourist amenities such as hot water geysers, electricity, and a separate dining room. The food is primarily Indian and served from set menus. However, it is completely organic and locally sourced.