We all are well aware of the fact that the diverse Indonesian culture fascinates a lot of people from all over the world. And there can be so many ways to explore the varied, magnificent and diverse culture of Indonesia, and one of such ways is through its mouth-watering lavish cuisines. A meal is never just a meal in Indonesia, a country so rich in history and tradition. Every single Indonesian recipe incorporates a unique story,  traditions, and culture, resulting in a distinct cuisine that so many people all over the world enjoy.
Indonesian cuisine is based on the country's ancient recipes, which have been refined by influences from other cultures seen in India, China, the Middle East, and other places. So, this blog will give you the taste of perfect Indonesian cuisines with an insight into Indonesian culture. Keep Scrolling!
LIST OF SOME MUST-TRY INDONESIAN CUISINES
Indonesian Satay
Indonesian Satay is just a lump of delicious grilled meat on skewers over hot coals. These tender and super tasty skewers are typically served with rice cakes (ketupat) having a slathering of peanut sauce on top. It is considered a national dish that is invented by street vendors and has become one of Indonesia's most popular foods. It is virtually ubiquitous and extremely addictive.
Beef Rendang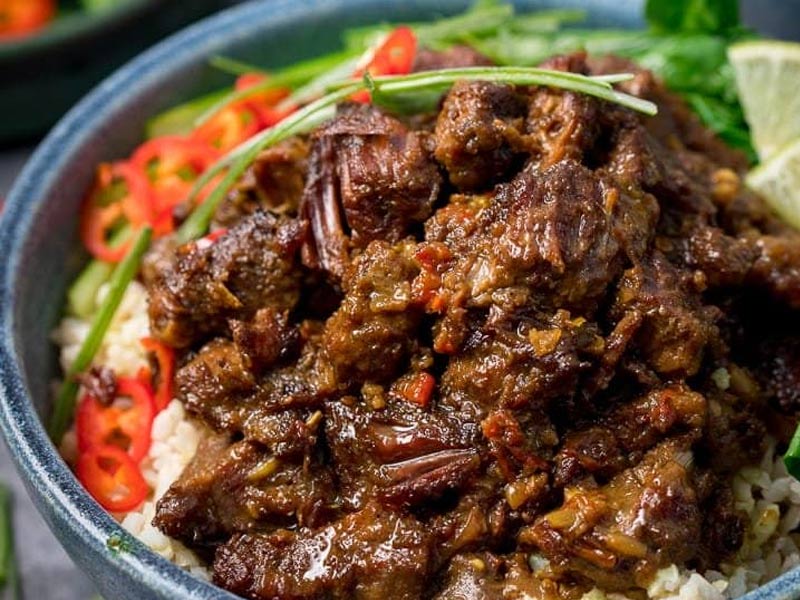 The origin of this delicious dish is from Padang, Sumatra. Padang cuisine is famous for its spicy and flavorful dishes. Beef Rendang is a dish that you must try. It is just like the Beef Curry but it is without the broth. We appreciate this dish because it takes a long time to cook in order to get the beef tender. Try this Padang delight and tell the rest of the world how delicious this Indonesian cuisine is.
Fried Rice
This dish, I believe, requires no further explanation. The popularity of Indonesian Fried Rice has swept the globe. Don't you think that's a good point? Fried rice is the most versatile dish, and almost everyone has tried it at some point in their lives. You can combine it with vegetables, chicken, beef, seafood, or whatever else comes to mind. The use of a sweet, thick soy sauce known as keycap, along with acar, pickled cucumber, and carrots, distinguishes Indonesian Fried Rice. The national Indonesian cuisine is Nasi Goreng (fried rice).
Nasi Rawon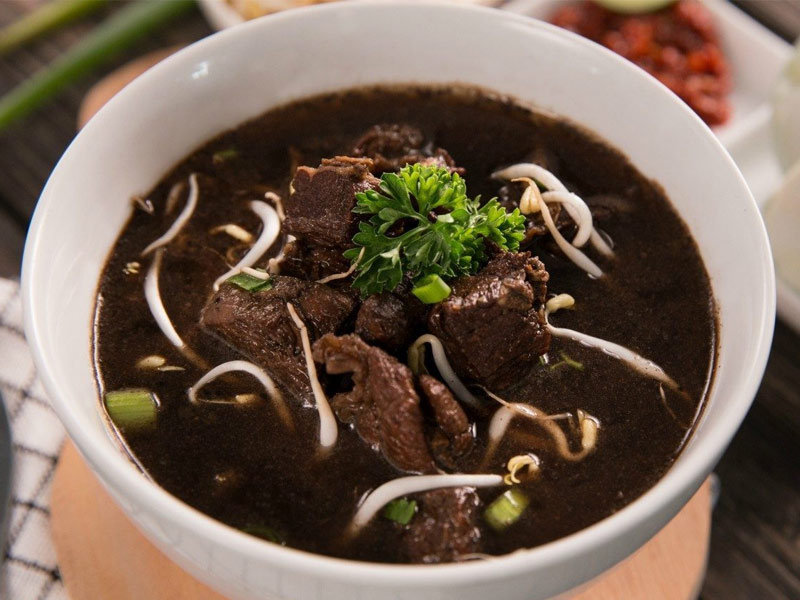 East Java's signature dish is Nasi Rawon, a beef stew. Rawon has a nutty flavour and a deep, black colour as a result of the use of keluak nuts. It's flavorful. This dish goes well with rice. Delicious and filling all at once. Determine this for yourself.
Siomay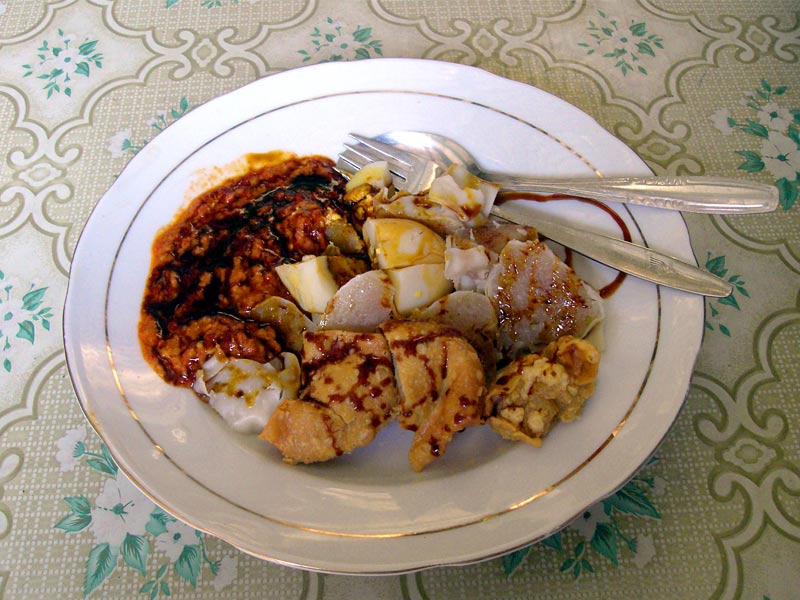 As you may or may not be aware, the majority of Indonesian street food includes peanut sauce. Indonesia's version of dim sum is this dish called Siomay. Steamed fish dumplings make up this dish. The dish includes steamed potatoes, cabbage, an egg, and peanut sauce. If you wish to keep all of it local, then the best place to get Siomay is from the bicycle vendors, who used to ride their bikes with a large steamer on the back. The best of what you can get from a street vendor.
Sop Buntut
The title is self-explanatory. It's a soup with oxtail as the main ingredient. However, it is widely assumed that the oxtail soup was in London in the seventeenth century, but this Indonesian version of oxtail soup remains popular to this day. Many people enjoy this healthy and hearty soup. Oxtail is typically fried or barbecued and served with a soup base. Very tasty and delicious.
Indomie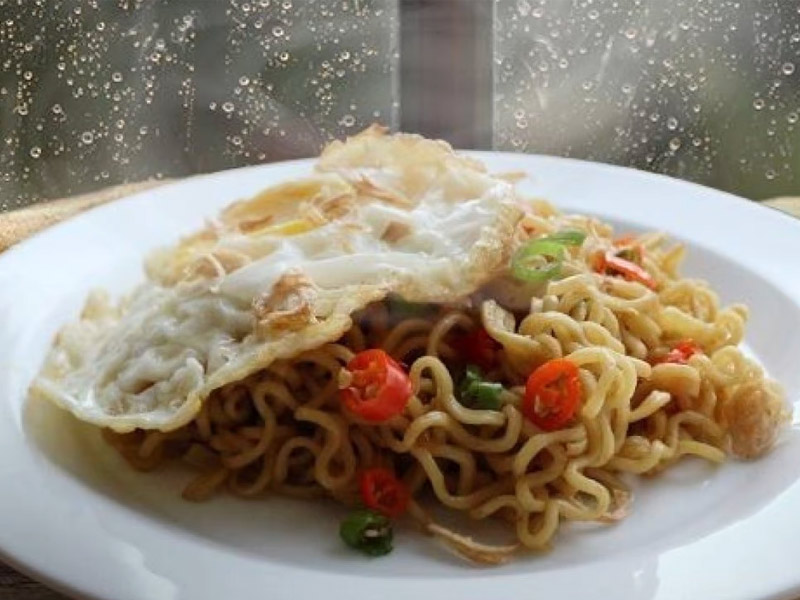 This product is so sinful that we can't help but succumb to its allure. You get a quick and satisfying snack for around 25 cents per pack. It's our own Indonesian Instant Noodles! You'll have more than enough options with so many flavours to choose from. I'm not aware of anyone who has tried every single flavour available. There are so many flavours to choose from that you'd think they'd stop inventing them. Give it a try and let us know if Indonesian Indomie is superior to others.
Nasi Uduk
This fragrant dish is also a national Indonesian Cuisine. Rice cooked in coconut milk is the centerpiece of the meal. It's very similar to Nasi Lemak from Malaysia, our neighboring country. The major difference is that nasi uduk is typically served with tempe or soybean cake, fried onion, sambal, fried chicken, shredded omelet, anchovies, and emping (melinjo nutcrackers). You can't make Nasi Uduk without sambal. This dish is well-liked by lunchtime diners.
Sweet Martabak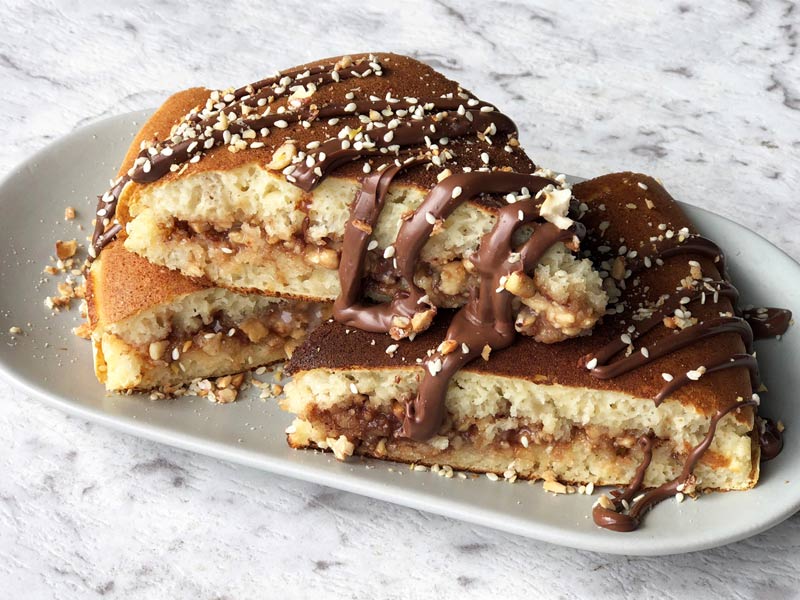 Sweet Martabak from Indonesia is one of our favorite desserts. It's a pancake with an Indonesian twist. It's worth noting that Martabak is only available in the evenings. You can mix chocolate, cheese, and peanut fillings.
Pempek
Pempek, also known as empek-empek, is a traditional Indonesian dish made of fish and tapioca. In South Sumatra, it's a Palembang specialty. Pempek is available in so many sizes and shapes. The most common is known as kapal selam (submarine), and it has an egg in the center. Pempek is dusted with shrimp of powder and is then served with chili, cuka, sugar, and a dark dipping sauce made of vinegar.