Indian restaurants in New York City have been around for over a century, with Times Square being an early hotspot. The Taj Mahal Hindu Indian Restaurant, founded in 1918 at 242 West 42nd Street when many South Asian students, businesspeople, dock workers, and sailors lived in nearby boarding houses, was perhaps the most famous example. It was lauded in the New York Times.
Then there were Indian restaurant campuses in places like Jackson Heights, Murray Hill, Jersey City, Utopia Parkway, and Edison, New Jersey, with sit-down restaurants serving regional specialties. We eventually had restaurants dedicated to specific dishes like biryani and dosas, regional cuisine, and Mumbai street snacks. Finally, a new type of luxury restaurant emerged, offering more creative and nuanced takes on classic dishes and strong cocktails, attracting a whole new generation of diners.
Here we bring you 10 best Indian Restaurants in New York to have that same old "Desi Taste"
USHA FOODS
In Floral Park, Queens, a vegetarian Indian food haven specializing in fast-casual bites, savory snacks, and colorful desserts. Usha is one of the best vegetarian restaurants in town, with generous portions, combo platters that let you try a little bit of everything, and a menu that proves you don't need proteins to have one of the NYC's most satisfying meals. It's just down the road from Patel Brothers, one of our favorite Indian grocery stores for hard-to-find pantry staples.
DHAMAKA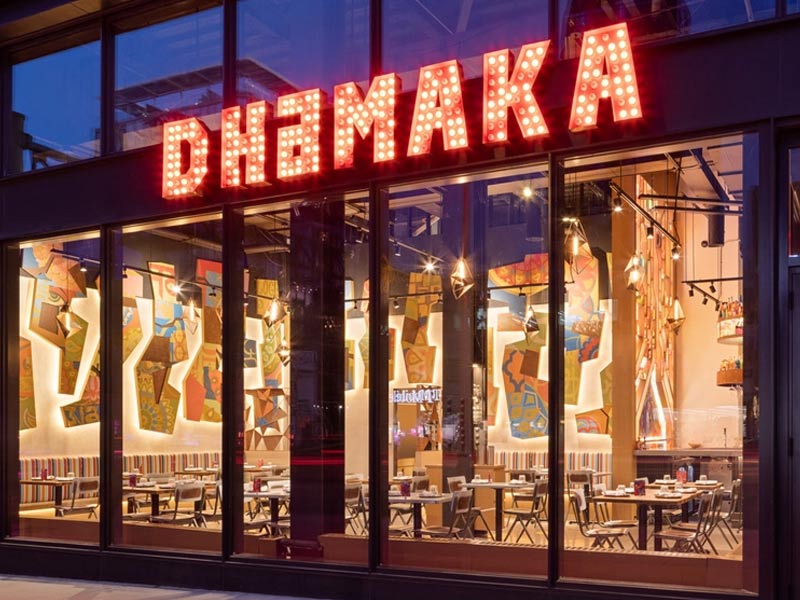 Dhamaka, a brilliant new addition to Manhattan's culinary scene in mid-2021, serves cuisine from "the other side of India," regions and cuisines less familiar to the American palate. From the wonderfully spicy and texturally diverse menu, standouts include excellent street-food-inspired snacks, homemade bread, and goat biryani.
The restaurant's name translates to "a place where people hang out," which is the team's goal behind this Queens establishment. In the eclectic space lined with collages of Indian newspapers, indulge in traditional dishes like buttered chicken on the bone or Lucknowi dum biryani.
PUNJABI GROCERY AND DELI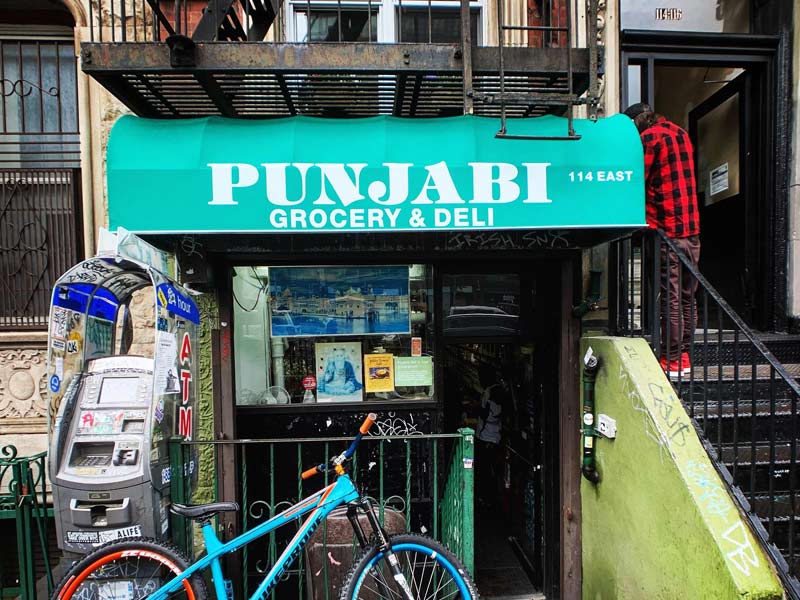 This isn't one to save for Instagram. For a cheap meal, the large plate of rice comes with your choice of three authentic Indian vegetarian options, such as chana masala (chickpeas) and saag paneer (creamed spinach).
This no-frills-yet-popular restaurant is located in Jackson Heights. It serves some of the best Indian food in New York City. The menu consists primarily of northern-inspired traditional Indian dishes. Choose from the biryanis (mixed rice dishes) or the chole bhature (a combination of chana masala (curried chickpeas) and puri (deep-fried bread).
GUPSHUP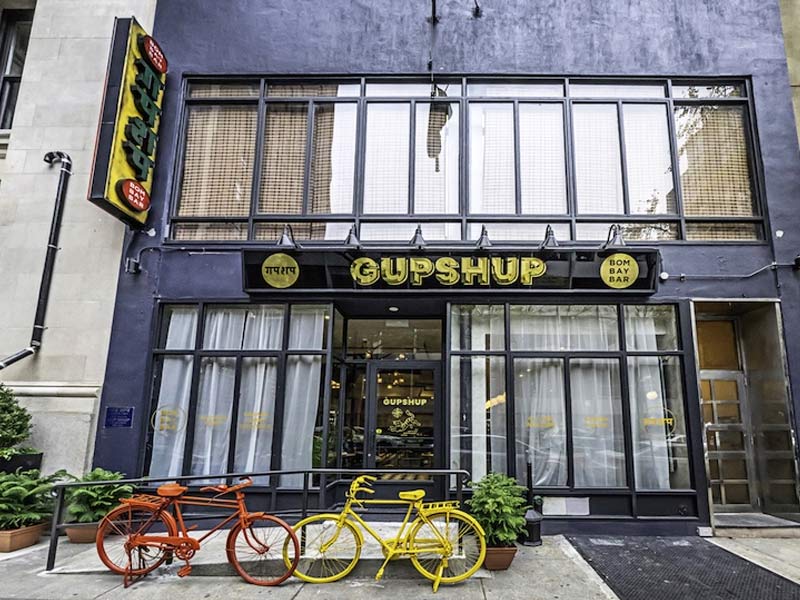 Vegans, pescatarians, and meat-eaters will all appreciate the menu options at this Union Square cafe, whose name translates as "conversation." You'll have plenty to talk about as you dig into their more unique takes on Bombay-inspired flavors like crispy okra and guacamole or Gupshup fried chicken and more traditional options like curried chickpeas and black dahl. Oh, and the butter naan is out of this world.
DOSA ROYALE
This vibrant restaurant, a South Indian staple in Fort Greene, is a must-visit. Various appetizers and curries are high in vegetables, and feature cheffy takes on traditional Indian fare. Butter chicken is grilled before being slathered in sauce, and fried eggs can be added to one of five different kinds of rice. Of course, the namesake dish, dosas, is excellent, large enough to stretch across the plate, and served with various toppings. Lunchtime is the best time to go for great deals!
JACKSON'S DINER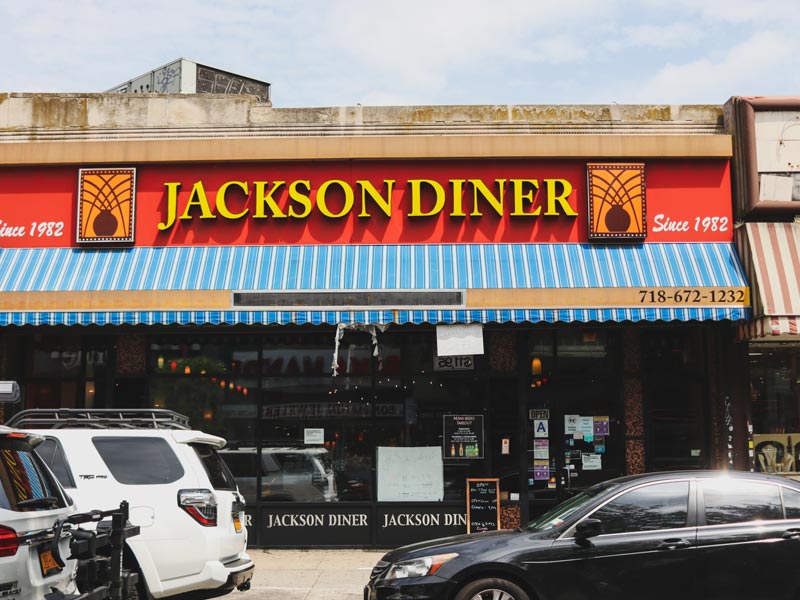 This meet-and-eat hub for New York's Indian ex-pat community offers more culinary options than the average diner. While watching Hindi soaps on Zee TV, eat samosa chat topped with chickpeas, yogurt, onion, tomato, and a sweet-spicy combination of tamarind and mint chutneys. Murgh tikka Makhan Wala, aka butter chicken (tender pieces of marinated chicken simmered in curry and cream), is fiery and flavorful—ask for mild if you're not immune to hot chilies.
AWADH
At this uptown regionally focused eatery named after the eponymous state, an ancient Hindu community, chef/owner Gaurav Anand (Moti Mahal Delux) focuses on dum pukht, a slow-cooking northern tradition. Tuck into decadent Awadhi specialties like galouti kebab, lamb patties inspired by a dish traditionally served to royalty, and malai lobster masala, a succulent take on grilled lobster, served with a creamy saffron sauce, in the bilevel, dark-wood space.
DELHI HEIGHTS 
Delhi Heights is not only the best Indian restaurant in Jackson Heights, but it also serves excellent Nepalese momos. In that sense, it's similar to your admirable friend who goes to the gym every day but also stays out late every weekend. We recommend the Punjabi-style mustard greens, thin garlicky naan, and spicy lamb bhuna from the Indian menu. However, no meal at Delhi Heights is complete without beef and chive momos serving. These steamed dumplings are, without a doubt, among the best in the neighborhood. And, given the other Nepalese dumpling options in Jackson Heights, that's quite impressive.