Halebidu is a town in Hassan District, Karnataka, India. It means "ancient capital, city, encampment" or "ruined city." In the 11th century CE, Halebidu, also known as Dorasamudra or Dwarasamudra, became the regal seat of the Hoysala Empire. It is frequently referred to as Halebeedu or Halebid as the phonetic equivalent in modern literature, a local name after it was devastated and deserted after being ravaged and robbed twice by the Delhi Sultanate's soldiers in the 14th century.
Some of the outstanding examples of Hindu and Jain temples of Hoysala architecture may be seen in Halebidu. These reflect the diversity of Hindu artwork traditions–Shiva, Vishnu, Devi, and Vedic deities–merged into a single temple complex, presented with a variety of regional heritages, as well as inscriptions in South and North Indian scripts. Jaina reliefs can be seen on Hindu temple panels. Within its mantapa, the Jaina artwork incorporates the various Tirthankaras as well as a Saraswati. The magnificent Hoysalesvara temple, Kedareshwara temple, Jaina Basadi temples, and the Hulikere step well are among the most noteworthy Halebidu landmarks (kalyani)
Location of Halebidu
Hassan (30 km), Mysore (150 km), and Mangalore are all accessible by road and rail from Halebidu (184 km). Belur, another location noted for its finely carved Hoysala period temples, is around 15 kilometres away. Halebidu is located east of the Western Ghats, in a valley. Low-lying mountains, stones, and seasonal rivers surround it. Northern Karnataka, western Andhra Pradesh, and northern Tamil Nadu are all strongly connected to this valley.
History of Halebidu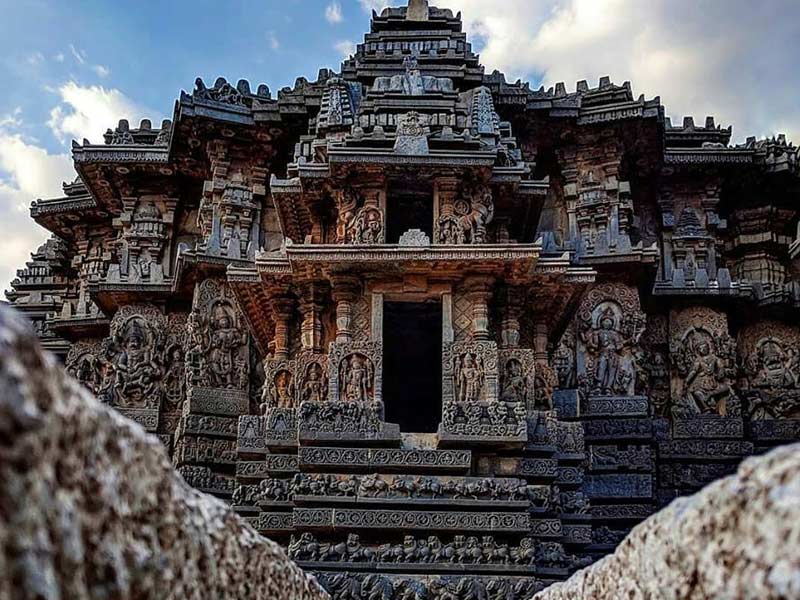 The Hoysala dynasty, whose history is unknown, rose to dominance in this region during the 10th and 14th centuries. They were descended from the Krishna-Baladeva-roots and Maharashtra's Yadavas, according to their own inscriptions from the 11th and 12th centuries. The early Hoysala monarchs rebuilt Halebidu beside a big reservoir with the help of their administrators, merchants, and artists. The Dorasamudra reservoir was significantly dug and extended by them. By the 12th century, major and ornately carved Hindu and Jain temples had been completed.
Fort walls surrounded the city, forming a rounded square-like region with an average span of 2.25 kilometres. There were four big water reservoirs on the premises, as well as several smaller public water tanks. Near the Dorasamudra water reservoir, the city life, important temples, and roadways were focused. There were several dozen temples in the city, but only a limited number have remained. The largest, most sophisticated in construction and artwork were Hoysaleswara (twin temple), Jain Basadi (three temples), and Kedareshvara (one temple), while the rest were simpler.
The Hoysala Palace was located to the west of the great Hindu and Jain temples. This palace extended all the way to the Benne Gudda in the south (lit., butter hill). The palace is largely destroyed, with sections of it buried behind mounds and remnants discovered near the Benne Gudda.
Nearby places to Halebidu
Belur's Chennakeshava Temple is 16 kilometres from Halebidu. Belur was the Hoysalas' initial capital. The Chennakeshava temple is the greatest pre-14th century Hindu temple complex that has survived into the current era in Karnataka.
Bucesvara Temple, Koravangala Is a twin temple in Hassan city that combines pre-Hoysala Hindu architecture with artwork from all three major Hindu traditions; located approximately 35 kilometres (22 miles) southeast of Halebidu.
Mosale's Nageshvara-Chennakeshava Temple Complex, about 20 kilometres (12 miles) northeast of Halebidu, is another large temple complex that combines Shaivism and Vaishnavism traditions.
Veera Narayana Temple, Belavadi, Is a huge three-sanctum temple complex about 25 km from Belur, with stunning carvings, a restored Vesara superstructure, and a galaxy of artwork from all Hindu traditions; around 12 kilometres (7.5 miles) north of Halebidu.
How to reach Halebidu
By Air
The nearest domestic airport to Halebid is Mysore Airport, which is over three hours away by car. Kempegowda International Airport in Bangalore is the nearest international airport. It is about a four-hour journey from Halebid. Flights from all major national and international destinations depart from here on a regular basis. Both airports include taxi stands where you may get a taxi. Mangalore International Airport (IXE) is the nearest airport, located 125 kilometres from Halebidu.
By Train 
Mysore, Mangalore, and Hassan are the closest railway stations to Halebid. These stations are linked to all the country's main cities. Taxis may be hired from any of these cities and will transport you directly to Halebid.
By Road 
There are several state and private buses that travel from Bengaluru to Halebid. You may catch the bus from any of Bengaluru's bus stops, including Malleswaram, JP Circle, Majestic Bus Stand, and others. From here, it takes around 7 hours to go to Halebid. You may either take a cab or rent a car to go to Halebid. The best method to get there is via car, which takes around 5 hours. If you are staying in Hassan, buses to/from Halebid run every ten or fifteen minutes.