Rakhigarh is one of the five largest townships of the Harappan civilization on the Indian subcontinent, according to history. Harappa, Mohenjodaro, and Ganveriwala in Pakistan, and Dholavira (Gujrat) in India, are the other four.
The Rakhigarhi site is distinguished by five interconnected mounds spread across a vast area. Two of the five mounds were densely populated. Shri Amarendra Nath of the Archeological Survey of India excavated this site.
The archaeological excavations revealed the mature Harappan phase, which was represented by a planned township with mud-brick and burnt-brick houses and a proper drainage system. Redware represented the ceramic industry, which included dish-on-stand, vase, jar, bowl, beaker, perforated jar, goblet, and handis.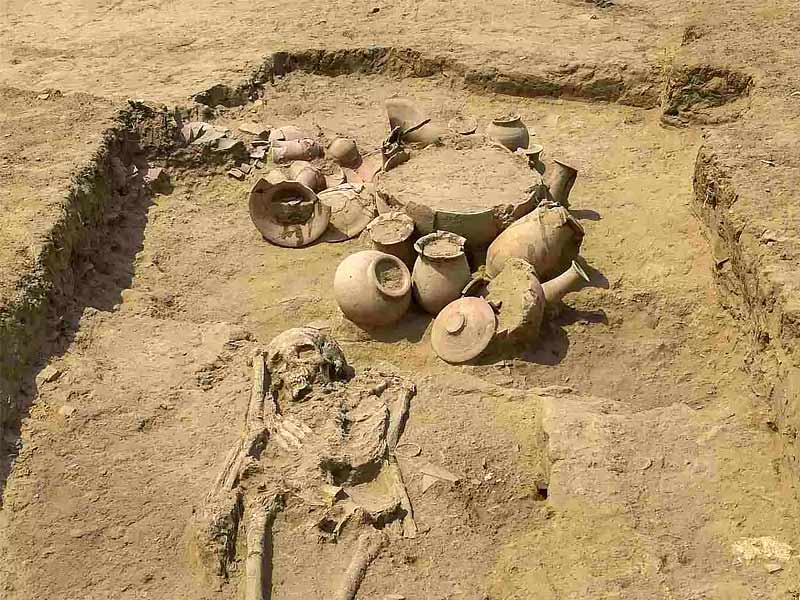 Animal sacrificial pits lined with mud brick and triangular and circular fire alters on the mud floor have also been excavated, indicating the Harappan ritual system. An important find from this site is a cylindrical seal with five Harappan characters on one side and an alligator symbol on the other.
Other antiquities included blades, terracotta and shell bangles, semiprecious stone beads, terracotta, shell, and copper objects, animal figurines, terracotta toy cart frame and wheel, and bone points, and inscribed steatite seals and sealings.
The excavations have yielded a few extended burials, all of which date from a very late period, possibly the medieval period.
Biggest Harrapan site Archaeologists established
Rakhigarhi is the largest Harappan civilization site after the discovery of two more mounds in January at the Harappan site of Rakhigarhi in Hisar district, Haryana. Until now, Harappan experts argued that Mohenjo-Daro in Pakistan was the largest of the 2,000 Harappan sites known to exist in India, Pakistan, and Afghanistan. Mohenjo-archaeological Daro's remains cover approximately 300 hectares.
The first to fifth largest Harappan sites are Mohenjo-Daro, Harappa, and Ganweriwala in Pakistan, and Rakhigarhi and Dholavira in India.
Since January, the Deccan College team has excavated five trenches on the slope of mound four, as well as a seventh trench in the burial mound.
The excavation in mound four yielded a plethora of artifacts, including a seal and a potsherd inscribed with the Harappan script; potsherds painted with concentric circles, fish-net designs, wavy patterns, floral designs, and geometric designs; terracotta animal figurines, cakes, hopscotch, and shell bangles, all of which date from the Mature Harappan period.
The five trenches uncovered residential rooms, a bathroom with a soaking jar, drainages, a hearth, a platform, and other features… Mud bricks were used to construct the residential rooms. According to Kanti Pawar, assistant professor of archaeology at Deccan College, the complex revealed different structural phases.
A large portion of the Harappan site at Rakhigarhi is buried beneath the modern-day village, with hundreds of houses built on the archaeological remains. The villagers' main source of income is wheat and mustard cultivation, as well as buffalo rearing.
Cow dung cakes are a thriving industry. Despite the Archaeological Survey of India fencing the mounds, encroachment is rampant. From 1997 to 2000, Amarendra Nath of the ASI excavated the Rakhigarhi site.
Recent discoveries
The Archaeological Survey of India (ASI) announced the completion of the three-month-long phase of excavations at the 5,000-year-old Harappan site of Rakhigarhi in Haryana's Hisar district, revealing the structure of some houses, lanes, and drainage system, and what could possibly be a jewelry-making unit.
Digging at three of the seven mounds has also revealed pieces of copper and gold jewelry, terracotta toys, and thousands of earthen pots and seals.
The objective of this phase of excavation is to make the Rakhigarhi archaeological site available to the general public by exposing structural remains and maintaining them for future viewing, as well as providing visitors with amenities. ASI's Additional Director-General, Ajay Yadav, made the statement.
Rakhigarhi is one of five iconic sites announced by Union Finance Minister Nirmala Sitharaman during her Budget Speech in February 2020. Other locations include Hastinapur in Uttar Pradesh, Sivasagar in Assam, Dholavira in Gujarat, and Adichanallur in Tamil Nadu.
The ASI excavated the site for the first time between 1998 and 2001. Later, from 2013 to 2016, Deccan College in Pune excavated the site.
Manjul also stated that this is the first time excavations on Mound No. 3 have revealed "an aristocratic settlement," but that additional rounds of excavation will be required to determine the structure and nature of this elite settlement.
In previous excavations, Mound 7 yielded approximately 60 burials.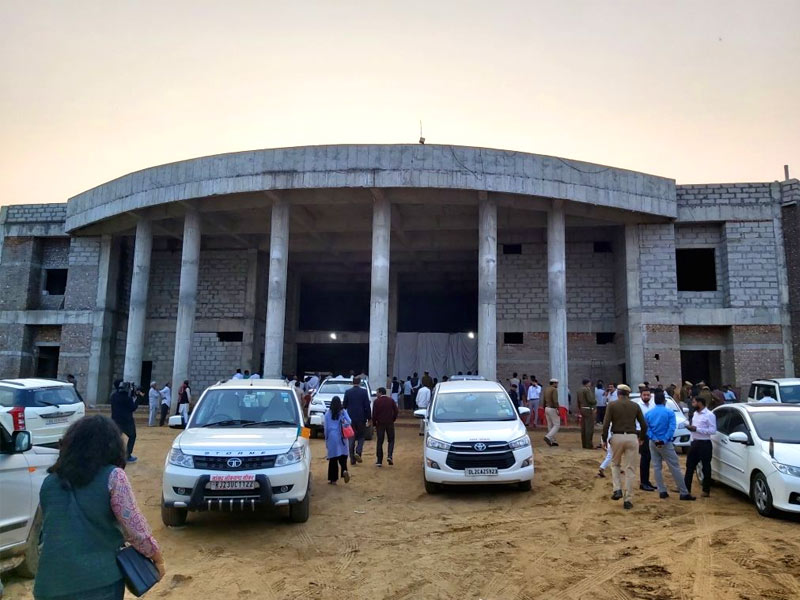 During this field season, two female skeletons were discovered buried with a plethora of pottery and adorned jewelry such as jasper, agate beads, and shell bangles. According to officials, DNA samples from the skeletons have been sent for further analysis.
The current round of excavation will end in September 2022, and the new field season will begin in September 2022, according to the ASI.
Furthermore, an agreement is being negotiated between the ASI and the Haryana government under which antiquities from Rakhigarhi will be displayed at the state's adjacent under-construction museum, which will cost Rs 23 crore.