Kufri is located in the Himalayan range, 20 kilometers from Shimla. It was developed in 1819 by the British and has grown in popularity in recent decades. This is a popular destination for hikers. Treks to Fagu, Shimla, Manali, and Rewalsar depart from here. Kufri, along with Chail and Shimla, comprises Himachal Pradesh's famous Golden Triangle. In February, a yearly winter sports festival is held here, a big draw for tourists. Aside from trekking, other adventure sports such as tobogganing are available (sliding down the hill on a sled). Kufri also has the state's oldest skiing hills.
Due to its proximity to Shimla, Kufri offers a more polished experience. The many Kufri tourism attractions will undoubtedly extend your Himachal vacation while generating great recollections. Here's how to spend entire weekends in Kufri.
Here is the list of 10 best places to visit in Kufri 
1. Mahasu Peak
The pinnacle point of Mahasu Peak, located in the heart of Kufri and 13 kilometers from Shimla, provides a spectacular view of the Badrinath and Kedarnath ranges and is one of the greatest sites to visit in Kufri. As one of the nicest sites to visit in Kufri, you can see the magnificent and quaint landscape of the entire region from the peak. From dawn to dusk, you can lose yourself in the splendor of Mahasu Peak.
Shimla is thirteen kilometers away from Mahasu Peak.

Entry Fee: 650 for a ride on a horse and mule.
2. Green Valley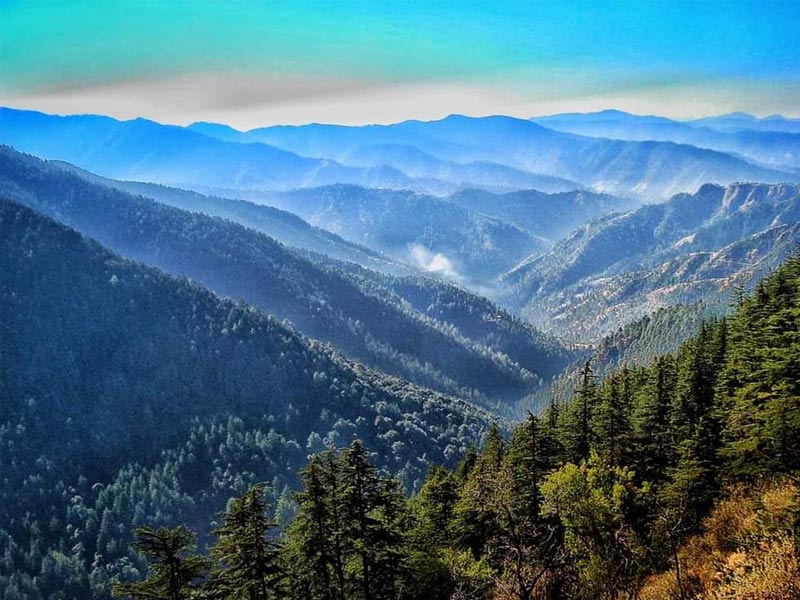 Thanks to its free admission, the Green Valley is one of the nicest sites to visit in Kufri. This luxurious valley is trussed with pines and cedars. You would be met with grazing Yaks and beautiful plantations if you entered between the hours of 6:00 AM and 6:30 PM. This Green Valley, according to its name, is the perfect remedy to quench your wanderlust. There are also lots of homestays and cottages in Kufri positioned at this spot to give you a distinct sensation of living amid nature's freshness!
6:00 a.m. to 6:30 p.m.

Entry Fee: None.
3. Rupin Pass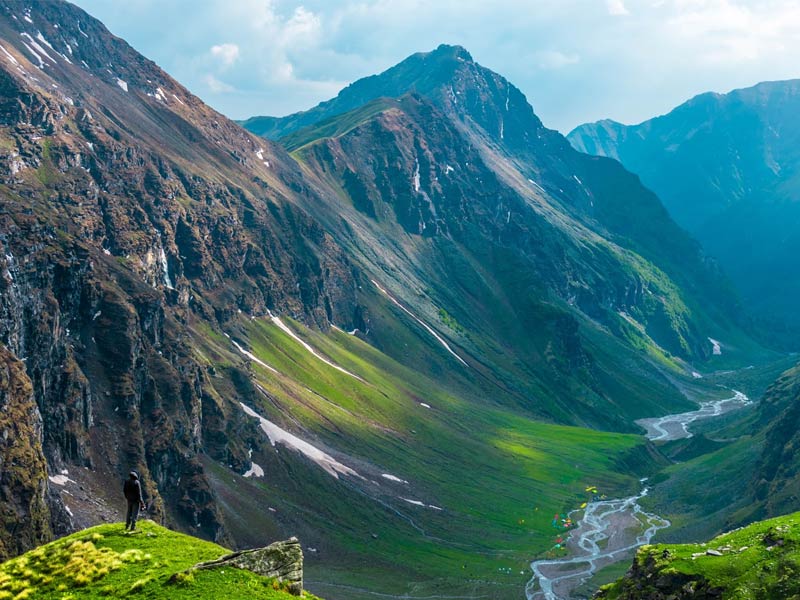 The Rupin Pass near Dehradun provides travelers with a traditional trekking experience. The Rupin Pass, which runs from Dhaula in Uttarakhand to Sangla in Himachal Pradesh, is a trekker's paradise, especially during the winter months of January and December in Kufri. The Rupin Pass, which spans a large vertical distance and is home to various biotic species, dazzles travelers. The waterfalls, rivers, and meadows of the Rupin Pass are spectacular to see while walking. The following are a few notable locations that merit a visit: Kinnaur Temple, Kinner Kailash, Jhaka Village
Trekking Route: Beginning in Dhaula, Dehradun, and ending at Sangla, Himachal Pradesh.

Trekker's Preference

Entry Fee: None
4. Chini Bangla
The Chini Bangla, known for its architectural beauty, is an essential part of Kufri sightseeing. The Chini Bangla, built in the British style, attracts people from India and abroad. It's a lovely vista as the lawn extends in front of the house. The mountains and hills in the background make the Chini Bangla a mystical spot to visit. with their green leaves and vibrant colors
Place: 20 kms from Shimla, HP

10:00 a.m. – 6:00 p.m.

The cost of admission varies based on the package.
5. Retreat Building
The Retreat Building serves as the President of India's official residence. The president visits here for two weeks during the summers to do official business, making it one of the majestic and royal sites to visit in Kufri. The structure was constructed in 1850, and its architecture has received widespread acclaim over the years. This building's outstanding feature is entirely made of wood and has a dhajji wall construction.
The Retreat Building is located at Charabra, Himachal Pradesh 171012.

9:00 a.m. – 4:00 p.m.

Entry Fee: N/A
6. Kufri Main bazaar
Hey, here's one for all of the town's shoppers! The main bazaar in Kufri is a place where you can find all the needed and general things. This may not be the case on a weekend visit, but on a long vacation, would you rather rely on your hotel or look forward to a market offering things at low prices? As a result, shopaholics and those with a longer vacation can consider Kufri's top sites to visit. The main bazar's many shops include clothing, electronics, footwear, gift shops, and great street food vendors.
Kufri, Shimla, Himachal Pradesh 171012.

9:00 a.m. – 8:00 p.m.

There is no entry fee.
7. Kufri Zoo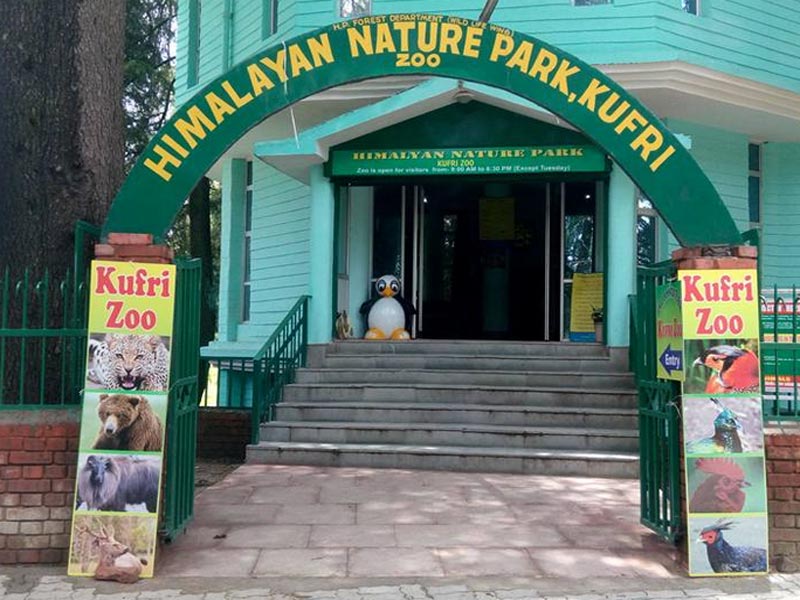 This is another region where you can get away from the metropolis. The zoo is home to various wildlife, including pheasants, patient kites, snow leopards, and uncommon antelopes. It is one of the most spectacular sites to visit in Kufri because it is home to many birds. Thus birdwatchers will adore this sanctuary. The well-maintained zoo will make you lose track of time as you watch the lovely nature unfold in front of your eyes. It's that incredible!
Kufri is located in Himachal Pradesh, 171012.

10:00 a.m. – 6:00 p.m.

Entry Fee: 25Rs
8. Jakhu Temple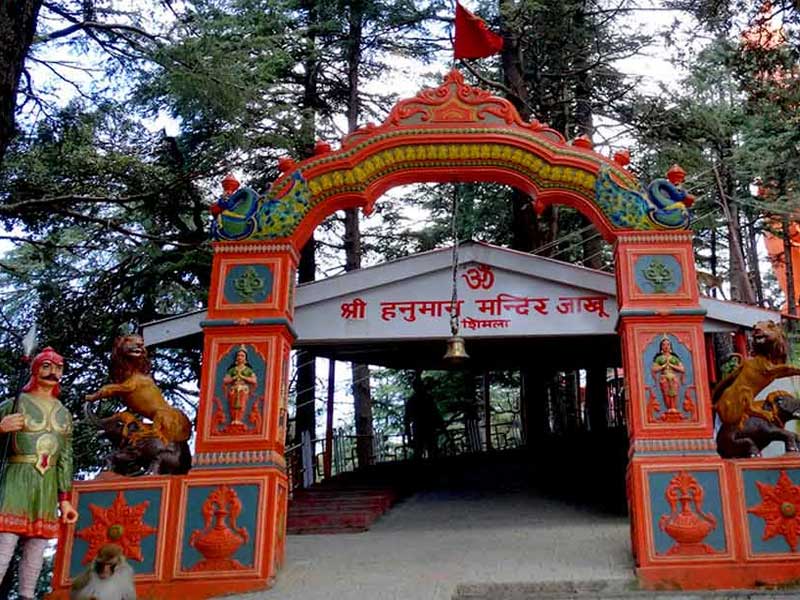 The Jakhu Temple, with its frolicking spirituality in every element, is well-known among spiritually thirsty visitors. The temple contains a statue of the deity Hanuman, renowned for being one of the world's tallest statues. People come to this temple for calm and self-discovery.
Location: Jakhu Hill's summit

8:00 a.m. – 1:00 p.m. and 3:00 p.m. – 6:00 p.m.

Entry Fee: None
9. Fagu
The Fagu, dripping with unfathomable beauty, has earned a coveted status on the list of must-see places in Kufri throughout the summer Fagu, with its evergreens and fog caressing the landscape, offers a delightful vacation and is one of Kufri's most lovely tourist spots. The fascinating scenery, which stretches to an altitude of 2,450 m, makes your heart pound with thrill and astonishment. You would feel pleasure when the cool breeze tickled your face and smoothed your hair.
Thirteen kilometers above Shimla

Entry Fee: None
10. Indra National Park
This memorial site is more than simply a tourist attraction. It was named after our late Prime Minister, Mrs. Indira Gandhi, who came to the area to sign the Shimla Agreement. You'd be astonished to learn that this is one of the most popular Kufri tourist attractions. Set foot in the enticing green park and enjoy rounds of gambling and ice cream parlors.
9:00 a.m. – 6:00 p.m.

Entry Fee: Rs10 for adults and Rs5 for children.