There are forts and castles all over the world where you can fulfill your desire to feel like a monarch for those who dream of great battles, vanished kingdoms, forgotten castles, kings, and queens.
Keep this collection of stunning castles and forts converted into hotels nearby for the next time you want to escape to a secluded turret in the sky.
These castles and forts are architectural wonders with a few cool features like infinity pools, cutting-edge spas, and plush bedding.
Thornbury Castle, Gloucestershire, England
When Edward Stafford, the Duke of Buckingham, sought to use Thornbury as a platform to flaunt his money and ambition, King Henry VIII did not take it lightly. The king bought the castle to use as his getaway soon after Stafford was found guilty of treason.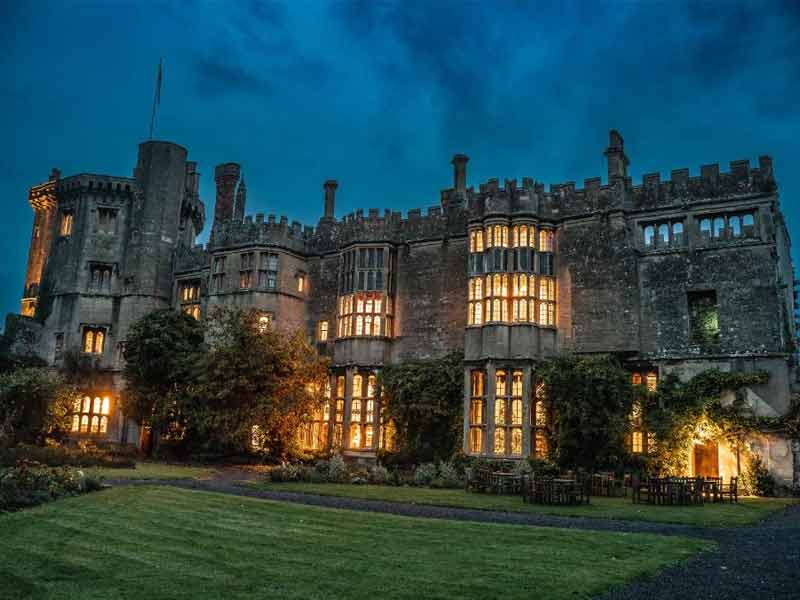 The Tudor castle, a Relais & Chateaux hotel in Gloucestershire, was constructed in 1511 and sits on a sprawling 15-acre site. Reserve the King Henry suite for a more regal experience. Discover two elegant reinterpretations of traditional Tudor gardens in the Privy Garden and Labyrinth.
Fairmont Frontenac, Quebec, Canada
The chateau was built by the head of the Canadian Pacific Railway in 1893 to entice the world's elite to Quebec. He wanted it to become an iconic structure, and it did. Currently, the hotel Frontenac Quebec is the one that receives the most photos.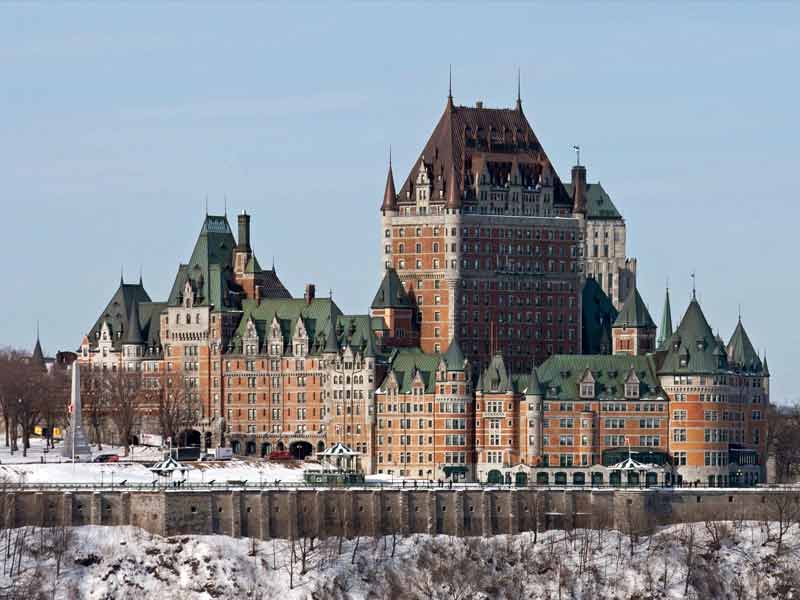 The hotel has a lot of anecdotes associated with it, ranging from the Prohibition era when Americans visited through World War 2 when Winston Churchill and Franklin D. Roosevelt developed a strategy for Allied campaigns. This Châteauesque hotel, which is now a Fairmont property, combines Gothic-Revival and Beaux-Arts design. This enormous 611-room hotel features a spa, several dining options, and views of the St. Lawrence River and the Old Town of the city.
Manoir de Lebioles, Spa, Belgium
The Manoir de Lebioles in Belgium embodies the fascination with the Palace of Versailles' architecture that originated in France. Even while it is not a little Versailles of the Ardennes in terms of scale, the lovely 18th-century hotel qualifies in terms of architecture.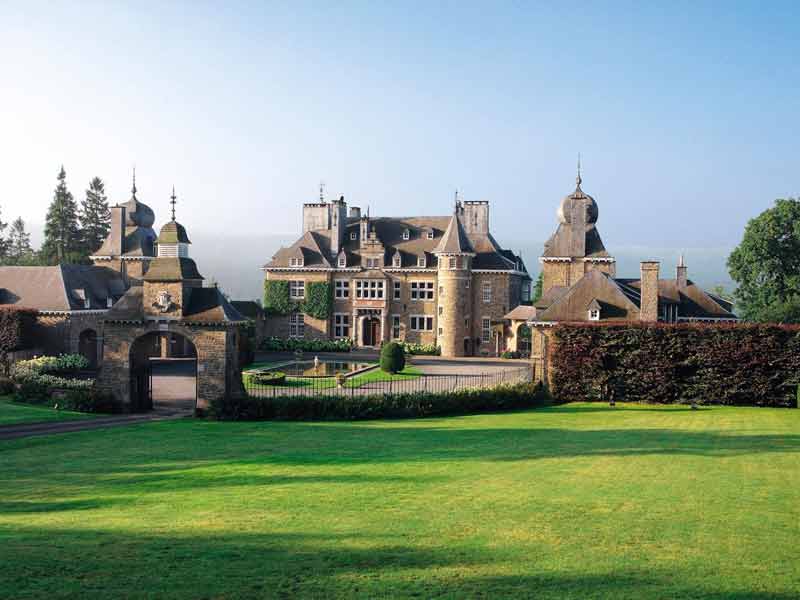 The castle is a completely genuine work of art that combines traditional Renaissance features like columns, pilasters, pediments, arches, and stringcourses with cutting-edge modern amenities. For holistic health treatments, visit the hotel's spa, which incorporates earth, water, air, and fire into its procedures.
Alila, Bishangarh, India
This 233-year-old light ochre castle emerges from a single granite rock from the Aravallis, the world's oldest mountain range. It's one of those high places where you can look down on the village's modest homes and begin to feel regal. The larger rooms have been converted into suites, the Jarokha windows have been made into a seating area, and the bastions have been transformed into opulent baths inside suites.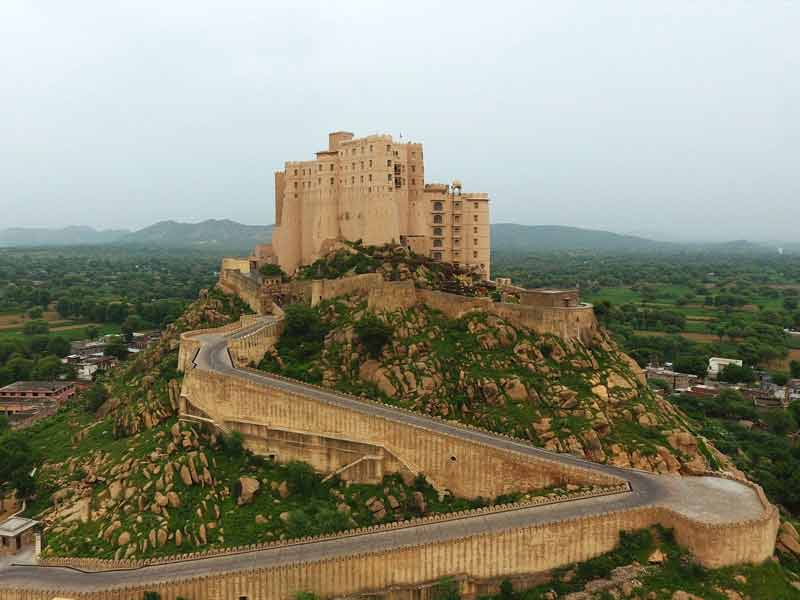 The amenities are found in the tiered lookouts and windowless hallways that are dotted with boulders. You can read a book in the war strategy room, where coups have been covertly planned, or you can withdraw into the slick darkness of the bar that was formerly used to address the soldiers at the start of the war. It is a classic Hyatt and Alila building.
Castello Di Vicarello, Maremma, Italy
This is for those who want to escape to rolling hills and olive trees while yet enjoying modern conveniences. The 12th-century castle is built in the traditional Italian rural style with exposed stone and brick walls, arched entrances, and timber roofs.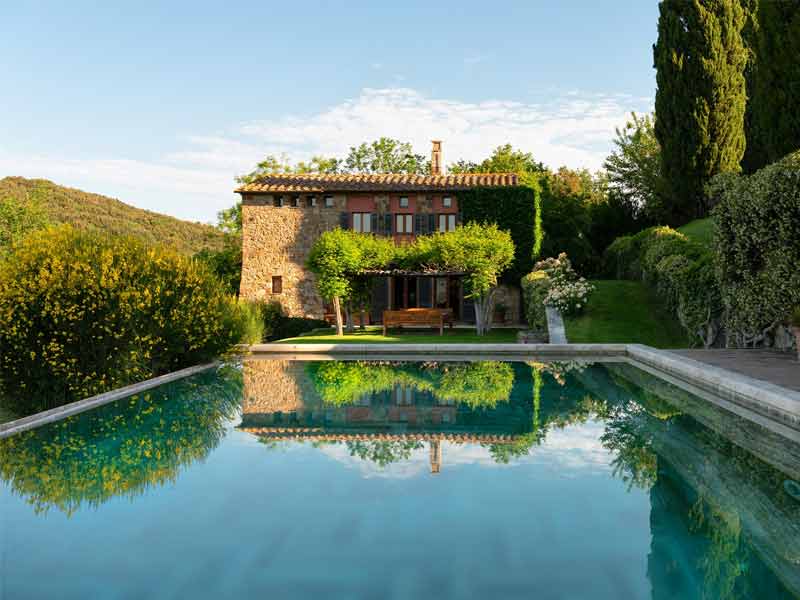 A subtle fusion of antique and contemporary furniture and an exotic touch from the owner's Baccheschi Berti years in Indonesia complete the interior. You would consume wine made from grape to bottle, and the meals served here are made from farm to table. Discover Tuscan cooking techniques or sail a private yacht across the countryside of Tuscany.
Mihirgarh, Jodhpur, India
The Fort of the Sun appears like a sand structure that blends in with the dunes' hue. It wasn't constructed as a fortress or a show of force, but rather as an opulent retreat for travelers who enjoy the "sweetness of doing nothing." The opulence of Mihirgarh is shockingly extravagant for a desert, with private pool villas, an infinity pool, fountains, gardens, and the tastiest food.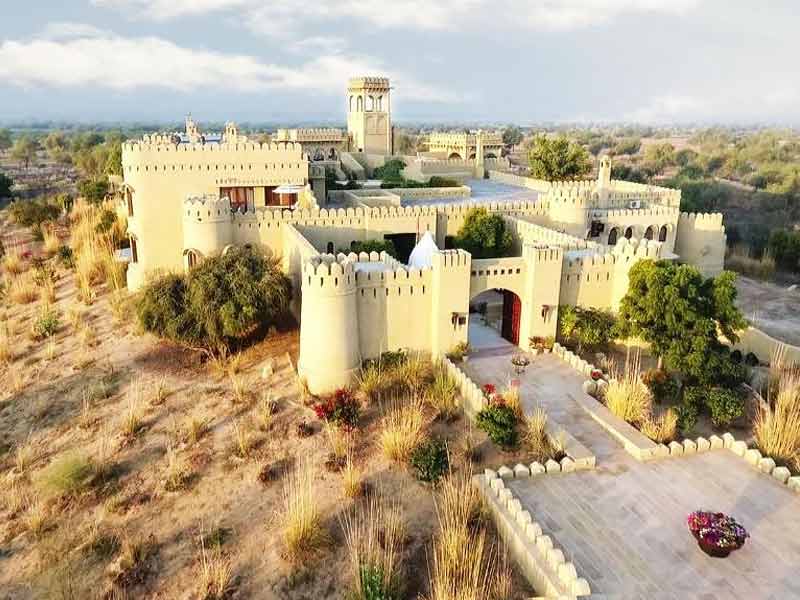 But everything of the traditional western Rajasthani art, including mirrorwork fireplaces, cutwork draperies, embroidered tapestries, and hand-woven rugs, transcends and fuses. Mihirgarh has firmly anchored in this territory thanks to Thakur Siddharth Singh and his wife Rashmi. You'll find your spots to doze off among the fort's elegant sprawl, in its courtyards, alcoves, terraces, or beside the pool.
Here, you may take a day excursion to Jodhpur, learn how to make pottery or take part in the local opium ritual.
Burghotel auf Schönburg, Oberwesel, Germany
You're likely to come upon a conical roof, a castle, or a spire rising into the sky occasionally in Germany. One of them is Schonburg Castle, although this one has a turbulent history that dates back to 911 AD and breathtaking views!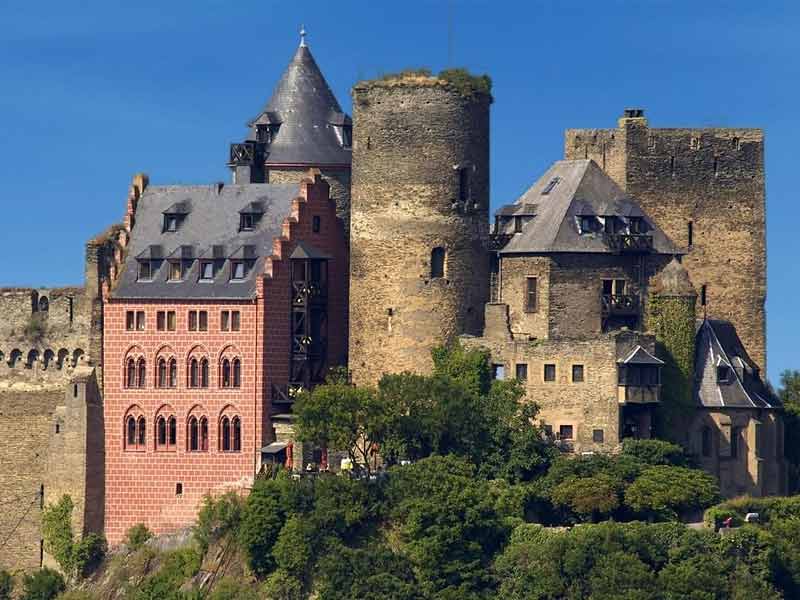 Schonburg is now experiencing brighter times as a renovated luxury hotel with a strong influence of Gothic and Romanesque architecture. Take a river cruise on the Rhine, tour the nearby museums, or stroll around the town's lovely streets.
Oheka Castle, New York, USA
The mansion from "The Great Gatsby" in real life! It remains the second-largest private mansion ever built in America, having cost $11 million to build a century ago.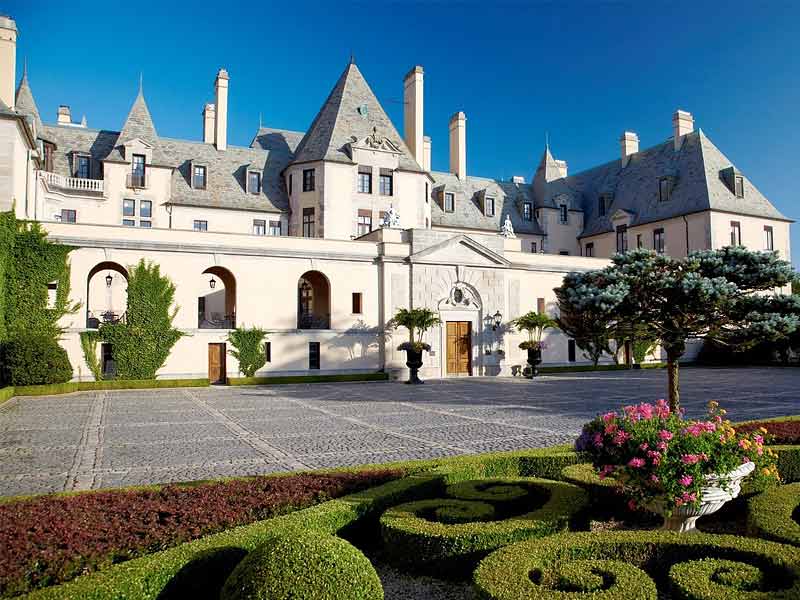 Years of lavish parties were held there, but as the years went by, Oheka's less glamorous side emerged as it served as a retreat for New York sanitation workers, a military school, and a government training facility before being abandoned and subjected to vandalism and fire.
The castle is now listed under Historic Hotels of America and is frequently used as a shooting site, most recently for the television show Succession.
Parador de Granada, Granada, Spain
The government oversees the Parador network of old Spanish buildings because of their cultural significance. One of the network's most spectacular properties is the Parador de Granada. The Alhambra is right across the street from this white stucco building, which is encircled by verdant gardens.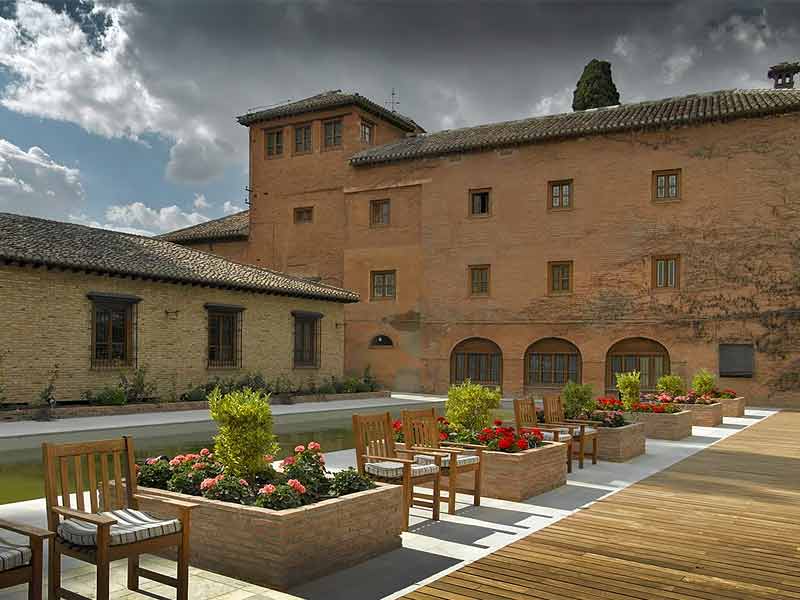 The structure was once a fortification built in the fourteenth century, a Moorish house, and a Franciscan convent, and is today a luxurious hotel. Arab baths with skylights in the shape of stars, vaulted ceilings, and arches still exist at the Parador. Another example of old hydraulic engineering is shown in the Parador gardens, which are irrigated by snowfall from neighboring mountains.
Glenapp Castle, Ayrshire, Scotland
Scotland was a country where people lived in castles. The baronial Glenapp castle from the 19th century previously housed elaborately decorated earls in its nooks and crannies up in the eaves.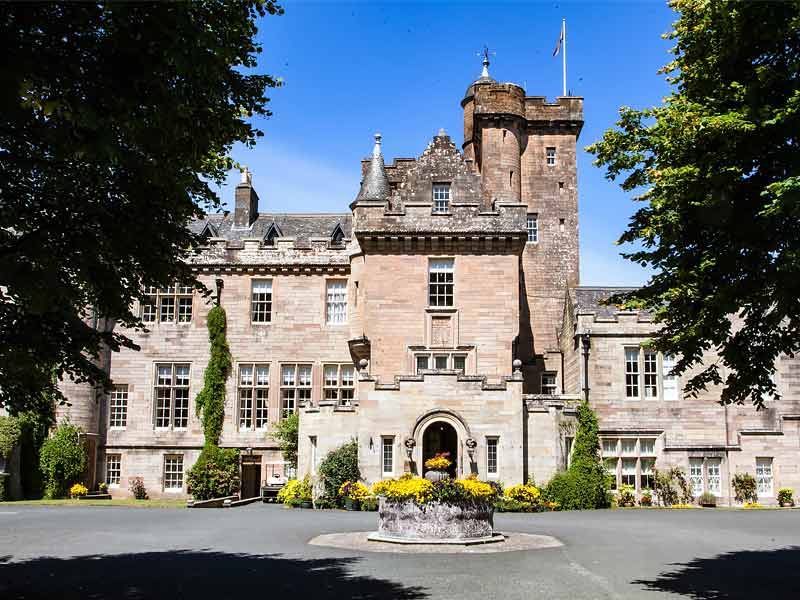 The Glenapp is just as romantic and opulent since it has a rocky coast, spooky moors, and a quirky room in addition to 15 hectares of magnificent grassland and an Italian garden designed by Gertrude Jekyll. The Glenapp Castle rib boat's Hebridean Sea Safari is a special way to discover far-off islands, coastal castles, and inns. Make sure to take advantage of this opportunity.