Face masks are an important aspect of any skincare regimen. They can be nutritious and moisturizing, as well as an excellent way to address any severe skin concerns you may have. Not to mention, they're a truly relaxing way to supplement your wellness routine with caring for your skin.
Face masks, on the other hand, aren't always affordable. Even if they're frequently worth every penny, you might easily approach or exceed the beauty budget if you're not careful. So, what should someone looking for flawless skin do? Make it yourself, of course! 
DIY face masks frequently perform equally well as some of the most popular face masks available.
You probably already have the bulk of the ingredients in your kitchen, ready to help you get rid of hyperpigmentation, acne, and various other skin disorders. In addition to typically being quite simple to create.
 We've compiled some of the top do-it-yourself face mask recipes below. Check out the recipes they suggest right away!
Recipe for the Best Face Mask to Exfoliate Skin
This mask's all-natural ingredients have a variety of therapeutic benefits, such as brightening, regenerating, hydrating, and exfoliating.
You may already be aware of the anti-inflammatory properties of cinnamon, but a New York City-based esthetician named Cynthia Rivas claims that cinnamon also acts as a mild exfoliant. Rivas claims that it's even antimicrobial and aids in the destruction of microorganisms.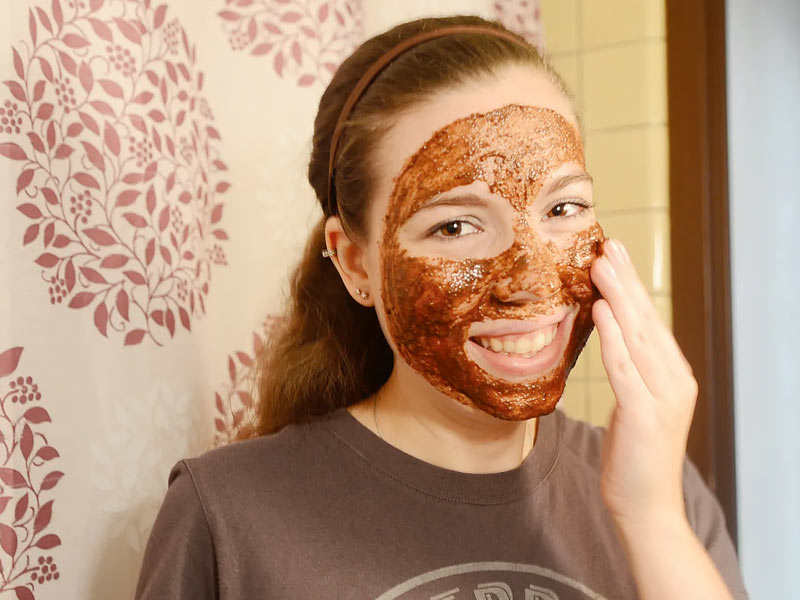 Nutmeg, one of the other ingredients in this potent mixture, works similarly to cinnamon in gently exfoliating skin and acting as an anti-inflammatory for sensitive skin. Just in case you were unsure whether to use this recipe for baking or to smear it on your face, it does include cocoa, so the decision is still up for debate.
According to Rivas, cocoa "powerful antioxidant that protects and rejuvenates the skin." The final ingredient in this recipe is honey, which smoothes the skin and encourages hydration. Although we don't formally advise eating it, we do advise leaving it on your skin for at least 10 minutes. 
Making the Face Mask:
Include 1 teaspoon of cinnamon.

1 teaspoon of anti-inflammatory nutmeg

Add 1 tsp. of the chocolate powder.

Adding 2 tablespoons of honey

In a bowl, combine the dry ingredients. Stir in the honey.

To gently exfoliate the skin, rub the mask onto your face for 20 seconds as you apply it.

Instead of rinsing, leave it on for 10 minutes.

As you rinse off the mask with room-temperature water, massage it.

Continue using your skincare routine while avoiding AHA and BHA products that exfoliate the skin. If you feel any discomfort, remove the mask right away.
DIY Pore-Reducing Face Mask with Kaolin Clay and Green Tea
The perfect homemade mask for purification? Clay. It removes dirt and debris, absorbs extra sebum (which can cause breakouts), and soothes redness without robbing your face of moisture. Kaolin clay, so named because of its "kaolinite" mineral concentration, is the mildest clay and is ideal for dry, sensitive, and acne-prone skin types because of its neutral pH.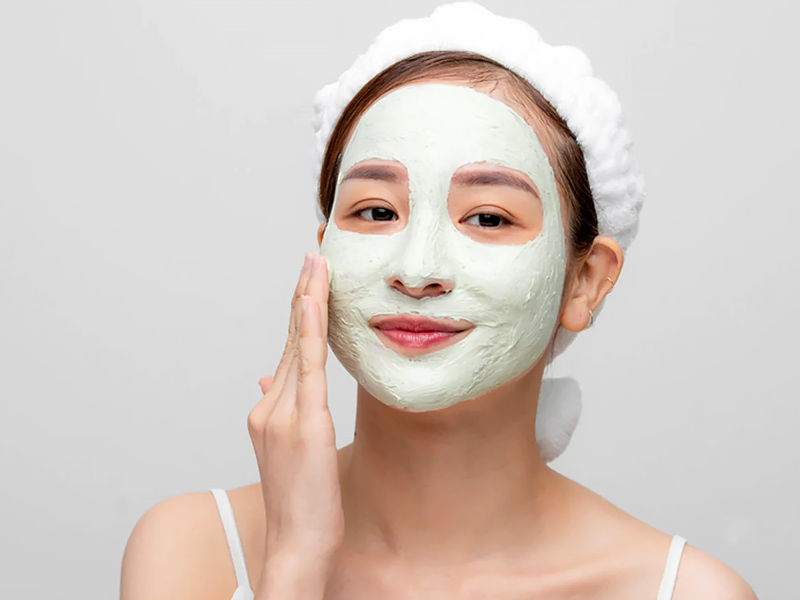 Additionally, when worn as a mask, it functions as a blank canvas. Keep it straightforward by combining it with water, milk, or apple cider vinegar. You can also add honey, yogurt, or green tea to make it your own.
Make a clay face mask at home:
Make 1 cup of green tea, then allow it to cool.

When the green tea has cooled, add 1 tablespoon of powdered kaolin clay to a small glass or plastic bowl and stir gradually until the mixture resembles a thin paste.

Apply a uniform coating to skin using a brush or your fingertips, and allow it to sit for five to ten minutes, or until completely dry. 

Rinse gently with warm water, being careful not to rub or pull. 

Apply a moisturizer afterward (pro tip: You can use this mask once per week!
DIY Face Mask Recipe Using Oatmeal to Reduce Redness 
It turns out that your morning meal can also serve as a calming skin treatment. Oatmeal, which is rich in the anti-oxidants avenanthramides, is widely known for its capacity to reduce skin redness and soothe itchiness and irritation.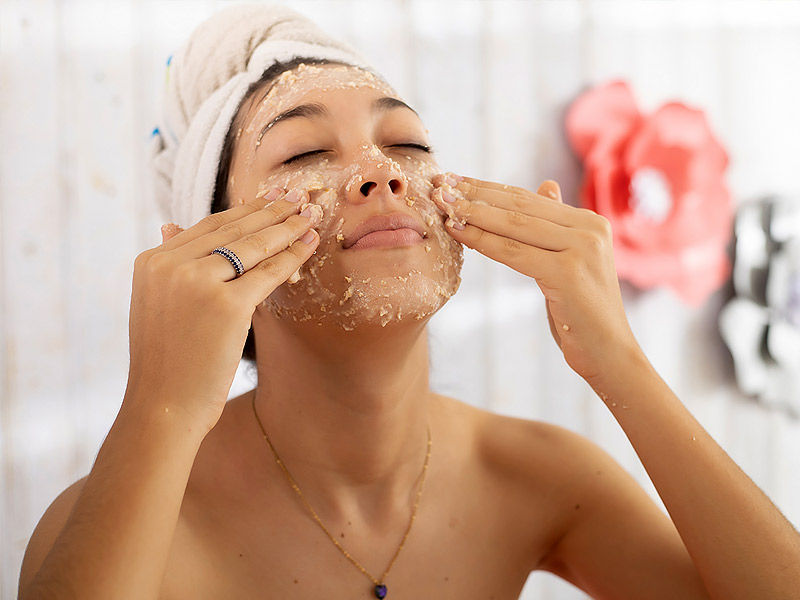 So think about making an extra batch of oats for your face if your complexion is acting up due to cold winds, allergies, or reactivity. Bonus: You can create this homemade face mask using plain instant oatmeal (so simple! ), just make sure it doesn't have any sugar or flavoring added.
A calming face mask recipe:
One serving of instant oatmeal should be prepared as directed and allowed to cool.

Apply sparingly, then leave it on your face for 10 to 15 minutes.

Using cool water, rinsing

Follow with your favorite serums and moisturizer while the skin is still damp for maximum absorption.
Papaya-based DIY Face Mask for Hyperpigmentation 
If you've ever had a bad breakout, you know that the fight doesn't end when the zits disappear since the dark patches or post-inflammatory hyperpigmentation (PIH) that are sometimes left behind can take a very long time to go away.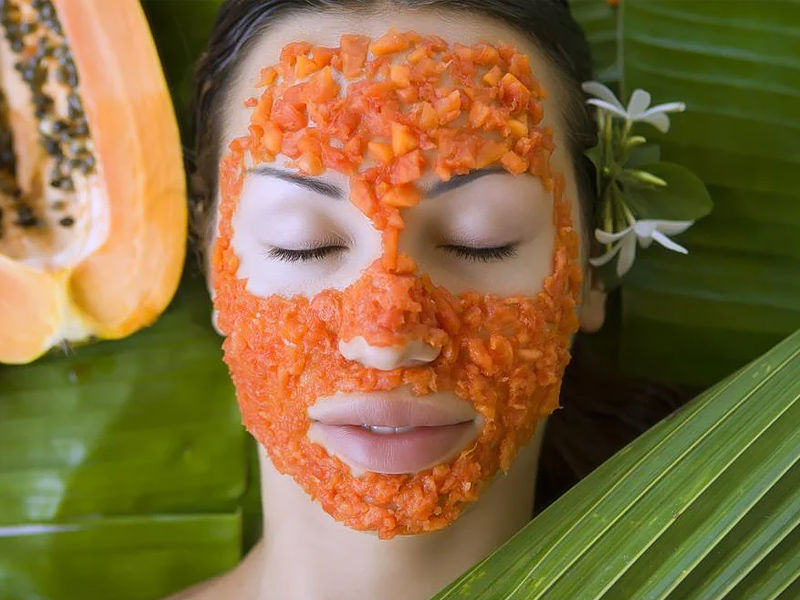 Fortunately, a quick DIY mask made from fresh papaya and honey can help hasten that procedure. Papaya, a fruit that naturally contains alpha hydroxy acids and the brightening enzyme papain, works as a gentle exfoliant to remove dead skin cells and reveal a smoother, more radiant face. 
How to Make a Face Mask that Exfoliates:
Mix 12 cups of mashed papaya with 2 teaspoons of honey in a small bowl.

Put a small layer of the mixture all over your face in a uniform thickness.

Allow it to sit for 15–20 minutes.

Rinse with warm water, then apply your favorite mild moisturizer.