On the first Monday in May of 2023, the Met Gala took place. Celebrities honoured the late, great Karl Lagerfeld at the event in a variety of ways. Some wore vintage pieces created by the designer, while others wore items inspired by his style as rival fashion houses reinterpreted some of his most well-known pieces.
Black and white outfits predominated on the red carpet, but there were also numerous references to the Camellia, a tonne of pearls, a hint of tweed, plus hundreds upon hundreds of crystal embellishments. Below, we round up our 10 best-dressed favorite looks from the 2023 Met Gala.
Naomi Campbell In Vintage Chanel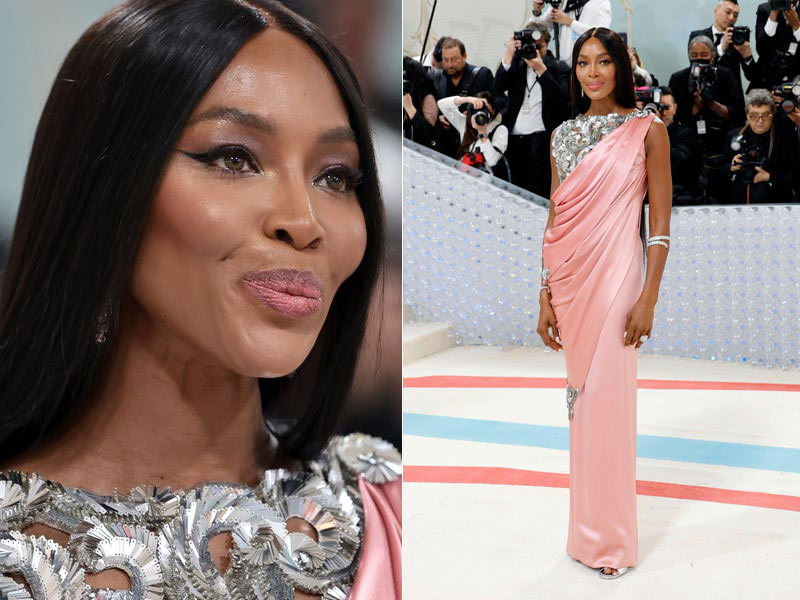 It was the perfect night to dress in classic Chanel when Naomi Campbell along with other Nineties supermodels walked out wearing one of Karl Lagerfeld's designs. She chose a pink satin dress with embroidered pieces from Chanel's spring/summer 2010, couture line, which was fashionable and refined.
Michaela Coel In Schiaparelli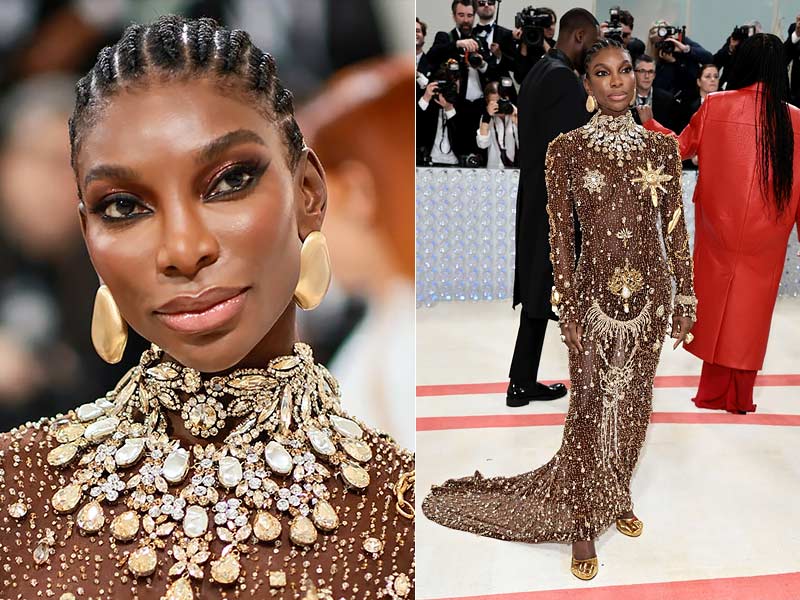 Michaela Coel had a huge night because she was one of the hosts of the event. She had to look stunning on the red carpet as a result, which she most definitely did.
The actress & director dressed for the event in a Schiaparelli gown adorned with 130,000 crystals.
Anne Hathaway In Versace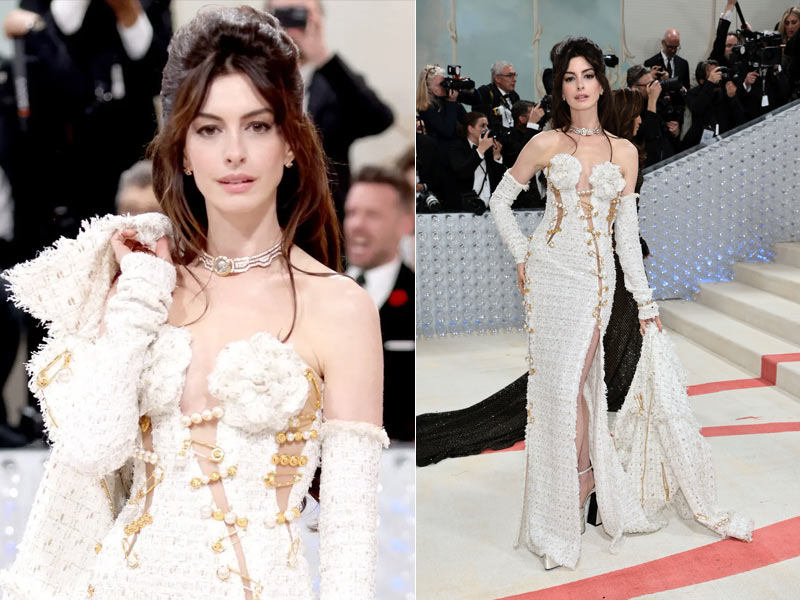 It's always lovely to see how fashion houses treat one another with respect, and this topic gave many instances. The outfit worn by Anne Hathaway, which was the ideal mash-up of Versace and Chanel, was one of our favorite interpretations of this. The actress donned a floor-length, tweed gown with safety pins by Versace that was made in one color.
Rihanna In Valentino Haute Couture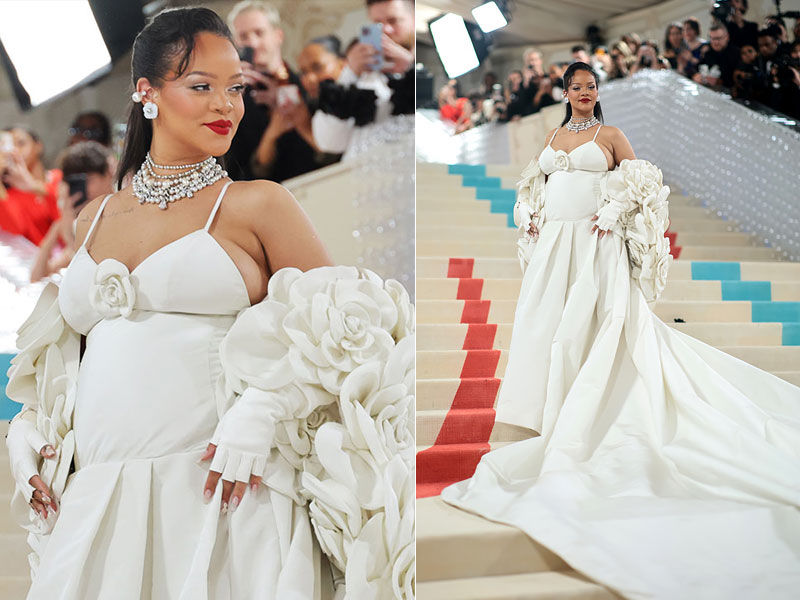 Rihanna has a reputation for wearing the best outfits at the Met Gala, and she did not disappoint in 2023. The singer chose a magnificent Valentino ballgown in white haute couture that had a flowery headpiece that was inspired by the Camellia, the Chanel brand's signature flower.
Lily Collins In Vera Wang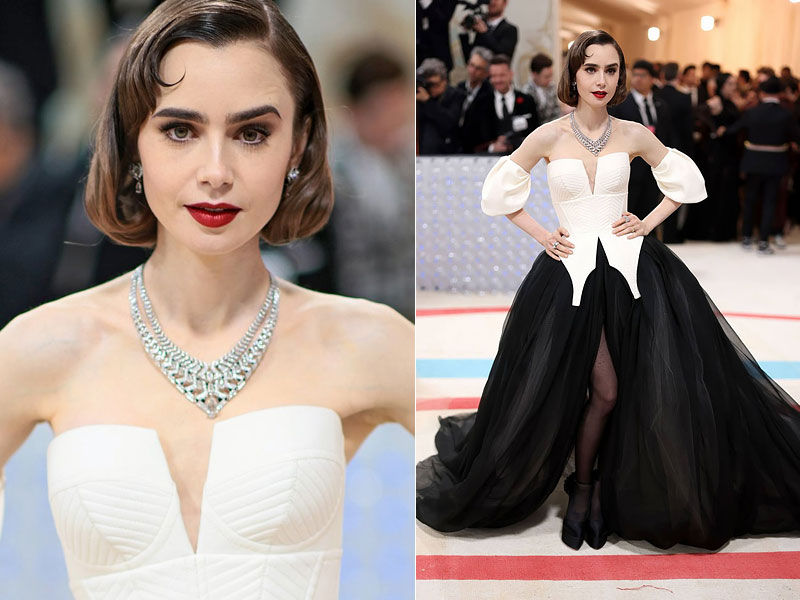 We also had the chance to witness how different designers interpreted Karl Lagerfeld's creations, and we especially liked Vera Wang's interpretation. Actress Lily Collins donned a beautiful Karl Lagerfeld dress with a white bodice and a flowing black skirt. The name "Karl" was embroidered on the train.
Dua Lipa In Tweed Chanel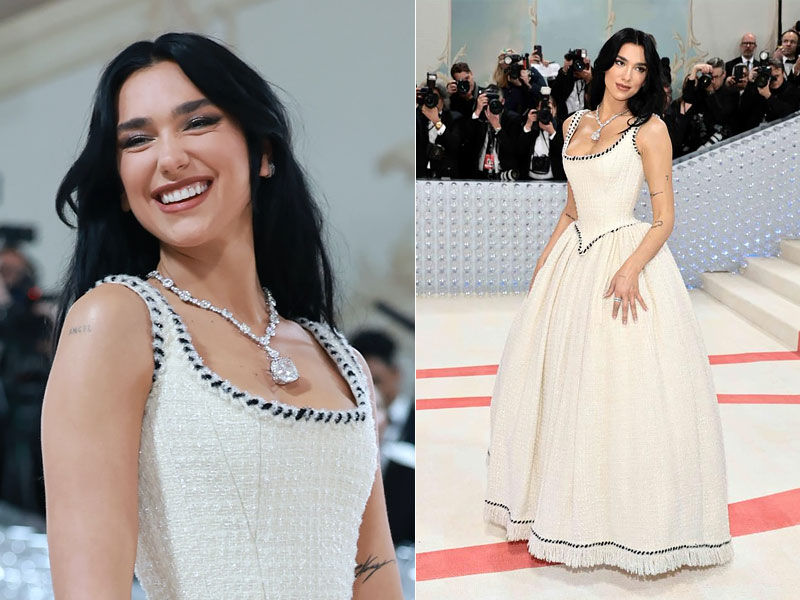 Stunning as hell! The gala co-chair stole the show in an over 100-carat diamond necklace from Tiffany & Co. that was placed in a tweed Chanel Haute Couture ballgown from 1992 that had the same cushion-cut form as the famous yellow Tiffany Diamond.
Bad Bunny Wore Jacquemus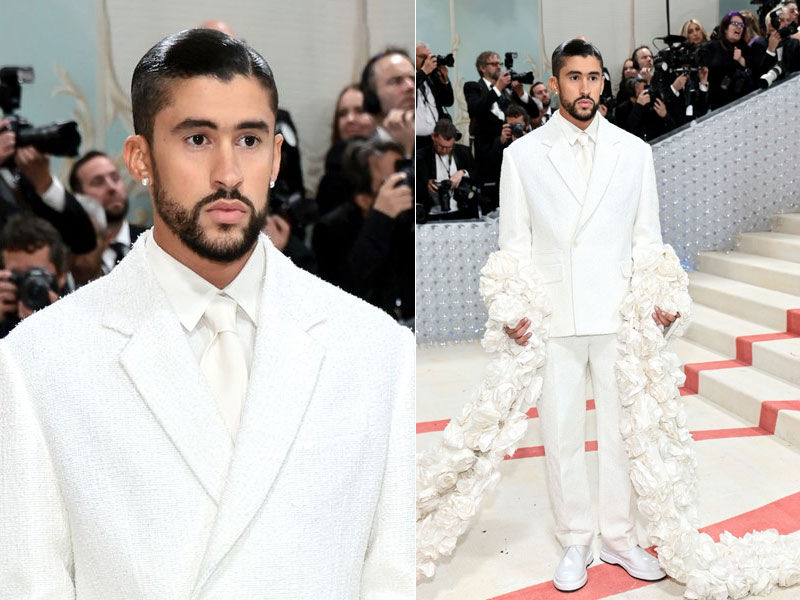 The night's most powerful menswear look came from the "Tit Me Preguntó" rapper, who wore an all-white Jacquemus costume with a 26-foot floral train.
A specially printed picture of Casa Malaparte snapped by Lagerfeld in 1997 was also hidden within Bad Bunny's jacket, a charming reference to the designer's photography work.
Jackson Wang In
Louis Vuitton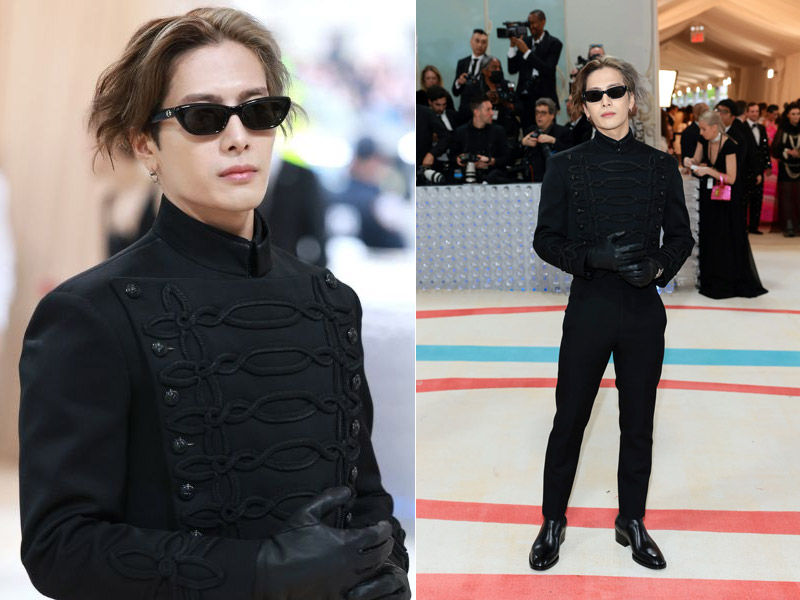 We were expecting nothing less than sartorial perfection from K-pop idol Jackson Wang, and he certainly did not disappoint. He looked stunning on the red carpet in an entirely black Louis Vuitton suit, eerily similar to the late German fashion designer's signature look. He finished the ensemble with sunglasses along with leather gloves, remaining true to his own particular style.
Alia Bhatt Adorned Prabal Gurung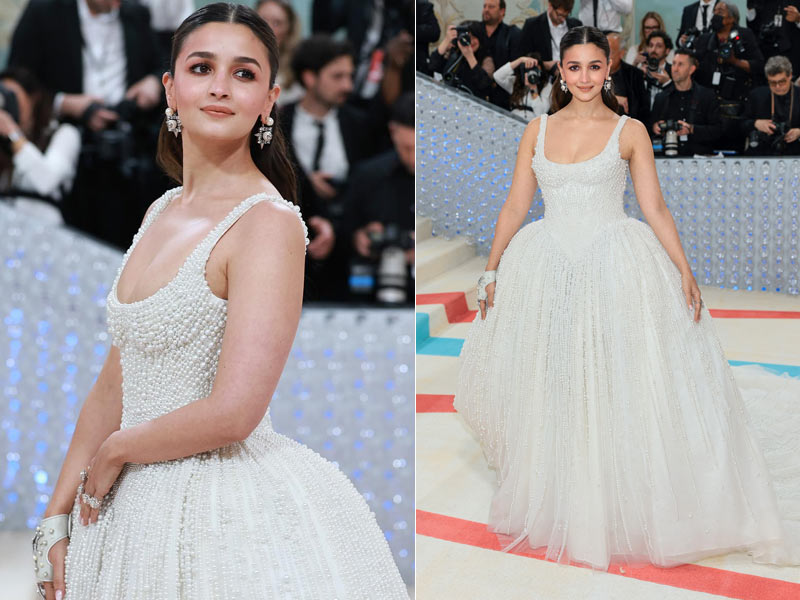 With her magnificent outfit, which was nothing short of a fashion statement, Alia Bhatt made a breathtaking Met Gala debut and grabbed attention. She chose an individualized Prabal Gurung dress displaying her sense of style and forward-thinking sensibility. The all-white ensemble, which drew inspiration from Karl Lagerfeld's 1992 fall/winter bridal look for Chanel, wonderfully encapsulated Bhatt's dreamlike yet contemporary style. A further degree of elegance and sophistication was added to the outfit by the beautiful pearl embroidery on the gown. Bhatt also made a striking statement on the red carpet with her edgy white fingerless glove, which was a subtle tribute to Lagerfeld's particular style. 
Overall, Bhatt's ensemble was a flawless fusion of modern and traditional designs, so it's not surprising that she was praised highly for her Met Gala appearance.
Doja Cat In Choupette Ensemble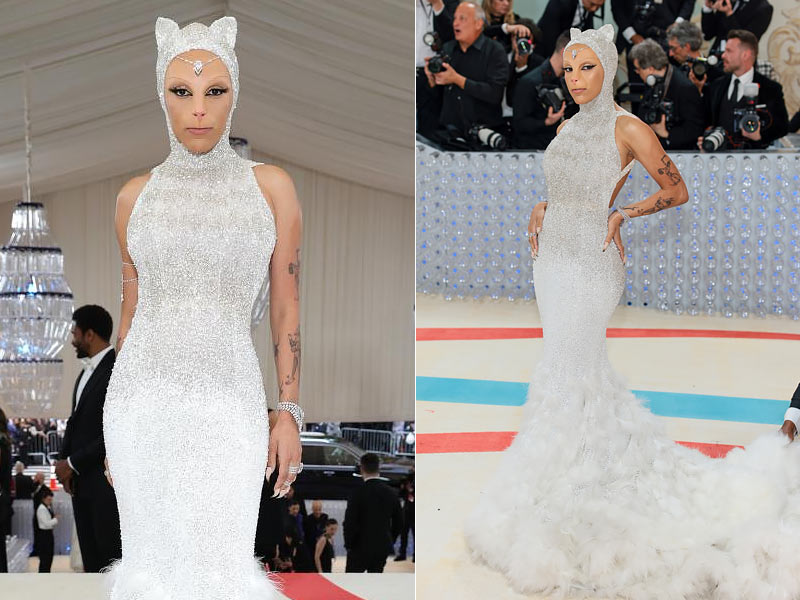 Doja Cat, a rapper, and performer, paid homage to Karl Lagerfeld by donning his beloved cat-themed Choupette ensemble. Doja Cat showed up sporting cat ears on the hood of a white gown. 
She even had cat prosthetics on her face to support the way she looked. According to a report by The Standard, Choupette first entered Lagerfeld's life in 2011, according to a statement from People magazine. According to reports, Lagerfeld initially only consented to cat-sit Choupette, who was previously owned by model Baptise Giabiconi but ultimately decided to adopt the kitty as his own.