India is a nation of temples, and more specifically, a land of distinct and intriguing temples. In India, you may discover anything from temples devoted to Hollywood stars to temples dedicated to rats. If you want to go to one of these temples, here is one.
In Jaipur, there is a shrine known as the Monkey Temple or the Galtaji Temple. At first glance, it appears that the temple was dedicated to the Great Lord Hanuman. However, upon closer inspection, this is not the case.
History of Galtaji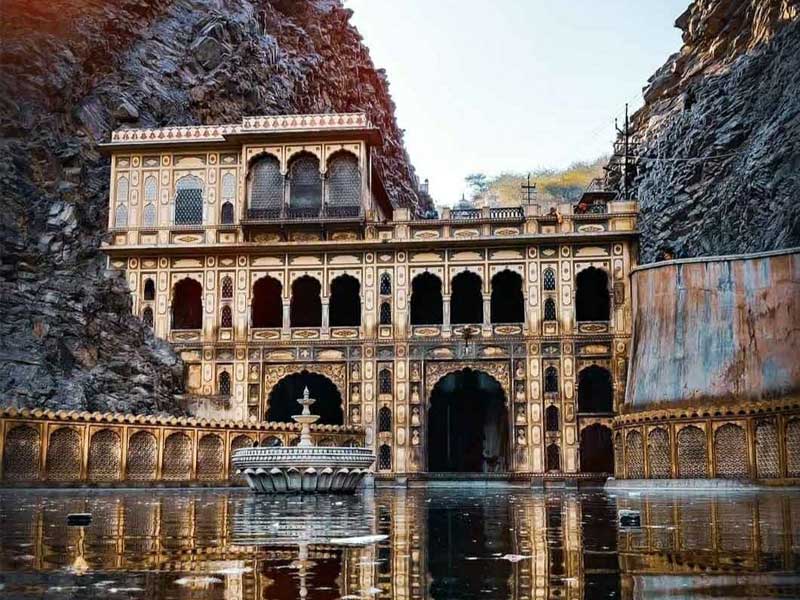 Many historians think that in the 16th century, numerous yogis and Sadhus lived here. During this time, a saint named Krishnadas Payo Hari arrived here and used his magical skills to rid the land of these yogis and babas. Some claimed that Krishnadas Payo Hari was a Payobhaksh, or someone who lived solely on milk.
Since then, this area has been important for Ramanandi Hindus and Naga Sadhus. You'll often hear the Galtaji temples referred to as the Uttar Totadri. This is due to the fact that the Ramananda School of Hinduism, popularly known as Totadri Math, is based in Tamil Nadu. According to legend, the sacred trinity of Hinduism, Lord Vishnu, Lord Brahma, and Lord Shiva come to visit Galtaji on a full moon day in the Hindu month of Kartik. Another popular belief holds that the famed Char Dham Yatra is incomplete without a holy plunge in the Galta Kund.
Architecture of the temple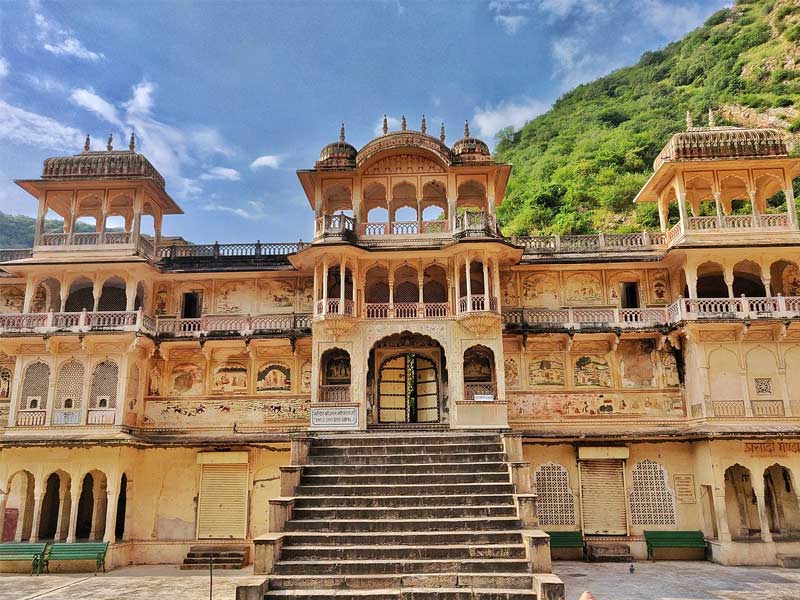 The grandeur of these Galta Temples lies not just in their construction, but also in their whole location. The Galta Kund gives tranquillity, and strangely, even the monkeys seem to suit with the aesthetics and add additional charm to it.
The temples include beautiful frescoes and paintings depicting Indian mythology and the Hindu faith. These temple walls and ceilings are also covered with paintings and murals. The architecture is evocative of the structures seen in Jaipur. It has wonderful Jaipur architecture integrated into it. I discovered intricately designed canopies, lattices, and windows, all of which are distinctive characteristics of the Jaipur style of architecture.
There are three temples, two of which were built in the haveli style: Shri Gyan Gopal Ji temple and Shri Sitaram Ji temple. Shri Sitaram Ji temple honours Lord Rama, whereas Shri Gyan Gopal Ji temple honours Lord Krishna. There is also a school for disciples and kids in Shri Gyan Gopal Ji Temple. There's also a little Hanuman Temple right at the entryway, and I couldn't help but wonder what these monkeys worship to him for!
The route was littered with little shrines, some devoted to the Sun and others to Lord Krishna. Along with these temples, the monkeys became tourists' regular companions, and some even followed them.
The abode of monkeys!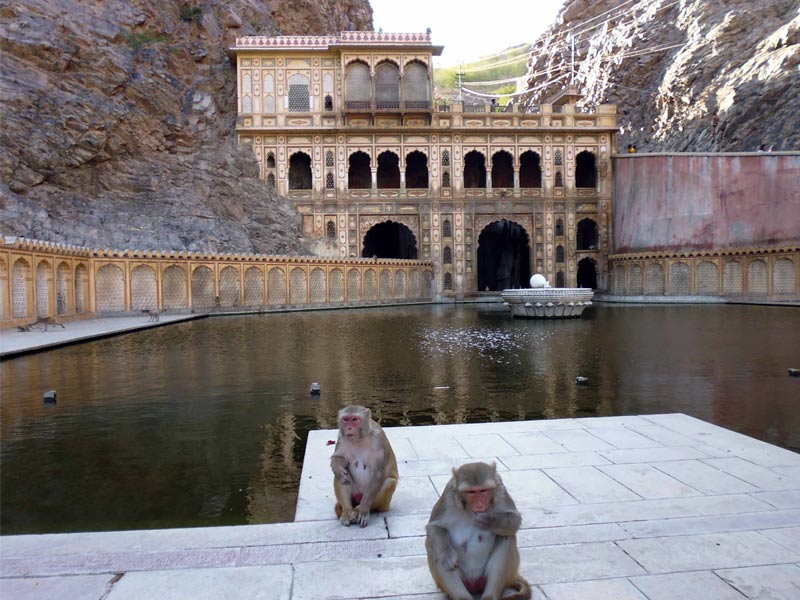 It is very hard to avoid these creatures when visiting the Monkey Temple. The Rhesus Macaque was the most prevalent kind of monkey I encountered here.
A few villagers informed me that Gray Langurs used to visit Galtaji temple, but they were chased away by the red-faced Rhesus Macaque. Unless provoked, the monkeys are rather peaceful. Many devotees also offer these monkeys food, including bananas. However, if you want to visit as a tourist, keep your food items packed in a bag. Monkeys cannot tell the difference between a devotee and a visitor, and many will try to steal your food.
Serene valley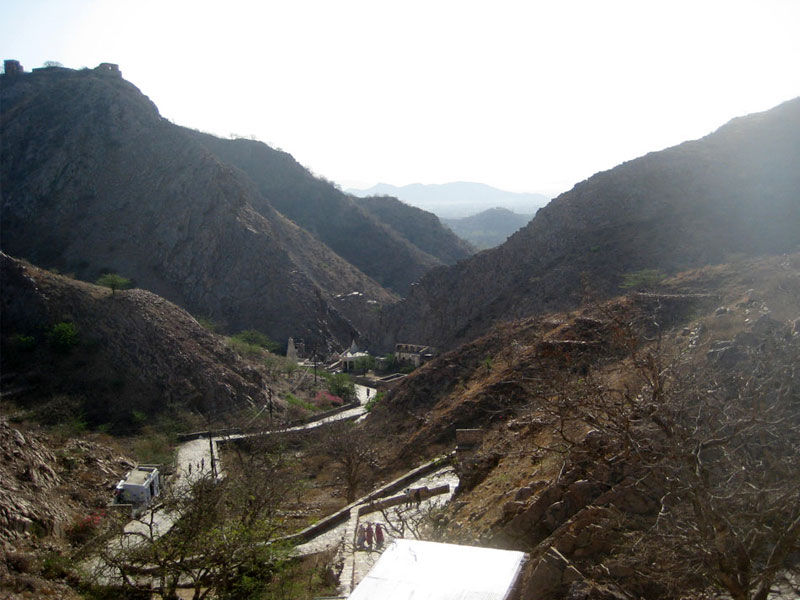 This magnificent valley may be found in the eastern hills beyond the well-known Sun Temple. It is located on Jaipur's outskirts. Many people refer to this area as the Galta Hills, while some call it the Jaipur Monkey Valley.
You may get to the Galtaji Temple by two different paths. One trail leads from the Galta Gate via rocky and mountainous terrain. Ghat ki Guni is the name of the other route. This route is quite scenic, taking you through deep yet tranquil woodlands.
The Best Time to Go
The greatest time to visit this location is in mid-January, when there is a large gathering and many people visit the temple for the auspicious event of Makar Sakranti. Evenings are gorgeous here, and even the monkeys come out to play.
How to Get There?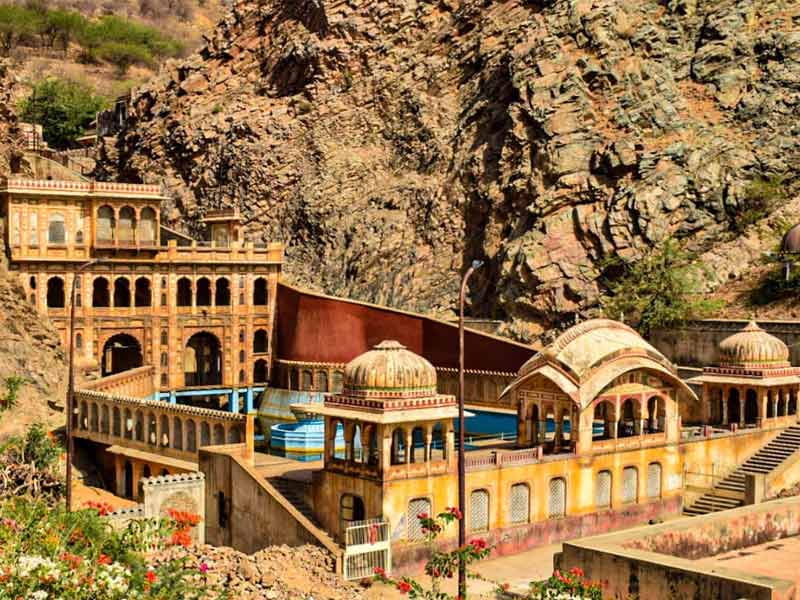 Located around 10 kilometres from the pink city, one may either rent a cab or board a bus that will drop them off at Vidyadharji ka Bagh. From there, rent an auto rickshaw to take you to the temple.
This temple, a lovely piece of Indian culture and tradition, is one of the most visited locations in Jaipur. There is a sense of peace here, as well as the otherworldly. These walls carry India's rich history and have witnessed India at its finest and worst. Galta Ji is a pilgrimage spot that every Hindu would like to visit. This area is visited by hundreds of tourists every day who wish to learn more about India and view the remnants of Indian history, in addition to religious believers.