Have you ever heard of India's Grand Canyon? If you haven't heard of it, now is the time to read about it and explore this wonderful site. Rajasthan, after all, is full of surprises, isn't it? In Rajasthan, there is always something to thrill you. Have you heard of Kota? I'm sure most of us haven't heard of this place. Kota is a tiny town in Rajasthan home to some of the state's greatest tourist attractions. Garadia Mahadev Temple, often known as the Grand Canyon of India, is well-known for its magnificent vistas.
Interesting? There is also a lot more to this wonderful site that you should be aware of.
So, keep reading… I am confident that you will not be disappointed with Garadia Mahadev Temple, which is one of the greatest temples in Rajasthan.
Garadia Mahadev Temple.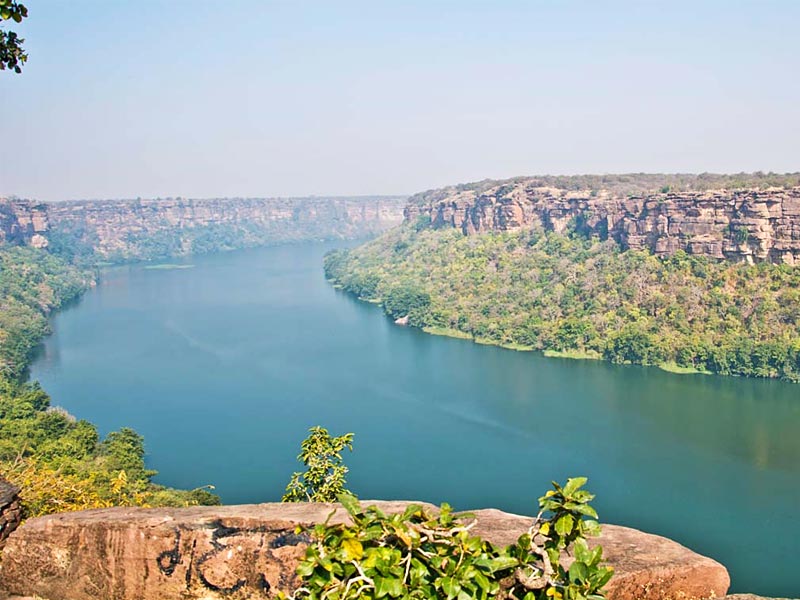 It is one of Rajasthan's pilgrimage sites, perched on a cliff 500 feet above sea level. The gentle air will recite the Shiv Stotras in your ears, arousing the devotional soul inside you. The setting appears to be picture-perfect, as though created by God himself. Surprisingly, there is a 300-foot-deep canyon through which the Chambal River flows. There are also massive cliffs on either side of the gorge. This location provides some of the greatest vantage views.
You will, believe me, be at a loss for words to express the grandeur of this location.
Over the years, Garadiya Mahadev in Kota, Rajasthan, has become one of the most famous tourist destinations in Rajasthan and India.
The Garadia Mahadev, located at an elevation of 500 feet, provides excellent views of the Chambal River and Chambal Valley. The tranquil Chambal River flows between the high rocks, forming a beautiful U-shaped valley in every way.
Simply being here is a source of real joy!
How do I get to Garadia Mahadev?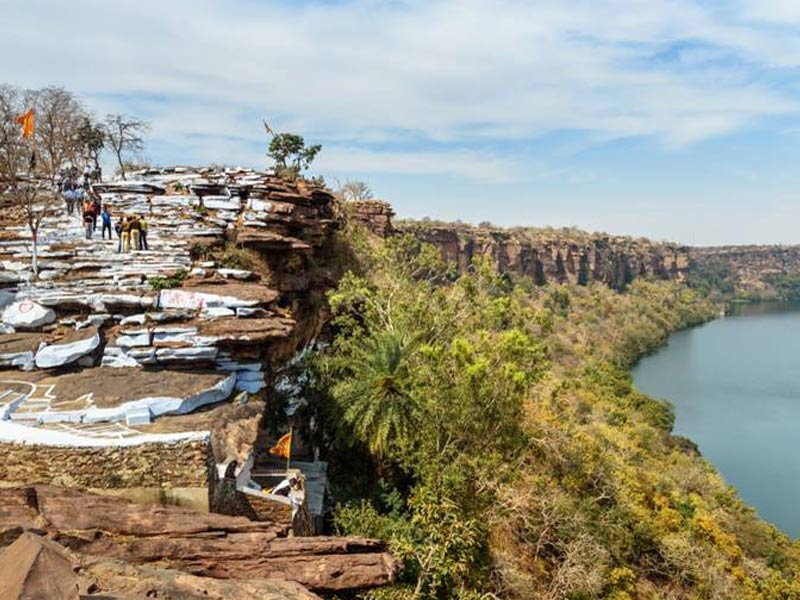 Garadia Mahadev Temple is around 25 to 30 kilometers from Kota. It is strongly advised to reserve a taxi rather than use the bus. The buses are usually empty, and public transportation is remote and confusing. As a result, it is preferable to reserve a cab. The cab fare will range between INR 800 and INR 900. But believe me when I say that this is the greatest alternative. You can also opt to drive yourself to the temple. You must take the national highway number NH27 from Kota. On the left side, there is a blue color board that says – Garadia Mahadev Temple.
You must choose the branched road on the left side 150 meters after the board. This small path leads to the Chambal River gorge, where you will find the temple and the viewpoint.
When is the best time to visit?
Monsoon is the finest season to visit Garadia Mahadev Temple. During the monsoon season, the Chambal river is overflowing with water. Also, the temperature is lovely, and you can see the finest of this location during the monsoon season. You may also visit this location early in the morning to get the finest shots.
Timings
This location is open from 7:00 a.m. to 5:30 p.m. It is also open to the public on all days of the week.
Entry Fees & Tickets
Indian citizen: 75

Non-Indian citizen: 500 

Student (Indian): 20 (upon presentation of your institute's ID)

200 cc car
What you should know before going to Garadia Mahadev Temple
Because there are no shops in the region, bring food and drink with you.

Carry your valid ID proof, which is necessary at the forest area's admission gate.

The place may appear to be isolated, yet it is entirely safe.

This site takes about 2 to 3 hours to explore. As a result, plan your visit properly.

Make sure you get some beautiful scenery shots with your camera. Because the site is so beautiful, many people come here to do a mini-photoshoot.

The cellphone connection may be poor in this location. As a result, anticipate losing network connections at times.

Take good care of your possessions. Because the location appears to be quite remote, it is best to keep a watch on your possessions at all times.

There are also a lot of monkeys on the route to the temple. Make sure to keep your food away from the infamous monkeys.

You must walk in a few places. As a result, make sure to wear comfy shoes.

During festivals, the Chambal River also hosts aquatic sports. Surprisingly, many individuals participate in a variety of water activities.
At Garadia Mahadev, there are a variety of activities available.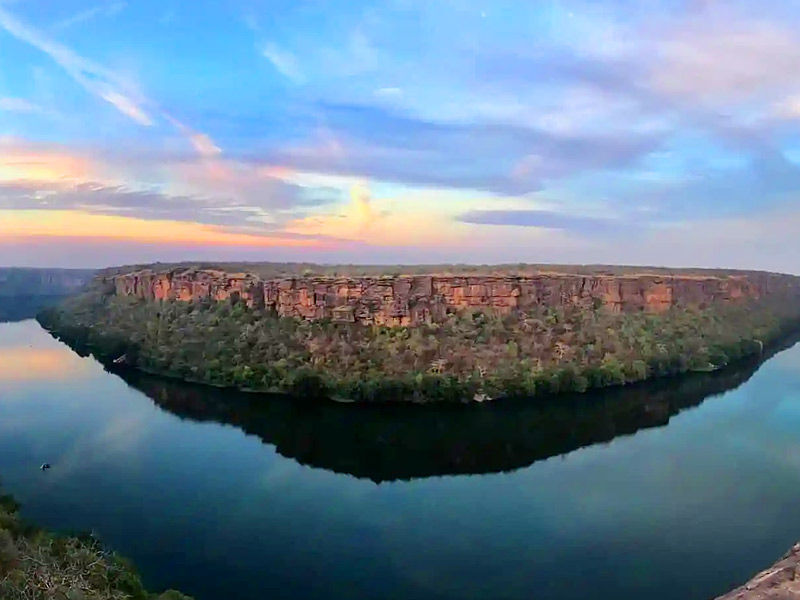 Relax and enjoy the peace.
With the panoramic view and tranquillity of Garadia, one should surely sit here for a bit and soak in the calm and quiet that surrounds it.
Photography
Given the great grandeur of the location, Garadiya Mahadev is one of the most popular destinations for nature photographers worldwide. It is, in reality, a location for photographing some of the most stunning vistas in the world.
Go to the temple.
When you get to this location, you will not see the Mahadev temple.
The Lord Shiva shrine is a few stairs distant, and one must travel through them to access the temple. Garadia Mahadev temple is extremely popular among visitors.
Experiencing wildlife
Because Garadia Mahadev is located in the Mukundra Hill Tiger Reserve and the river Chambal is home to a diverse range of animal species, visitors can get views of the wildlife in the area.
Some people have also shared stories of encounters with a local bear.
How did it become so popular in recent years?
Only locals were aware of this location a few years ago. Every year, just a few tourists visit Garadia.
In 2016, the Rajasthan Tourism Campaign produced six video advertisements depicting diverse locations in Rajasthan, with Garadia Mahadev appearing in one of them. The 'Jane Kya Dikh Jaye' campaign became popular on social media. Rajasthan Tourism marketed it through billboards and other media in numerous cities around Rajasthan and other states.
Watch the incredible Rajasthan Tourism advertisement with Garadia Mahadev –
Garadia has now become a famous tourist attraction for visitors visiting Rajasthan.