On the beautiful island of Mandhata, next to the banks of the Narmada River, Omkareshwar is one famous pilgrimage site that comprises one of Shiva's 12 idolised Jyotirlinga shrines. Omkareshwar means 'Lord of Omkaara,' and is one of the 12 Dwadasa Jyotirlinga shrines dedicated to Lord Shiva in the form of a Jyotirlingam. It's a sacred island shaped like the Hindu symbol 'OM,' attracting millions of visitors from all over the world.
Omkareshwar and Amarkareshwar are two ancient shrines. This is a holy site that is located at the confluence of the Narmada and Kaveri rivers and that makes it a must-see pilgrimage destination for both Lord Shiva devotees and leisure travellers. Omkareshwar is located in Madhya Pradesh's Khandwa district and is carved by the sacred Narmada River. The Omkareshwar temple is built in the Nagara style and features a prominent Shikhara.
According to legend, when Narad, the great prophet, visited the god of the Vindhya Mountains, he was enraged to learn that there was no dwelling for Lord Shiva, so the god of these mountains referred himself to extremely strict nonindulgences. Lord Shiva was overjoyed when the mountain's deity said he would make Omkareshwar one of his homes, which is why the area is named after him.
Aside from that, the entire area of this holy place is surrounded by mountains, providing visitors with an enthralling view. If you are here in Omakreshwar, you should not miss a Parikrama around the island because it is very religious and you will feel relaxed and at peace.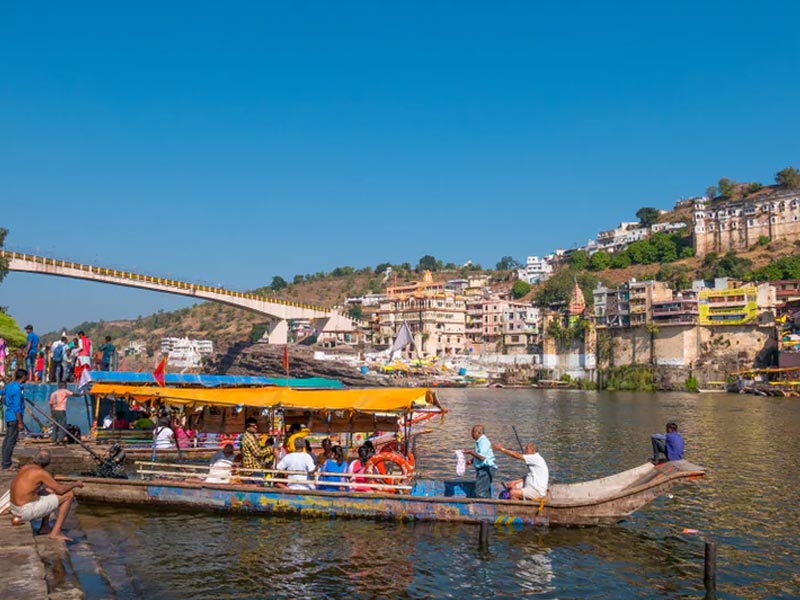 HOW TO REACH OMKARESHWAR?
By Air- Devi Ahilyabai Holkar Airport in Indore is the nearest domestic airport and is approximately 2 hours and 21 minutes' drive from Omkareshwar. The nearest international airport is Raja Bhoj Airport in Bhopal, which is approximately 264 kilometres from Omkareshwar. This international airport serves as the departure point for numerous flights to domestic and international destination.
By Rail- The nearest railhead from the city is Omkareshwar Railway Station (approximately 12 km), which is on the major Ratlam-Khandwa railway line. It has direct flights to major Indian cities such as New Delhi, Bangalore, Mysore, Lucknow, Kanyakumari, Puri, Jaipur, Ratlam, and others.
By Road- Omkareshwar is connected by several state government and private buses to major cities such as Khnadwa (73 km), Indore (86 km), Dewas (114 km), Bhopal (268 km), Jalgaon (222 km), Vadodara (376 km), Ujjain (133 km),  Nagpur (446 km), and Mumbai (576 km).
PLACES TO VISIT IN OMKARESHWAR
Omkareshwar Jyotirlinga Temple-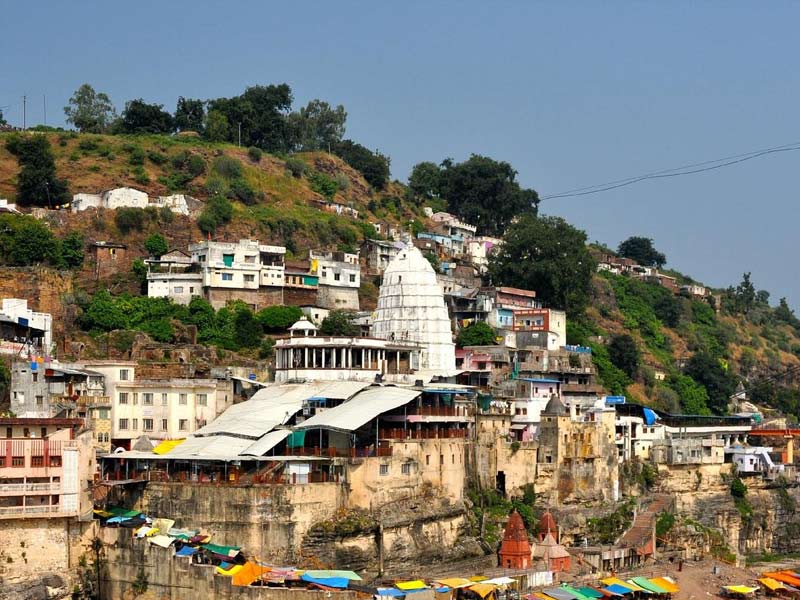 The Omkareshwar or Omkar Mandhata temple is one of India's twelve revered jyothirlingas and is one of the holiest shrines in the country. The temple is located on the island of Mandhata, which is located at the confluence of the Narmada and Kaveri rivers. The island is said to be shaped like the Hindu 'OM' symbol. The actual jyothirlinga is said to be in the Mamleshwar temple on this island. Aside from religious significance, this temple is also notable for its stunning architecture and beautiful frescoes and carvings.
Kedarshwar Temple-
The Kedareshwar temple, which was built in the 11th century, is one of Madhya Pradesh's most important shrines. The location's religious significance draws devotees and tourists from all over the world.
Parikrama on the island-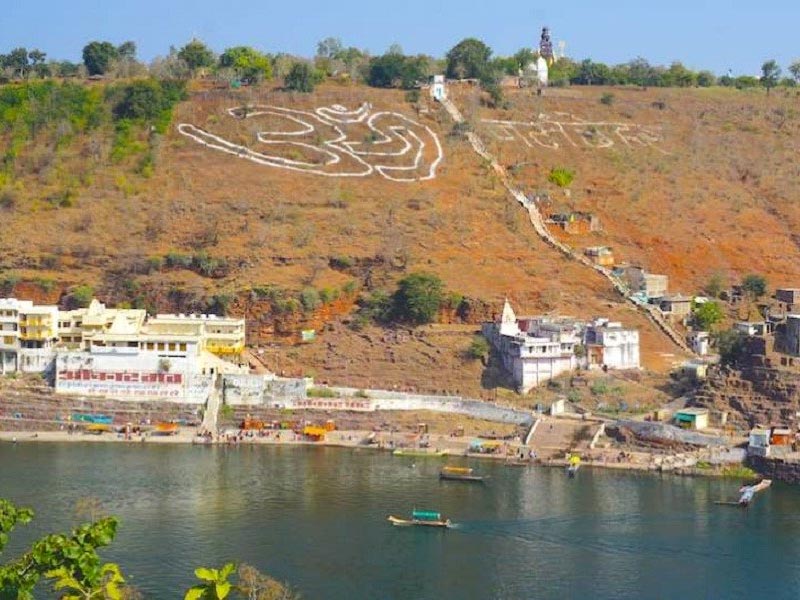 A walk around any positive source of energy, according to Hindu mythology, provides positive energy as well. It is regarded as sacred, and what better way to honour it than with a parikrama across the entire island? This 8-kilometer stretch is not difficult and takes about 3 hours to complete. As this stretch runs along the island, the entire area is very picturesque.
Shri Govinda Bhagwatpaada Cave-
This cave has a main hall and a small sanctum with a shivalingam, which Hindus consider being very religious. Here, Shankaracharya is said to have met the great saint Govinda Bhagwatpad and also received the spiritual education and deeksha from him. It is also believed that Shankaracharya saved the town from a major flood by channelling the river water into a kamandal (small bowl) he had placed near the cave's mouth. He did this in order to save his Guru, who had fallen into a deep slumber in the cave.
BEST TIME TO VISIT OMKARESHWAR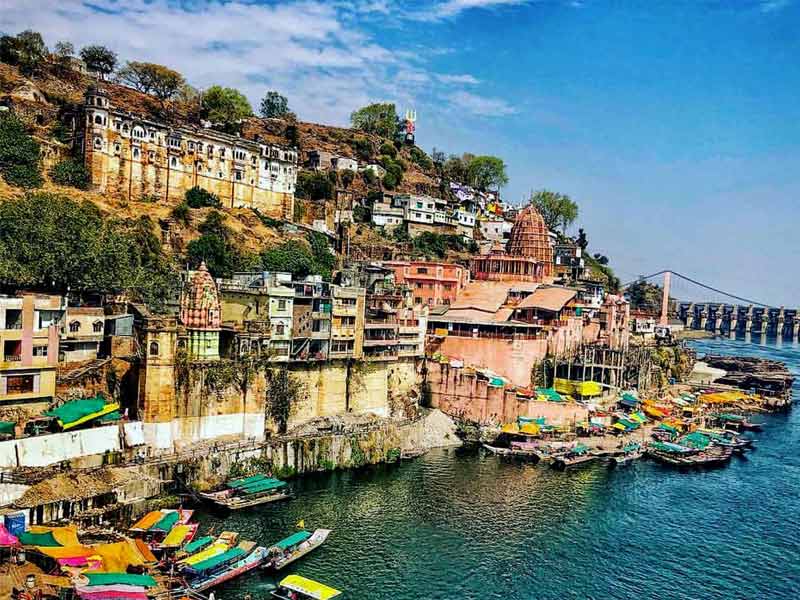 Omkareshwar in Summers (March- June)- Summer days are scorching, with temperatures ranging from 29 to 45 degrees Celsius. Because the heat makes it difficult for visitors to explore the city, it is not a good time to visit.
Omkareshwar in Monsoons (July- September)- The temperature drops, and the rain refreshes and greens the environment. Omkareshwar experiences moderate rainfall during the Monsoon season.
Omkareshwar in Winters (November to Feburary)- Omkareshwar's climate becomes cool and pleasant in the winter, with temperatures ranging from 6 to 29 degrees Celsius.