Stepwells were used for a variety of purposes in addition to storing water. It was a gathering place for women during the summers, as well as a community centre with a nearby place of worship, in local language they were known as Baoli.
What is the appearance of a Baoli?
Structures built below ground level are known as stepwells. The bottom level, where the water reservoir is located, is usually reached via a maze of stairs. "A typical baoli consists of a well that is attached to a separate water tank or basin," according to Vikramjit Singh Rooprai's Delhi Heritage: Top 10 Baolis.
Which of Delhi's Baolis is the most popular?
Agrasen ki Baoli near Hailey Road is unquestionably the best. It is very popular with locals and tourists due to its proximity to Connaught Place, and it is frequently used for photoshoots and gatherings. However, Delhi had 32 baolis at one time, some of which have been lost, buried, and a few of which are still in use. So, this winter, why don't you go exploring the 10 off-the-beaten-path baolis in Delhi?
ANANGTAL BAOLI
The oldest baoli in Delhi, the Anangtal Baoli, is a single-stage stepwell. Anangpal II was responsible for populating Indraprastha and giving it the name Delhi. When he ascended the throne in the 11th century, the region was in ruins, and it was he who built Lal Kot fort and Anangtal Baoli.
BAOLI MUNIRKA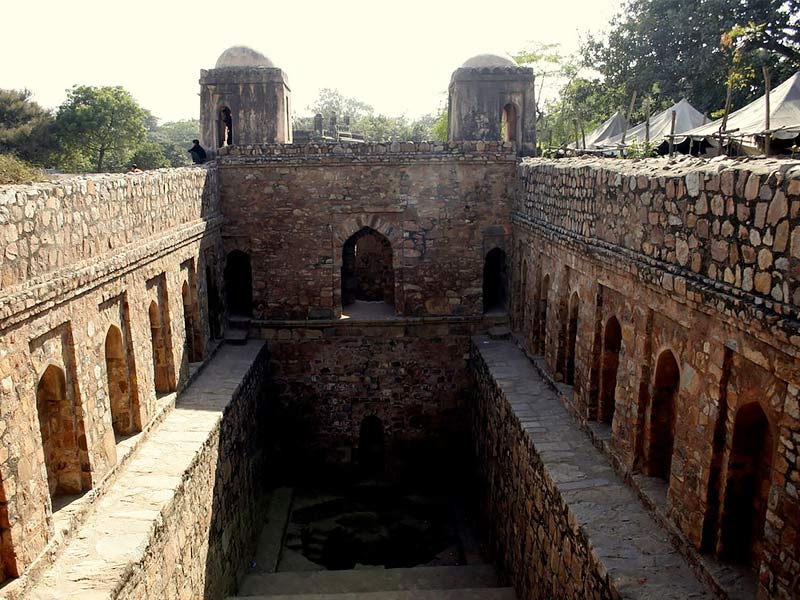 Munirka baoli is located in Sector 5 of RK Puram, between a gurudwara and a temple, as its name suggests. It is surrounded by well-kept lawns and is known for its design. Surprisingly, there is another well within the complex of the baoli. It's a fascinating place to visit because it exemplifies Lodi-style architecture.
HAZRAT NIZAMMUDIN BAOLI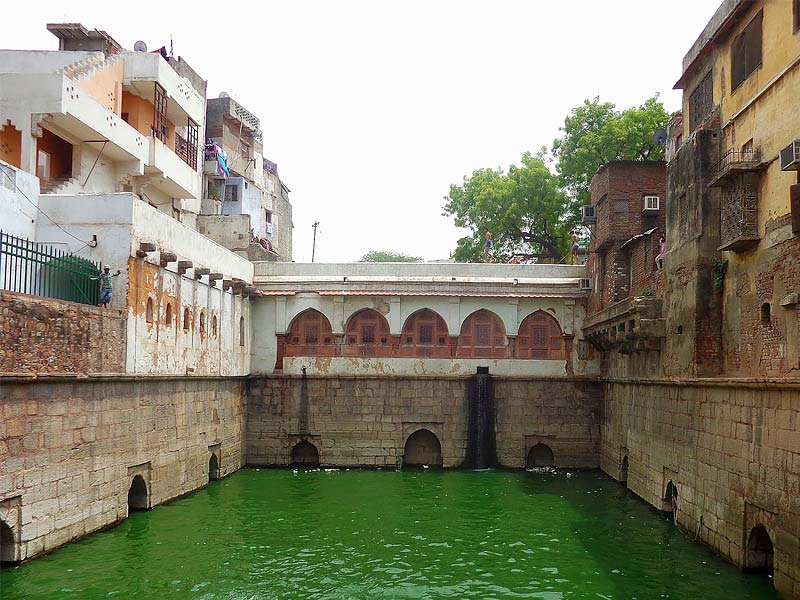 A dispute between Ghiyas-ud-din Tughlaq and Khwaja Nizam-ud-din Auliya led to the construction of the baoli, which is now known as Hazrat Nizam-ud-din basti. According to legend, the baoli was constructed at night using water-filled lamps rather than oil-filled lamps. The water in this area is also said to have healing properties. We recommend that you do not miss out on this hidden gem.
BAOLI TUGHLAQABAD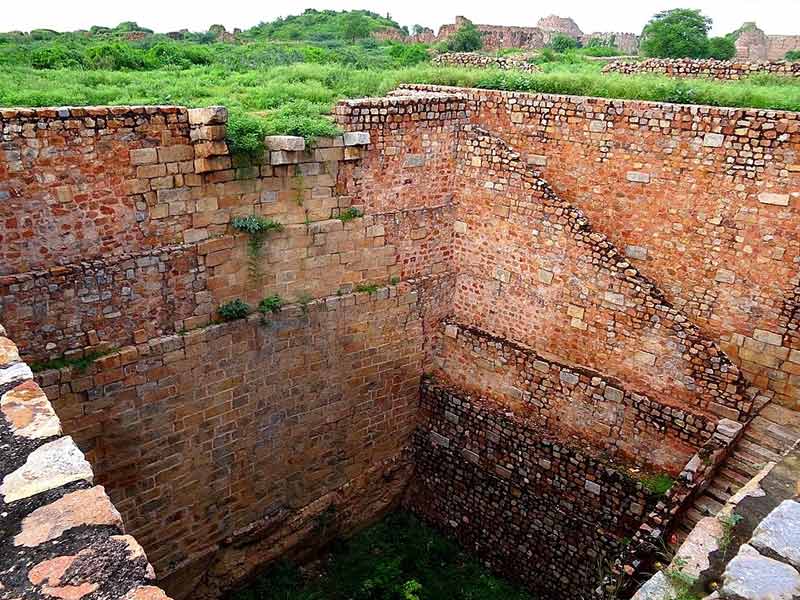 There are two baolis in the complex, and it's worth noting that they were built after Ghiyas-ud-din Tughlaq realised the problem of water scarcity caused by Nizammudin Chishti's curse, according to legend. Ghiyas-ud-din Tuglaq planned 13 well-dug baolis in Tuglaqabad Fort because of the water scarcity. Today, however, only two baolis can be found in the fort's grounds: one on the east and one on the west.
RED FORT BAOLI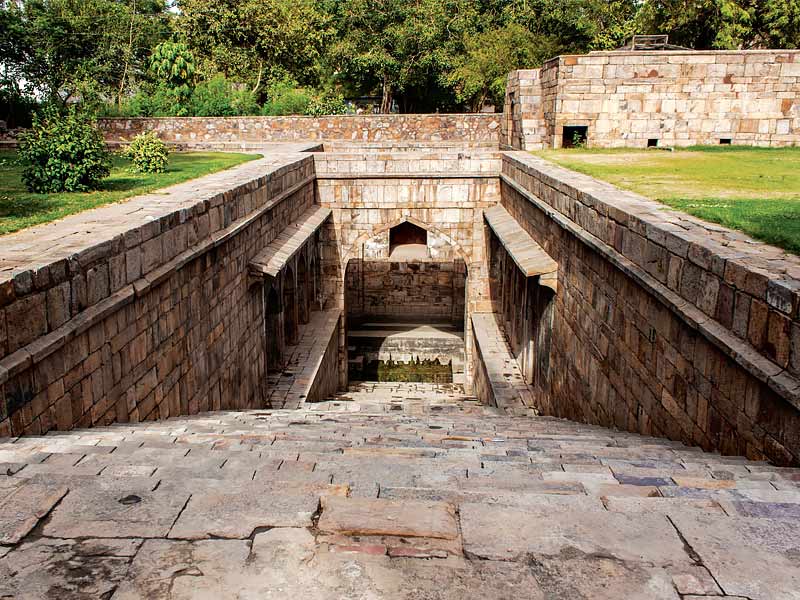 The mention of this structure, a rare L-shaped baoli in a central location, is sparse. This baoli, which has staircases coming from two directions, is one of the better-kept ones. The baoli, which is believed to be older than Red Fort, is made up of uniformly sized stones. We recommend that you pay this a visit the next time you're in Red Fort.
FEROZ SHAH KOTLA BAOLI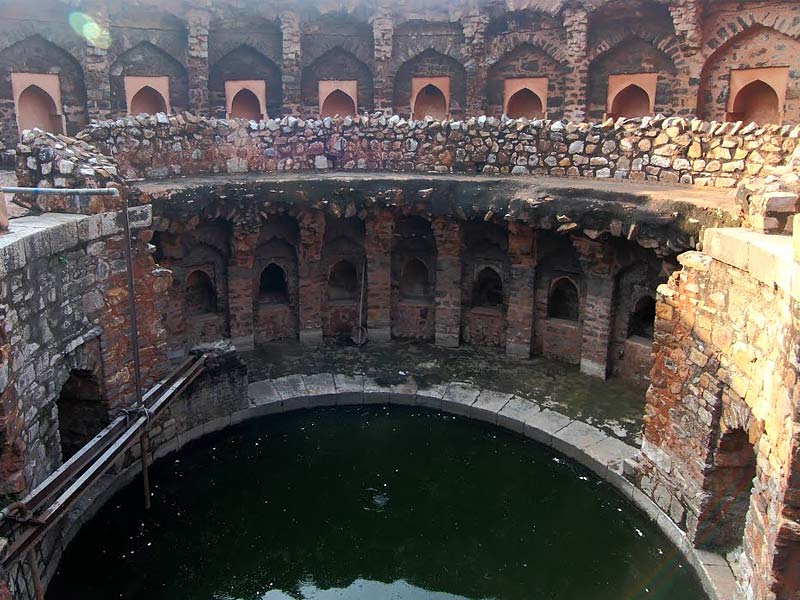 Feroz Shah ensured the construction of structures that aided the public in addition to saving the collapsing economy. One of them was a baoli, which is now Delhi's only circular one. In terms of area, it is also the largest. The baoli, which is now dilapidated, is located within Feroz Shah Kotla, where people can be seen praying to the djinns on a regular basis.
BAOLI LOHARHERI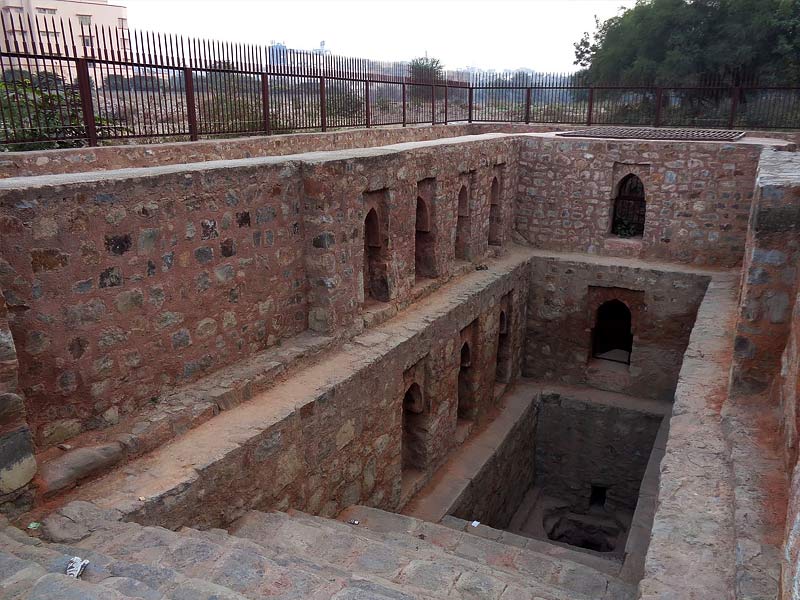 This baoli in Dwarka, discovered only recently, was densely vegetated. This baoli, according to Rooprai, could have belonged to ironsmiths because of its name. With only 20 steps to the tank, it is Delhi's tiniest baoli.
RAJON KI BAOLI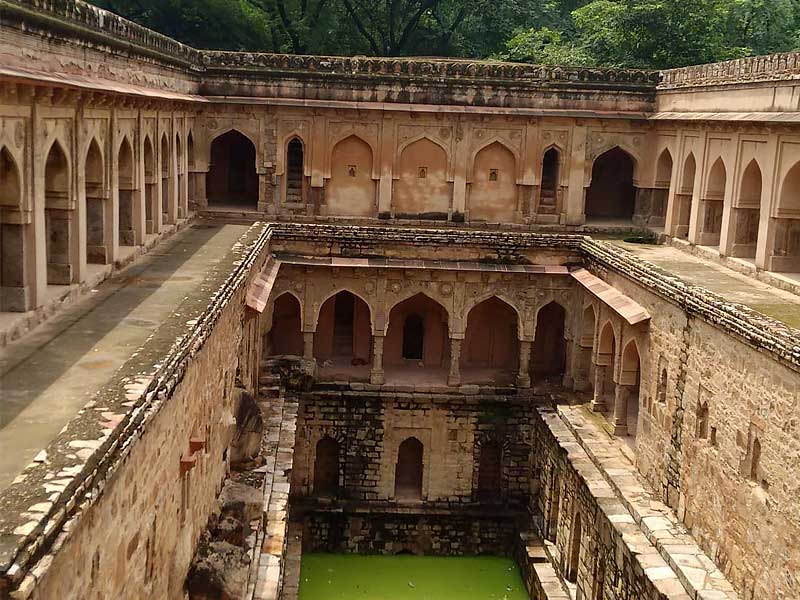 This well-kept baoli in Mehrauli reflects the era in which it was built, namely the Lodis' reign. It has four stories and is connected to a mosque. Calligraphic inscriptions from the Quran adorn the walls. It is the largest and most ornate of the complex's three baolis. It has a beautiful courtyard-like appearance.
OLD RIDGE/HINDU RAO BAOLI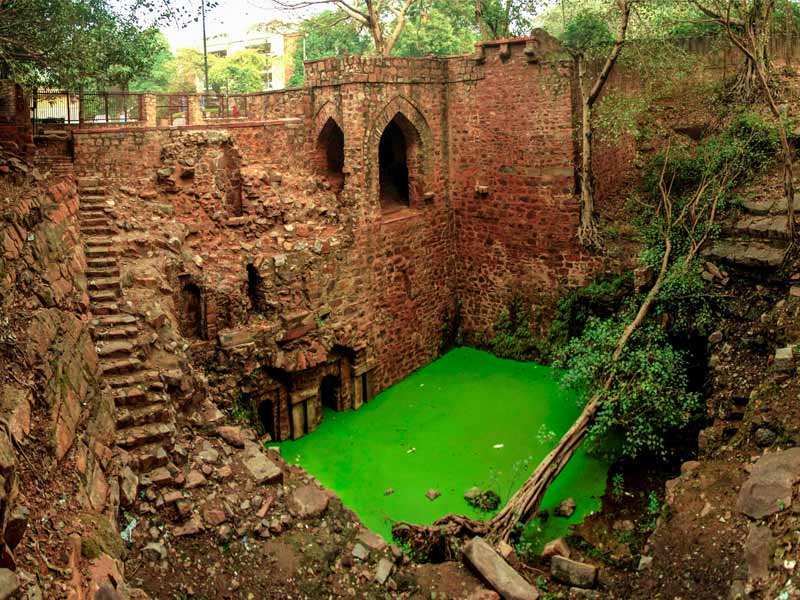 The Ridge Road in Delhi is well-known for its beautiful scenery, but it also hides a hidden gem. This baoli is now located within the Hindu Rao Hospital complex, close to the main hospital building. During the 1857 war of independence, it was the only source of water, and it is said that British soldiers were afraid that their Indian counterparts would poison it.
PURANA QUILA BAOLI
Rainfall in India is limited to the monsoon season, so the Baolis were built to meet the water demands. It was the perfect place to cool off during the scorching summer months. However, as the forts were abandoned, the Baolis were forgotten, along with the other lost monuments.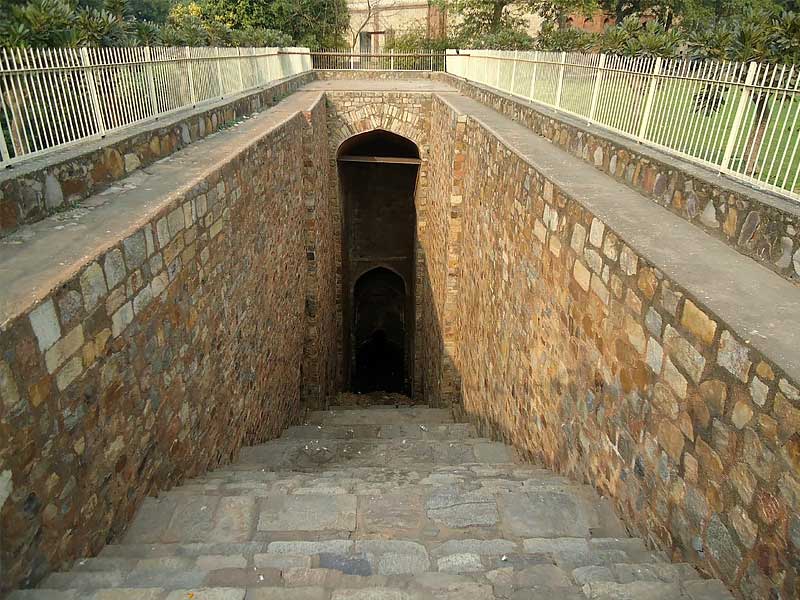 These Baoli were also strategically important because the water stored in them was used to irrigate the fields. The existence of a Baoli in Purana Qila is not widely known. This baoli, located within the Old Fort complex, required 89 steps to reach the water level. It may appear mystical, but the design was straightforward. The most intriguing aspect is that it is fully functional!
ARAB SARAI KI BAOLI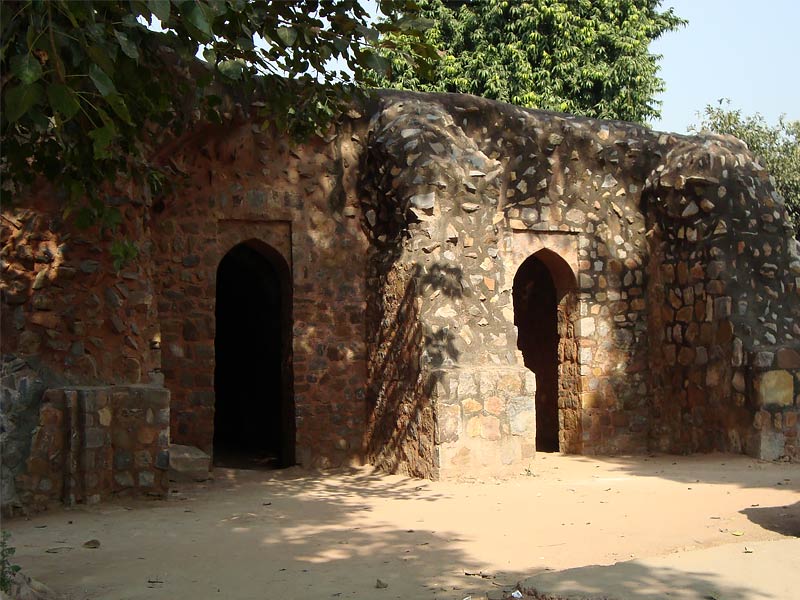 It is the second smallest baoli in Delhi and is part of the Humayun's Tomb, which is a Unesco World Heritage Site. The architecture is one-of-a-kind, and we recommend that you go see it for yourself.
GANDHAK KI BAOLI
The Gandhak ki Baoli is significantly larger than the Anangtal Baoli. Sultan Iltutmish constructed it in the early 13th century.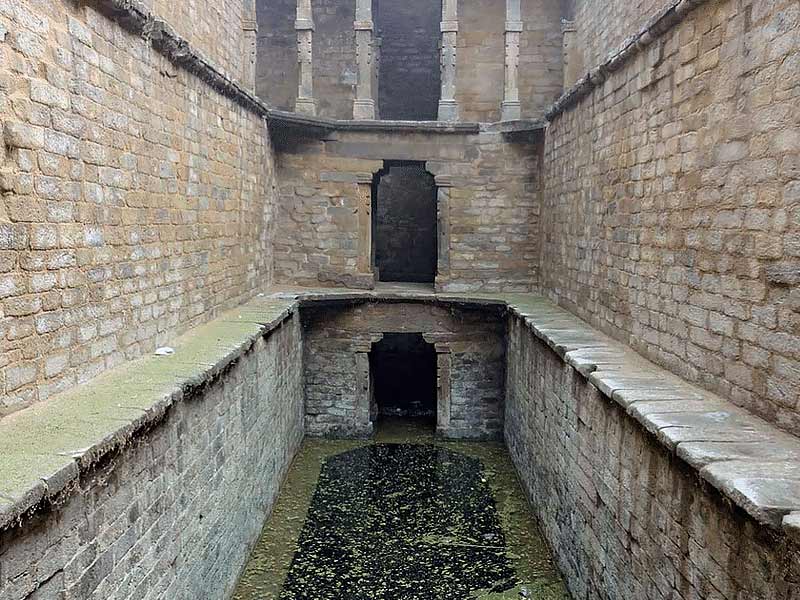 It has architectural features that are decorative. The water in the stepwell has sulphur content and thus smells of sulphur fumes, as the name Gandhak implies, and the water is said to have curative qualities. This baoli is near Qurubuddin kaki dargah of Mehrauli and has a simple plan with five stages or floors at each stage, in a taper down fashion, with steps leading to the water surface at the lowest level.