PCOS is a chronic disorder that can only be addressed by changing one's lifestyle. These include eating a PCOS-friendly diet and making exercise a regular part of your day. Exercise that is as beneficial as yoga can help with PCOS symptoms.
According to studies, practicing PCOS yoga three times a week for one hour each for three months can cause testosterone levels to drop by 29%.
Here, we'll examine some of the greatest yoga postures for PCOS and offer some helpful advice on what each one accomplishes.
Bharadvajasana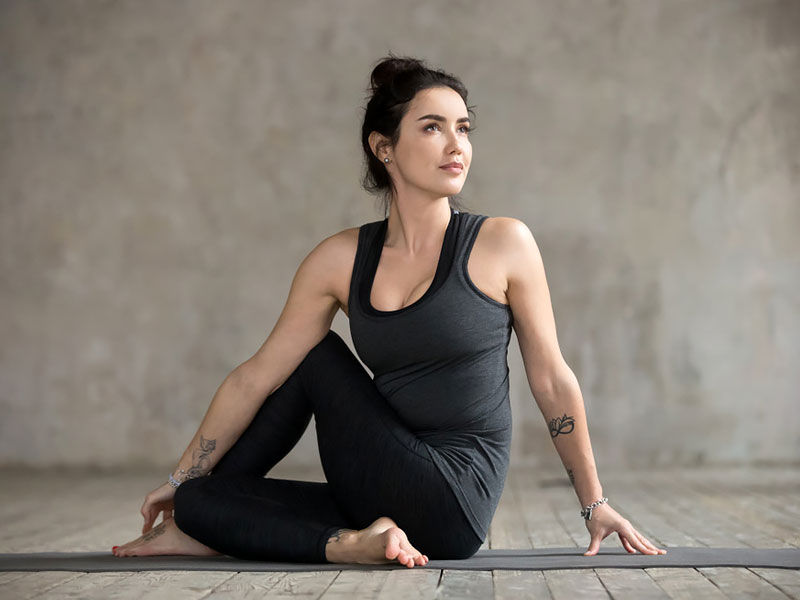 Yoga for PCOS includes poses like the Bharadvajasana Twist Yoga Pose, which reduces cramping and menstruation problems. Your spine will benefit from this seated yoga, which also helps to normalize menstruation and relax the spine. Your mood is lifted, and stress is reduced.
Set up shop on the yoga mat. Place your arms on each side of your body while extending your legs out in front of you.

Put your weight on your right buttock while bending your knees nearly to your left hip.

Your right foot's arch ought to be supported by your left ankle.

Keep your left hand on your right thigh and your right hand on the bottom at all times.

As much as you can while keeping weight on your right buttock, twist your body to the right.

Before returning to the initial position on the other side, hold this position for a minute.
Chakki Chalanasana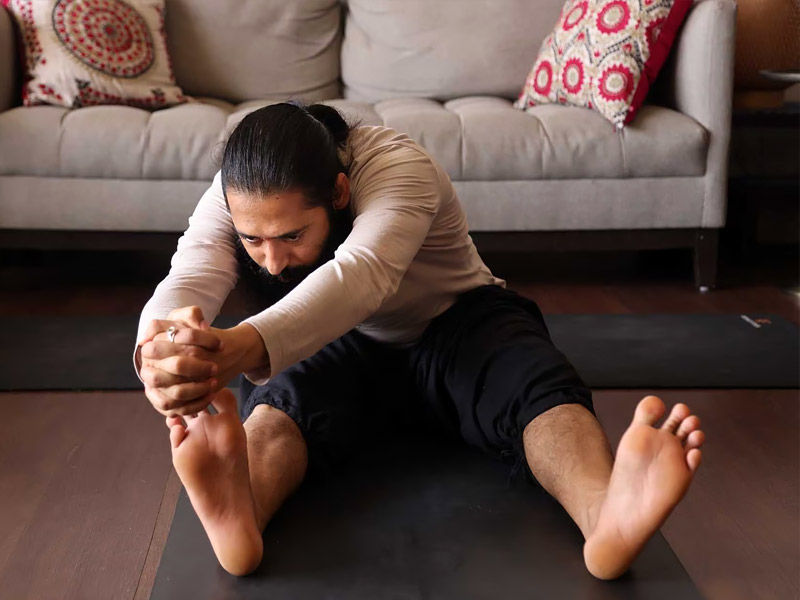 Chakki Chalanasana makes you feel better, especially if you have PCOS. One of the finest yoga postures for PCOS and weight reduction, it is also excellent for those with stiff backs or who experience a lot of strain between the ribs. Additionally, it can enhance digestion, tone abdominal muscles, reduce belly fat, and control the menstrual cycle.
Sit down on the floor with your legs wide apart to start.

Turn the palms of your hands outward and join them together.

Your elbows should be straight, and your hands should be held out in front of you with the palms facing you.

Start sliding your hands in a circular motion, horizontally toward the ground, as if you were using a grinding wheel.

Bend at the waist by using the lower back. Keep your elbows from bending and keep your arms straight.

As the hands come toward you, inhale, and as they go, exhale.

As you make sweeping circular motions forward and back, cover your toes.

10 to 15 times in both clockwise and counterclockwise directions, repeat the procedure.
Bhujangasana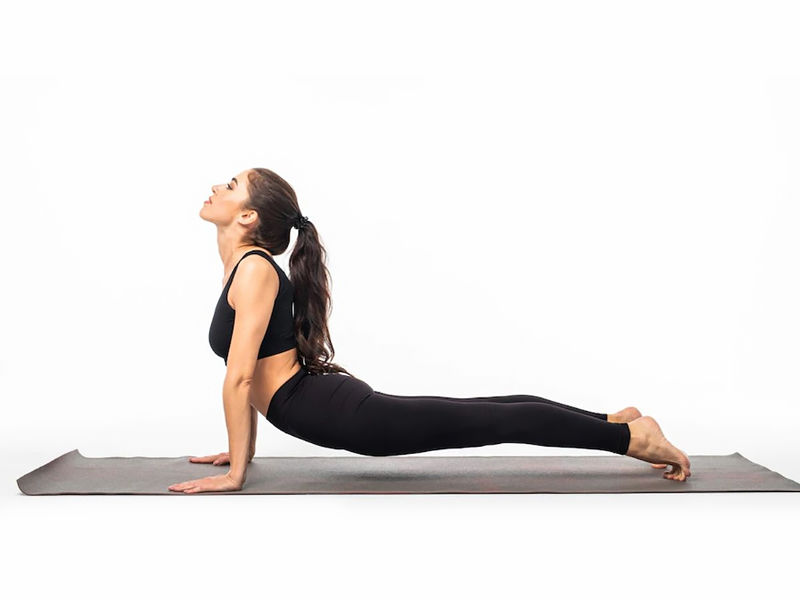 The cobra posture is among the finest yoga for PCOS, even if you don't have weight gain or hormone imbalance. It soothes your upset stomach and strengthens the abdominal region, which might lessen PCOS symptoms like cramping and spotting. In addition to enhancing digestion, this pose also lowers tension.
Lay on your back with your forehead toward the ground to start.

The hands should be parallel to each other under the shoulders, with the palms facing down, and the feet should be in some degree in contact with one another.

As you breathe in, lift your head, chest, and navel.

Use your hands to help lift your upper body off the ground.

As you take a deep breath, extend your back and feel your spine curve.

Maintain low, relaxed shoulders while bending your elbows just a little bit.

For at least 30 minutes—or for as long as it seems comfortable—maintain the position.
Surya Namaskar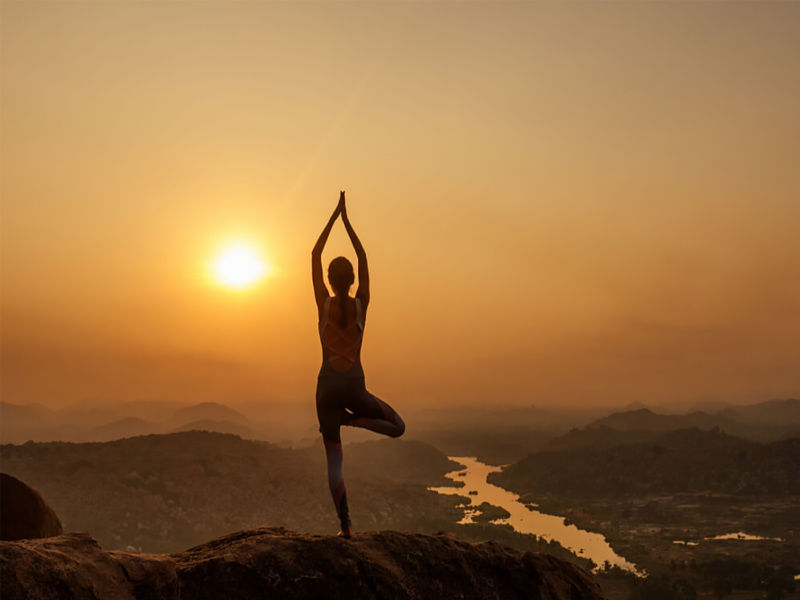 One of the finest yoga poses for PCOS and hormone imbalance is Surya Namaskar. You can help with weight loss, manage external fat deposition, enhance your metabolism as well as cholesterol markers, and regulate menstrual cycles by doing this exercise for five to ten minutes each day.
Stand facing the rising sun in a prayer position.

Slowly take a breath in while lying back and extending your folded hands.

After exhaling, bend your knees and extend your hands in front of you, placing them on your feet.

Bring your left leg forward in the athletic stance, bending your right knee and extending your right leg behind you. Do a search.

Exhale and lift your hip and tailbone into the air to form an inverted V with your body.

Place your hands close to your shoulders and elevate your buttocks while you take a deep breath and get ready to do the cobra stance.

You can start the cobra stance by hunching backward and lifting your chest.

Retrace your steps and come back to where you were.
Naukasana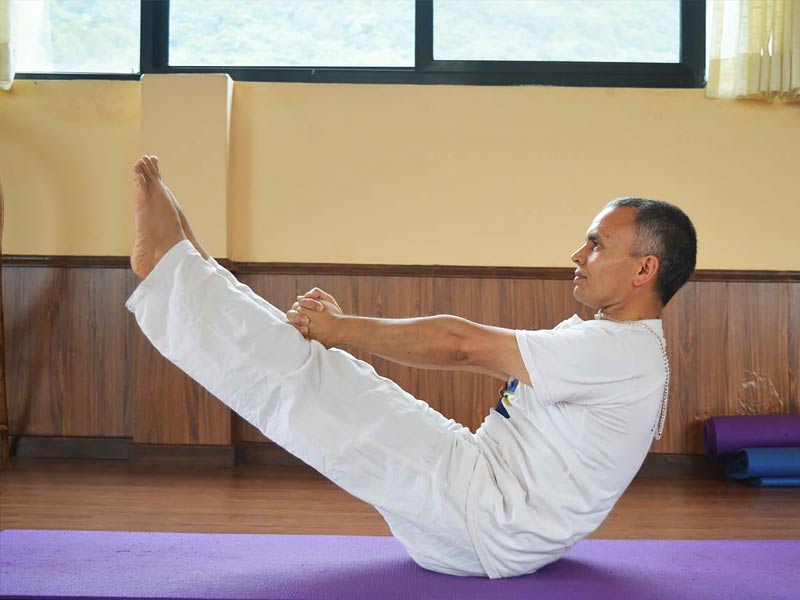 The boat stance can help with some of the symptoms of irregular periods and infertility that are common in women with PCOS. This yoga pose enhances blood flow to the reproductive organs and reduces body fat. This yoga is also beneficial for the health of the ovaries.
Your feet should be together while you lie on your back.

Relax and put your arms beside your body.

Take a deep breath in and lift your head, chest, then feet off the ground while extending your hands toward your feet.

Straighten your fingers and toes and take a long exhale.

Your abdominal muscles and navel should tighten up.

After 30 seconds, hold this position before going back to the starting position.
Marjaryasana and Bitilasana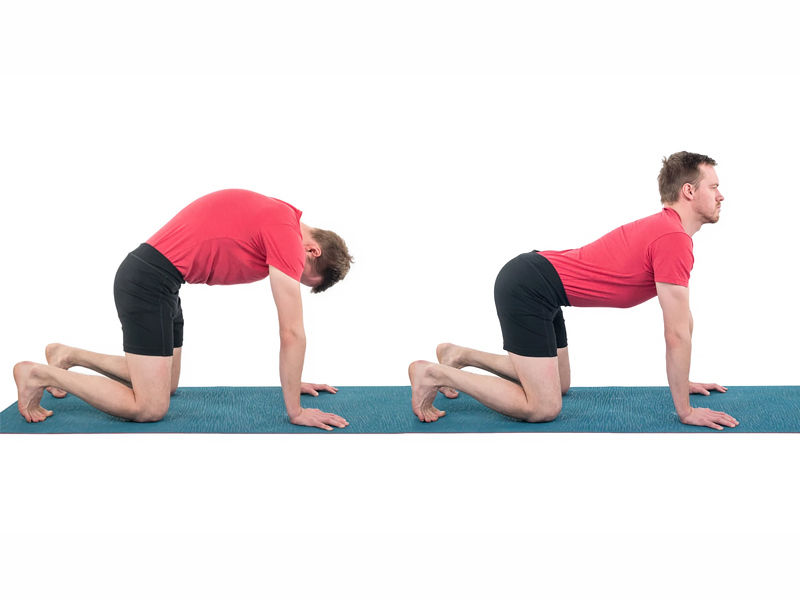 Yoga poses like Cat and Cow, which relax your shoulders and reduce stress in your neck muscles, are excellent morning practices for PCOS. Regular exercise has several advantages, including improved digestive health, increased exercise of the abdominal, reproductive, and neurological systems, and more.
The ideal way to begin is on all fours.

And with your head lowered, raise your spine in a cat-like arch and keep it there for five seconds.

Then go back to your original spot.

As many times as you like, keep the opposing arch of the spine while swaying the spine in the opposite direction toward the ground.

Now, repeat these opposite arches as many times as you like.
Dhanurasana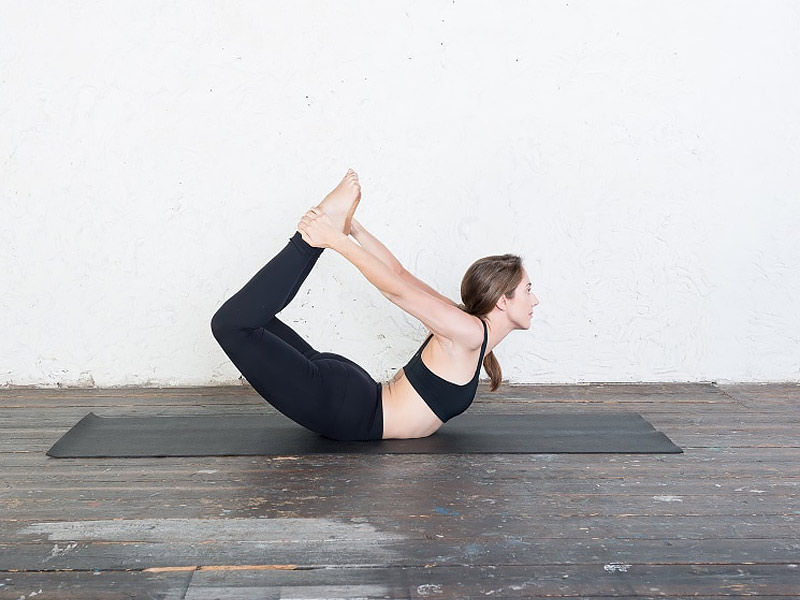 Another of the greatest yoga poses for PCOS is the bow pose, which helps to normalize menstrual cycles and treat PCOS symptoms. It balances adrenal gland production, which helps reduce abdomen fat and stabilizes hormones and metabolism.
Start by lying on your stomach with your arms by your sides and your feet hip-width apart.

Grab your ankles while folding your knees and bringing them up toward your hips.

Lift your chest off the ground while elevating your legs to create an arching bow with your body.

Inhale deeply a few times, then maintain this posture for 30 seconds.

Relax the ankles to slowly rise to a standing position.
Badhakonasana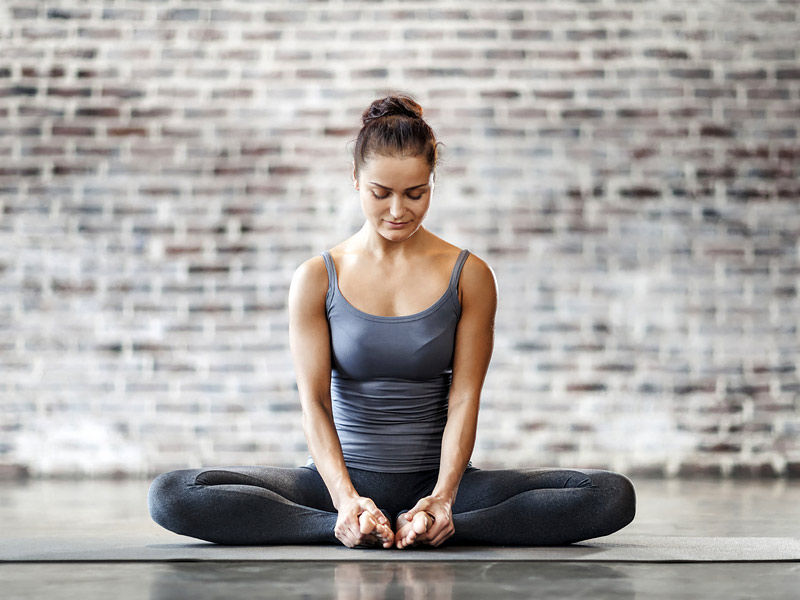 Yoga's butterfly posture for PCOS is a straightforward asana that promotes greater wellness. It can calm your body, ease tension and discomfort related to menstruation, as well as ease leg cramps.
Kneel down on the floor with your feet touching each other and your knees bent.

Try to position your legs as close to the pubic region as you can.

Take every opportunity to draw within.

Keep your hands on your feet and your back straight.

Inhale deeply, and as you exhale, try to bring your knees down toward the ground with your hands.

As this will take some time to learn, stay in your comfort zone.

As you exhale flutteringly, let the knees raise once more.
Shavasana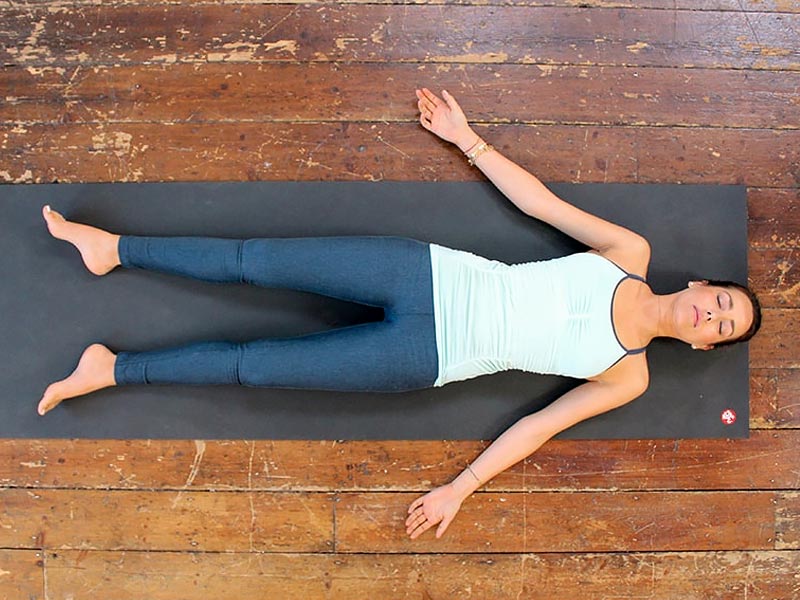 The corpse posture is one of the essential asanas for PCOS when trying to treat the condition. It is advantageous for PCOS patients to practice this posture since it relieves stress and anxiety and relaxes the body and mind.
After your yoga class is over, rest on your back with no cushions or covers and close your eyes.

Make sure your legs are slightly spaced apart. Your knees and foot soles must be completely relaxed.

Keep your palms open and pointing upward as you now gently and completely relax your entire body.

With your hands facing up, position your arms at your flanks slightly apart from your body.

You should wait 10 minutes, or until you feel entirely at ease, before getting up from the floor.
Virabhadrasana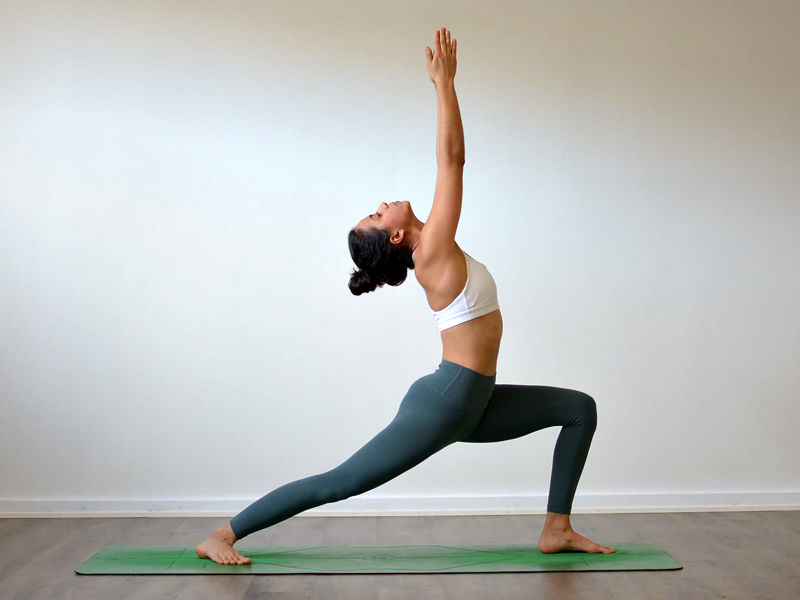 There are five standing poses in the Warrior series of yoga for PCOS. It aids in back, shoulder, ankle, and leg strength. Additionally, it improves hormone balance, decreases attention, and gives the body energy. These all contribute to managing PCOS.
Warrior I (Virabhadrasana I) – The hips are turned forward while the front knee is bent and the arms are raised.

Warrior II (Virabhadrasana II) – The hips are turned to the side while the front knee is bent and the arms are parallel.

Warrior III (Virabhadrasana III): Standing with one leg straight and the other elevated, the arms extended front, and the body balanced on one leg.

Humble Warrior (Baddha Virabhadrasana or Virabhadra Mudra) The legs are the same as in Warrior II, but the torso bows forward and the arms are clasped behind.

Reverse Warrior (Viparita Virabhadrasana) – Similar to Warrior II, but with the arms and chest reaching toward the rear straight leg.