With these straightforward step-by-step instructions, you can bake Pizza at home like a pro. This extensive post will assist you in making the greatest pizza recipe, which we are confident will be a family favorite. This pizza recipe has a crisp, light, and chewy foundation with superb flavor (no yeasty aftertaste!!). The sauce is incredibly flavorful and aromatic. So, this post covers everything from the ground up – creating the pizza dough, making the sauce, and putting the pizza together.
It's much easier than we believe in making a great and perfectly cheesy pizza recipe at home. There are various recipes available online, but this simple recipe has become a family favorite throughout the years. If you try this, you will never want to order pizza again. Your handmade pizza recipe will make you swoon!!
This basic pizza recipe was given a twist. We learned a lot of strategies and techniques for making the best meals at home with minimal effort. 
About this Pizza Recipe
This pizza recipe is divided into three sections.
Making pizza dough – Learn how to make a light, crisp, chewy, and flavorful base without the overbearing yeast scent.
Making sauce — Pizza sauce produced from fresh tomatoes and herbs is far superior to store-bought bottled sauce. It makes a significant difference in the flavor of your handmade pizza.
Putting the pizza together and baking it — How to produce a flawless crisp and golden crust with a baking tray, pizza pan, and pizza stone.
Pizza recipe preparation
1. Allow the yeast, flour, and sugar (or maple syrup) to room temperature. We usually take everything out of the fridge an hour before creating the dough.
2. Begin by adding half a cup of lukewarm water to a wide mixing basin. Dip your finger into the water to see if it is warm or hot. Hot water will kill the yeast and prevent the pizza dough from rising.
Water should be at 40 to 43 degrees Celsius (105 to 110 degrees Fahrenheit). If you reside in a particularly chilly climate, simply warm up your bowl beforehand. Then, pour in some warm water.
3. Proof the yeast by adding 1 teaspoon (3 grams) yeast to the heated water. You can use either instant or active yeast. More information can be found in the tips section below. If you like to use less yeast and let it rise gently, use only 1/3 teaspoon yeast (1 gram)
4. Add 1 teaspoon unrefined sugar or maple syrup. Refined white sugar should be avoided.
5. Gently stir it. Allow this to settle for 10 to 12 minutes, undisturbed.
6. The mixture should become frothy and bubbling. It will not become particularly frothy with quick yeast, but it will froth to a minimum, and you can see the yeast rising up.
Make the pizza dough.
7. Add 212 cup flour (300 grams), 13 teaspoon salt, and 112 tablespoon olive oil to the mixing bowl when the yeast has foamed. I used organic unbleached all-purpose flour in this recipe. 1 cup all-purpose flour and 112 cups of fine wheat flour can also be used.
8. Combine all of them to make a dough. More water (approximately 2 to 3 tbsp) will be required, so add a bit at a time until it creates a smooth and soft, non-sticky dough. If the dough is too sticky, add a little flour.
9. 5 minutes kneading the dough Press the pizza dough against the kitchen counter/worktop with the heel of your hand and roll it across. Then fold it. Repeat for a total of 4 to 5 minutes. Pizza dough should be soft at the end, and when poked with a finger, it should dent and bounce back slowly. This is an indication that the dough is ready.
Dough proofing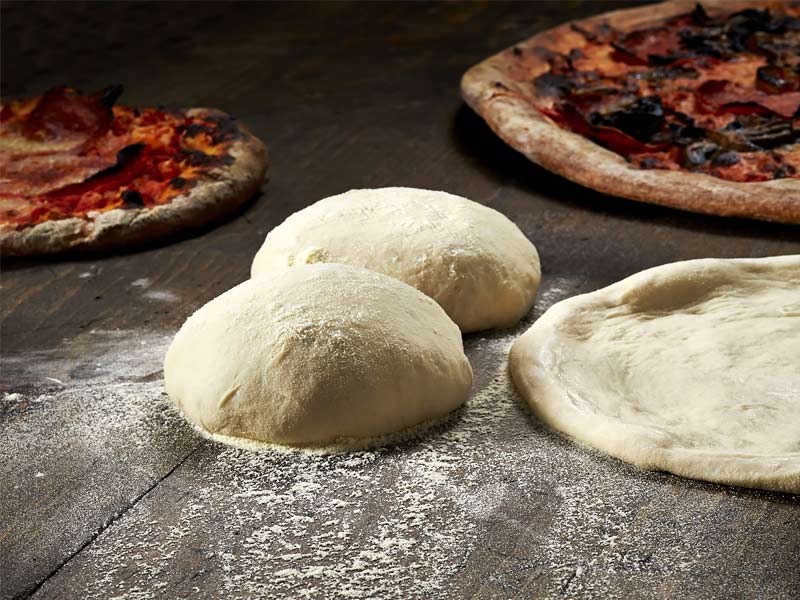 10. Roll it into a ball and apply a little layer of oil to keep it from drying out. Grease your mixing bowl as well.
11. Place a damp napkin or cover over the bowl. Allow the dough to rise and double in size at room temperature. Temperatures ranging from 26 degrees Celsius (80 degrees Fahrenheit) to 32 degrees Celsius are good for rising dough (90 F).
The dough may take 1 to 4 hours to rise, depending on the temperature. We recommend not using timings and instead allowing it to double in size.
We let it proof for about 8 hours near the window, avoiding direct sunlight, with low yeast. During colder weather, store it in a warm area overnight.
If you live in a chilly climate, you can prove the dough in the instant pot using the yogurt setting (LOW).
Make the pizza sauce.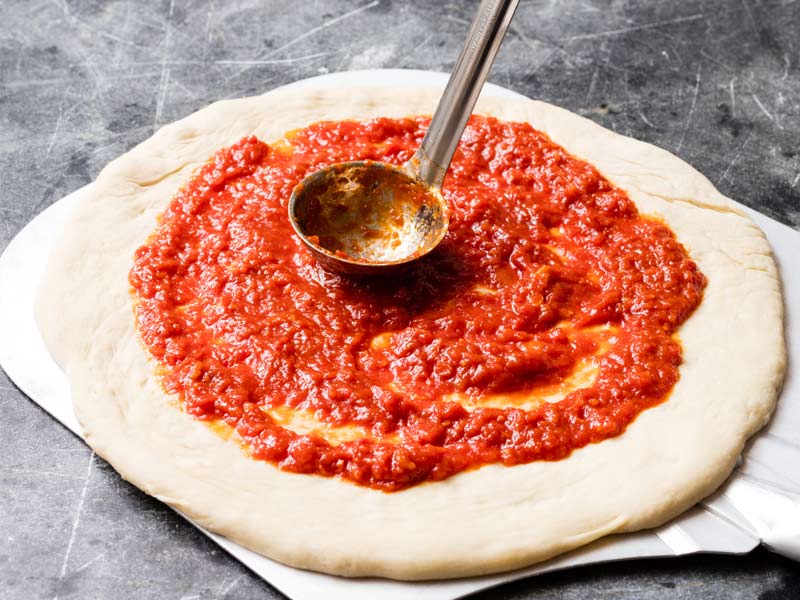 12. To begin, in a blender, purée 400 to 500 grams of tomatoes. Heat 1 12 tbsp oil in a pan and 2 finely chopped garlic cloves (about a tablespoon). Fry the garlic for a minute or until it emits a pleasant aroma. Then stir in 1 teaspoon of chilly red flakes.
13. Ladle in the tomato puree. 1 teaspoon sugar and 14 teaspoon salts. Give it a good shake.
14. Partially cover the saucepan and boil until the tomatoes have cooked down and reduced to a thick consistency. At this point, be cautious because the puree sprays a lot. Reduce the flame and give it a thorough mix every now and again.
15. When the mixture has thickened to the consistency of a sauce, add 1 teaspoon Italian herbs and 12 teaspoons crushed pepper. Taste and adjust with extra herbs, pepper, or salt as desired.
16. The sauce's consistency must be thick and spreadable. If it's too runny, the pizza will be soggy and damp beneath the cheese. Allow cooling completely before transferring to a jar if using later.
Prepare the vegetables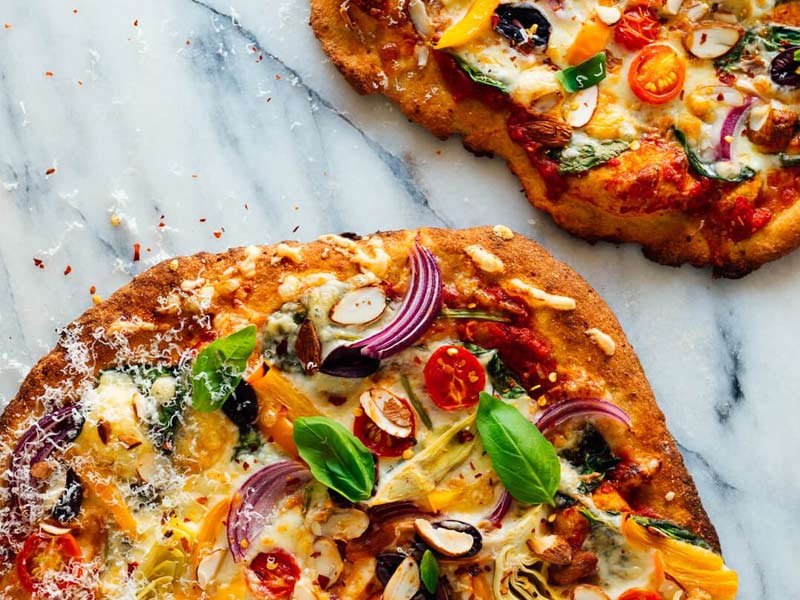 17. When you're ready to start making the pizza, prep the vegetables and grate the cheese. We exclusively eat onions, bell peppers, mushrooms, and olives. You can use whichever vegetables you choose.
Allow the vegetables to come to room temperature for a few hours to avoid leaking moisture onto the pizza, making it soggy. If you're using bottled olives, strain them using a tiny sieve.
How to Make a Thin Crust Pizza 
18. This is what the pizza dough will look like after it has doubled in size. The dough will have more air pockets and rise more if it is proven for a longer period.
19. Place it on the work surface and punch it down to deflate it and remove the air bubbles.
20. Divide the mixture into 2 to 3 equal portions, depending on the size you desire.
21. Knead the dough a little and shape it into round balls. If the dough is too sticky, add extra flour and knead it. 
Cold fermentation improves the flavor of the yeast dough as it ages in the fridge. This will keep for three days. Allow the chilled dough to come to room temperature before using. Depending on where you reside, this could take 2 to 4 hours.
22. Preheat the oven to the highest temperature, 220 to 240 C or 470F, for at least 25 to 30 minutes after you notice the dough has relaxed and is ready to be stretched. Place a baking tray or a cast iron pan on the center rack of the oven and heat it. This baking tray/cast iron pan will aid in the creation of a golden, crisp pizza crust. 
If the dough is too sticky, add extra flour and knead it.
23. Evenly distribute cornmeal on a tray. Place a dough ball in the center and flatten it with your fingertips. A few drops of oil are added.
With your fingers, begin to spread and stretch the dough on the tray. Flatten to a thin, even 9-inch foundation. Maintain a modest thickness difference between the edges and the center. We don't use a rolling pin since it deflates the air bubbles and causes the pizza foundation to be dense.
24. Spread pizza sauce on top as desired.
25. Finally, top with shredded cheese. Then put your favorite vegetables on top. Top with extra cheese, avoiding the vegetables. As desired, top with Italian herbs and chile flakes.
26. Place the pizza pan in the oven. In the preheated oven, place it directly over the hot baking tray/cast iron pan. Bake for 8–10 minutes, or until the cheese melts and the crust turns golden and crunchy. As needed, adjust the baking time.
Allow it to cool for a few minutes before slicing. Serve immediately.
Instructions for making the finest pizza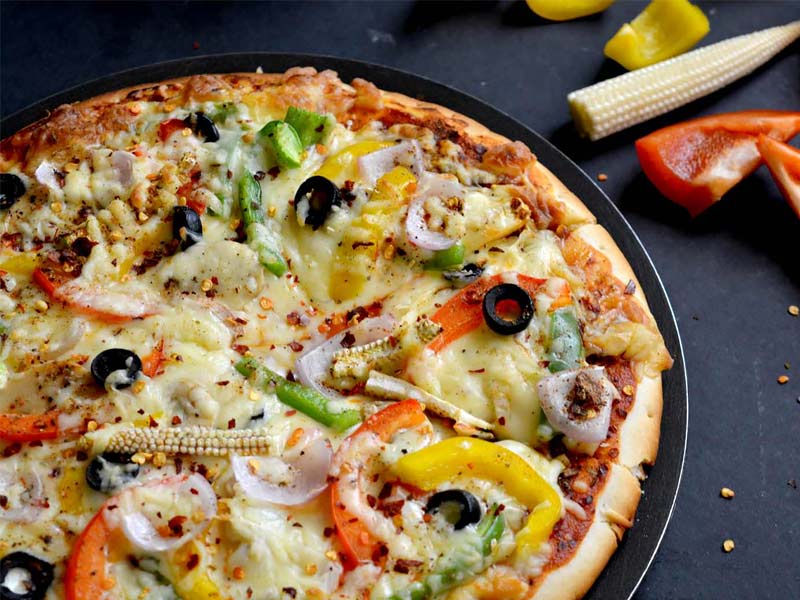 Activate Yeast: Before adding yeast to the flour, always activate it first. Instant yeast is typically added straight to the flour. However, it can also be activated in the same manner as active yeast. You'll save your flour this way in case the quick yeast dies.
Avoid using much yeast: The secret to the tastiest pizzas served in restaurants and pizzerias is to use less yeast. Use a little less and give the yeast more time to operate properly. This results in a more flavorful and delicious pizza crust.
Allow the dough to rise slowly at room temperature; do not rush it to rise fast at a higher temperature. Slow-rising pizza dough has a distinct flavor and a better texture.
Do not rely on the time factor: instead, allow it to rise until it doubles. It takes longer on cooler days.
Bake a thick crust pizza foundation: Bake a thick crust pizza base in a small oven, bake the pizza base first for 5 to 7 minutes before smearing the sauce and topping it with veggies and cheese. Finally, bake it to complete.
In most cases, a thick pizza foundation does not cook effectively in smaller ovens while the cheese browns.
Pizzeria pizzas are prepared in enormous wood-fired ovens. These are quite hot and are usually baked on pizza stones or baking stones, so the base is well cooked.
Note about health: Do not cook pizza with normal maida. Regular maida is chemically bleached and has a slew of negative health impacts.
Construct a thin crust pizza with extremely fine quality whole wheat flour if you can't get organic or unbleached flour. It also ends out quite well that way.