Gangani is a natural canyon near the town of Garhbeta in West Bengal's Paschim Medinipur district. Gangani, commonly known as the West Bengal Grand Canyon, is over 70 feet deep and produced by the natural erosion of the Shilabati River. The area has become a renowned tourist destination due to its picturesque attractiveness.
A stunning natural anomaly may be found on the outskirts of Garhbeta town in the West Medinipur district of West Bengal. The plain terrain of West Bengal is broken up here by steep canyons built over thousands of years by the Silabati River. The broad red dirt gorge is known locally as 'Gongoni Danga' or 'Gongoni Khola.' The Gangani Gorge, formed by natural soil erosion and river flow, is a stunning and unique marvel visited by residents and visitors.
The Silabati River can be seen flowing through the Gangani (Gongoni) Gorge during the monsoon season, which resembles the Grand Canyon of Arizona. Gangani, located just a few hours from Kolkata, is a magnificent combination of lush forests, sandstone hills, and fertile riverbeds. Government officials recently erected a stairway at Gangani's highest point that leads all the way down to the river. When it's not raining, you can even cross the river on foot because the water isn't too deep.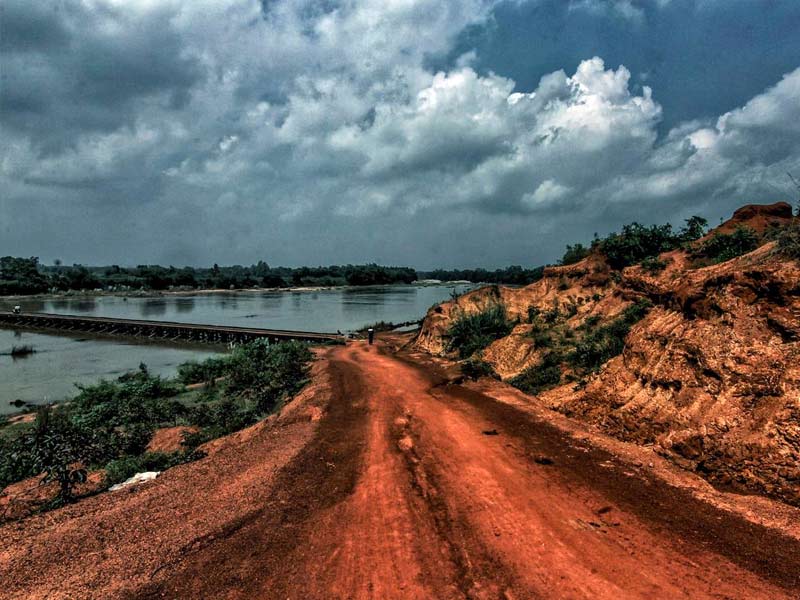 Gangani or Gongoni is also mentioned in the Mahabharata epic. Locals say that Bheem, one of the Pandavas, killed a monster named Bakasura here.
How to reach Gangani?
Gangani is easily accessible by road and train from Kolkata. You have two options for getting here: drive or take a picturesque rail excursion.
By car: If you want to travel down to the 'Grand Canyon of West Bengal,' use the NH6 from Kolkata to Uluberia through Bagnan. From there, you can take one of two routes: Ghatal to Chandrakona Town or NH60 to Salboni. Gangani is within a few kilometers from either town.
By train: Garhbeta, the nearest town to Gangani, has its own railway station. All you have to do is board the Rupashi Bangla Express at Howrah's Satragachhi Station and exit at Garbeta Station after a few hours.
By Bus: If you wish to travel to Gangani by bus, take Chandrakona Road or Chandrakona Town. There are numerous buses available from Dunlop, Santragachi, and Kona. To get to Gangani from Chandrakona Road or Chandrakona Town, you must hire a vehicle.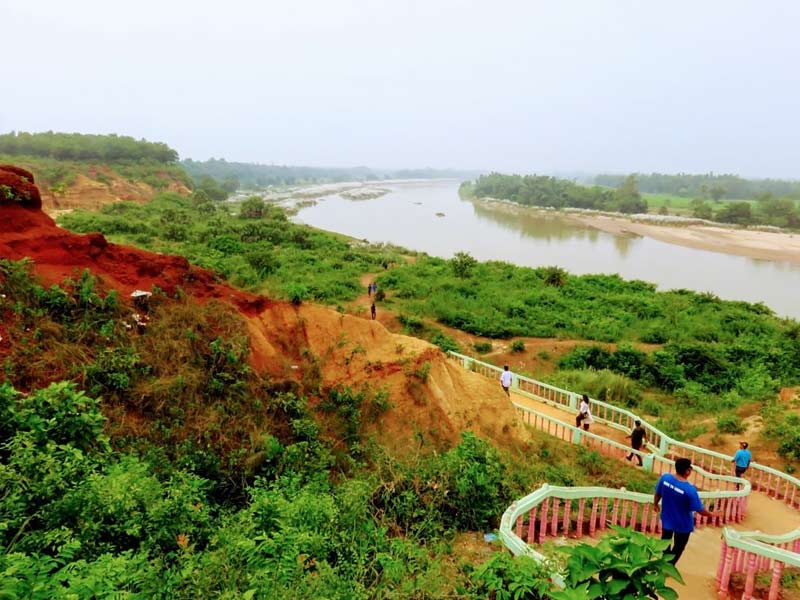 Where can One stay in Gangani?
There are no accommodations in Gangani. However, the surrounding towns of Garhbeta and Bishnupur have a few hotels where you can stay. Garhbeta Town is reasonably developed, and you will have access to all necessary amenities.
When to visit? 
Except for the rainy season, Gangani can be visited all year. If you wish to spend a winter weekend, you can go from December to February.
If you want to enjoy Kashful beside the Silabati River, go to Gangani between September and October. If you want to see the sunset over the canyon and the changing colors of the earth, come here between April and May.
Attractions in and around Gangani
Sarbamangala Mandir:
The Sarbamangala Mandir is a 16th-century temple built by the Bagri ruler, Nripati Singha. The temple is devoted to the goddess Durga, whose idol is fashioned in basalt stone here. The complex is also an excellent example of one-of-a-kind Oriya architecture.
Raikota Fort:
Built by the Chauhan Rajas of Bagri between 1555 and 1610 AD, the Raikota Fort is a relic of great Oriya architecture. Though all that is left are ruins, it is nevertheless a fantastic place to watch the sunset.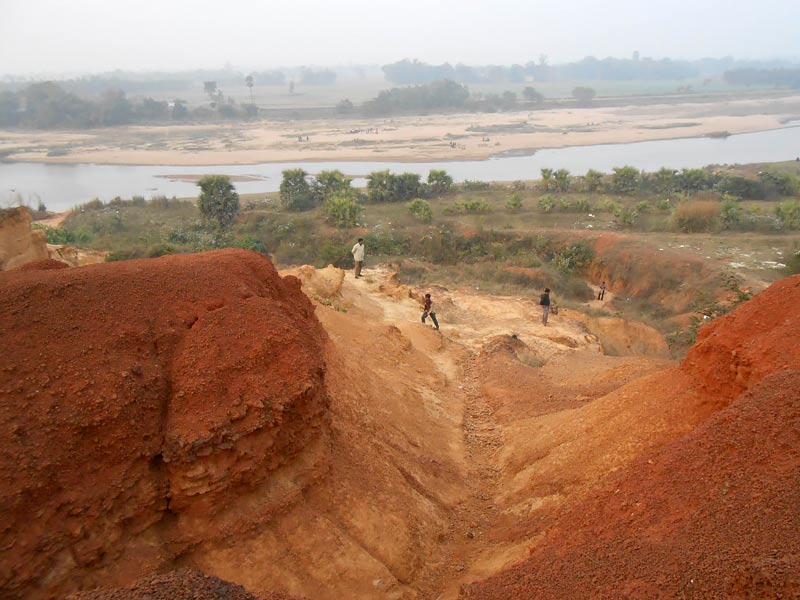 Bagri's Krishnarai Jiu Temple:
The surroundings surrounding Gangani are well-known for their ancient temples. Krishnarai Jiu in Bagri is one such temple that has considerable spiritual and traditional value for the villagers. The temple was built by Rajyadhar Roy, a minister of the Bagri king, Gajapati Singha, out of black basalt stone.
Amlagora Jungle:
Amlagora's Sal jungle is a popular elephant crossing location. While driving along the national highway, you may notice a sign saying elephant crossing.
Bagdoba Jungle:
This is another jungle that will begin shortly after passing through Amlagora Jungle. Within the woods, there is a pond where elephants and other creatures gather to drink water.
Bhadreswar Kali Temple:
This temple is close to Gangani. During sunset, you will have a fantastic view of the entire canyon from here.
Gangani Canyon:
The canyon of the Silabati River is Gangani's final and most important location. Arrive here in the second half of the day so that you have enough time to explore the area until dusk.
Anyone will be drawn to the shifting colors of the scenery around sunset. If you are a photographer, you will undoubtedly enjoy photographing the canyon during sunset.
Where to eat and what to eat Garbeta:
Tea at Garbeta Station: At Gangani railway station, there is a modest wooden tea kiosk. After arriving at Garbeta Station, you should try a cup of tea.
Breakfast/Lunch/Dinner: There are two hotels, Suruchi and Hazra, where you may obtain food. A typical veg lunch will cost you roughly Rs 40 (pricing as of 2020), which includes rice, sak, dal, and three types of sabzi.
You'll be served fish, chicken, and mutton. A big meal of chicken will set you back roughly Rs 90/-. (with 6 pieces chicken, price as of 2020). You can also get Tandoori Rooti with your lunch or dinner.
Word of advice
Gangani (pronounced 'Gongoni') is a popular tourist spot in West Bengal. From schoolchildren to raucous teenagers, a wide range of groups flocks to the Silabati River's shoreline to enjoy a good time. So don't expect Gangani to be a secluded and peaceful haven amid nature. However, you might plan your vacation so that you arrive at a time when it is not crowded. A nice and quiet experience would be to arrive in Gangani at the crack of dawn and observe the sunrise.