Spanish food plays a major role in contributing to Spain's varied culture and In recent years, Spanish food has made its way to every foodie's heart. Spanish cuisine has everything from fresh and colorful ingredients from all around the world to traditional ingredients. It is a love of many and can leave everybody's taste bud pleased. Being a foodie, you can't miss out on the amazing Spanish dishes. So, here is the list of some super tasty and delicious Spanish food that is a must-try.
LIST OF MOUTH-WATERY SPANISH FOOD
Paella Valenciana:
Paella Valenciana is one of the most famous Spanish foods and hence deserves a try. The dish has its origin in the region around Valenciana, Spain. The dish comes in two different varieties- Paella Valenciana, with rabbit and chicken; and seafood paella. The color of the rice comes from saffron, and the base of the dish is left crisp into a mouth-watering black crust that is known as socarrat. The dish is eaten during lunch.
Patatas Bravas: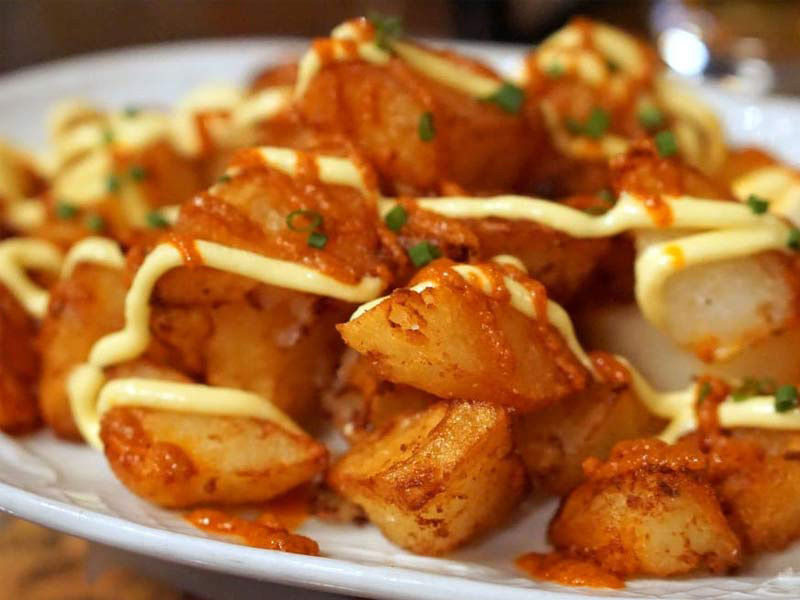 A staple dish among the small dishes is patatas bravas is a classic dish on the tapas menu. It translates to 'brave potatoes' and is named so for its spicy sauce, which is rare in the land that shuns fiery food. To prepare this Spanish dish, potatoes are cubed and then shallow fried. However, the sauce of this dish comes in so many varieties, from garlic mayonnaise with dust of pimiento to spicy ketchup.
Croquetas: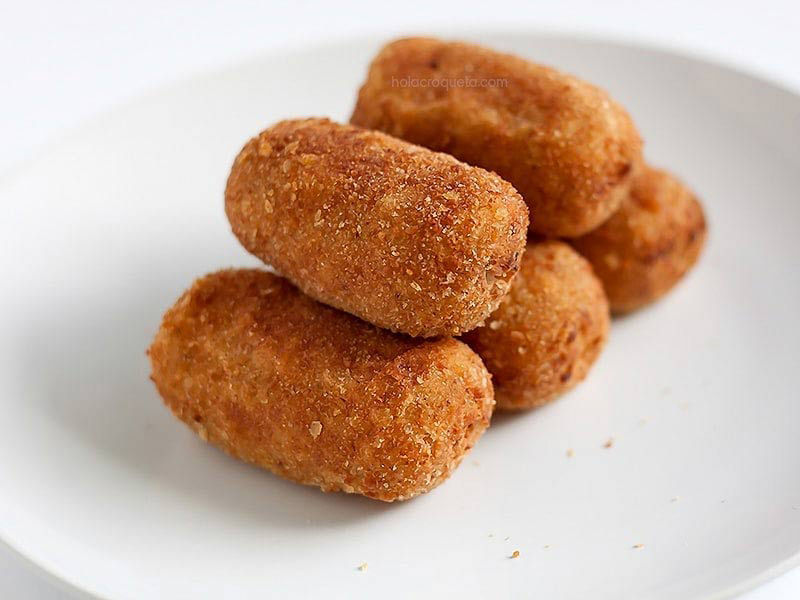 Croquetas are the ultimate tapas bar classic. So many countries prepare this dish in their own way but the Spanish people prepare it in their own and is the best. As a Spanish food, in Croquetas, they combine some unforgettable and delicious Iberian flavors whether jamón (cured ham), morcilla (blood sausages), or bacalao (fresh cod) mixed with béchamel sauce Then it is breaded and fried and then served with the sauce of your choice.
Tortilla Espanola: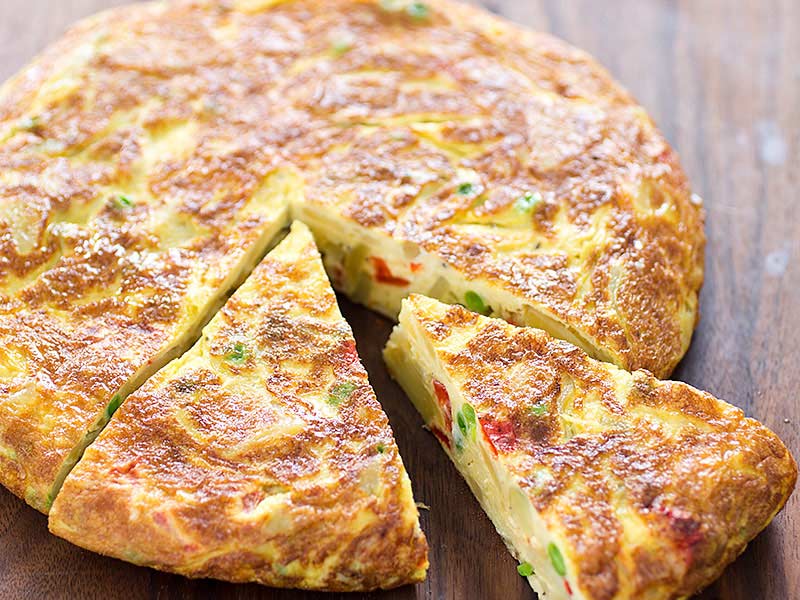 Another favorite in the Tapas bar is tortilla Espanola. The dish is best known as a Spanish omelet all around the world. It is not only a Tapas treat but can be also eaten as a main dish, a break-time snack, or in a sandwich. The dish is prepared by frying some onions and potatoes in olive oil before adding the eggs as it caramelizes the onions and gives the dish its extra sweetness.
Gambas al Ajillo: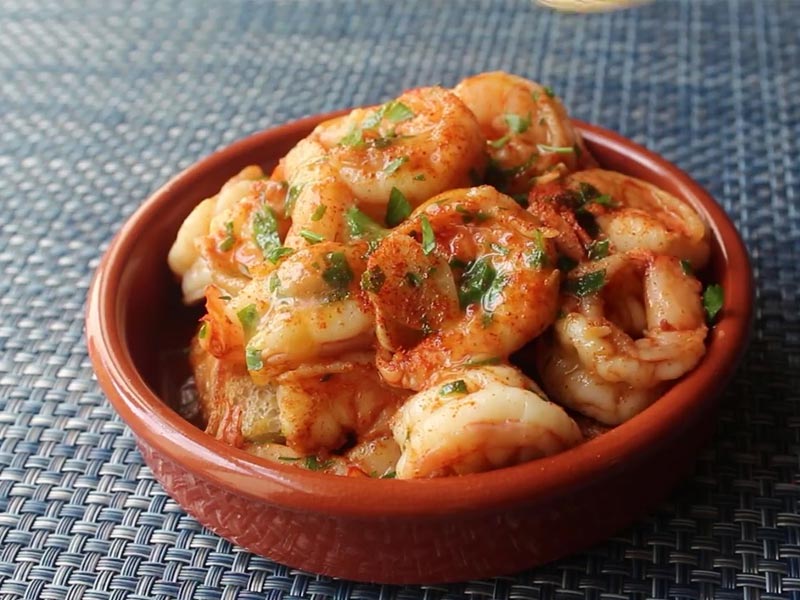 As soon as you enter any tapas bar, you'll definitely find a barman serving an earthenware dish of sizzling prawns and when its smell will hit your nostrils, you cannot stop yourself from ordering this delicacy. You can recreate this delicacy in your homes too. Just give a fry to some garlic and green chili in the olive oil and add prawns in it for a couple of minutes and then add some parsley in it and the dish is all set to eat.
Pisto: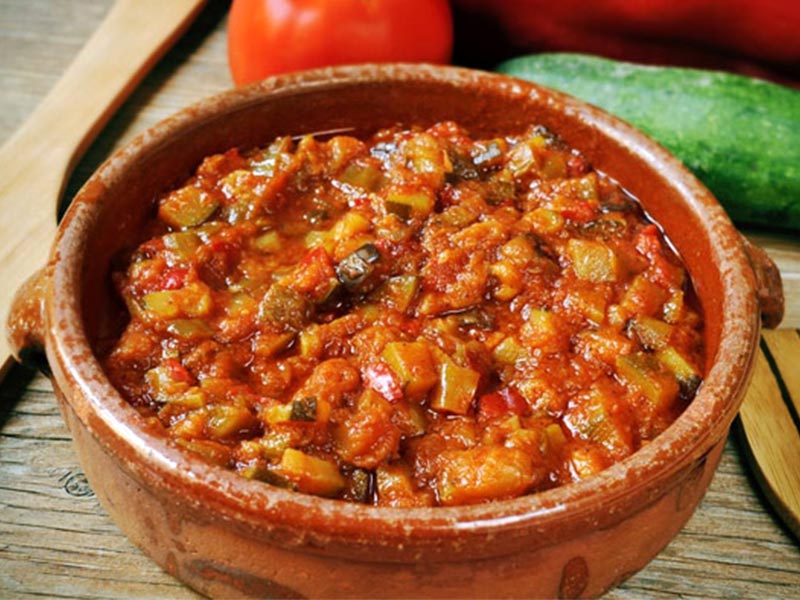 Pisto is another delicacy of Spain that is famous all around the world. The dish is most typical in the towns and villages across the plains of La Mancha, south of Madrid. Peppers, garlic, onions, tomatoes, and courgettes, the dish is not rushed. It is usually served like a starter, sometimes with fried eggs or chorizo. The dish is also a great side dish.
Turrón: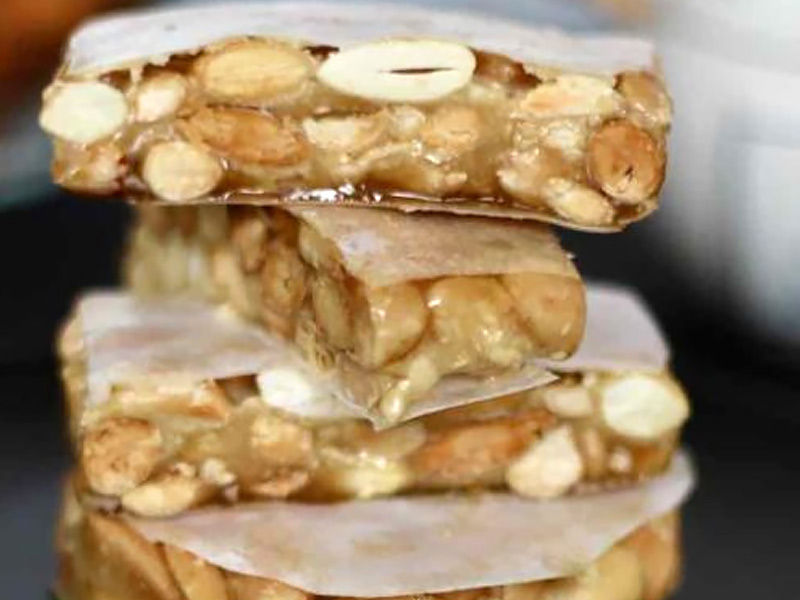 You can find Turrón or almond nougat in abundance during Christmas in Spain. However, it is available all year round in Spain. Mostly it is prepared in the small town of Jijona in the province of Alicante. To prepare the dish, locally grown almonds are mixed with honey and egg white. There are two types of this dish is available in Spain. A soft yet smooth version known as Jijona and a hard Alicante turron, containing some pieces of almonds.
Gazpacho: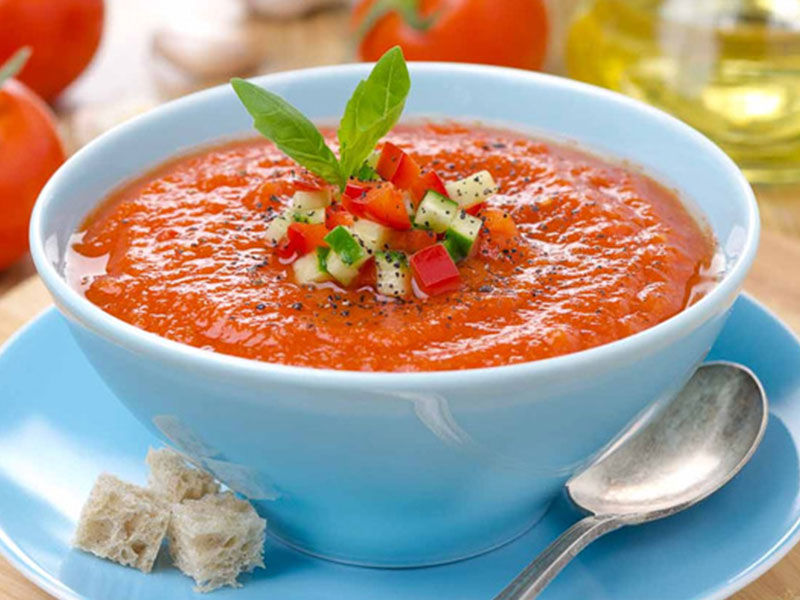 This delicious and refreshing Spanish food is a delicacy and is loved by so many. In southern Spain, people have it every single day in the summers. Also, there is a jug full of this delicacy in the tapas bars. The dish is prepared with the reddest, ripest tomatoes with garlic, olive oil, bread, peppers, and cucumber by blending them to a smooth fine paste-like consistency. Then it is chilled and poured into the bowls and glasses for the servings.
Tostas de tate y jamón: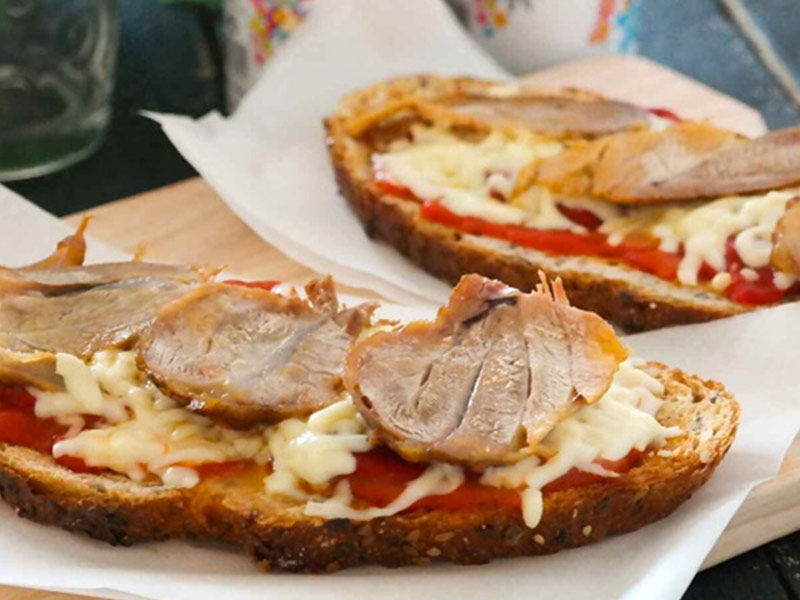 Black pigs roam in the mid of oak trees in the regions of western Spain in the search of acorns that give marbled magenta Ibérico ham its unique nutty flavor. It is a quick and delicious lunch prepared by rubbing the thick pieces of toast with garlic and tomato and pouring on some olive oil and then topped with the slices of jamón.
Pollo al Ajillo: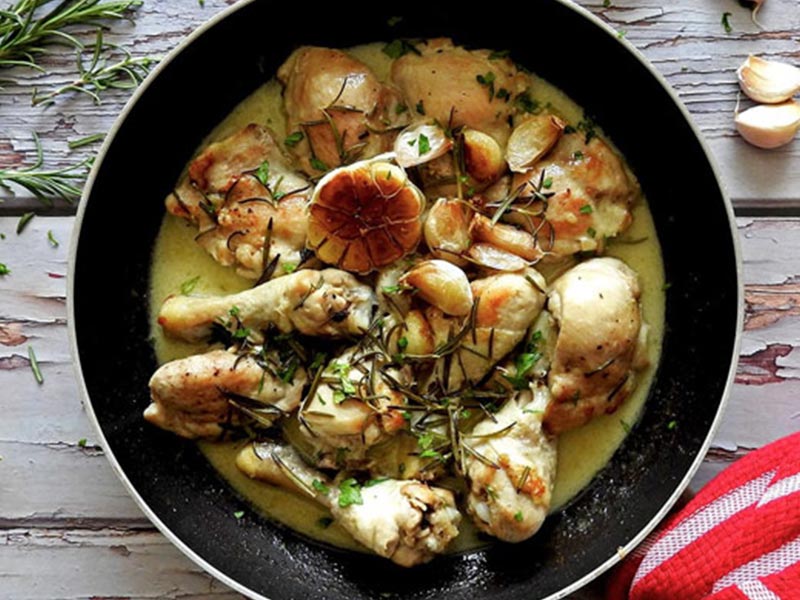 If you ask any of the Spanish person who make the best chicken, most of the time you will get the answer as the best garlic chicken was prepared by his/her grandmother. And they are absolutely right. Unpeeled cloves of garlic are fried in the olive oil to get their flavor and then is taken out just before adding the chicken into it. When the pieces of chicken get cooked, again garlic goes with rosemary, thyme, and some dry sherry or white wine. And the dish is ready!